Lizzy Musi biography: age, net worth, boyfriend, racing career
Lizzy Musi is arguably one of the most famous female personalities in the world of drag racing. Lizzy Musi hot figure and rare skill on the racing tracks make her a blend of beauty and rugged star. Funny enough, her physical appearance might succeed in fooling a newcomer in the racing circle, but people who have been around for a while will be quick to inform such about the explosive energy wrapped up in a beautiful package.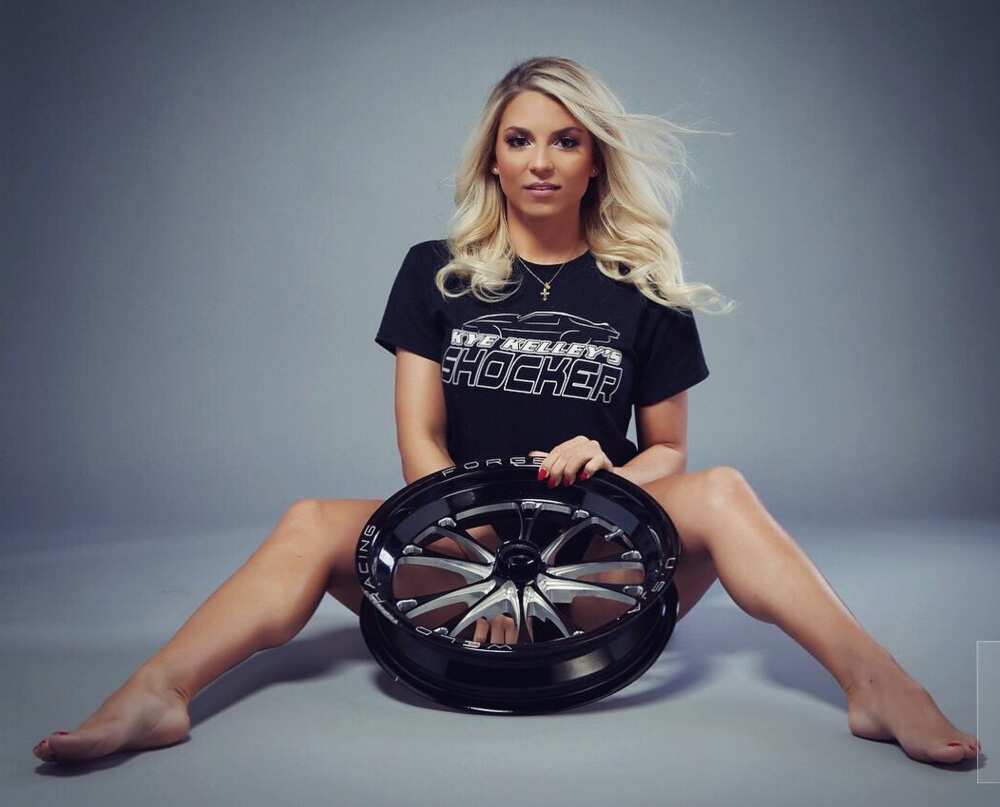 Growing up in a family whose love for drag racing is undisputed, it was not a surprise that Lizzy chose to pursue a career in this field. Interestingly, the star had always been around cars as a kid, and she started competing at a very young age of 16 when she participated in the Junior Drag. She has gone on to win numerous drag races, breaking and setting new records, winning the hearts of lovers of this sport and also coming strong as the ideal role model to any girl hoping to be a daredevil drag racer.
Lizzy Musi profile summary
Name: Lizzy Musi
Date of birth: 1st of January, 1991
Place of birth: New Jersey, USA
Age: 29 years old
Horoscope: Capricorn
Nationality: American
Profession: Car racer
Height: 1.75 m
Weight: 64 kg
Net worth: $500,000
Parents: Pat Musi (Dad) and Elizabeth Musi (Mum)
Sibling: Patricia Musi
Marital status: Single
Children: None
Early life of Musi
Lizzy Musi was born to Pat and Elizabeth Musi. She was named after her mother, just like her younger sister was given the female version of their father's name. Lizzy was born and bred in New Jersey, USA. She graduated from the Carter High School in New Jersey. The pretty blonde must have fallen in love with the household business because she discontinued her education after high school to stay around her father's workshop.
Having graduated from high school, Lizzy decided to become a full-time apprentice with her dad at his engine building store. She, however, was not handed the privilege of driving and servicing cars' engines on a platter. She started by sweeping the floor daily and also ensuring that greasy stains are not left unchecked to prevent workshop accidents.
Lizzy Musi dad was a professional car racer in his generation with an impressive record. He won about eight professional Street World Championships. He could not be separated from his love for racing cars. After retirement, he joined the backroom staff of international car racing teams, which granted him the opportunity of repairing and putting their vehicles in top shape for competitions.
How old is Lizzy Musi?
Lizzy Musi age is 29 years. She was born on the first day of the year in 1991. Her zodiac sign is Capricorn.
Lizzy Musi racing career information
Musi had her first competitive drag race at the age of 16 in the junior ranks, and from there, she started participating in various competitions while garnering attention for her ability behind the wheel. In 2014, she was recognized and awarded the Rookie of the Year. This was after she won her first national professional drag racing competition during the inaugural Professional Drag Racers Association (PDRA) in Virginia.
Additionally, she became the first woman to win the 2014's PDRA, where she broke the 200MPH in 8th mile Pro Mod Racing. In the recent past, she won the Pro Modified Drag Racing division in the Middle East. She set a new record of 3.79 seconds at 200.48 MPH during the national Pro Nitrous race. She won her first tournament in the United States as well as Drags at the VMP in Virginia, which was the fifth race, at the early stages of her career.
Who is Lizzy Musi dating?
Lizzy Musi boyfriend is Kye Kelley. Interestingly, he is also a drag racer. She announced her status as Kye Kelley girlfriend on her social media post while wishing him a happy birthday. Additionally, she described him as her friend and the man she loves.
Currently, Kye Kelly and Lizzy Musi are on the Street Outlaws' No Prep King reality drag race show on TV. Before his relationship with Musi, Kye Kelley has fathered two daughters from two different women. Despite that, it has not hampered the Kye Kelley Lizzy Musi love story.
The two lovebirds have partaken in several car racing competitions and also have success records. She recently won the No Prep King race ahead of Kye Kelley whose car "shocker" was also in the race. Although there is no news about their wedding plans yet, the couple seems to be having the best of time in their relationship.
How much is Lizzy Musi worth?
Lizzy Musi net worth is estimated at $500,000. The net worth is the total of her share of prize money won at racing competitions.
What happened to Lizzy Musi?
She recently engaged in an accident that nearly took her life. But then, Lizzy Musi crash history started in 2012 while competing in the third round of American Drag Racing League at Bristoldrag way in Tennessee. She was driving her 1968 Camaro when the unfortunate event happened. Regrettably, she had gone on to be involved in two other accidents.
The most recent event happened in 2018 at the Northstar Dragway in Denton, Texas, when she crashed her boyfriend Kye Kelley's 'Shocker' Chevrolet Camaro. According to reports, she was testing her boyfriend's machine as part of her preparations for the Street Outlaws: No Prep Kings season opener in Topeka, Kansas. In the process, she struck the retaining wall.
The decision to go in the career path of her father that Lizzy Musi took is paying her off. So far, she has recorded an impressive success story. Interestingly also, her life is now an inspiration to people who love to pick up a career in the same field. Considering the dimension with which the star racer is moving, it is inevitable that she would be one of the best racers the world has produced.
Source: Legit.ng