Cheap universities in Canada for international students (2021 list)
There are many reasons why myriads of international students choose Canada as their study destination. Universities in the True North offer world-class courses, excellent quality of life and one may choose to gain work experience in the country before going back home. Here is a list of cheap universities in Canada for international students that will convince you that truly, Canada is the place to be.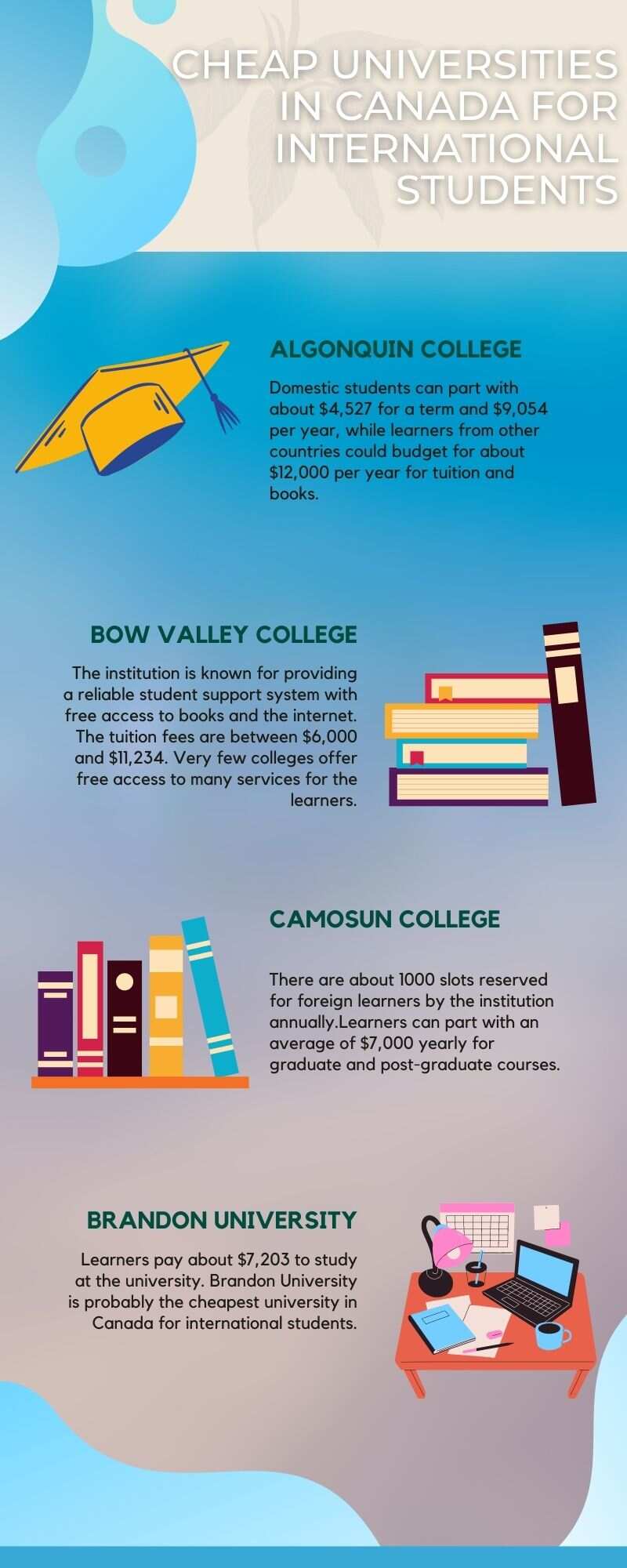 Canada ranks among the best countries in the world, offering quality and affordable education. The education system in the country has attracted many foreign learners who get admissions into their institutions.
The low and affordable tuition fees are also motivating factors for studying in the North American country. Students will, therefore, pay relatively less for quality education.
Looking for a cheap university in Canada? This list of cheap universities in Canada for international students will help you choose the best and most affordable institution to study at.
Cheap universities in Canada
While tuition may not be free in Canada, there are many universities in the country that offer affordable tuition fees.
Here is a selection of some of cheap schools in Canada for foreign learners. You can visit their websites to get more details about their rates, admission requirements, and how to apply.
1. Algonquin College
The tertiary institution has attracted many students from overseas countries due to its low tuition fees and quality education, as it is one of the institutions that offer pretty cheap masters degree in Canada . Domestic students can part with about $4,527 for a term and $9,054 per year, while learners from other countries could budget for about $12,000 per year for tuition and books.
The institution's mission is to transform hopes and dreams into lifelong success while its vision is to be a global leader in personalized, digitally connected, experiential learning.
Contacts
Ottawa: 613-727-4723
Pembroke: 613-735-4700
Perth: 613-267-2859
2. Bow Valley College
The institution is known for providing a reliable student support system with free access to books and the internet. The tuition fees are between $6,000 and $11,234. Very few colleges offer free access to many services for the learners.
Each application to this institution must be accompanied by a non-refundable application fee of $65 for domestic applicants or $130 for international applicants. While applying, you are required to provide transcripts from each and every post-secondary institution you have attended, including those you are currently attending, even if you have not completed a program with them.
Contacts
Email: info@bowvalleycollege.ca
Phone: 403-410-1400
Toll free: 1-866-428-2669
3. Camosun College
There are about 1000 slots reserved for foreign learners by the institution annually. Its campus is in Great Victoria and majorly focuses on development and innovation programs. Learners can part with an average of $7,000 yearly for graduate and post-graduate courses.
Contacts
Phone numbers: 250-370-3550, 1-877-554-7555 (Toll-Free)
Emergencies/Campus safety: 250-370-3075
4. Brandon University
It is one of the most affordable universities in Canada known for establishing a positive relationship with international students. Learners pay about $7,203 to study at the university. Brandon University is probably the cheapest university in Canada for international students.
Brandon University offers its international students the following:
One-to-one interaction with professors and research opportunities often not available at larger institutions.
Innovative scholarly activities, inspirational teaching, and intensive study.
Courses that broaden horizons, expand points of view, and encourage a critical mind.
A recognized degree to obtain employment, entry into professional programs or graduate school.
Contacts
Voice: (204) 728-9520
Fax: (204) 726-4573
Admissions: admissions@brandonu.ca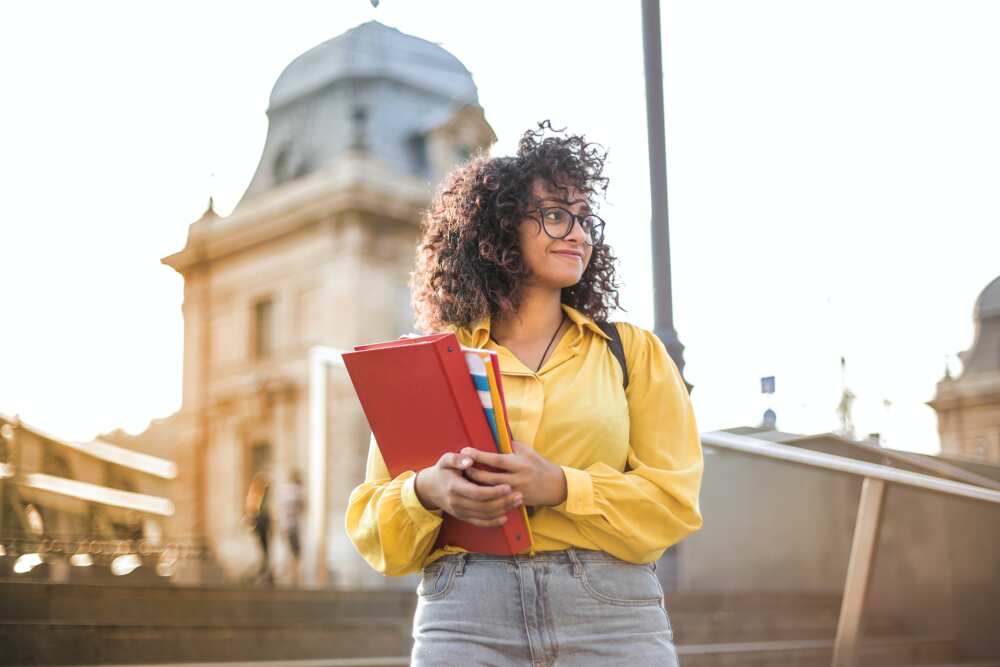 5. Université de Saint-Boniface
This is one of the best low tuition universities in Canada. The institution is a good option for those who speak a certain level of French that meets their minimum requirements. You need to part with around $7,482 per year for your studies.
The university's general admission requirements for students with international baccalaureate is:
Three higher level courses and three standard level courses with a minimum score of 4 in each subject and a total score of at least 24. Credits can be transferred for certain higher or standard level subjects with a minimum score of 4.
Contacts
Phone (directory): 204-237-1818
Phone (reception): 204‑233-0210
Toll free in Canada and USA: 1‑888‑233‑5112
Fax: 204‑237‑3240
6. University of Guelph
The institution is one of the cheapest universities in Canada for international students. Some of the benefits that come with learning in the university include assistance with visa applications, housing, and an advisor. Learners pay a fee of $9,730 per year.
7. Canadian Mennonite University
The Winnipeg-based university also makes it to our list of cheap universities in Canada for international students. The tuition fee is around $10,003 per year.
The institution was founded in 2000 and it prides itself in being a 'Comprehensive university programming offering accredited 3- and 4-year Bachelor and Graduate degrees.'
Its 19 BA majors include Biblical and Theological Studies, Communications and Media, English, History, International Development Studies, Mathematics, Music, Peace and Conflict Transformation Studies, Philosophy, Political Studies, Psychology, Social Sciences, Environmental Studies, Arts and Science (with concentrations in Applied Mathematics, Biochemistry, Biology, Ecology, Mathematics), Bachelor of Science, Bachelor of Business Administration, Bachelor of Music, and Bachelor of Music Therapy.
Contacts
Ph: 204.487.3300
Toll free: 1.877.231.4570
8. Fanshawe College
The institution also reserves a lot of slots for international students. It is not only among the cheap colleges in Canada but also among the largest colleges in the country. It also has campuses located in other countries, including England.
About 1,000 international students from over 60 countries study at Fanshawe College yearly. Tuition fees range between $13,623 and $14,223 for international students.
Fanshawe's vision is Unlocking Potential while its mission statement is Provide pathways to success, an exceptional learning experience and a global outlook to meet student and employer needs.
Contacts
1001 Fanshawe College Blvd.
London, ON N5Y 5R6
Canada
Tel: 519-452-4277
Toll-Free: 1-800-717-4412
info@fanshawec.ca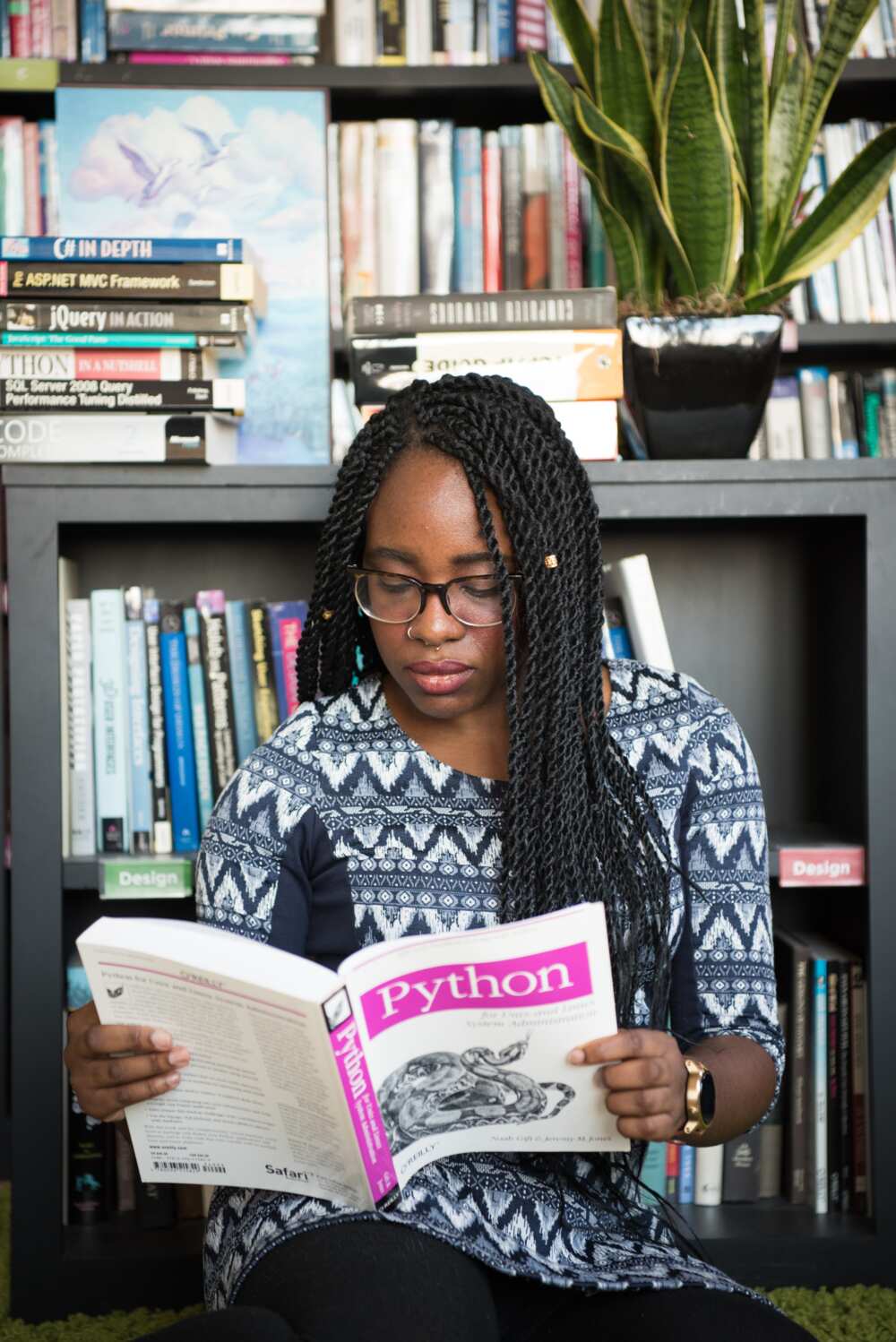 9. Georgian College
Studying at the institution is a privilege since learners gain more than what they pay for their studies. The tuition fees range from $13,845 to $32,431, depending on the course the students are pursuing.
The college has campuses in Barrie, Midland, Muskoka, Orangeville, Orillia, Owen Sound, and South Georgian Bay.
Contacts
One Georgian Dr., Barrie ON L4M 3X9
705.728.1968
inquire@georgiancollege.ca
10. Lambton College
Lambton College's tuition fee is about $7,000 per year.
Besides this, there are also many scholarships and bursaries available to Lambton College students in support of their studies, including a number of entrance awards for incoming first-year students. Some of the entrance awards include:
Community Living Sarnia-Lambton's Scholarship Award
Autism & Behavioural Science Program at Lambton College
Developmental Services Worker Program
Communicative Disorders Assistant
Early Childhood Education Entrance Scholarship
Lambton College Alumni Second Generation Scholarship
Metis Nation of Ontario Bursary
NOVA Chemicals Science and Technology Award
Shaw Foundation Entrance Awards
The Connect One Scholarship
Wally McIntosh Memorial Award
Project Hero
Contacts
info@lambtoncollege.ca
Program info: 519-541-2403
Main: 519-542-7751
1457 London Road, Sarnia, ON N7S 6K4
Are there tuition free universities in Canada?
No, there aren't free tuition universities in Canada. The issue of finances has made many people look for a list of tuition free universities in Canada for international students. Tuition is not free in Canada, and students are advised to consider financing options like scholarships and grants.
Is there any free university in Canada?
No, Canada does not offer free tuition. However, there are many funding options available.
What is the cheapest university in Canada?
Brandon University is the cheapest university in Canada for undergraduate programs. Its average tuition fee is $7,203.
How much money do I need to study in Canada?
Here is the cost of living in Canada per month:
Housing: 250-800 CAD
Internet: 50-70 CAD
Basic utilities (such as electricity, water, heat, garbage, etc): 150 CAD
Food: 300CAD
Transport pass: 90 CAD
You now have a list of some of the cheap universities in Canada. If you found the information in this article helpful, go ahead and share it with family, friends, and other interested people. It will help them to know some of the cheap universities in Canada for international students that may offer their dream courses.
READ ALSO: Top 10 universities in Nigeria ranked
Legit.ng highlighted the top 10 best universities in Nigeria. These top universities are the most popular and acknowledged because they provide the best quality of education.
You can learn more about the institution that caught your eye by visiting its website. Go ahead and make the right choice now so the next years of your life will not go in vain.
Source: Legit