Couples outfit for traditional wedding in Nigeria
Nigerian couples outfit for traditional weddings are one of the most expensive and impressive in the world. Take a look at some of the lovely newlyweds in their traditional wears, and maybe you will be able to find some inspiration for your own traditional wedding!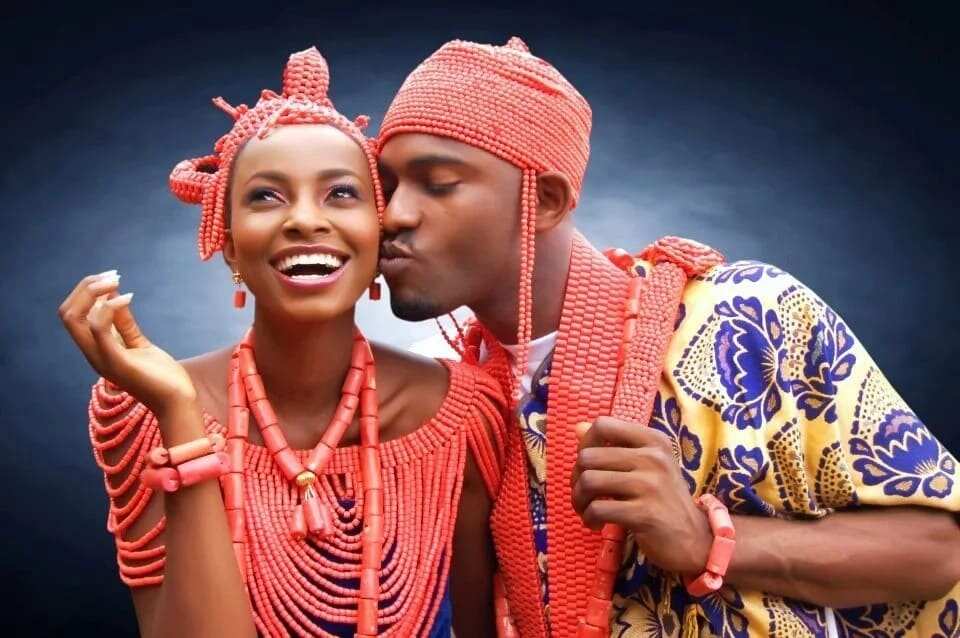 Every country possesses its own cultural features that have been inherited from the ancestors. So are national clothing preferences that make reflection on traditional wedding costumes for bride and groom. Although the present has been altering old settled things, some still are being followed.
As Nigerian nation had joined many ethnicities in one country, there are many kinds of different wedding processes (meaning that couples wear different looking outfits as well).
Nigerian wedding couples outfit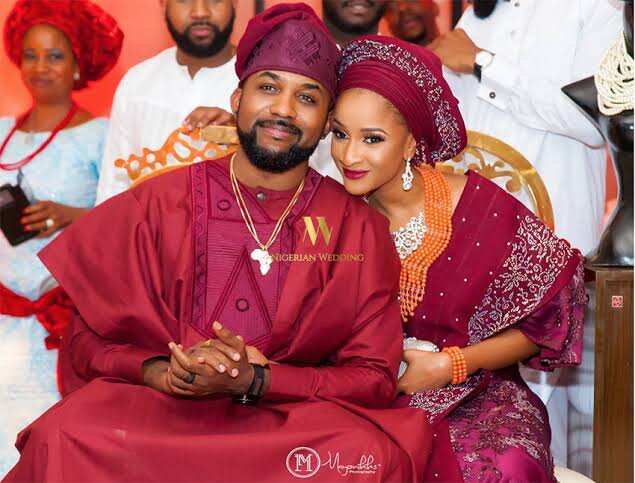 What wedding's guests usually pay most attention to is, certainly, attractive well-dressed bride, who a priori is the most beautiful on this special occasion. That is why you should pick up the brightest and the most gorgeous gown and costume ever possible.
For instance, in Igboland (land of one of the ethical Nigerian groups) there is a tradition, when groom and bride come out to the reception – absolutely every person, who has been invited, gaze at couple, which means that every detail has to be flawless.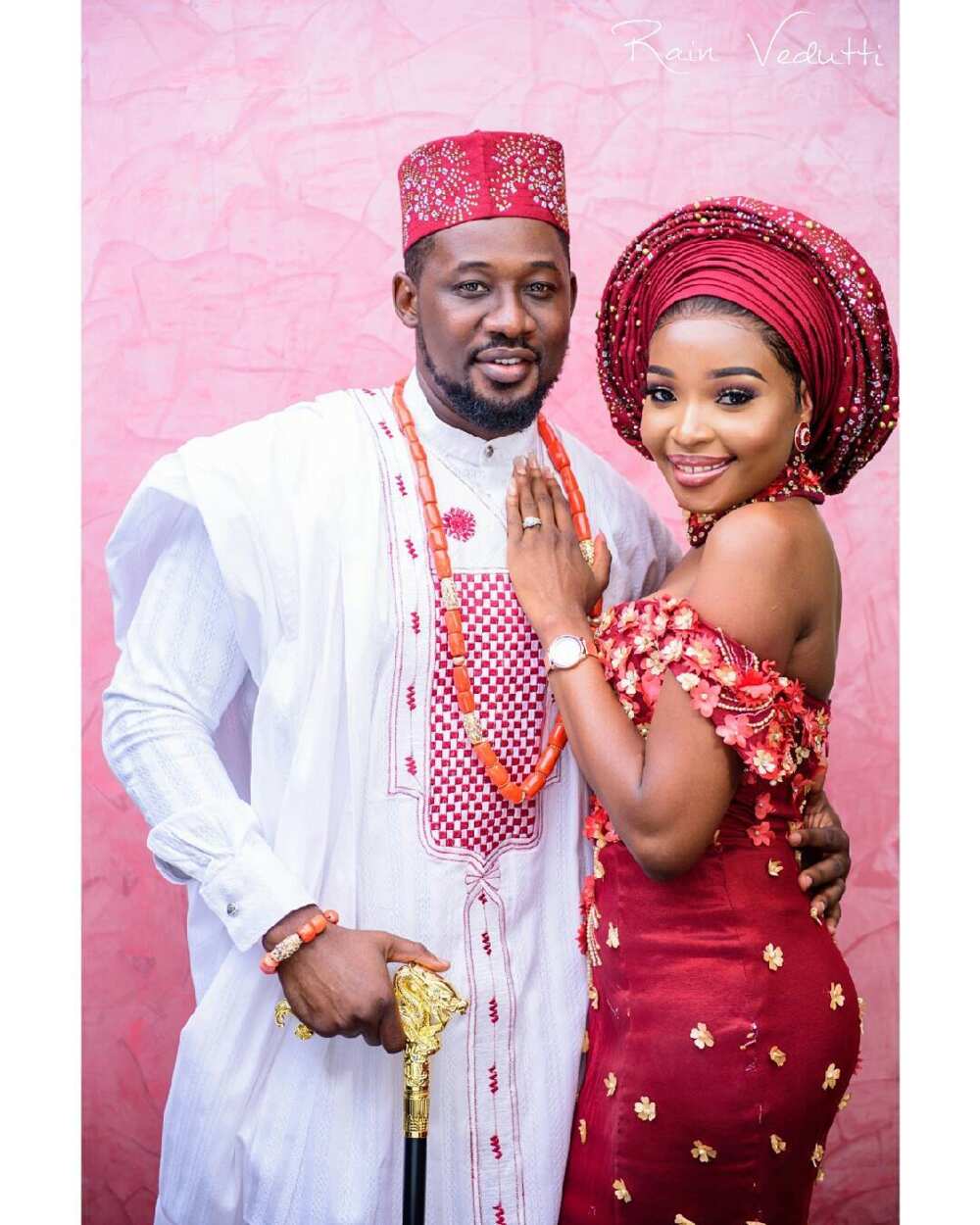 READ ALSO: Types of makeup looks for wedding
Many matching couple outfits differ only with ornament, with which the costumes are decorated. If a man wants to accentuate and play with bride the same costume game – he puts on agbada (traditional African men's flowing light robe) that fits to general outfit picture.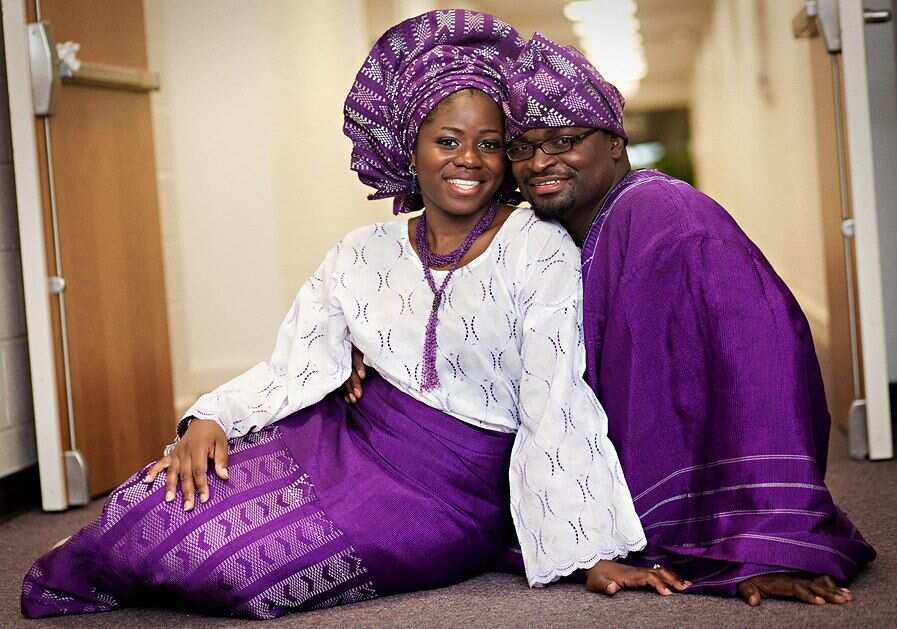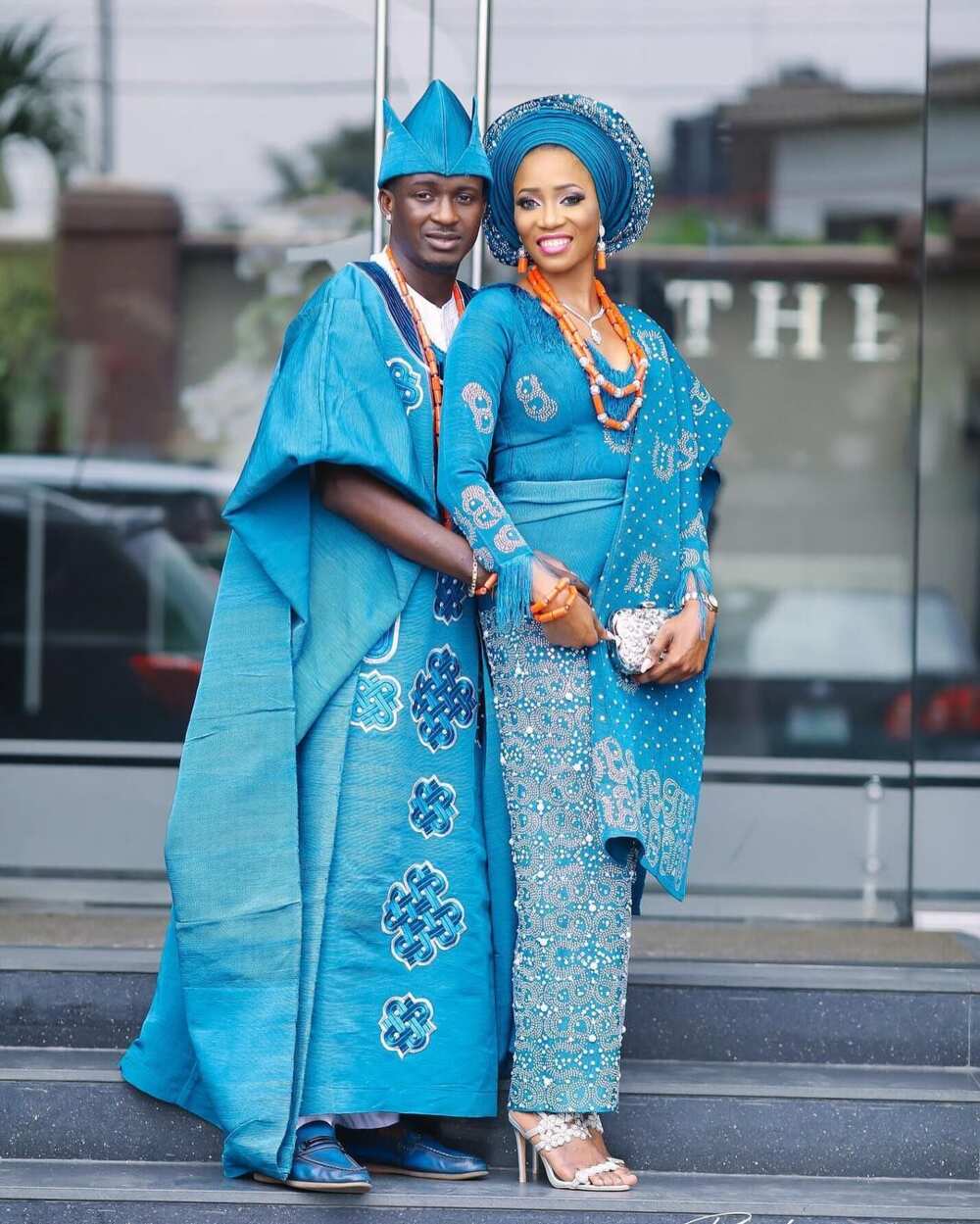 Another reason of groom wearing plain trousers is that they are covered with the robe, so there is no need to decorate them.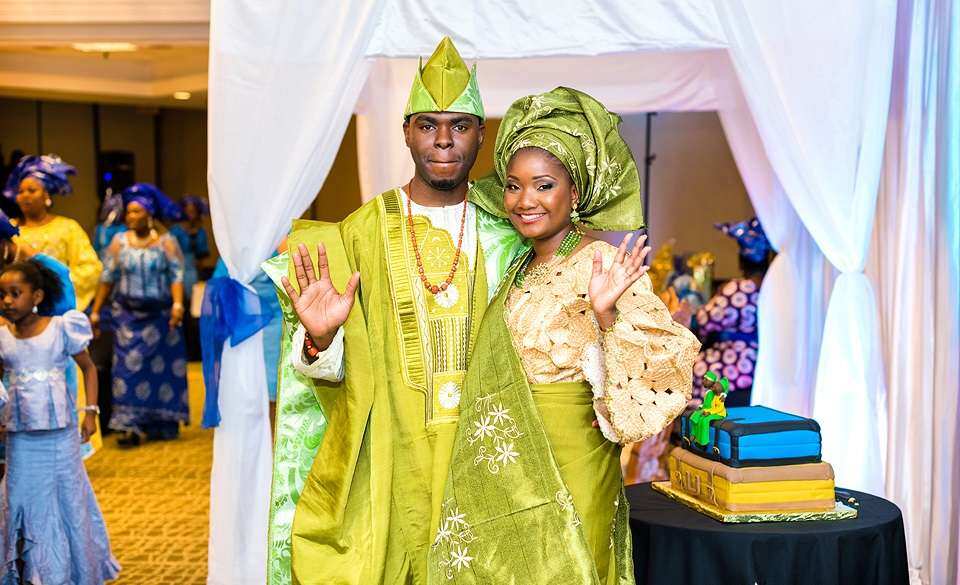 Next option for women's bottom clothing is a wrapper, it may be sewed with the same fabric as the abgada or pants, so the couple outfit matching gets on point.
Headgear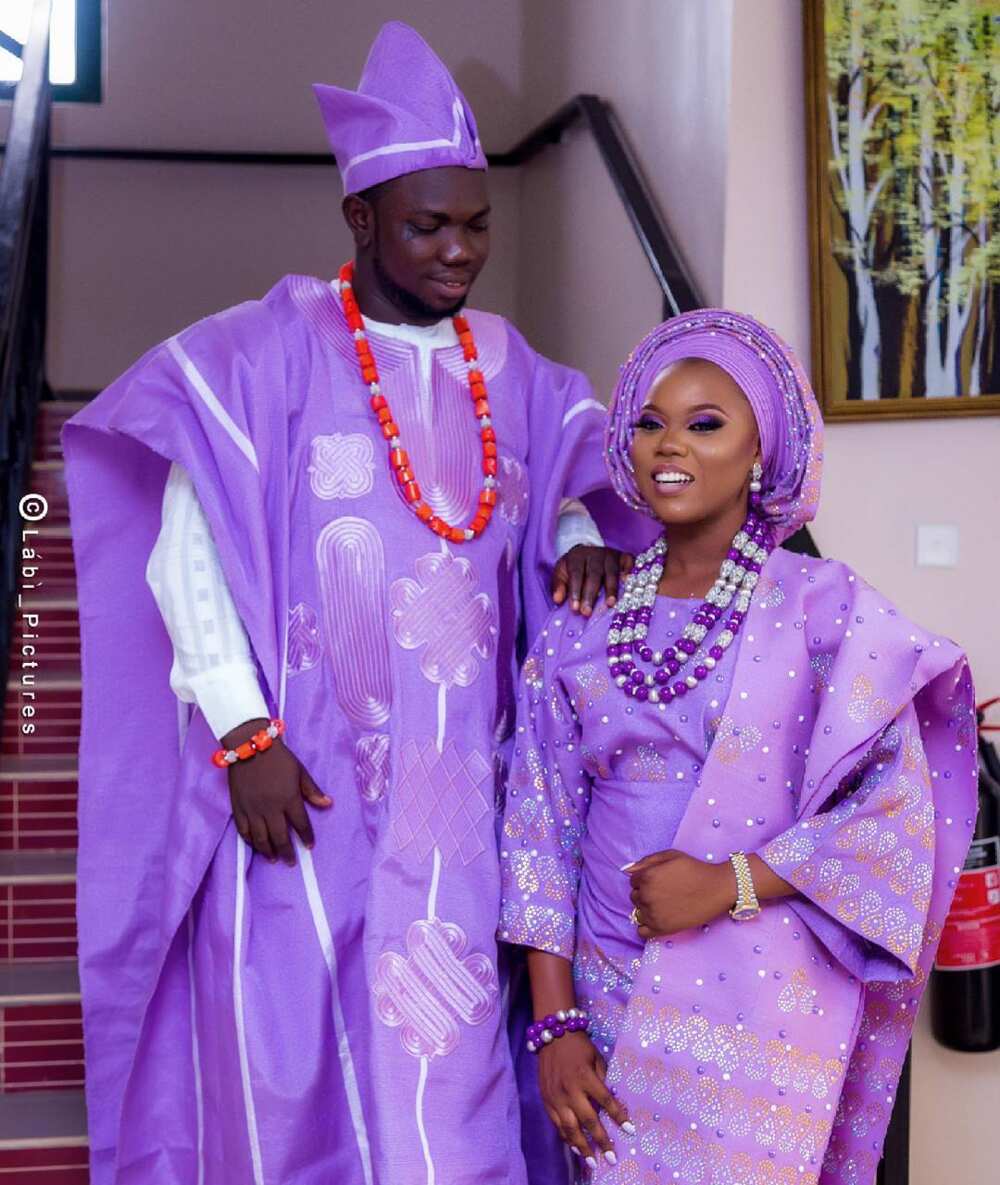 It is common for wedding traditions in many countries to have a bride to be with a head covered, so is in Nigeria. While in Europe it is a bridal veil, in Africa there are several options such as cap with beads sewed up, a massive big head tie. Colors may vary, the only thing matters is that they have to play well with actual clothes coloration. In fact, most frequently chosen color for African brides is coral.
This element as a detail helps to make Nigerian couple outfit matching.
Surprisingly, a cap is an element of men's wedding look as well. Its forms and material can vary, although frequently coincides with woman's headgear.
Accessories!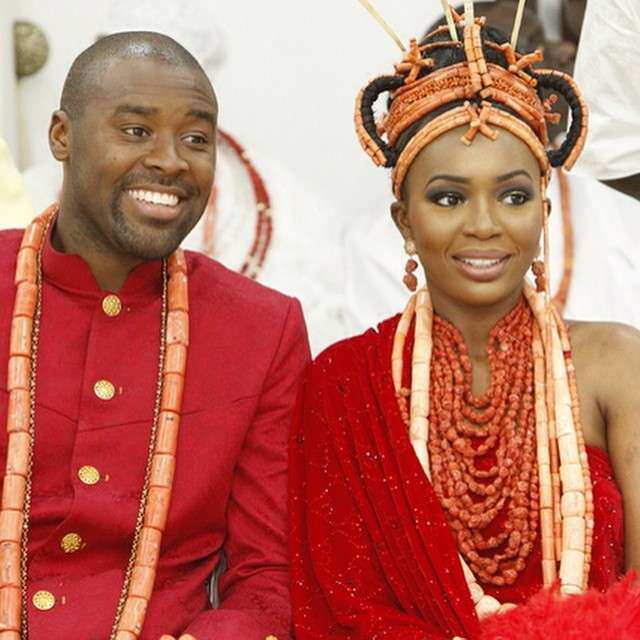 African customs are unique with their exceptional beauty of brightness; thereat there would be no way a couple could come out to be on their biggest day without any accessories that highlight their general outfits.
Precious metal crafts, for example, bracelets, big earrings, brooches and necklaces. It all looks striking and gathers a lot of high-graded comments from guests.
Beads are the part of groom's decoration elements, too. Such necklace loops around man's neck several times to create lines: the longer the beads – the better.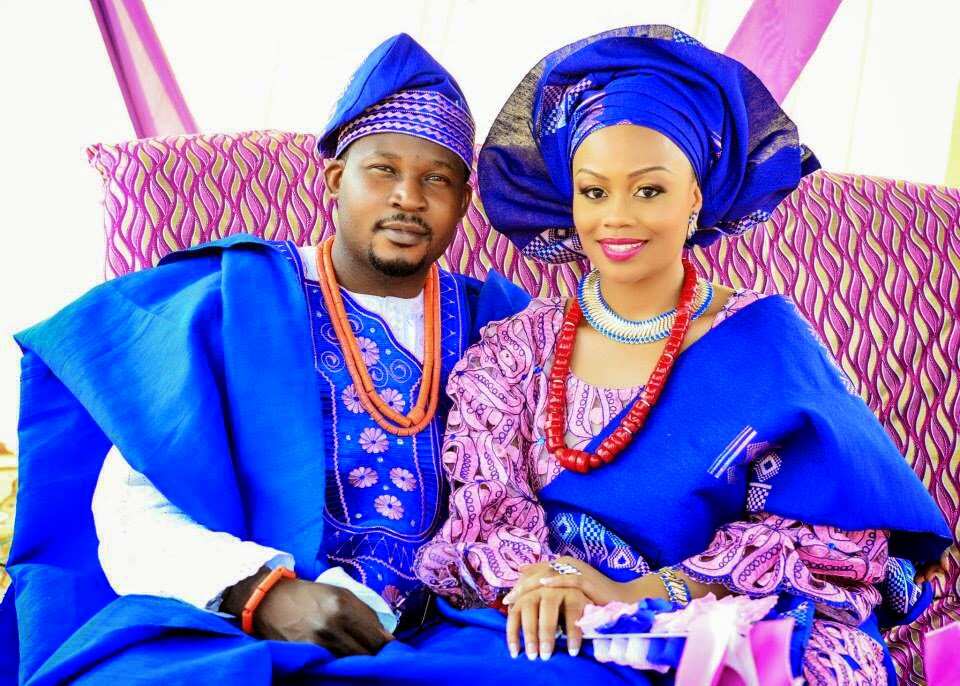 Nigerian couples outfit usually can get you impressed right with the accessories. Most commonly, that both partners prefer finery made of red beads on their necks and golden bracelets.
And clearly the look is not over without a walking stick that happens to be the most favorite Nigerian men's accessory, similarly to the women's fan. Both of these accessories are used just for some generic tone. Couples outfits matching can be demonstrated not only with some items but with general elegance as well.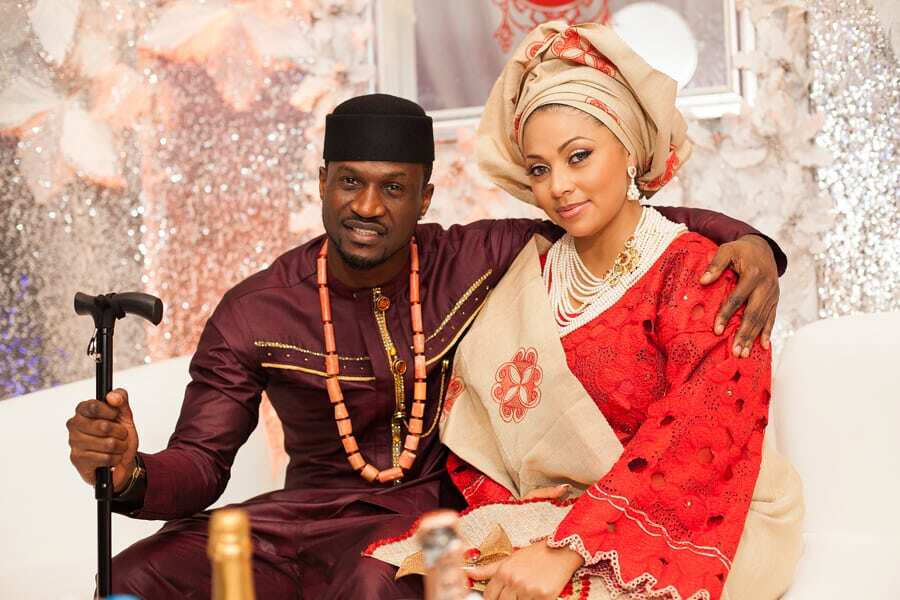 Couple dresses alike to demonstrate their close relationship and to show their union
Truly, matching couple's outfit is something that has to be maintained regarding certain customs and traditional costumes style!
READ ALSO: Best wedding suit colour combinations for men in 2018-2019
Source: Legit.ng