Nigerian clothing always look impressive and elegant, but different tribes prefer their traditional wear styles. Let us talk about Igbo culture and all the different types of Igbo dressing that existed in the past and are popular today.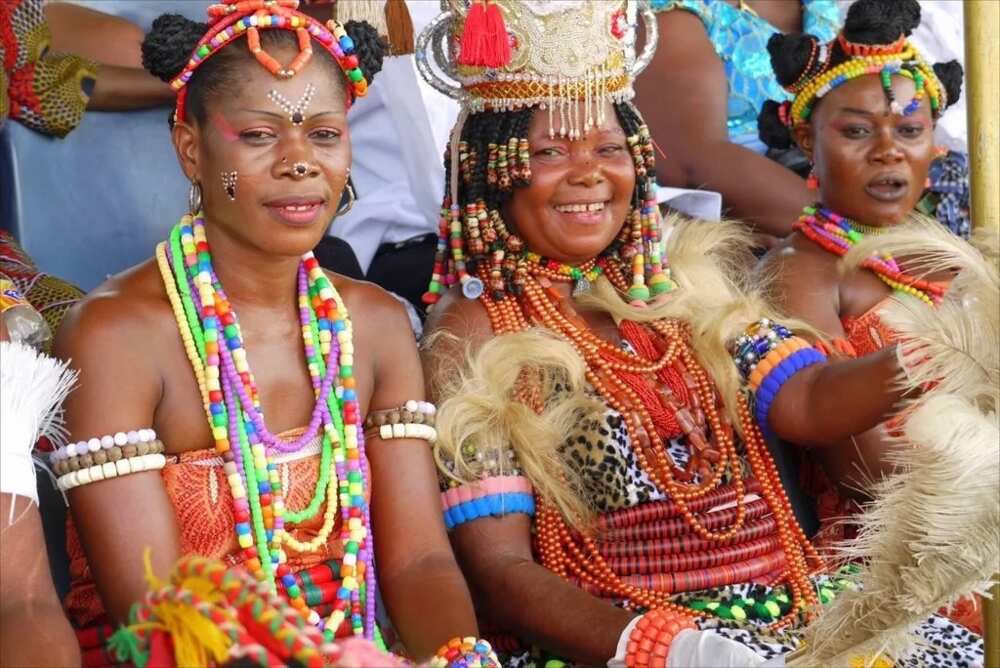 Igbo people
The fascinating Igbo culture is explored in the Southeastern territories in Nigeria. Millions of Igbo people follow their traditional practice and beliefs that originated from centuries ago. They perform their cultural dances, enjoy their unique language and, of course, use their traditional wear.
Would you like to learn what types of Igbo dressing were preferred centuries ago and are loved in the 21st century? Keep on reading this post, and we'll share the attires worn by Igbo tribe.
Different types of Igbo dressing
Looking at today's women, men and children from Igbo tribe, it is hard to believe that their dressing traditions used to be so different many years ago.
Modern Nigerians probably can't imagine Igbo people wearing nearly no clothing on them. Even a century ago, parents used to let their Igbo children stay without clothes or wear just enough to cover private body parts. Some children had additional accessories added to their 'undressed look' around the waist, which were usually the coral-colored beads or other types of ornaments. Such traditions were only meant for little ones who had nothing to hide (as the tribe believed). Of course, grown-ups always covered their bodies and also decorated their bodies with traditional Igbo art.
Igbo traditional wear culture has quickly changed after being colonized by West and modern European blouses, pants, trousers, and shirts. Are you ready to see what modern Igbo women, children and men wear these days?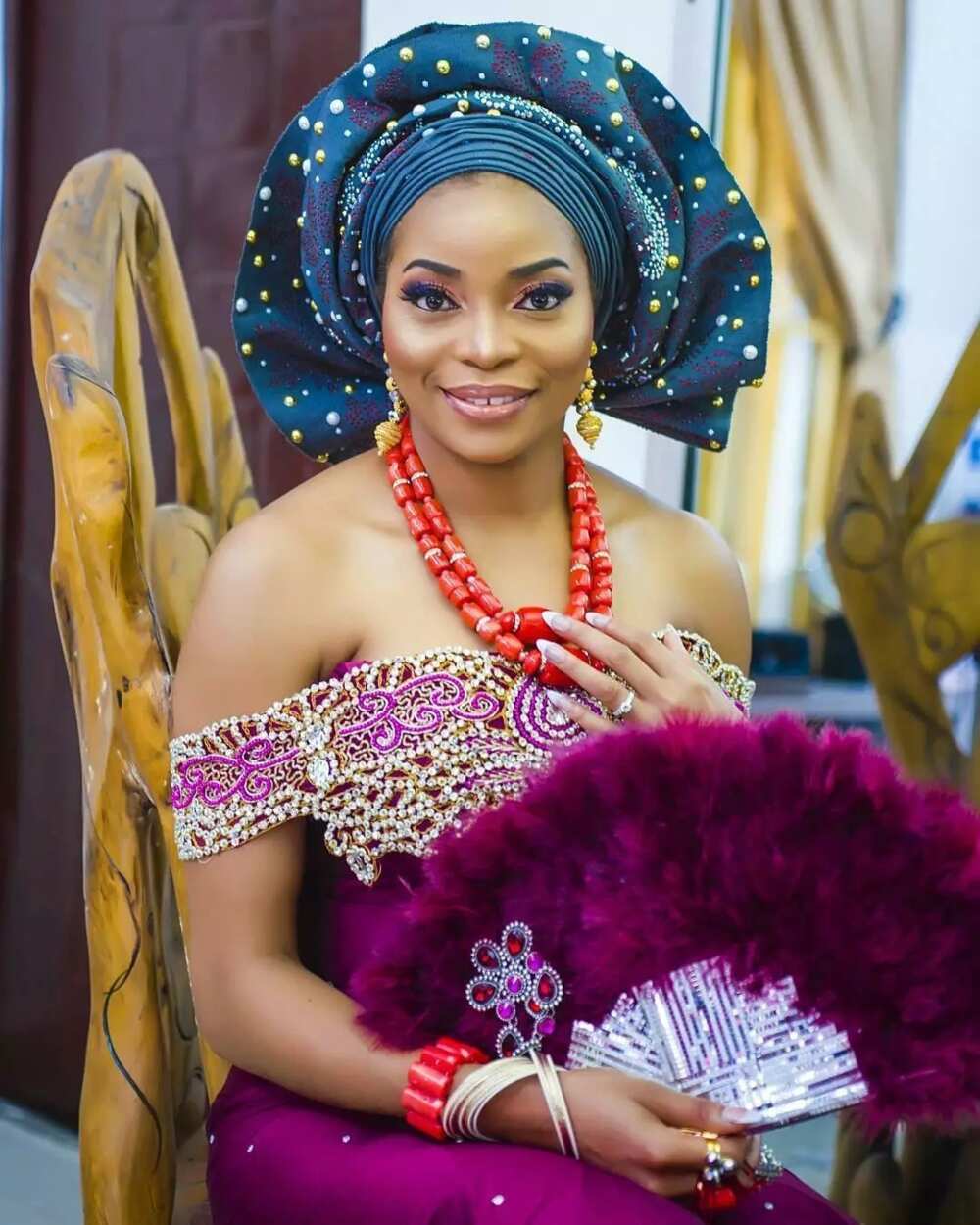 Igbo Nigerian clothing for women
In the old days, some Igbo women celebrated their feast in ekwerike clothing. In other words, they tied thick fabric around their waist. Others preferred painting their bodies with ufle, nzu, edo, uri and other colored ornaments (instead of wearing clothing) and decorating their waist with bead accessories.
Even today women who originated from Igbo tribe love wearing necklaces, beads and pretty ornaments with their traditional and modern attires. Coral-colored beads are still relevant. This is still a particular element of the Igbo traditional attire.
Modern Igbo female attire consists of an elegant blouse with pretty puffed sleeves and embroidery on clothing (many blouses are made of wax and guipure materials), wrapper and scarf on the head (gele). Mothers and ladies also like to wear additional wrapper (using 2 instead of 1) and love when this type of dressing is made of Hollandis materials.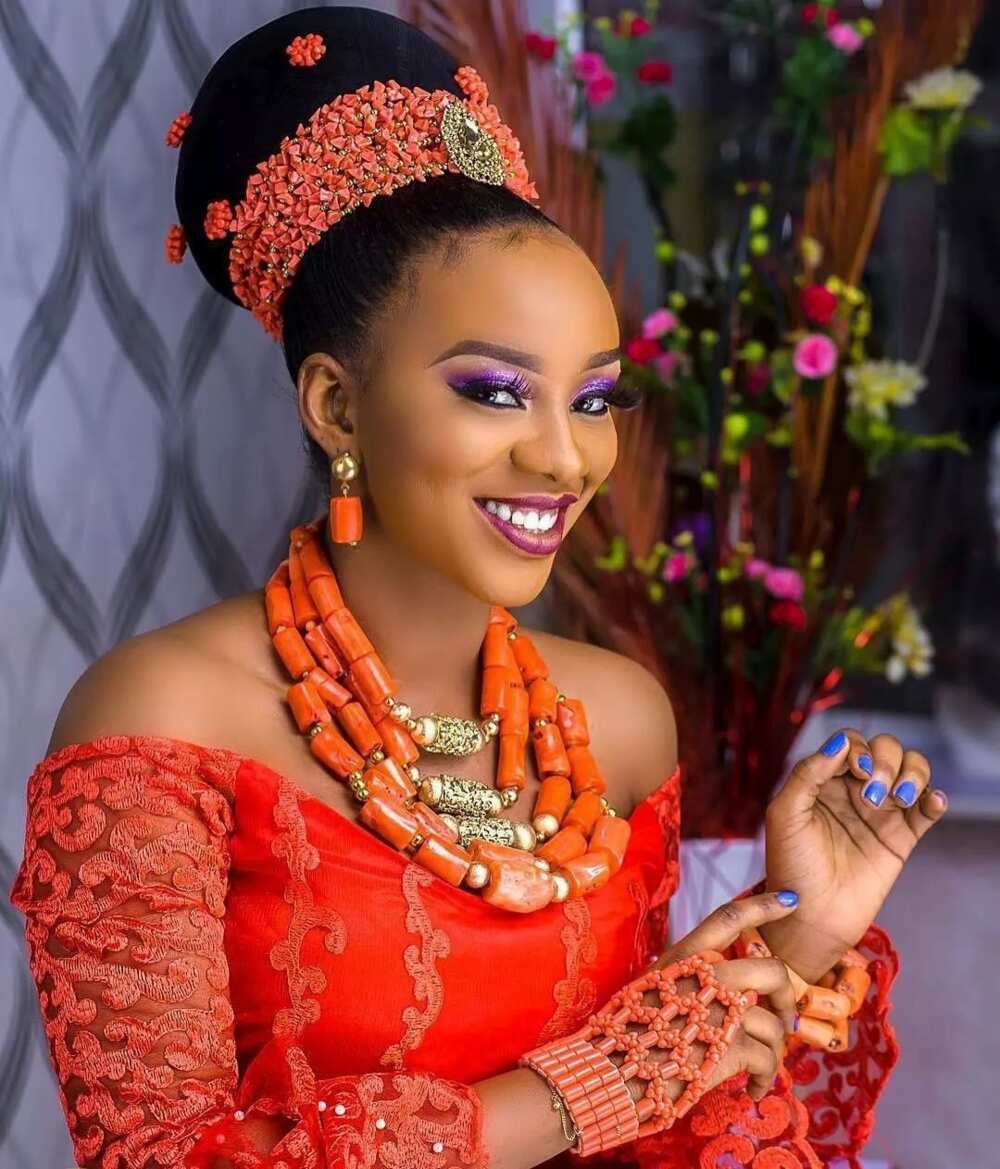 It is difficult to imagine an Igbo wedding without a traditional attire. Igbo brides prefer traditional wrappers and blouses and, of course, wear coral bead accessories. You can also see them wearing amazing necklaces, pretty earrings, handbags decorated with beads, anklets and even styling their hair with the lovely coral décor. So, Igbo brides wear either amazing coral decorative elements on the head or gorgeous gele.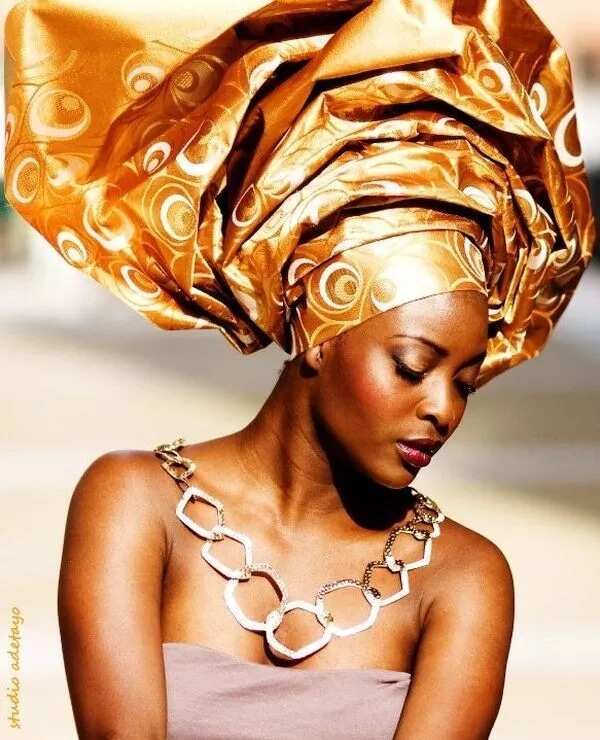 READ ALSO: Origin of Igbo tribe in Nigeria
Igbo traditional wear for men
Centuries ago, Igbo men preferred wearing loincloth which is a piece of garment that covered the private parts of the male body.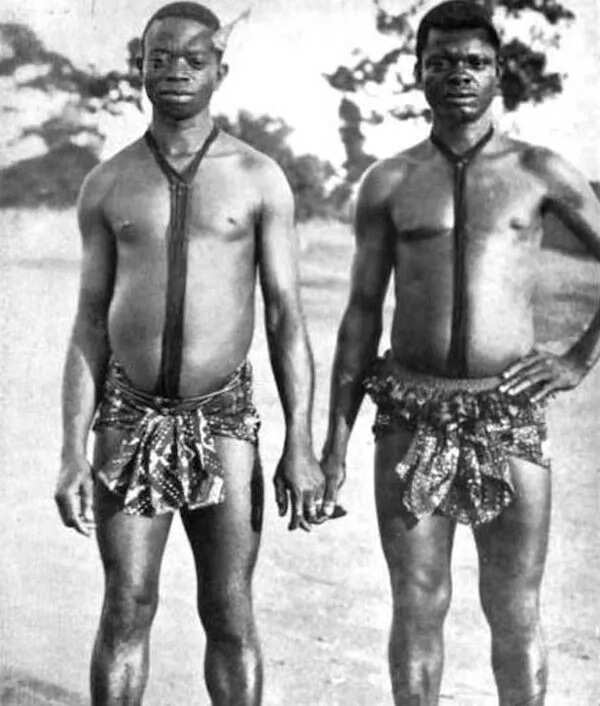 This loincloth was often kept in one place by a belt or fastened at the back. Who prefers such type of Igbo dressing nowadays? Well, you will not see an Igbo businessman in a loincloth, but farmers and sportsmen who spent most of the day under the hot sun often dress up in a loincloth and choose to wear a wrapper above.
Most men in everyday life wear the simple cotton robes (wrappers) with a light shirt and sandals.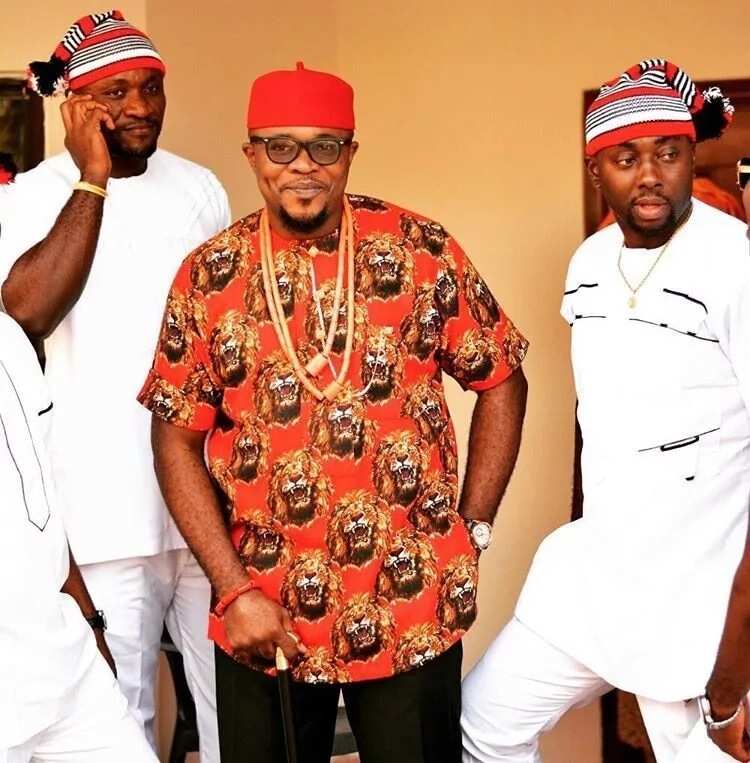 Traditional male attire preferred in Igbo culture consists of a special top (it is called Isiagu) and trousers. Isiagu can remind you of another type of dressing loved by Africans – dashiki – but it is still unique for Igbo people who can make it of a fabric of black color without ornaments, use other plain color or give preference to the lion head images on the top.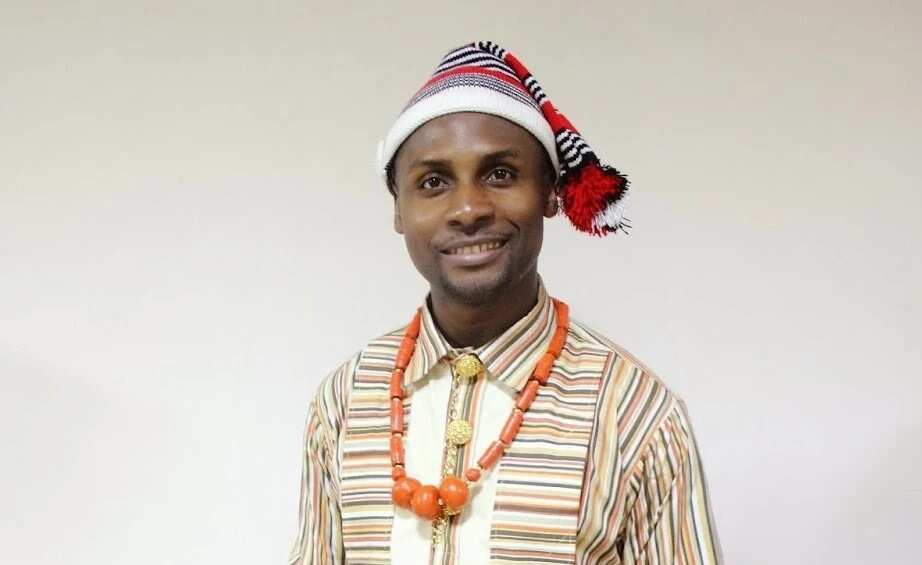 Many Igbo men also love wearing hats with their traditional attire. This hat is often called agwu, okpu agu (such style is loved by title holders) and has stripes on top often looking a lot like a bobble hat.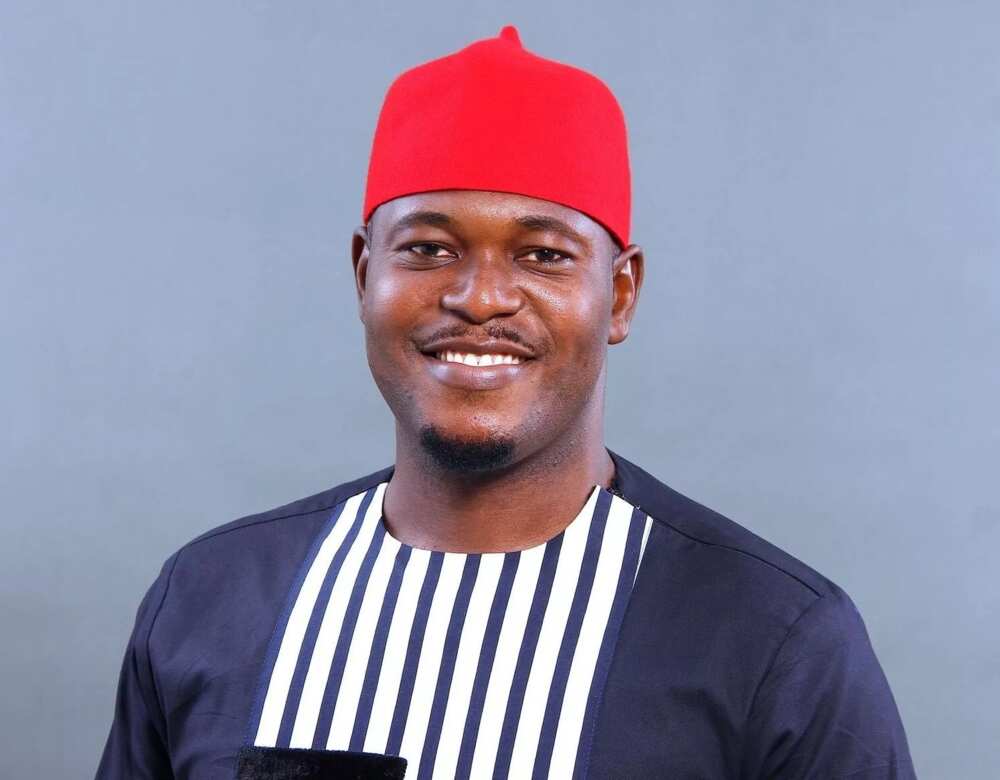 Often men enjoy wearing a red cap which used to be a special sign of the chief, but today it is loved by all members of the tribe. The red color plays an important role because historically Igbo people used red accents in their styles as a symbol of suffering they had to experience to develop and grow Igbo community.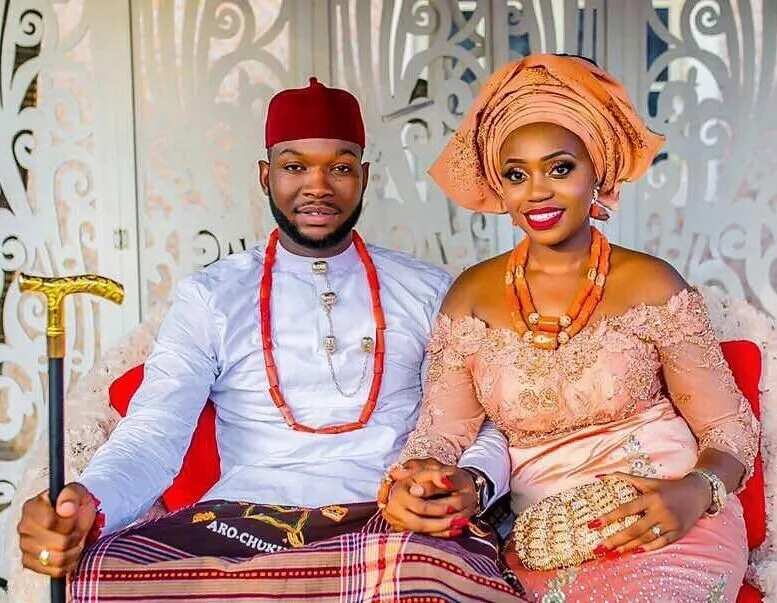 Igbo grooms also wear traditional outfits on their big days. They also decorate their traditional wedding attire with coral beads. Unlike their brides, men don't add this accessory to their hair. Instead, they only wear necklaces made of coral-colored bead. Some grooms also use walking sticks.
Igbo dressing for kids
The tradition to let most children stay without clothing until becoming matured people (of course, many girls covered their chest area with beads and necklaces even years ago) has changed. Modern Igbo kids are usually dressed up and look very cute. They look like small copies of grown-ups.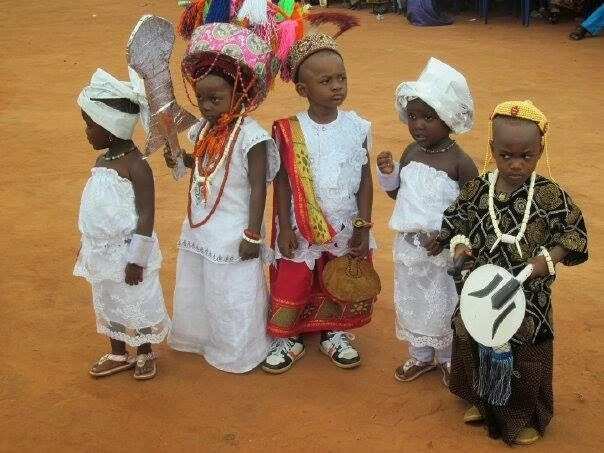 You can see that cultures change over time. Igbo culture is also influenced by European colonization and modern fashion styles. Today you will mostly meet Igbo people in clothing rather than without clothes. The attires has changed a bit, but still, the influence of the traditions is observed nowadays.
Modern Igbo families and children look elegant and still unique. What do you think about different types of Igbo dressing?
READ ALSO: IGBO traditional attire
Source: Legit.ng