Latest engagement dresses for bride for 2019
Engagement dresses in Nigeria are a separate type of wedding clothes. In this post, you will see a gorgeous selection of engagement attires and astonishing couples dressed like kings and queens for their special day. Just keep on reading!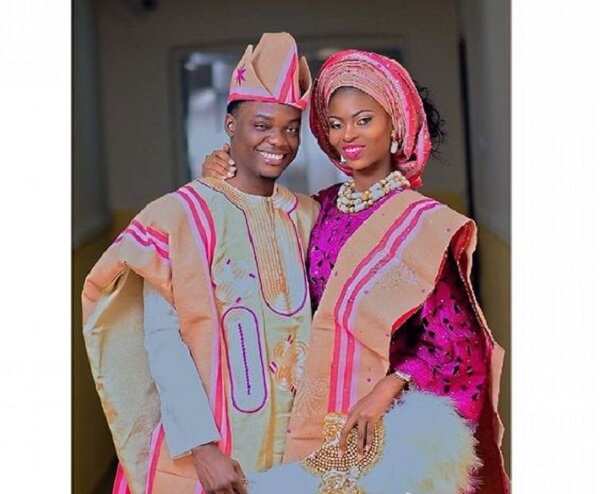 A little about the latest engagement fashions in Nigeria
The ceremony of engagement is usually something formal and precedes the wedding itself. In most cases, the engagement ceremony is called "Traditional Wedding". This name shows how the ceremony is treated and the garments the couple wears for this event are mostly traditional, too. Here's a selection of the brightest engagement attires in the traditional style you may love.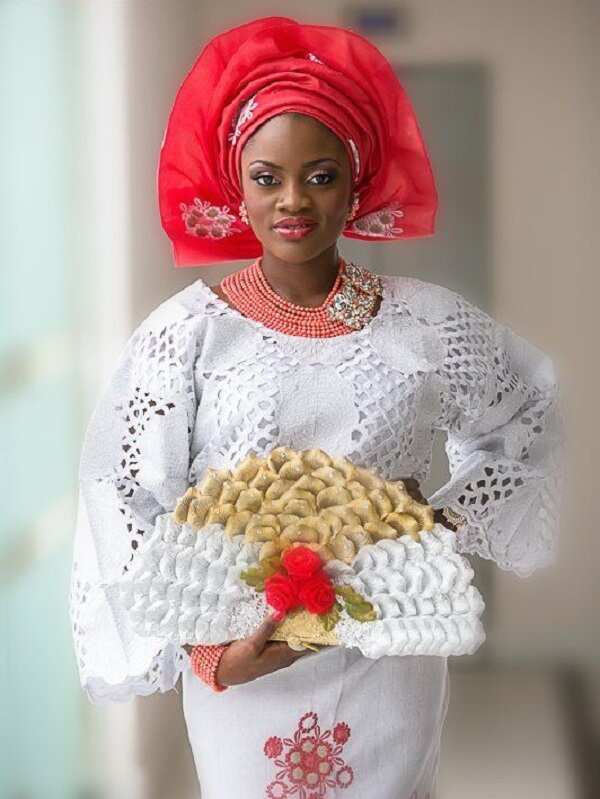 READ ALSO: Priyanka Chopra and Nick Jonas wedding
This future bride is dressed in a stunning white attire that's deliciously paired with a bright red gele wrapped around her head. The sunning lace top lined with a snow-white fabric sports amazing sleeves and a wide neck opening that exposes a gorgeous necklace. Everything in this attire is in a perfect harmony: the whiteness, the redness, and the coral hue of beads and decorations. The fan is a separate story because it's unusual and luxurious in spite of its simplicity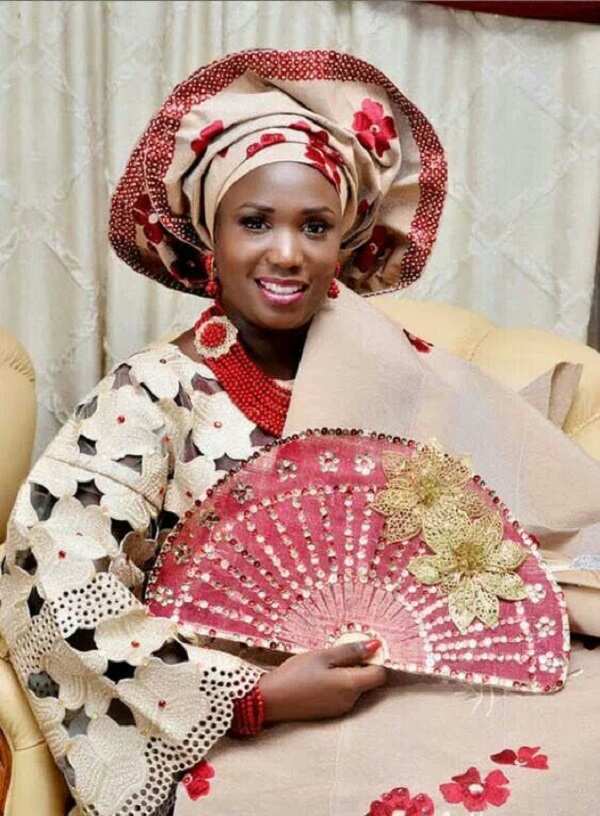 This is another bride dressed in a traditional way but in compliance with the latest engagement dress designs in Nigeria. The attire is done in a milky-beige color that matches her skin tone perfectly well. The gele is of a matching color but with deep red decorative elements and it makes this accessory a perfect pair to the red necklace and red flowers that are stitched on the skirt. Red beads that decorate centers of the huge lace flowers of the top make the garment complete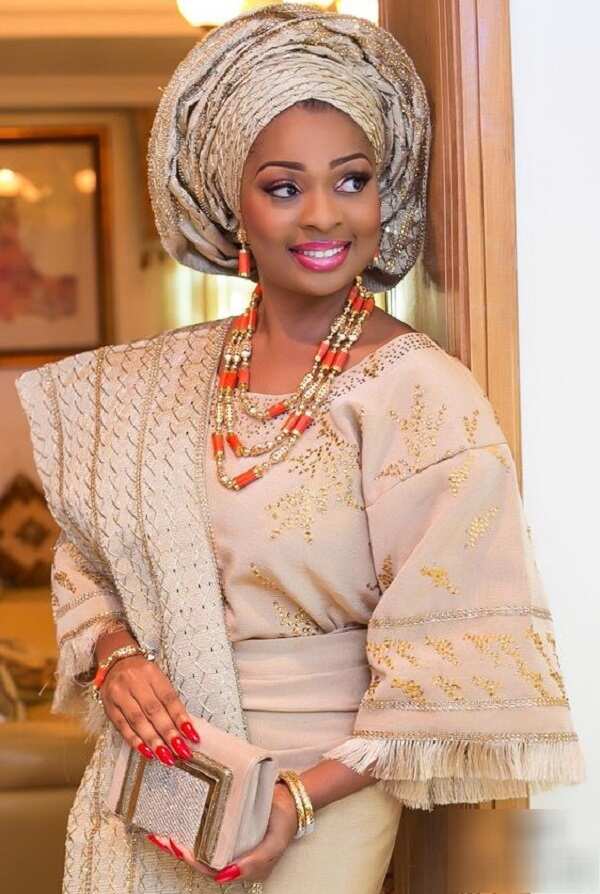 This powder-pink attire with golden decorative pieces is paired with a gele of a slightly different color. This delicious mismatch creates a lovely combination of tones and a stunningly whole ensemble. The golden embroidery and coral beads give a touch of freshness and liven up the smooth matte surface of the fabric. The head tie and the scarf made out of the same material look amazing and very elegant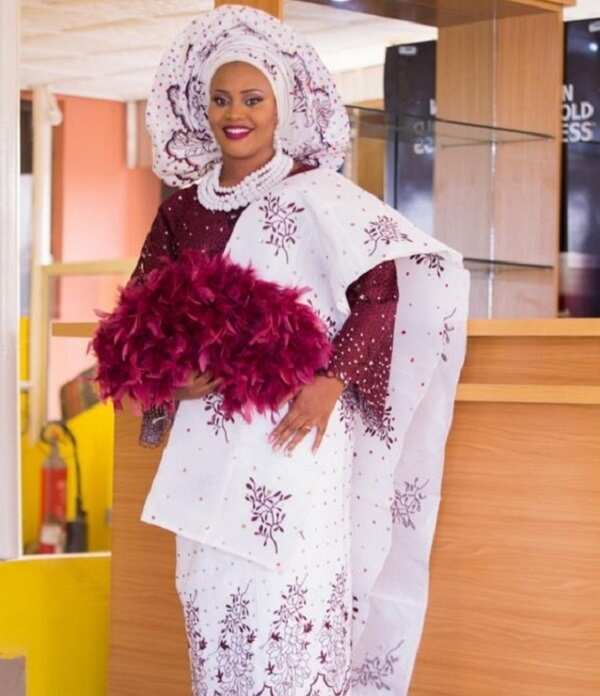 READ ALSO: Bella Naija pre-wedding photos for you to get inspired
Different shades of white and combinations with white are often chosen for engagement attires in Nigeria. This white and cherry-red garment is a perfect example. The gorgeous top with small fake pearls attached to the sleeves and the body is a wonderful idea.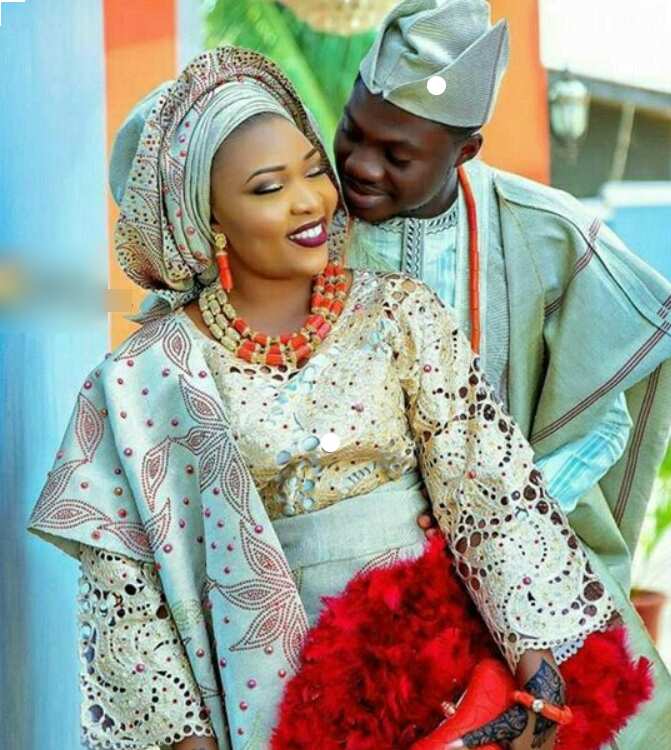 Here we can see how an engagement dress works in a whole couple attire. The golden shades are paired with red and coral in this garment, and the delicate embroidery with beads is a great accent that attracts attention to the beauty of the lace top. The man's garment is much simpler but just look how great they match each other and how lovely the pin-stripes on his garment match the embroidery on her dress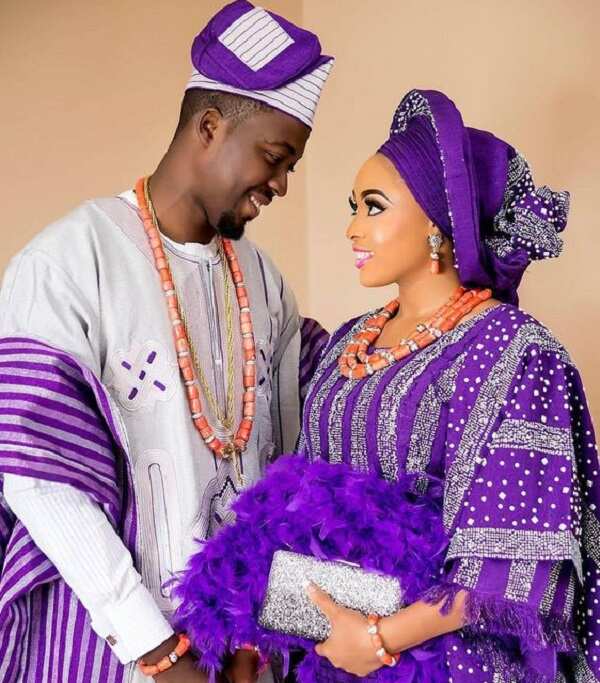 This is an option for those couples who are not afraid of bright colors. The bluish cold purple with white pearls and beads looks extremely fresh. The deep purple color of the head tie, fan and the dress match the warm skin tone of the bride, making it smooth and gentle. The traditional coral beads with silver details are simply stunning as they are on both the future wife and her elegant husband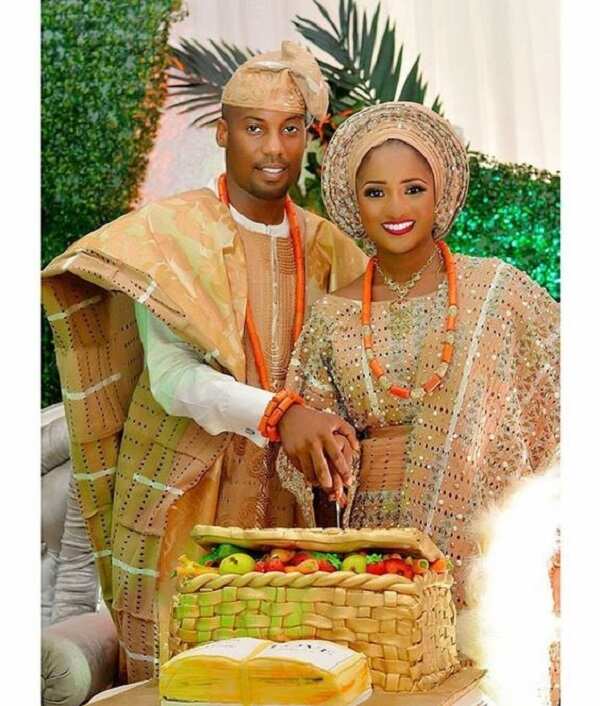 Peach and gold are a great combination. The powder-pink attire with beads looks complete and elegant. Here the bride wears everything of the same fabric with an elegant lacy pattern and lovely fake pearls attached to the garment.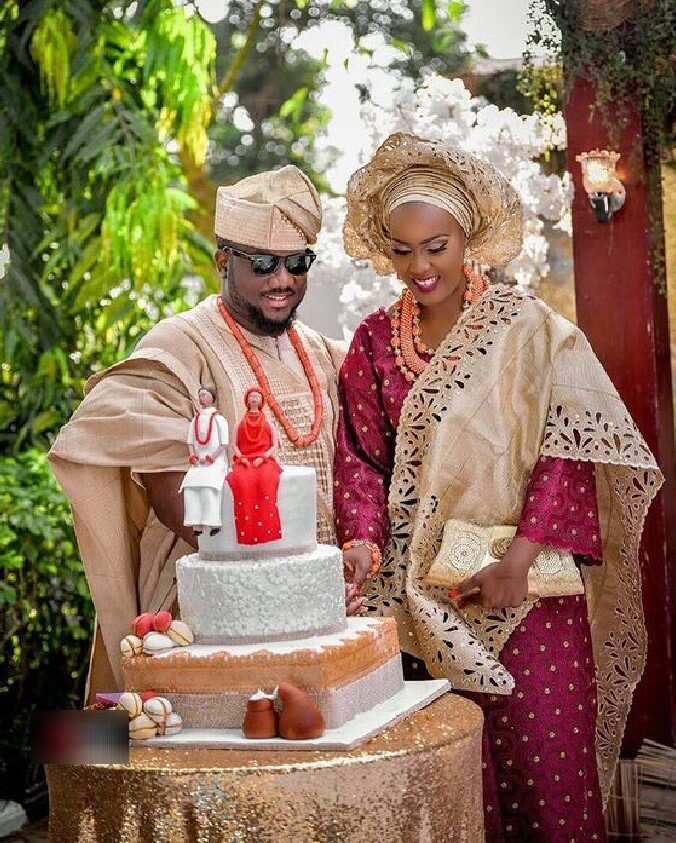 In this dress, the cherry-red prevails and is only emphasized with a touch of coffee-beige. The lacy fabric of the dress decorated with small dots is just so elegant and lovely. The bride has also a number of stunning accessories like a golden clutch in her hand and a string of coral beads of a contemporary fashion. However, all this make a perfect complete look of a modern bride who cherishes traditions but doesn't forget the current trends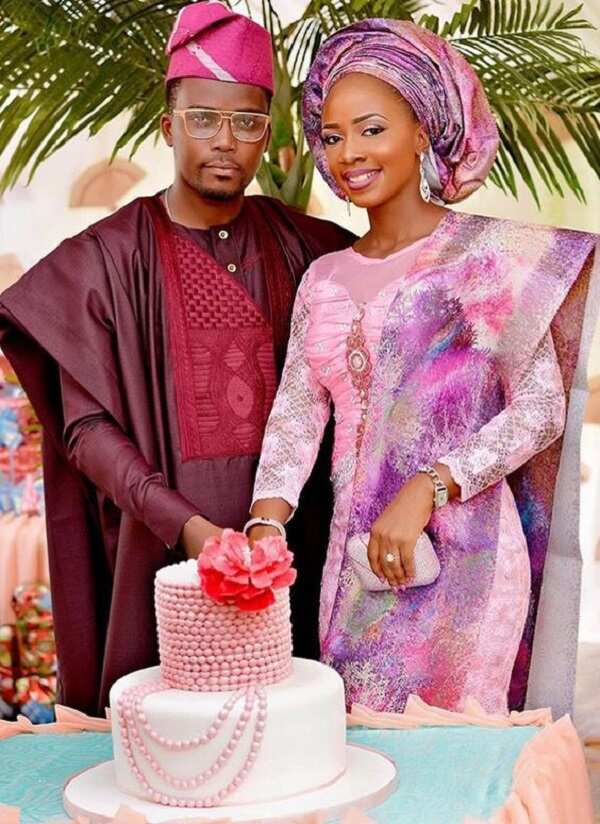 READ ALSO: Nollywood Actors are married: Linda Ejiofor And Ibrahim Suleiman wedding
This attire is completely modern. The colors of the bride's and groom's attires don't repeat each other. They only match each other and look good together but that's all. They don't blend into each other but create a lovely accent. The bride's dress of a very modern fashion is paired with a head tie and a scarf made out of a high-tech modern fabric of complicated colors. Isn't it a wonderful idea for an engagement?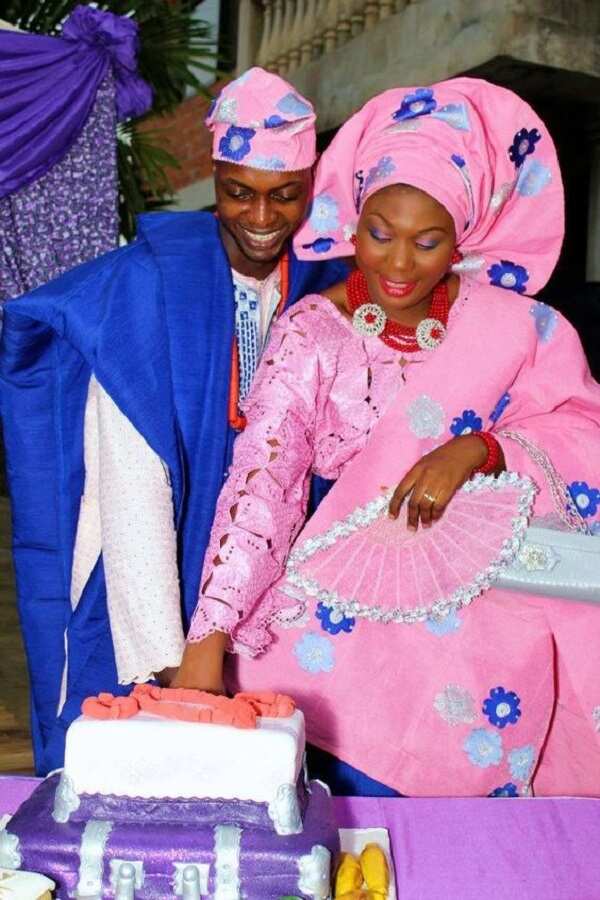 A bride dressed in pink with blue spots and a groom dressed in blue with pink accessories? It's easy. Here they are. The pink engagement top made out of pearly lace, a blue wrapper and a pink head tie with blue flowers that are repeated on the scarf – this is a winning idea! The combination of tender pink with a bright electric blue has always looked fresh and very adventurous. Red beads of the necklace and the bracelet are a necessary accessory to add some traditional hue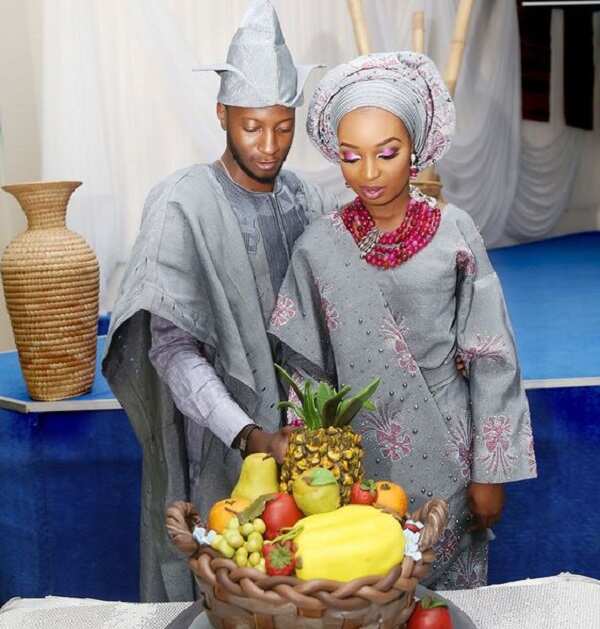 All grey with crimson-pink – why not? The calm and cool grey fabric decorated with modest and tender pink flowers look amazing with pink beads around the bride's neck. Some people may think that grey is not good for some jolly occasions like engagement or wedding but we can see how elegant, tender and cool this color may be when treated right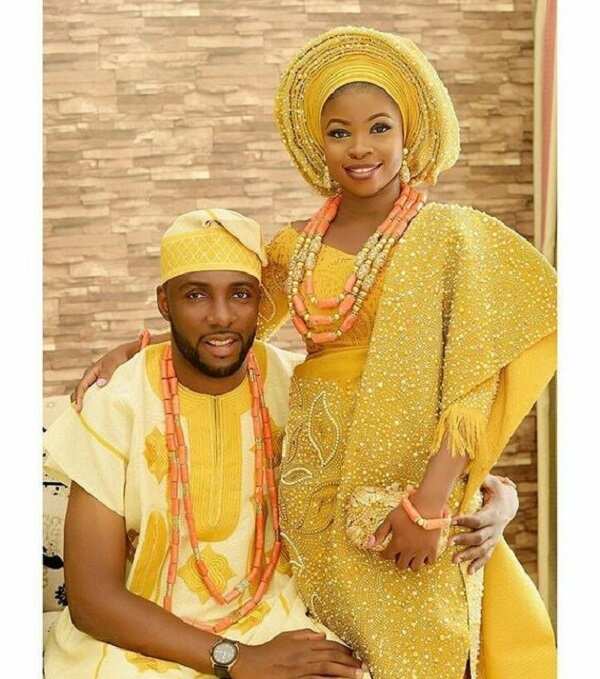 Sunny yellow attires for an engagement ceremony are among the latest engagement styles in Nigeria. The fabric of this dress, richly decorated with gemstones and fake pearls, inspires a desire to touch it and stroke the rough pattern. It looks so elegant in spite of the bright color and the coral hue of the traditional beads matches it perfectly. Just try yellow hues to your face and choose the one that matches your skin tone. You will have an incredible engagement attire!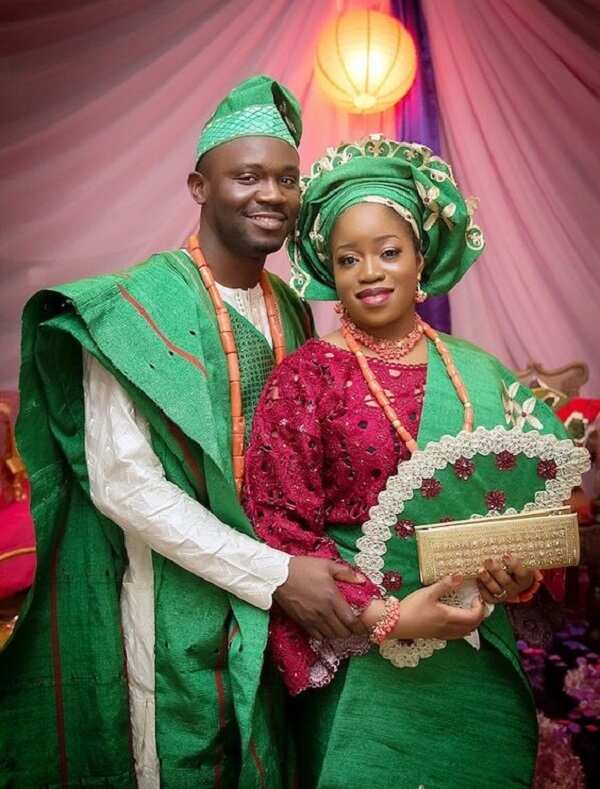 Some people will say that crimson and green are a bad combination. Still, look at this engagement dress and see how gorgeous it is, indeed, the combination of crimson lace and emerald-green fabric. Accompanied by creamy-white lace and accessories, these colors play wonderfully and create a stunningly refreshing combination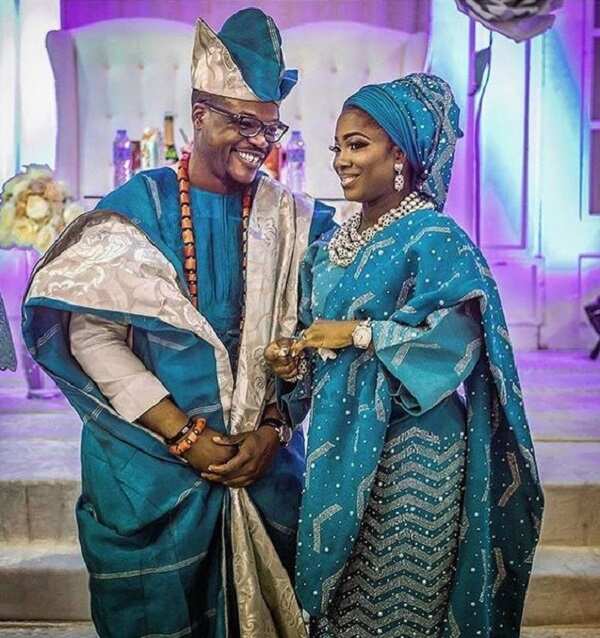 Ash-blue hues of this dress and accessories is exactly what you need to feel some freshness and coolness in the heat of a celebration. A richly decorated blue dress, a fancy head tie, and a scarf decorated with plenty of fake pearls and rhinestones will show all the beauty of your skin tone and give your eyes an incredible depth. Try some of blue colors on when choosing an engagement dress and pick out the most matching one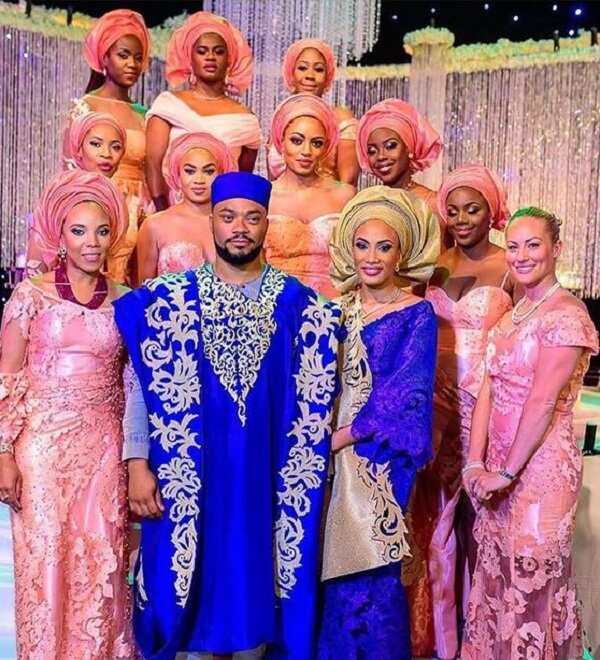 These are some examples of traditional engagement attire in Nigeria. So, you are free to choose any engagement attire in compliance with your tastes and likes. The only condition is your comfort and suitability.
READ ALSO: Wedding bridal gowns and accessories in Nigeria that are trendy this season
Source: offbeatbride.com
Source: Legit.ng