Cool cowgirl and cowboy names for the fans of old westerns
A name is the first gift you give to your newborn baby. Therefore, when it comes to picking a name, one has to go through a variety to understand their pronunciations and meanings. Western names have become common among folks today, and therefore, this list of awesome cowgirl and cowboy names would come in handy.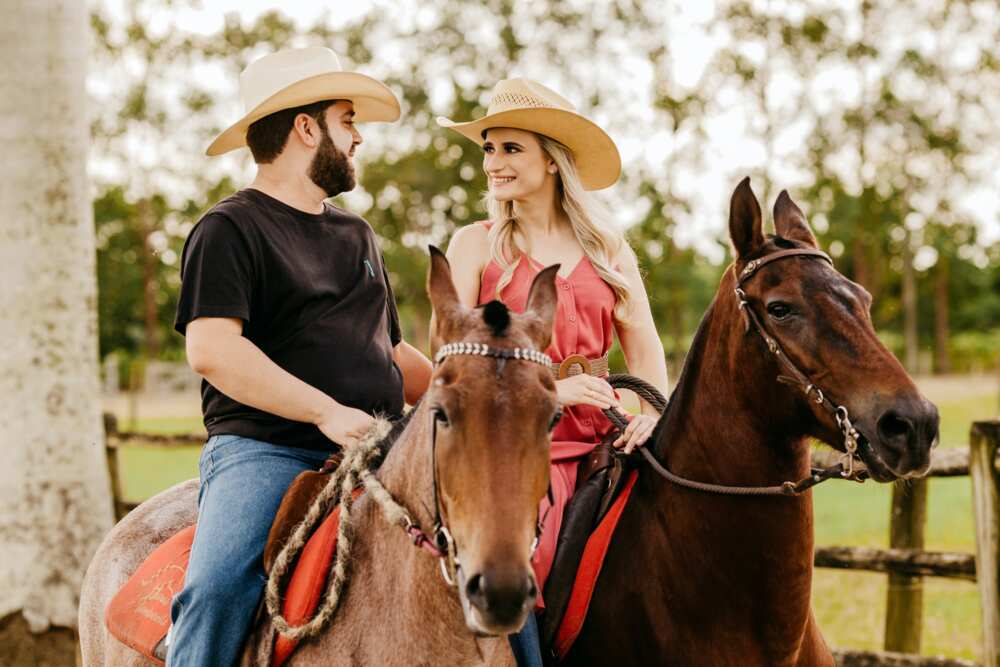 Are you looking for old western names for your child? Look no more! We have compiled a lot of western girl names and boy names for you to select from.
Cowgirl names
Your baby girl deserves an awesome name. You can find inspiration from these cowgirl names:
Clara - Bright, clear
Rose - Rose, a flower
Abby -A father's joy
Mae - Bitter or pearl
Juniper - Young
Lucy - Light
Josephine - Jehovah increases
Ada - Noble, nobility
Ella - light
Emma - Whole
Emmy - Work
Esther - Star
Clementine - Mild, merciful
Jane - God is gracious
Ruby - Deep red precious stone
Willa - Resolute protection
Sage - Wise
Sadie - Princess
Ella - All, completely; fairy maiden
Evie - Life
Millie - Gentle strength; strong in work
Hannah - Grace
Hadley - Heather field
Tallulah - Lady of abundance, or leaping water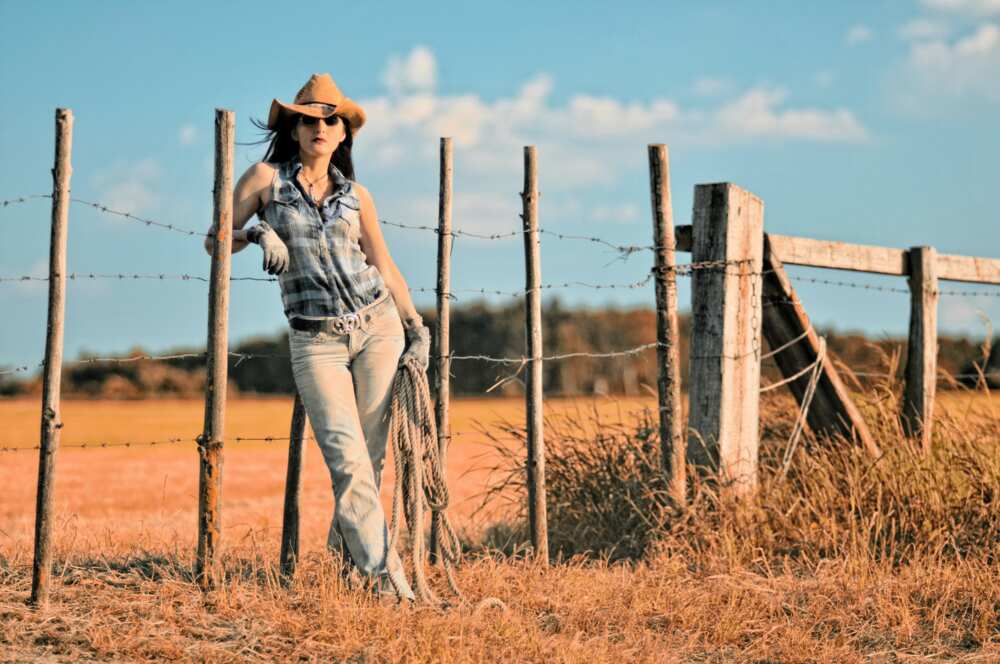 Ruth - Compassionate friend
Annie - Grace
Molly - Bitter
Bonnie - Beautiful, cheerful
Shiloh - Tranquil
Lark - playful, lighthearted songbird
Laura - protection
Lillian - Pure; passion; rebirth
Lydia - Noble one; a beautiful one
Maddie - Maiden; a young unmarried woman
Matilda - Mighty in battle
Ida - Industrious one
Kate - Pure
Belle - Beautiful
Hattie - Estate ruler
Hallie - Dweller at the meadow by the manor
Billie - Resolute protection
Effie - Pleasant speech
Dorothy - Gift of God
Josie - Jehovah increases
Mariah - The Lord is my teacher; or drop of the sea, bitter, or beloved
Minnie - Of the mind, intellect
Callie - Beautiful
Sierra - Saw
Sally - Princess
Frankie - From France; freeman
Tess - To harvest
Cowboy names
Have you just given birth to a baby boy, and you want a perfect name for him? Below are some famous cowboy names to choose from:
Silas - Wood, forest
August - Great, magnificent
Levi - Joined, attached
Otis - Wealthy
Wyatt - Brave in war
Dylan - Son of the sea
Beau - Handsome
Maverick - Independent, nonconformist
Zane - God is gracious
Cody - Helpful, pillow
Luke - Man from Lucania
Brody - Broad eye or broad island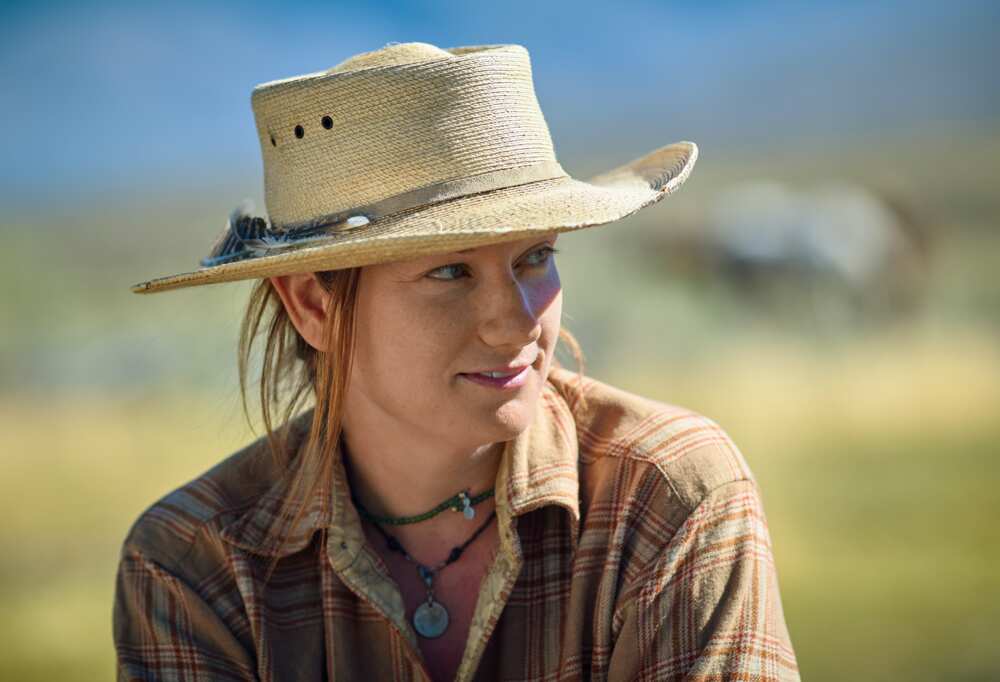 Phineas - The Nubian
Ryder - Cavalryman, messenger
Nash - By the ash tree
Jesse - Gift
Weston - From the western town
Adam - Son of the red earth
Dexter - Dyer, right-handed
Jace - The Lord is salvation
Shane - God is gracious
Cash - Hollow
Colton -From the coal or dark town
Colt - Young horse
Roscoe - Deer forest
Bo - To live
Shiloh - Tranquil
Oakley - Oakwood or clearing
Remington - Place on a riverbank
Quentin - Fifth
Blaze - Fire
Heath - The heathland dweller
Walker - Cloth-walker
Abner - Father of light
Gunner - Bold warrior
Additional old west names for boys
There are still plenty of western boy names you can give your newly born son. Here are some:
Dakota - A friendly one
Galen - Peaceful
Jeremy - God uplifts
Morgan - Sea and circles
Ray - Beam of light
Ryder- Horse lover
Trevor- Of big community
Warren - Where animals are enclosed
Zeb - A part of God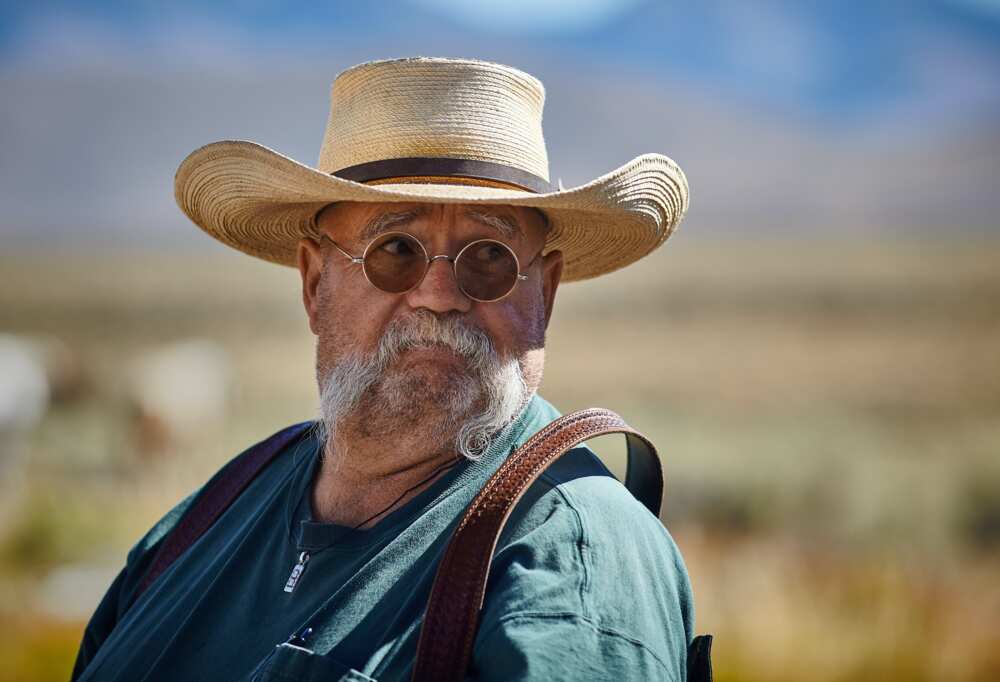 Arizona - Little spring
Alonzo - Eager for battle
Austin - Majestic, venerable
Bart - From the barley farm
Bill - Resolute protector
Boone - Good, a blessing
Carson - Son who lives in the swamp
Cassidy - Clever
Cole - Victory, of a triumphant people
Coleman - Dove
Henry - Home ruler
Holt - By the forest
Ike - Laughter
Lawrence - Fierce
Unique farmer names
Below are cool English names meaning farmer:
Chadwick - Dairy farm of Ceadda
Bosworth - Fenced farm near the woods
Bond - Peasant farmer
Beebe - Bee farmer
Charlton - Free peasant's settlement
Barric - Grain farm
Jur - Earthworker
Egor - Form of George Farmer
The cowgirl and cowboy names above are some of the best you will come across. There are many more, though. Feel free to pick a name from the list and share the article with your friends as well.
READ ALSO: Norwegian names and surnames for boys and girls (with meanings)
Legit.ng also published an article on Norwegian names. Most young parents are naming their newborn babies using Nordic identities, and as a result, they are gaining popularity.
Norwegian names have hidden meanings. Therefore, before you settle on any, you should first understand its meaning.
Source: Legit.ng