Belle Delphine's biography: Age, net worth, legal issues, career
Belle Delphine is a cosplayer, internet model, social media personality, and content creator. She went viral after selling her 'Gamer Girl Bath Water' online. She has also been involved in a few controversies that resulted in the banning of her Instagram account.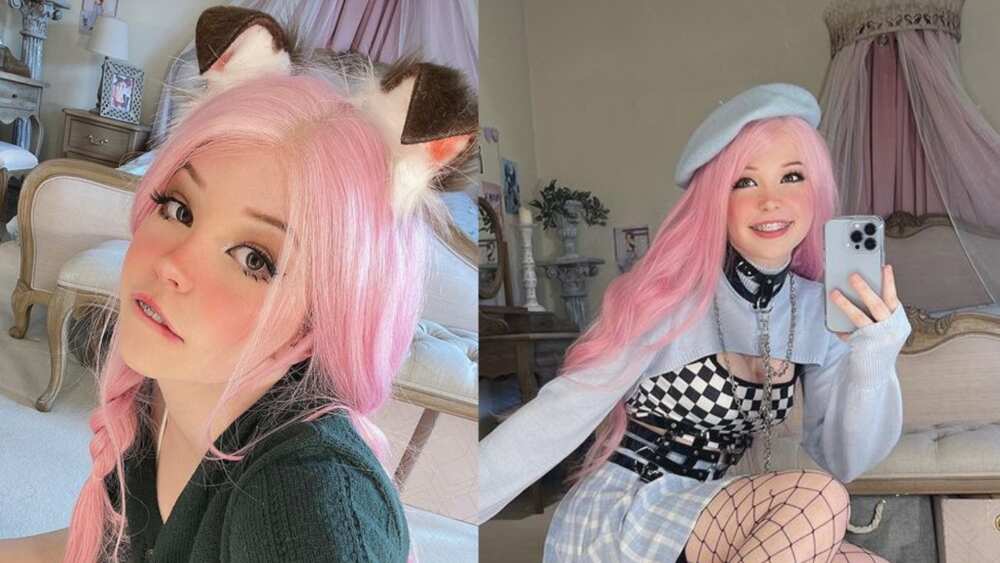 Belle Delphine rose to fame by posting fairy and kitten costume photos on social media. Here is all you need to know about her.
Profile summary
| | |
| --- | --- |
| Full name | Mary-Belle Kirschner |
| Nicknames | Belle Delphine, Bunny Delphine, Gamer Girl, or Kitty Belle |
| Gender | Female |
| Date of birth | 23rd October 1999 |
| Age | 23 years (as of July 2023) |
| Place of birth | Cape Town, South Africa |
| Current residence | United Kingdom |
| Nationality | South African and British |
| Ethnicity | White (French-British) |
| Scorpio | Scorpio |
| Sexuality | Queer |
| Height | 5 ft 6 in (168 cm) |
| Weight | 113lb (51 kg) |
| Hair colour | Dark brown |
| Eye colour | Dark brown |
| Marital status | Single |
| Siblings | 1 |
| Profession | Cosplayer, model, and social media personality |
| Belle Delphine's Instagram | @belle.delphine |
| Twitter | @bunnydelphine |
Who is Belle Delphine?
Belle Delphine is a cosplayer, model, and social media personality. Her real name is Mary-Belle Kirschner. She is also known as Bunny Delphine, Gamer Girl, or Kitty Belle.
How old is Belle Delphine now?
Belle Delphine's age is 23 years as of July 2023. She was born on 23rd October 1999, and her Zodiac sign is Scorpio.
Where is Belle Delphine from?
The social media personality was born in Cape Town, South Africa. She is currently based in the United Kingdom. She has dual nationality, i.e. South African and British, and her ethnicity is White (French-British).
Early years
The social media personality and her family relocated from South Africa to the United Kingdom when she was a child. She has one sister.
She went to Priestlands School in Pennington, Hampshire in southern England. She dropped out of school at 14.
What did Belle Delphine get famous for?
The social media personality's biggest claim to fame was selling "Gamer Girl Bath Water" over the Internet. Before then, she worked in various places.
Soon after dropping out of school, the social media personality began working at a coffee shop. Later, she was employed at a restaurant as a waitress. She also cleaned dishes in a kitchen for six months.
Once she turned 16, she distributed babysitting leaflets in her neighbourhood. She was hired by several families in her locality as a babysitter.
Her social media career started soon after she dropped out of school. She began posting photographs as a cosplayer on Facebook.
She turned the follower option on, and her Facebook page grew rapidly. She has over 100k followers on the page.
A couple of years later, Belle bought a campervan. She spent a month travelling around France. Once the trip was over, she realised she was unsure of what she wanted to do in life.
She knew she did not want a conventional career. Eventually, she decided to become a social media personality.
She waited until she was 18 to get a good phone. Soon after getting one, she started her Instagram account. She posted her first IG picture on 28th March 2015 and continued to do so regularly.
She uploaded pictures and videos in various costumes, including Disney princesses, Harley Quinn, and Princess Zelda.
Her online content often features Ahegao. Ahegao is a term in Japanese adult content for the facial expression of characters during sex. It is typically associated with a protruding tongue, rolling or crossed eyes, and a slightly reddened face.
In 2018, the cosplayer launched her Patreon account. The platform offers patrons access to regular, exclusive, and raunchy content, including access to her premium Snapchat.
Prices for accessing the content range from $5 to $2,500 a month. A fan once spent $2,500 in exchange for a personal Skype conversation with Belle.
She is active on multiple social media platforms. Some of her social media accounts have been banned due to violation of rules.
The social media personality has an eponymous YouTube channel created on 30th July 2016. The channel has over 97 million views and over 2.16 million subscribers.
Fans can find Belle Delphine's songs on her YouTube channel. She seldom unloads content on the channel as it only has five videos. Some of her songs are listed below.
uWu Daddy
I'm Back
Plushie Gun
Swingin' Wit T
Bite Down
In 2020, she started an OnlyFans account. Fans can access adult content from the platform.
She was the director of three companies at one point. These were Innovative Artists, Plain Jane Investments, and Belle Store. All three were incorporated between October 2018 and July 2019.
Innovative Artists and Plain Jane Investments were also linked to someone named Joshua John Gray.
What is Belle Delphine's net worth?
The Internet personality has a net worth of $10 million. She makes an average of $1 million per month off OnlyFans. She also makes money from other online platforms.
Is Belle Delphine married?
The social media personality is not married. She is in a relationship with a man whose identity remains hidden from the public.
Her boyfriend often serves as her photographer for her modelling content. In the past, she was in a two-year relationship with a girl known as Hanna. She previously dated Goran Vigurs.
How much money did Belle make from bath water?
Belle Delphine's news of her selling her bath water took the Internet by storm. The cosplayer sold her own bathwater for $30 a jar, broadcasting it to all of her 3.9 million Instagram followers.
The first batch of her bath water sold out in 3 days and became a huge commercial success. She reportedly made £10 million from the venture.
What happened to Belle Delphine?
The social media personality is not new to controversies. She had another Instagram account that was banned. The account had over 4.2 million followers. It was banned on 19th July 2019 after a few people reported it.
Later, Instagram reported the account was banned because she violated community guidelines. She started her current account and has accumulated over 3.2 million followers. There are reports that Belle Delphine's TikTok account was also banned.
In June 2019, the social media personality posted on IG and promised fans to start an account with a well-known adult content site if she got over a million likes. She got 1.8 million likes.
True to her word, she created an account on the site and uploaded 12 videos. All the videos turned out to be click baits with misleading thumbnails and titles.
In one of the videos, she indicated she shot explicit content with YouTuber PewDiePie. Some fans criticised her heavily for this.
In July 2019, rumours about her bath water spread quickly. A website identical to hers claimed to sell her urine for $10,000.
Another website claimed that there was no human DNA in her bathwater. Additionally, a Twitter user claimed her bathwater was causing a herpes outbreak. She dismissed the rumours.
After disappearing from social media in August 2019, Belle resurfaced online in October 2019 and claimed that she had been arrested because she spray-painted someone's car. She did so because the person stole her hamster.
How tall is Belle Delphine?
Belle Delphine's height is 5 ft 6 in or 168 cm. Her weight is about 113lb or 51 kg, and she has dark brown hair and eyes. She prefers to dye her hair in different colours, especially pink.
Trivia
She was born with a dislocated hip that required surgery.
Most of her videos are inspired by the comments that she receives.
She has poor spelling skills.
Belle Delphine is a popular cosplayer, model, and social media personality. She attracted plenty of attention after selling her bath water online.
Legit.ng recently published Rebecca Soteros' biography. Rebecca is a retired school teacher and philanthropist.
She is best known as the ex-girlfriend of the late Paul Walker, who became famous for his role as Brian O'Conner in the Fast and Furious franchise. She leads a quiet life, and little is known about her.
Source: Legit.ng