Missy Peregrym bio: Age, height, husband, net worth, children
Missy Peregrym is a beautiful and talented Canadian star widely known for her roles in police drama series such as Rookie Blue and FBI. The celebrity was also in the popular NBC superhero TV show Heroes.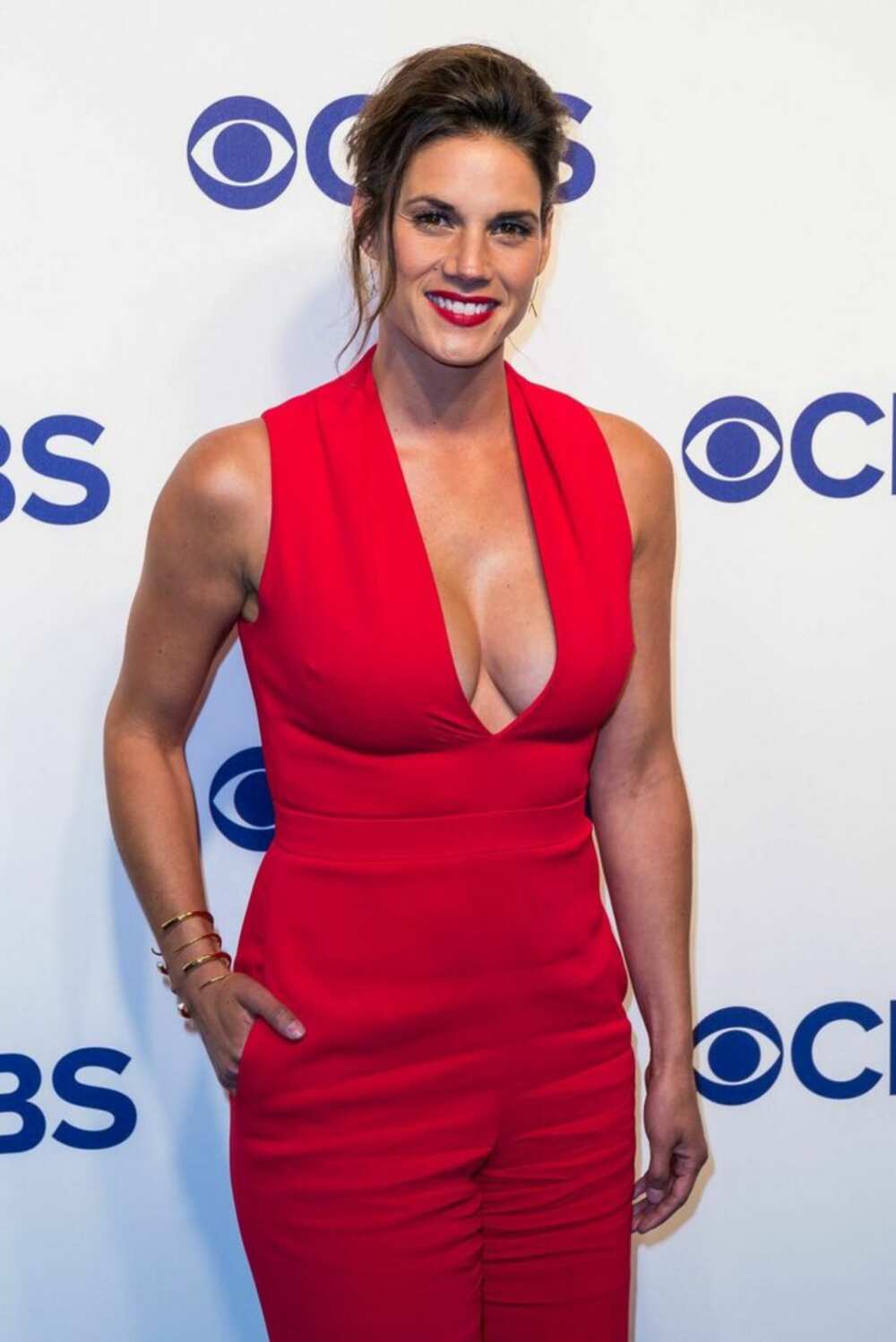 Here is all you need to know about the Canadian star.
Profile summary
Name: Melissa Peregrym
Date of birth: 16th June 1982
Missy Peregrym age: 38 years old
Place of birth: Montreal, Quebec, Canada
Zodiac sign: Gemini
Nationality: Canadian
Ethnicity: Caucasian
Siblings: Cassandra and Amanda
Spouse: Tom Oakley
Height: 5 feet 5¼ inches (1.66 m)
Weight: 60 kg (132 lbs)
Eye colour: Light brown
Hair colour: Dark brown
Profession: Actress
Net worth: $3 million
Missy Peregym's family and background
The Canadian celebrity was born in Montreal to parents Darrell and Vanessa Peregrym, a Pentecostal minister and a housewife respectively.
When she was 18 years old, Melissa began modelling. While working with the Lizbell Agency, the rising star did commercials for companies such as Mercedes-Benz and Sprint Canada.
What are Missy Peregrym measurements?
How tall is the Rookie Blue star? Missy Peregrym height is 5 feet 5¼ inches (1.66 m).
Missy Peregrym hot body measures 35-25-25 inches in the bust-waist-hip ratio.
Missy Peregrym movies and TV shows
The former fashion model began her acting career in 2002 when she played Hottie Blood in the episode Love in Vein in the TV series Dark Angel.
Here are more films and shows that she has starred in since then plus the roles she played in each:
The Chris Isaak Show (2002) - Julia in season 2, episode 11
Tru Calling (2003) - Gina in the episode Putting Out Fires
Black Sash (2003) - Tory Stratton in eight episodes
Smallville (2004) - Molly Griggs in the season three episode titled Delete. In 2006, she reprised this role in Smallville: Vengeance Chronicles
Call Me: The Rise and Fall of Heidi Fleiss (2004) - Tina
Andromeda (2004) - Lissett in the episode titled Time Out of Mind
Life as We Know It (2004 - 2005) - Jackie Bradford in 13 episodes
Stick It (2006) - Haley Graham
Heroes (2007) - In 2007, the actress starred on this popular TV show. Missy Peregrym Heroes character was Candice Wilmer, an advanced human with the power to create illusions.
Reaper - From 2007 to 2009, she played Andi Prendergast in 31 episodes.
Cybergeddon (2012) - Chloe Jocelyn in nine episodes
Rookie Blue Webisodes (2013 -2014) - Andy McNally in two episodes.
Rookie Blue - For six years - from 2010 to 2015 - she starred as the main character Andy McNally in 74 episodes.
Hawaii Five-0 (2016) - Bridget in the episode titled Ka Luhi.
Law & Order: Special Victims Unit (2017) - Zoe White in the season 18 episode titled Net Worth.
Saving Hope (2017) - Layla Rowland in two episodes
Ten Days in the Valley (2017) - Jamie in three episodes.
Van Helsing (2017 - 2018) - Scarlett Harker in 13 episodes.
FBI (2018-2020) - Special Agent Maggie Bell
Is Missy Peregrym still on FBI?
At the moment, she is not on the show. On the season two episode Broken Promises, Missy Peregrym FBI character left her co-workers behind after she received what might be a career-changing promotion.
However, most people think that Missy has not left the show for good. They believe that she was temporarily written out of the plot to allow her to stay home and have her baby.
Hopefully, Special Agent Maggie Bell will be back on the show in the upcoming third season. So far, the star has been in 41 episodes of the series.
What is Missy Peregrym net worth?
The former model and TV star is quite well off. As of 2020, the star's estimated net worth is about $3 million.
Dating history and married life
Before settling down with her now-husband, Melissa had been romantically linked to three men. They are:
1. Brandon Countee
The couple dated for one year, from 2005 to 2006.
2. Ben Roethlisberger
The actress dated the Pittsburgh Steelers quarterback from 2007 to 2008.
3. Zachary Levi
The Chuck actor and Missy surprised fans after they got married in a surprise wedding. The two tied the knot on 14th June 2014 in Maui, Hawaii.
However, their happily ever after was not meant to last. After about ten months of marriage, the Rookie Blue actress filed for divorce on 6th April 2015.
The documents, filed at the Los Angeles Superior Court, cited irreconcilable differences as the reason for the breakup. The papers further revealed that the two had separated on 3rd December 2015 - just six months after tying the knot.
Who is Missy Peregrym husband now?
The actress is married to Australian born actor and producer Tom Oakley. The lovebirds tied the knot on 30th December 2018.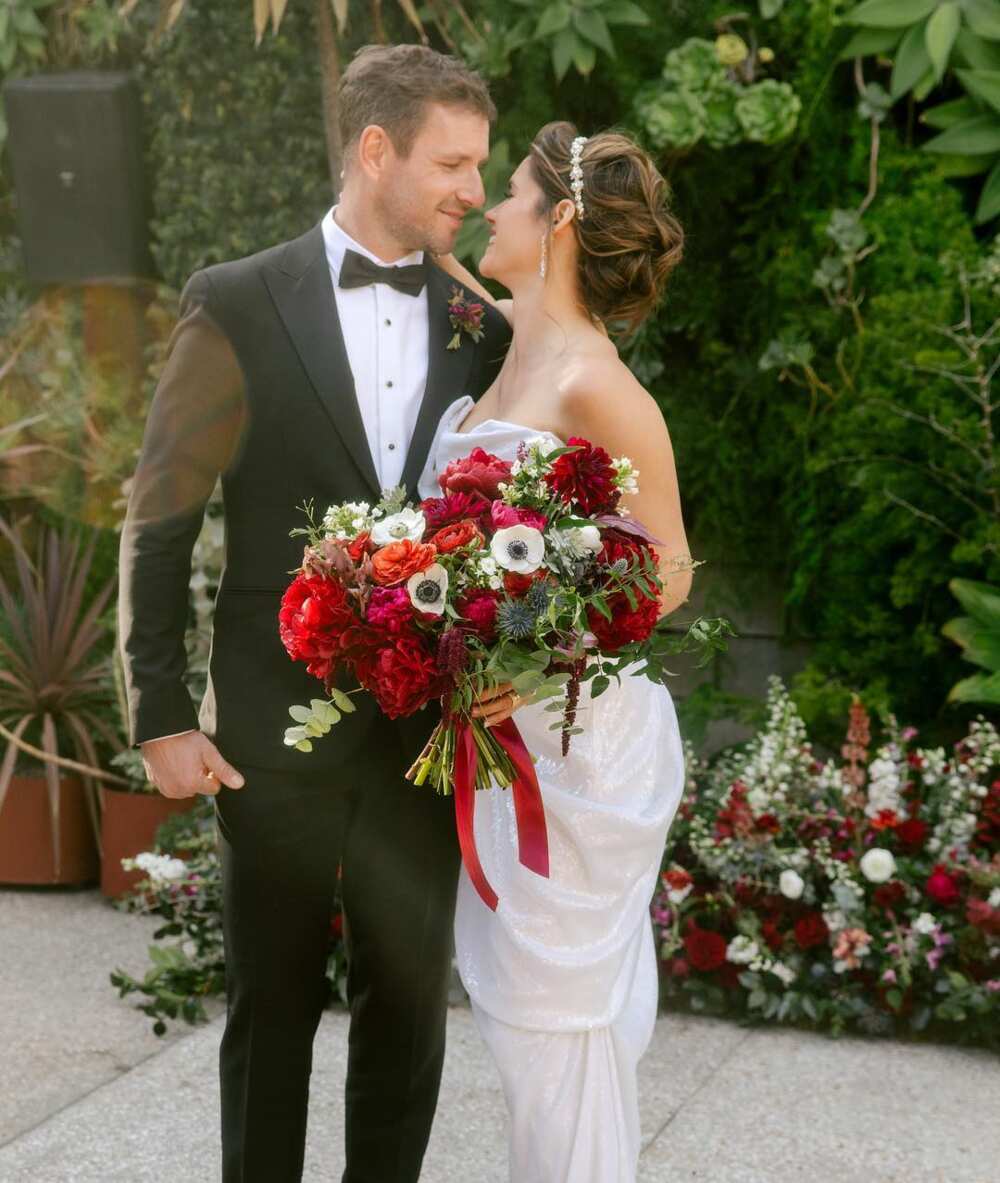 For the nuptials, the bride wore a beautiful strapless Vivienne Westwood gown while her husband-to-be donned a black Ralph Lauren tuxedo.
Is Missy Peregrym pregnant?
No, she is not. The star recently gave birth to her first child.
Missy Peregrym pregnant news broke on 23rd October 2019 after the star announced the exciting news on her Instagram page. Tom Oakley and Missy Peregrym baby boy was born early this year.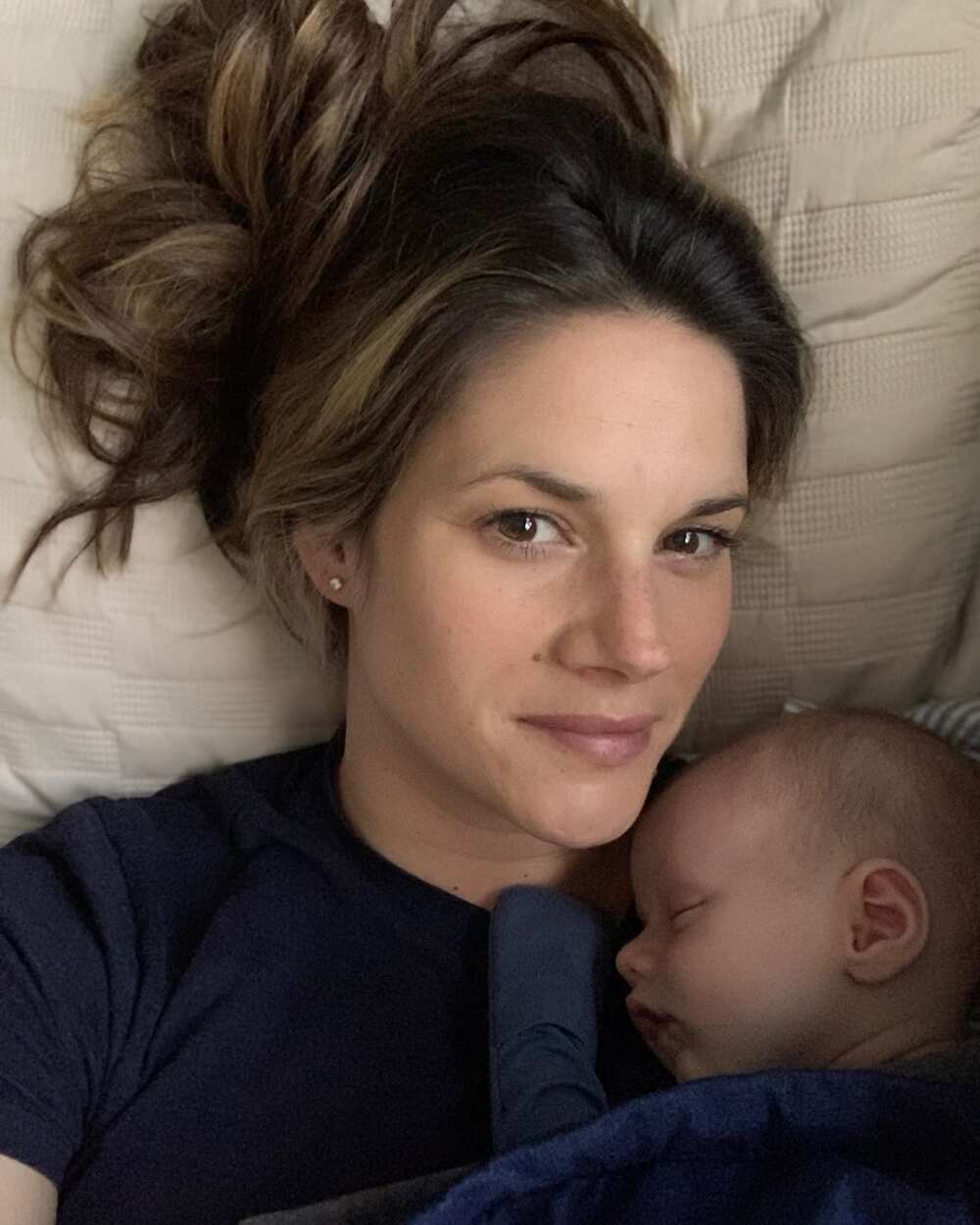 Otis Paradis Oakley was born on 21st March 2020 at the Lennox Hill Hospital in New York. According to the new and happy mother, Otis was delivered with the help of Dr. Brennan and his wife, nurse Jais.
Social media
If you would like to keep up with the star, you can follow her on her social media pages. Missy Peregrym Instagram account has about 226k followers and over 100 posts. On the other hand, her verified Twitter page has a little over 109,000 followers.
Today, Missy Peregrym is enjoying marital bliss with her husband and their new baby. Hopefully, she will be back on the CBS crime show.
Source: Legit.ng