Most iconic international football rivalries are between neighbours, like Brazil and Argentina, Germany and Holland and Egypt and Algeria.
The Nigeria national team has vast histories with Ghana and Cameroon. However, many of the Super Eagles' richest memories were created alongside a nation 9,125km away, Argentina.
Nigeria made their World Cup debut in 1994 and have made six appearances. On five of those occasions, they were drawn against La Albiceleste. Those 26 years have been record-setting: no two teams have ever met more often in World Cup group stage games.
But what's most remarkable isn't how frequently Nigeria vs Argentina has happened, it's how similar each World Cup clash was. The South Americans won all five showdowns, yet their margin of victory has always been just one goal.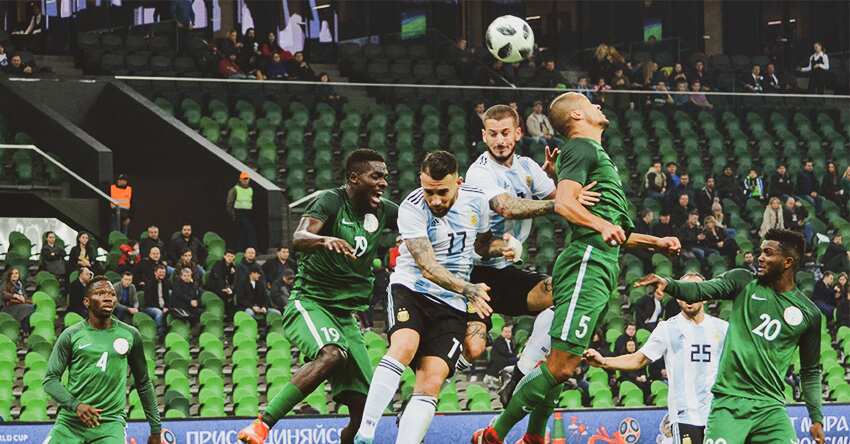 betPawa offers online football betting on betpawa.ng. They've revisited those matches and provided their football betting predictions for future encounters:
The World Cup history of Nigeria vs Argentina
Nigeria and Argentina's World Cup story began on the Super Eagles' first appearance in 1994. This was 64 years after two-time winners Argentina had debuted, but the newcomers started impressively, beating eventual semi-finalists Bulgaria 3-0.
Though Diego Maradona and Gabriel Batistuta were playing, Samson Siasia was the first goalscorer in Foxborough. With only eight minutes played, he lifted the ball over goalkeeper Luis Islas from just outside his box.
Despite this perfect start, Nigeria was behind by the 28th minute, felled by two free-kicks. Peter Rufai spilt the first into Claudio Caniggia's path. He scored the winner too, catching their defence off guard by getting Maradona to play him through quickly.
The next Nigeria vs Argentina collision came eight years later. Batistuta was still there, as was Caniggia as an unused substitute. However, La Albiceleste no longer had any World Cup winners in their squad, reducing any experience gap a little.
This time they met in 2002's opening set of games, starting at a slower pace. Goalkeeper Ike Shorunmu made smart stops to keep Marcelo Bielsa's men waiting until the 63rd minute for a breakthrough. A Batistuta far-post header from a Juan Sebastian Veron corner proved decisive.
There was no happy ending for either country on this occasion. They took a point each from their final two fixtures and both left Japan early.
The Super Eagles didn't qualify in 2006 but were back in 2010 and so was Maradona, now as Argentina coach. Their attack was probably as strong as it had been since his retirement. Lionel Messi, Carlos Tevez and Gonzalo Higuain started, Diego Milito came on and Sergio Aguero wasn't needed.
Nigeria was also pretty potent, with Yakubu upfront and Peter Odemwingie and Obafemi Martins joining after half time.
Who got the decisive goal with all that prolific talent participating? Veteran defender Gabriel Heinze. His late run into the box at a sixth-minute corner wasn't tracked, giving him a free header.
The first World Cup in Africa wasn't one to remember for either side. Nigeria lost despite leading against Greece five days later before drawing with South Korea. Argentina's initial promise was swiftly forgotten after a 4-0 quarter-final humbling by Germany. Maradona was gone soon after.
The Lionel Messi and Marcos Rojo years
Though those 2002 and 2010 encounters both finished 1-0, Nigeria wasn't as close to a shock triumph as in 1994. However, they gave Argentina far more frights in both 2014 and 2018.
Messi was criticised in South Africa for not scoring any of his team's 10 tournament goals, There was no repeat in Brazil in 2014. Instead, he struck decisive goals past Bosnia and Iran in their first two games.
Nigeria took four points off those same opponents without conceding. A draw in their final group tie against Argentina would secure their first knockout place in 16 years.
Given his form, it wasn't a surprise that Messi scored twice before half time, including in the third minute. More surprising was that, unlike in 2002 and 2010, the Super Eagles had a response. Ahmed Musa equalised one minute after it was 1-0 and two minutes after it became 2-1.
But Messi would turn from finisher to creator, supplying a corner which Marcos Rojo scruffily directed into the net. It was another near-miss and another match-winning goal from a defender. In better news, Iran lost so Nigeria still reached the round-of-16.
Group D's Nigeria vs Argentina finale in 2018 wouldn't end with both squads smiling. This time Gernot Rohr's men held an advantage because another Musa brace had defeated Iceland. Draw and they would progress at the 2014 finalists' expense.
Messi put Argentina ahead but Victor Moses equalised with a penalty after half time. In four previous World Cup meetings, the South Americans had always been in front by the 63rd minute and not looked back.
Not in St Petersburg though. The clock ticked towards 90, Odion Ighalo wasting a huge chance, before Rojo again broke hearts with four minutes remaining. It was a classy volley rather than a messy tap-in, yet that was no consolation to Nigeria. They were narrowly denied for the fifth time.
Golden moments for Nigeria beyond the World Cup
Nigeria vs Argentina story looks very different with World Cup contests removed. One of the Super Eagles' greatest moments came at Hernan Crespo, Javier Zanetti and co's expense.
This was Nigeria's 1996 Olympics football gold medal, achieved by rallying from behind twice before substitute Emmanuel Amunike's 90th-minute winner. A year earlier, they held Argentina 0-0 in what would later be known as the Confederations Cup.
Nigeria has also celebrated huge recent friendly wins too, both times within a year of World Cup disappointment. An Ikechukwu Uche brace helped them to a 4-1 success in Abuja in 2011.
They also fired four in Russia seven months before their World Cup 2018 loss. Alex Iwobi scored twice as they recovered from being 2-0 down after 36 minutes. Messi and Rojo weren't there that day.
Football betting predictions: what next for Nigeria and Argentina?
The closeness of their World Cup clashes and those four results above prove that Nigeria can compete with Argentina.
Those last two World Cup ties were arguably as near as they'd come so far. So if they meet again in Qatar, our football betting prediction is that Nigeria will finally be victorious.
Enjoy online betting on football at betpawa.ng. Sign up in seconds to bet small from ₦1 and win BIG with betPawa's 250% win bonus. Visit today to bet on Premier League, La Liga, Serie A and more. Terms & Conditions apply. Bet responsibly. 18+. Licence No: 00-3633.
[Sponsored]