How to play Betway: registration, login, mobile vs. PC version
Most sports fans enjoy betting for their different games and tournaments, and currently, online sports betting is on the rise. Betway Nigeria currently offers 28 sports markets for betters who love football, rugby, basketball, tennis, handball including diverse disciplines like horse racing, badminton and floor ball. Betters can choose the option of live betting or virtual online betting on games from major leagues and tournaments. The platform allows you to bet anywhere and anytime through your desktop, tablet or mobile phone.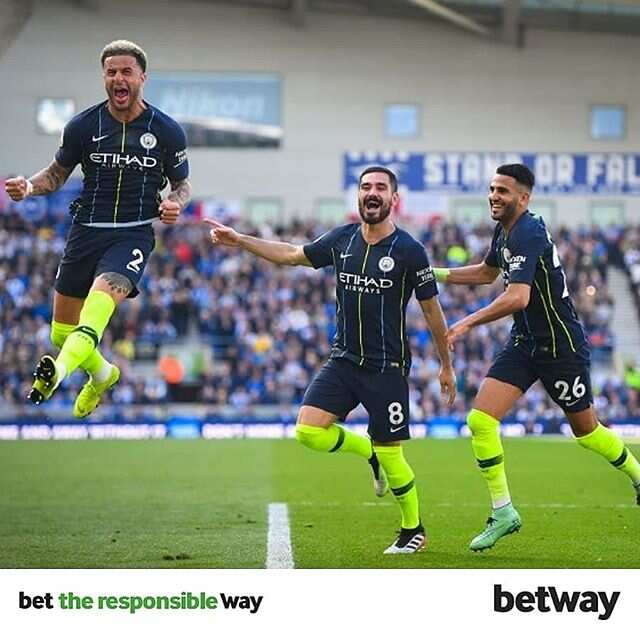 The registration is fast and straightforward as it only requires one to create my betway account and fill in the necessary details. What then is my betway account? It is an account that a customer creates to allow them to place a bet. During the registration process, one is required to fill correctly in their personal information, then proceed to deposit amounts and begin placing bets to their favourite betway sports.
How to register
If you ask yourself the question, "How do I register for betway?" With a few steps, one can easily register and begin betting on betway. We have outlined the steps for you below:
Log in to www.betway.com.ng and click on the betway sign in button
On the create account page, fill the account information details. Enter a preferred user name and a secure password that you can easily remember for betway mobile log in.
The personal and contact details will require necessary personal information details like
Name
Date of birth
Home address
Email address
Preferred language
Preferred currency
Once completed click on the register button and you will receive a notification through your mobile number indicating your username has been received.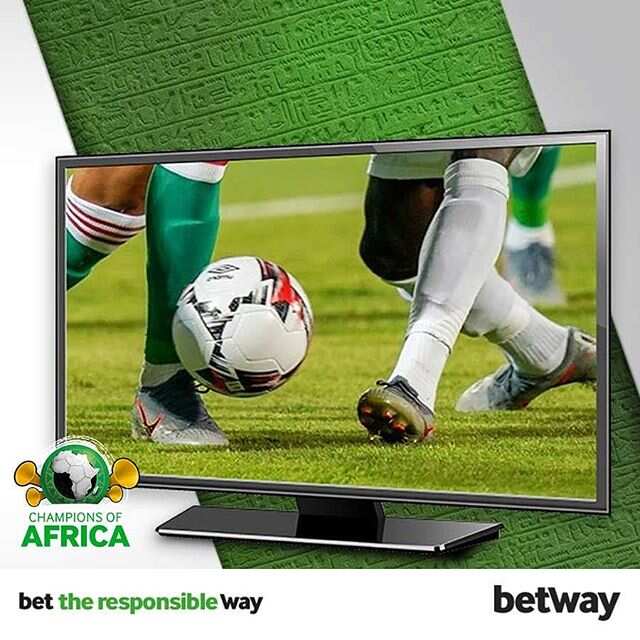 Betway mobile log in
Once your betway sign in is successful, you can easily access betway mobile login and quickly start betting. Follow these quick steps:
Access the mobile log in option on the top right corner of mybetway account
Put in your "username" and "password" to log in
In case you can not remember your password, click "forgot password" to reset it
How to deposit money on my betway account
To begin placing bets, one needs to fund their accounts. To deposit money into your account you can use:
ATM
Debit cards
Credit cards
Direct bank transfer/ payments
USSD; use *737# for GT bank and *402# for M-cash
The options available on the website include Visa, Mastercard, Verve, Zenith, Diamond Bank, Inter-Switch, Skye Bank and Store deposit.
Once your betway sign in is successful, you can easily access betway log in to place odds on the variety of options available. You can do this on the mobile site or betway app that will allow you to place bets and view winnings on the go.
Betway mobile app
If you are using an iOS device, then the app is easy to download and install directly from the app store to your device. The betway app is available on iOS store, but unfortunately is not available for Android users, you will not find it on Google Play. The app comes with the following features:
Easy to use with clear tabs and menus
Showcases all the multiple bets for all national and international markets
Push notifications for current promotions and game fixtures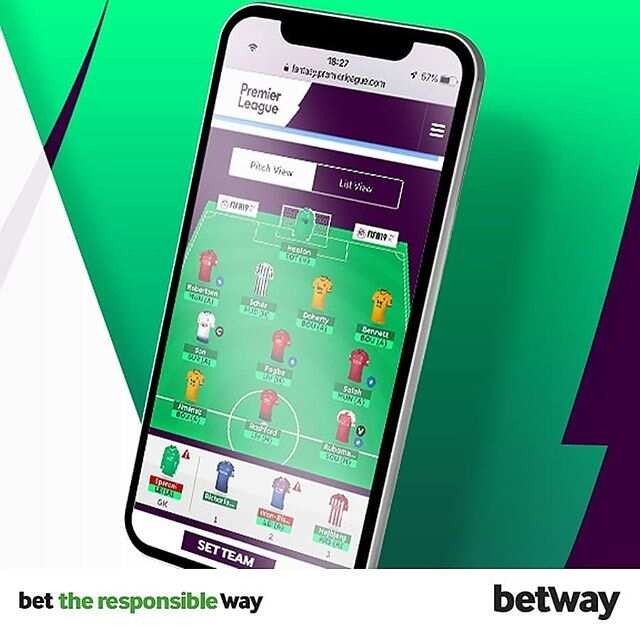 Betway mobile app usability
The betway app is flexible and allows you the same experience you get on the website. Apart from the appealing feature that comes with its green and black colour, the tabs and menus are placed conveniently for easy navigation.
Your account balance is secure as your banking, and personal details are protected.
An excellent feature also provided on the app is the ability to enjoy live streaming of betway sports events directly on your phone. With this, you can enjoy your treasured volleyball, watersport or rugby game. These features make the betway log in safe, stable and convenient.
Mobile site
Similar to the app, the mobile site is easy to use as it only requires you to open your browser and input the address. It works perfectly on any browser, be it Google Chrome, Opera, Safari or Mozilla Firefox. It is user-friendly but in case of any problem during installation and access of the mobile site, contact customer care available for 24 hours.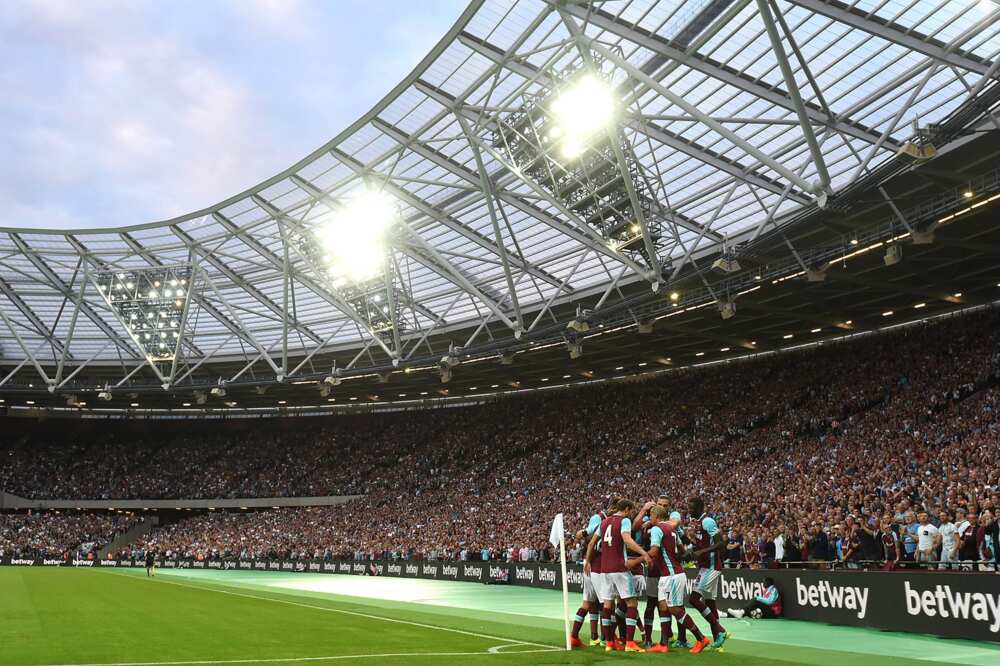 Website
The green and black theme colour dominate on the website. Quick links for the live betting, virtual sports, lucky numbers, and promos are on top of the page. The sports link, upon clicking showcases all the sports available for pre-match and live betting. The leagues and bet types are visibly placed below each sport. The top right of the page provides a betway sign in link for new customers and log in for those with a mybetway account. The best slip, also on the top right, automatically updates customer's selection indicating their potential earnings and betting selections. A menu with a list of options is accessible by clicking parallel lines on the top left side of the page. The menu provides details of the customer care, stats center, live scores and promos.
How do I place a bet?
The ultimate reason for creating an account, signing in, and betting with your hard-earned cash is the excitement of the win. Once you log into the betway Nigeria page, you open up a line up of sports matches. Here, you can choose the option of pregame or live match betting. For pregame betting, follow the procedure outlined below:
Choose the sport you would like to place a bet on
Select the game you are betting on by either choosing the league from highlights or using the search option
Once you make your selection, your bet slip is automatically updated
If you add another choice, the bet slip will update, showing the bet amount and potential return
Click Bet Now when you are satisfied with your selection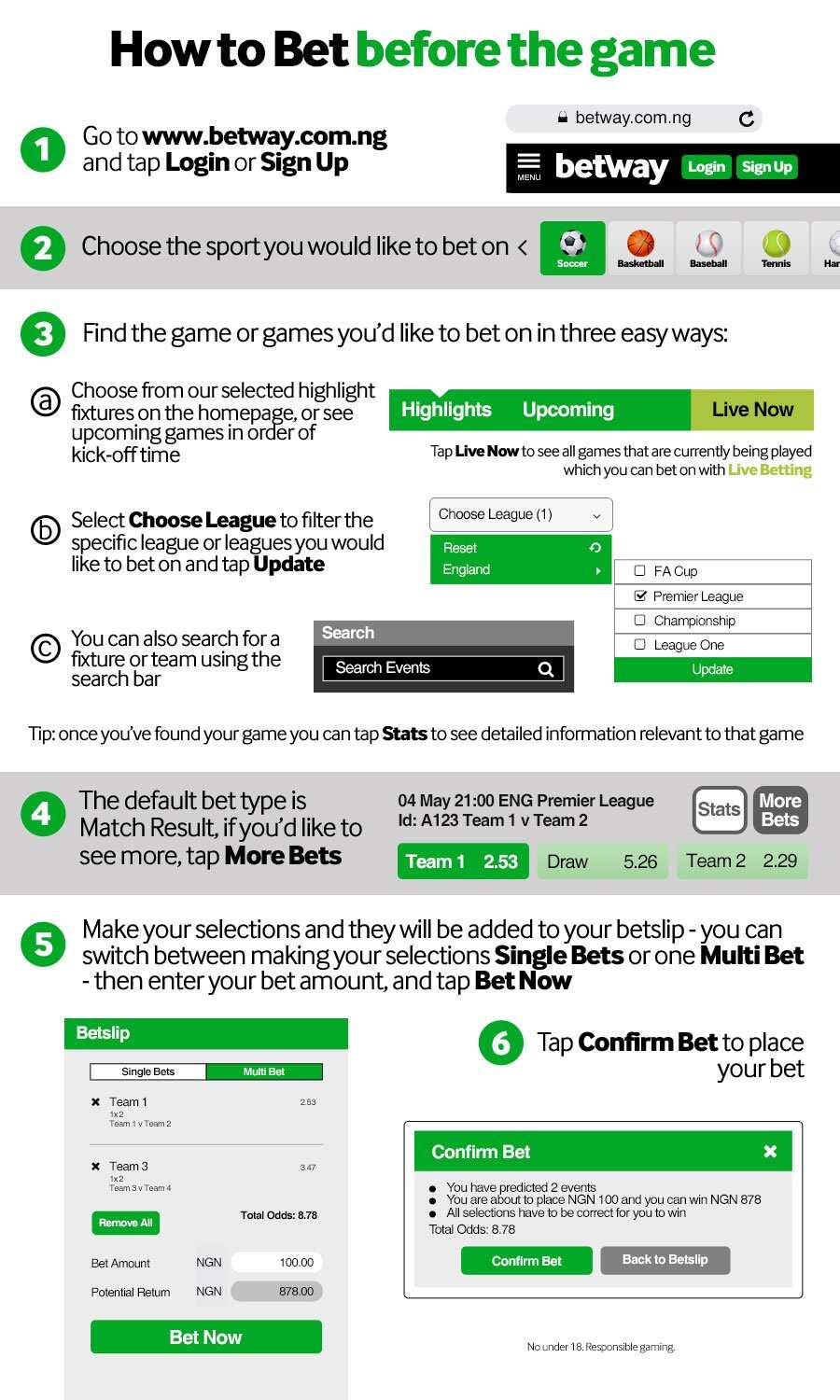 For the option of live betting:
Click on the Live tab button on the homepage.
Choose the sport you would like to bet on.
Select the game you want to bet on. Note the odds will turn green if they go up and turn red if they go down.
Your selection(s) will automatically update on the bet slip showing the bet amount and potential return.
Click Bet Now to complete your selection.
In the event of a winning bet, a customer receives a prompt notification, and they can easily withdraw their funds. Once you have verified your account details, you can proceed to withdraw amounts from your account.
There is an option of early cash out on the betting platform. What is an early cash-out? It is an option that allows you to get money back before the event is over or the bet settles. You will either make a profit or get a portion of your stake amount depending at the time of the request. With cash out you can:
payout a portion of your stake before bet settles
cancel bet before game kick-off and receive some money back
incase of multi-bet, receive winnings of a single bet before winning of the other games
Remember you can always contact betway.com.ng for any queries. You can also follow them on Twitter and Facebook to get the latest updates.
Mobile vs personal computer (PC)
You can choose to enjoy betway sports either on mobile or personal computer (PC) based on your convenience. We have outlined the differences between both options.
Mobile betting
Placing bets on your favourite games is not meant to be hectic and time-consuming. Wagering online using your mobile app is seemingly the most convenient method used by many. Maybe because the mobile is flexible and you can access it anywhere. The mobile funding options also make it easier to deposit and withdraw funds anywhere at any time.
Even though advancements have been established to make mobile sports betting convenient and straightforward, few drawbacks will make you get your PC:
A mobile screen is smaller than that of the PC and does not enable easy access to several links at the same time.
You would sometimes end up tapping unintended links.
Some applications do not also work well on mobile devices, and this limits their use, especially for virtual online games.
If you are using Android, you will not be able to download the app.
Sports betting on a personal computer (PC)
The most significant advantage of betting on a computer is the screen size. One can view all the available options for betting on one screen, and this helps in decision making.
Working with a laptop is more comfortable, relaxed and straightforward during navigation of the web.
Lack of mobility is, however, the biggest challenge when using a computer for sports betting.
Even though most online games were previously designed to use on desktops, mobile apps have provided an efficient and flexible choice. Tell us what you prefer to use when betting with betway.com.ng. Happy betting!
Source: Legit.ng