Taissa Farmiga bio: Age, height, family, movies and TV shows
Taissa Farmiga is an American actress whose debut in American Horror Story shot her to fame. The 25-year-old actress is also popular for being the younger sister of Vera Farmiga, an award-winning actress. Here are all the interesting details about Taissa.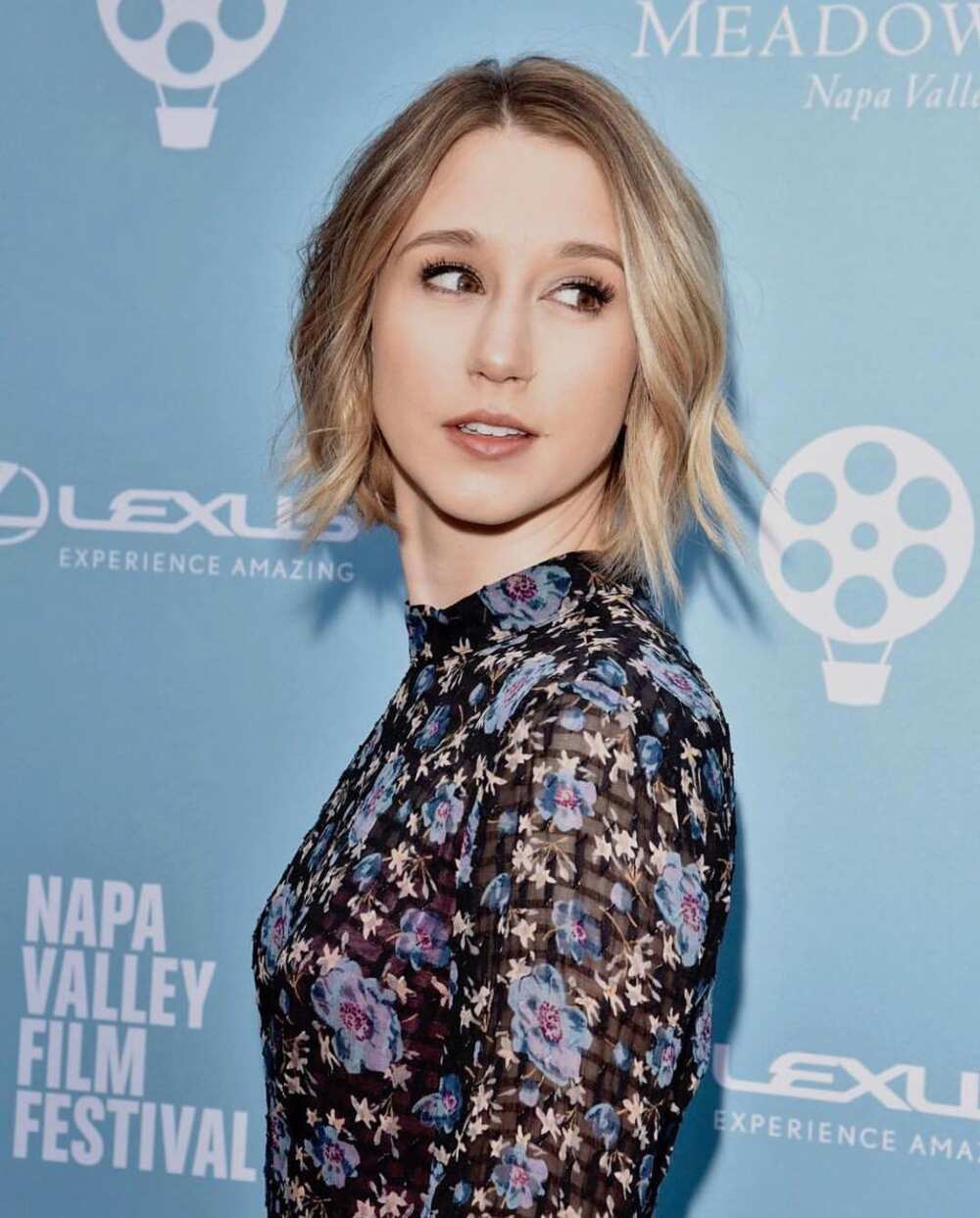 Not many actors are lucky enough to secure roles during their very first audition, but Taissa managed this feat. Explore the actress' biography further.
Profile summary
Date of birth: 17th August 1994
Birthplace: Readington, New Jersey, the United States of America
Age: 25 years old
Sun sign: Leo
Heritage: Ukrainian-American
Ethnicity: White
Nationality: American
Taissa Farmiga height: 5 feet 5 inches (1.65 metres or 165 centimetres)
Weight: 55 kilograms (121lbs)
Body measurements: 32-24-34 inches
Bra size: 32B
Hair color: Light brown
Eye color: Hazel
Dress size: 2 (US)
Shoe size: 6 (US)
Body type: Banana
Net worth: $1.5 million
Occupation: Actress
Early life and family
Taissa Farmiga was born on 17th August 1994 to Ukrainian-born parents Michael (a computer-systems analyst) and Lubomyra (a school teacher). At the moment, Taissa Farmiga age is 25 years.
Her mother, Lubomyra (Spas) Farmiga, was born in March 1949. She emigrated to the United States of America with her parents when she was 14 months old. Micahel, on the other hand, was born in November 1942. He was raised in Argentina.
It is well known that Taissa is one of Vera Farmiga siblings. Vera is an award-winning actress with over 50 acting credits to her name. She is known for her roles in Up in the Air (2009), When They See Us (2019), Bates Motel (2013), and many others.
In total, Taissa Farmiga siblings are six in number. They are:
Victor
Vera
Stephen
Nadia
Alexander
Laryssa - She is the Taissa Farmiga sister who was born with spina bifida.
There is a 22-year age gap between the eldest child in this family and the youngest. The Farmiga sisters (Taissa and Vera Farmiga) starred in Higher Ground together.
Another fun fact about their relationship is that Vera and Taissa Farmiga are very close, and despite their age difference, they are best friends.
For her education, Taissa attended public school until the fourth grade. Her mother then began homeschooling her and two of her siblings. The actress studied American Sign Language for three of her homeschooling years. She excelled at it.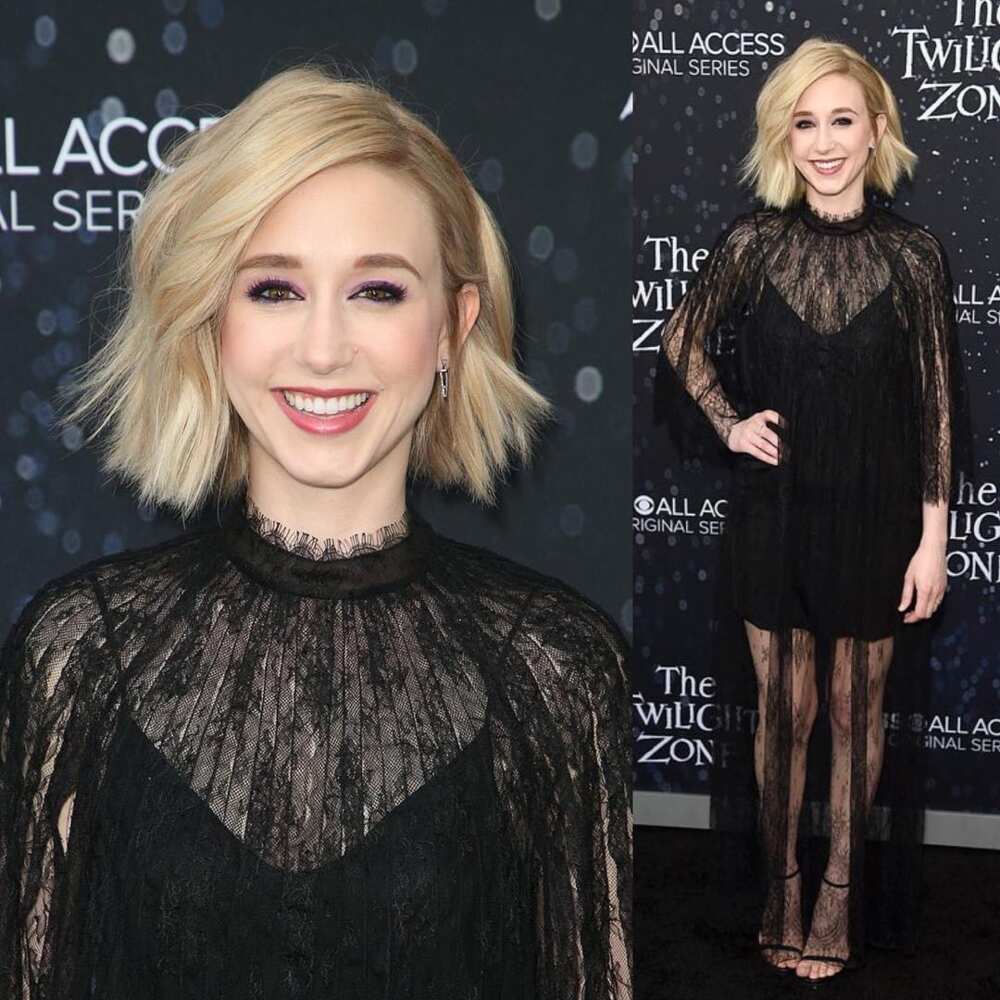 Body measurements
The actress is quite a looker, as evidenced by her measurements. While Taissa Farmiga height is 5 feet 5 inches as stated on her IMDB page, her weight is 55 kilograms, which is the same as 121lbs.
Her body measurements are 32-24-34 inches, and her bra size is 32B. The actress has hazel eyes and light brown hair.
Her shoe size is 6 in US measurements while her dress size is 2 in US measurements.
Career
Growing up, Taissa had no interest in acting. She actually wanted to be an accountant and had begun looking for college courses on accounting before being cast in her first role.
When she was 15 years old, her sister, Vera, persuaded her to make her acting debut in Higher Ground, which was also Vera's directorial debut film. To get Taissa to act in the film, Vera offered Taissa a 2004 Toyota Tacoma pick-up truck.
In the film, Vera played the lead and wanted to cast someone physically similar to play the younger version of her character. With no previous acting experience (except participation in a second-grade play), Taissa took on the role.
Higher Ground premiered at the 2011 Sundance Film Festival. After Sundance, Taissa chose to pursue acting.
To date, she has more than 20 acting credits to her name.
Taissa Farmiga movies and TV shows
Here is a list of the Taissa Farmiga movies and shows plus the roles she played in each
The Gilded Age (TV series, pre-production) - Gladys Russell
John and the Hole (post-production)
Justice League Dark: Apokolips War (completed, 2020) - Raven (voice)
50 States of Fright (2020) - Hannah
The Twilight Zone (2019) - Annie Miller
The Mule (2018) - Ginny
American Horror Story (2011-2018) - Zoe Benson / Violet Harmon / Sophie Green
We Have Always Lived in the Castle (2018) - Merricat Blackwood
The Nun (2018) - Sister Irene
The Long Dumb Road (2018) - Rebecca
What They Had (2018) - Emma
Teen Titans: The Judas Contract (2017) - Raven (voice)
Rules Don't Apply (2016) - Sarah Bransford
Buried Child (2016) - Shelly
Justice League vs. Teen Titans (2016) - Raven (voice)
In a Valley of Violence (2016) - Mary-Anne
Wicked City (2015) - Karen McClaren
6 Years (2015) - Melanie Clark
Share (2015) - Krystal Williams
The Final Girls (2015) - Max Cartwright
Jamesy Boy (2014) - Sarah
Anna (2013) - Anna Greene
At Middleton (2013) - Audrey Martin
The Bling Ring (2013) - Sam
Higher Ground (2011) - Teenage Corinne Walker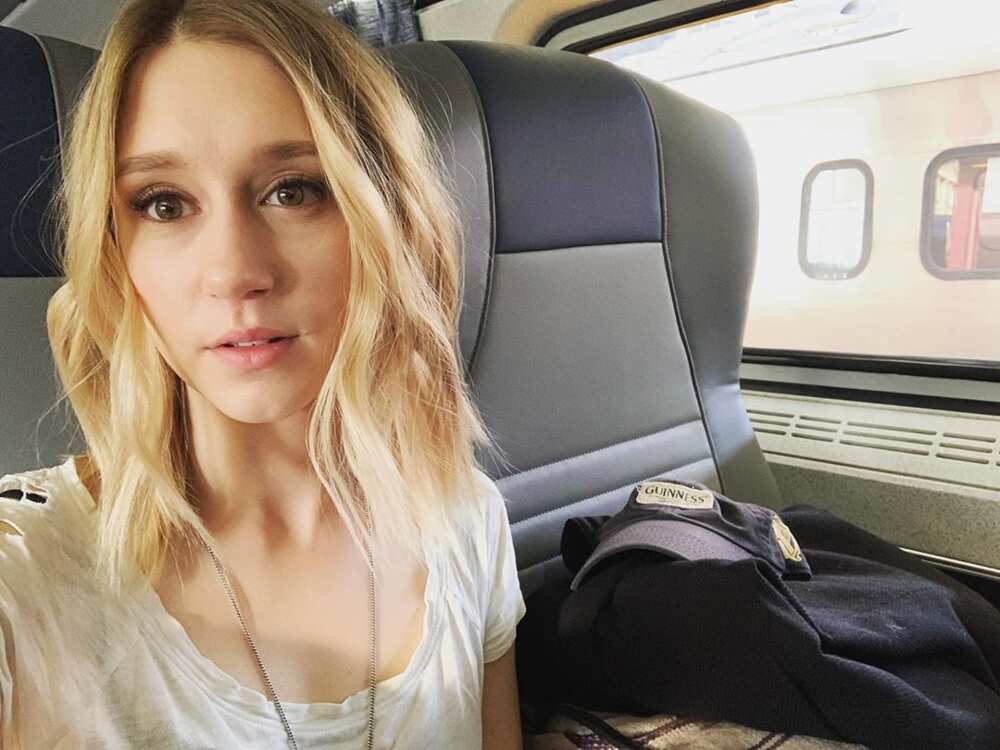 Appearance as herself
Taissa has appeared as herself in these productions:
Celebrity Page (2019)
Días de cine (2013-2019) - She appeared in three episodes: Episode dated 8 March 2019, Episode dated 23 January 2014, and Episode dated 17 October 2013.
IMDb on the Scene - Interviews (2018)
Last Call with Carson Daly (2015-2018) - She appeared in two episodes: Taissa Farmiga/Wildermiss/Justin Willman (2018) and Mark-Paul Gosselaar & Tone Bell/Taissa Farmiga/Tennis (2015)
Good Day L.A. (2015) - She appeared in the episode dated 6 October 2015 (2015)
KTLA Morning News (2015) - Taissa appeared in the episode dated 24 August 2015
American Horror Story: Meet Ms. Nola - Shooting on Location in New Orleans (2014)
American Horror Story: Zombie Halloween (2014)
Cinema 3 (2013-2014) - She appeared in four episodes: Episode dated 23 January 2014 (2014), Episode dated 17 October 2013 (2013), Episode dated 10 October 2013 (2013), and Episode dated 31 January 2013 (2013)
Made in Hollywood (2013) - She appeared in episode #8.32
Le grand journal de Canal+ (2013)
Behind the Fright: The Making of American Horror Story (2012)
The Substance of Things Hoped For: Making Higher Ground (2011)
Young Hollywood (2011)
Soundtrack credit
Higher Ground (performer: "Sea of Nevermore")
Taissa Farmiga American Horror Story
When Taissa was 16 years old, she landed a role in American Horror Story as Violet Harmon. This marked her TV debut. Her first role in AHS (Violet Harmon) was in the first season, Murder House.
She then played Zoe Benson, a more central part, in the third season, Coven. She also played Zoe in the show's eighth installment, Apocalypse.
She played her third role as Sophie Green in the show's sixth season, Roanoke, for one episode. The actress did not feature in American Horror Story: Asylum as the show's creators did not have a spot for her.
In response to this, the show's creator Ryan Murphy told Entertainment Weekly:
I missed her this season. There wasn't really a role for her...I feel very protective of her, and I didn't want her to go back into the loony bin—it was too dark. So I thought well 'I want Taissa to be one of the leads next year.'
Her busy schedule also played a part in her missing in this season.
Modeling career
In 2012, the actress modeled in Teen Vogue for the launch of the clothing line Miss Wu's. Drew Barrymore also photographed Taissa for Drew's Angels in V magazine.
Nomination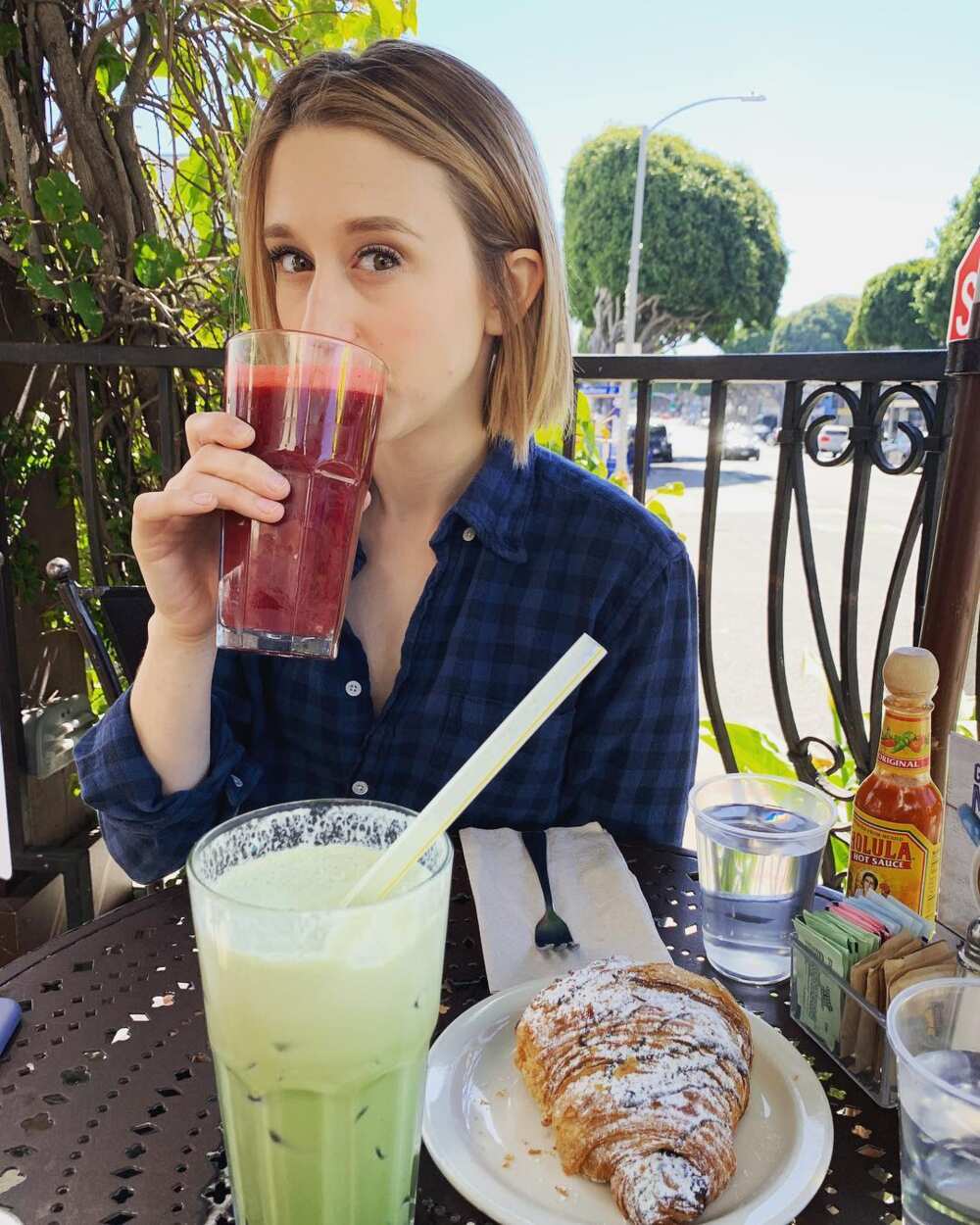 Taissa Farmiga net worth
According to Celebrity Net Worth, Taissa Farmiga has a net worth of $1.5 million.
Dating history
Evan Peters and Taissa Farmiga were romantically linked in 2014. The two grew close while working on American Horror Story: Coven. Evan Peters has appeared in 95 episodes of the show. Taissa Farmiga and Evan Peters are currently not together.
Who is the current Taissa Farmiga boyfriend?
The actress has been dating Hadley Klein since 2014. Hadley is a screenwriter and director who was born on 25th January 1983. Taissa and Hadley met on the set of a movie and instantly clicked. The two got engaged in May 2019
Mental health
In May 2018, Taissa devoted an Instagram post to raise awareness on mental health. Months later, when speaking to IANS, the actress revealed that she had been struggling with mental issues for a while. The actress said,
I will be honest... I have been dealing with anxiety for a bit now . And when I first started having it, I would get a little angry at myself because it felt like I was dealing with nervousness and paralysing anxiety for no reason. And that is what I used to get angry about -- the no reason part
Social media
Taissa is active on various social media platforms. If you would like to see Taissa Farmiga hot photos, follow her on Instagram, where she has 1.9 million followers. She joined Twitter in December 2011, and to date, she has 661.5k followers.
Frequently Asked Questions about Taissa Farmiga
Here are answers to the most frequently asked questions about the actress.
Who is Taissa Farmiga married to?
The actress is not married yet. However, she is engaged, and her fiance's name is Hadley Klein. The couple got engaged in May 2019.
How do you say Taissa Farmiga?
Her name is pronounced as 'Tie-EE-sa Farm-EE-gah'
What is Vera Farmiga net worth?
Vera, Taissa's sister, has a net worth of $10 million.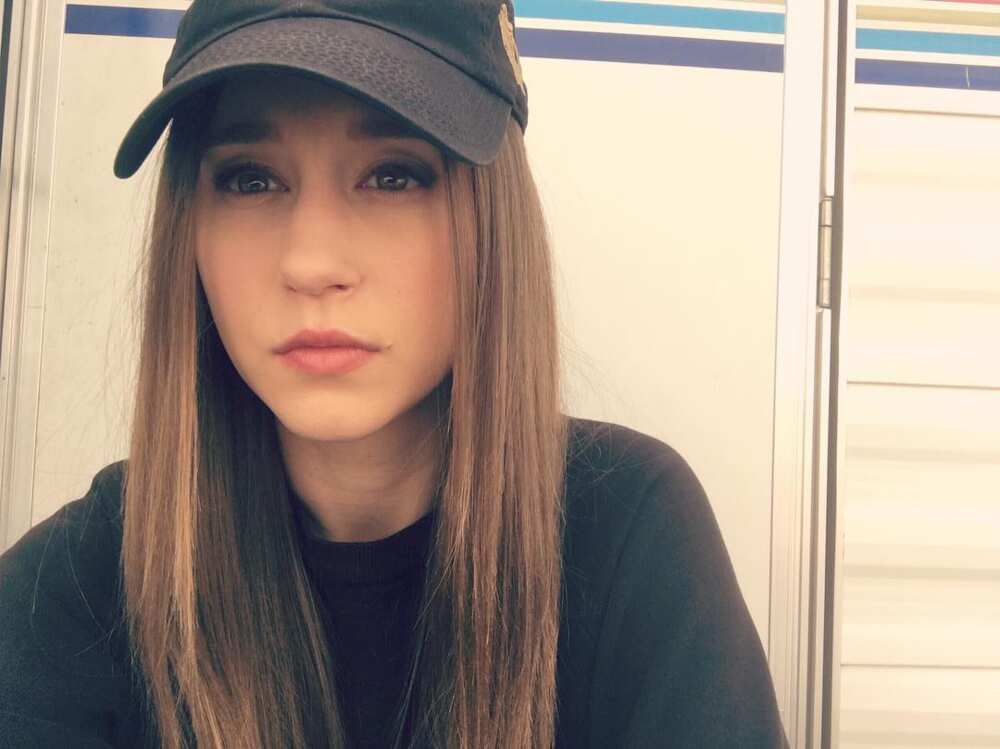 Taissa Farmiga quotes
You get to keep acting on the feelings you had just moments before. You don't have to psych yourself up for the scene. You can just go off what you were already feeling.
Communication feels like it should be the simplest thing, but it's not. Sometimes you don't even understand what you're feeling. You don't know how to put that into words, so how are you supposed to tell the person you love that you're upset.
Theratre is not like like in film and TV, where you have to stop and go back and keep redoing the same three pages for two hours. You get to go through the whole 80 pages of the script, which is incredible.
I have a rebellious teenage thing. If my mom says I can't do it, I'm gonna do it. But I'm pretty good. That's why it was fun to play Sam in The Bling Ring. I got to be someone crazy and wild to the extreme, then go home and relax and get rid of the burden.
One of the hardest things I've had to learn is to let it go at the end of the show or the end of the rehearsal day to just take a deep breath and say, "Alright, that was it. That was the day."
I'm a perfectionist, so it's hard for me to just accept that that I can't keep working until it's perfected. But I'm learning, I'm growing as a human in that way.
To be honest, I didn't have any expectations. I really didn't know what to expect. What I was most nervous about was the repetition of doing it over and over and over again. Does that get stale? How do you keep it fresh? Then I realized it's always new because you get to keep playing the next moment.
We all get frustrated and we all get angry, especially being young. We're happy so quickly, we're mad so quickly, and everything is just flowing so fast.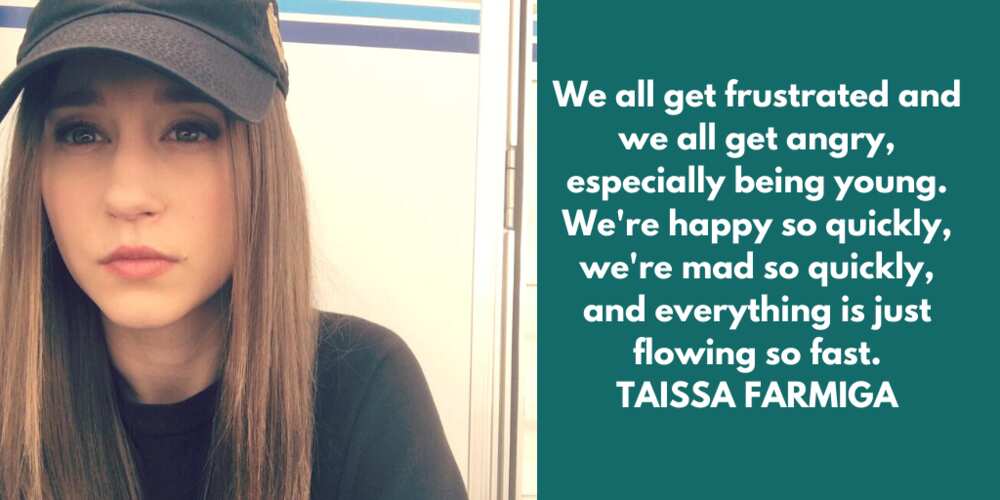 I get scared easily, so I'm not one for just sitting down with a bowl of popcorn and watching horror stories. But, I mean, I'm learning more. Maybe one day I'd like to be able to watch them.
Sometimes I think too much, or sometimes I don't think enough as the character. Sometimes you just miss a moment, or sometimes you hear something that a character's saying that you haven't heard before and you react differently.
I don't have much to compare it to because I really didn't know much about theater. After I signed on, I started reading a lot of Sam Shepard plays just to brush up on my history and do some research. What's great is that Sam's been here and he's been in rehearsals with us. Sometimes you don't even notice him come in; he's just sitting there in the theater seats watching you.
When I was younger, I didn't have any aspirations to be an actress.
If you don't have a Facebook, like, you're nobody. There's all of these sorts of requirements now, and if you don't have all of these things - Facebook, Twitter, etc. - you're made fun of. And Twitter for celebrities... everything is just getting so personal. Pictures of yourself, of what you're eating for breakfast.
First off, I could never become a doctor. Blood? Even the fake blood on 'American Horror Story,' I'm kind of ready to hurl.
I was hoping, actually, that being on the other side of the camera in a scary movie, see how it's filmed and maybe you won't be as scared next time you watch one... didn't really work out! Because I know it's fake, but I just get so into it.
I do make a good ragu pasta, which everyone seems to like. Or that could be just me talking; who knows what they really think. I actually stole the recipe from my older sister Vera, who also loves to cook. I took all my recipes from her.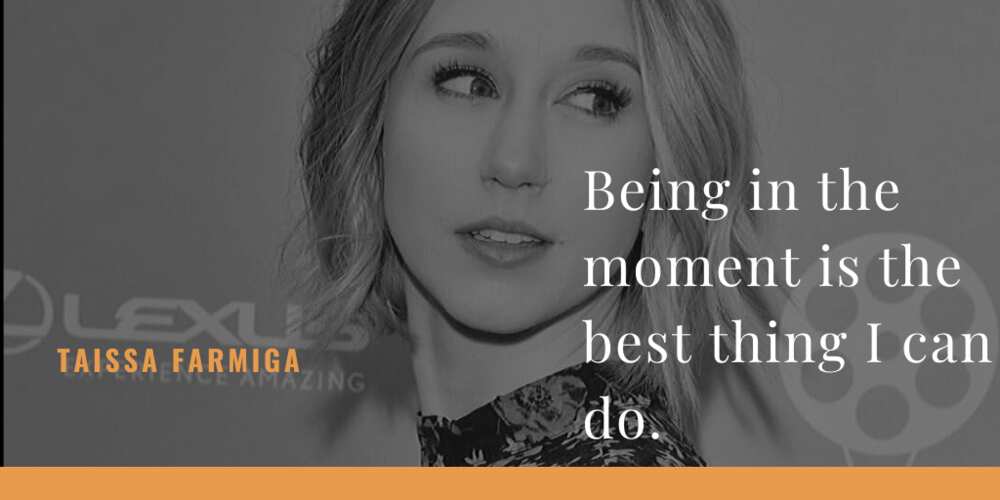 Being in the moment is the best thing I can do.
Taissa Farmiga is an actress worth many praises. At just 25 years old, the actress has managed to make it to Hollywood's who's who list.
Source: Legit.ng