15 famous Forrest Gump quotes to get you through a tough day
Despite being released 26 years ago in 1994, Forrest Gump is one of the best movies today. Forrest Gump quotes, on the other hand, are very relatable and are bound to make you take a step back and think.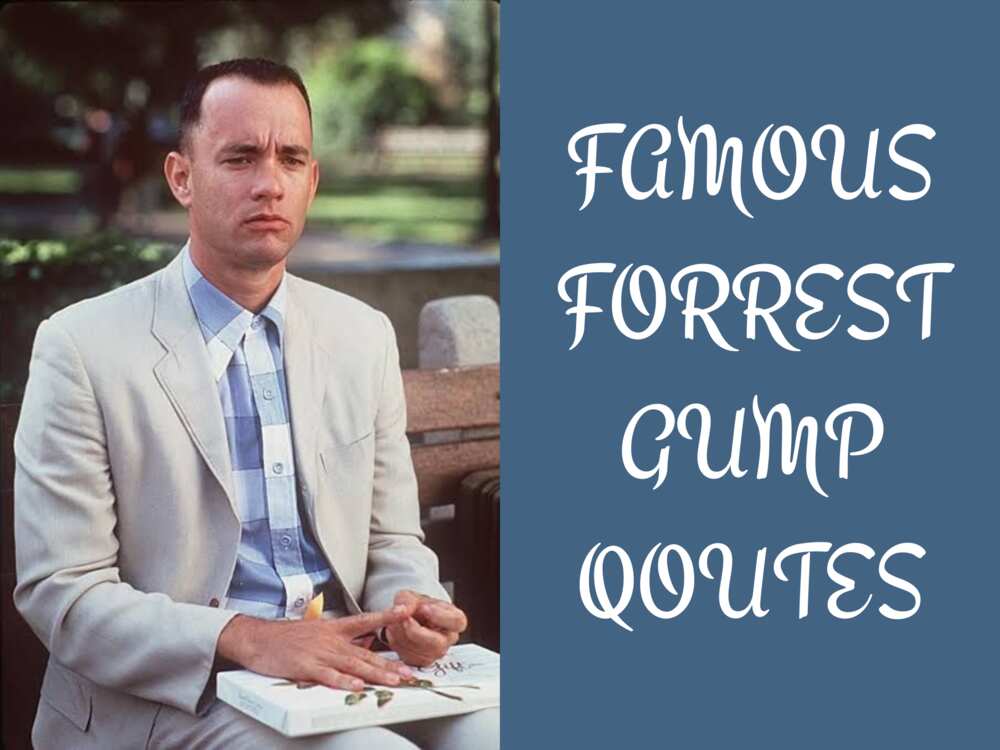 Forrest Gump movie quotes can make you cry, laugh and they will inspire you to reach heights that no one thought you would, just like Forrest Gump did.
While Gump did not have the brightest mind, he was a character of surprisingly insightful wisdom, kindness and full of love.
Famous Forrest Gump quotes
Every film has an iconic line or statement that is associated with it. Before we get into all the great quotes from this iconic movie, 'What is the famous line from Forrest Gump?'
"Mama always said life was like a box of chocolates. You never know what you are gonna get."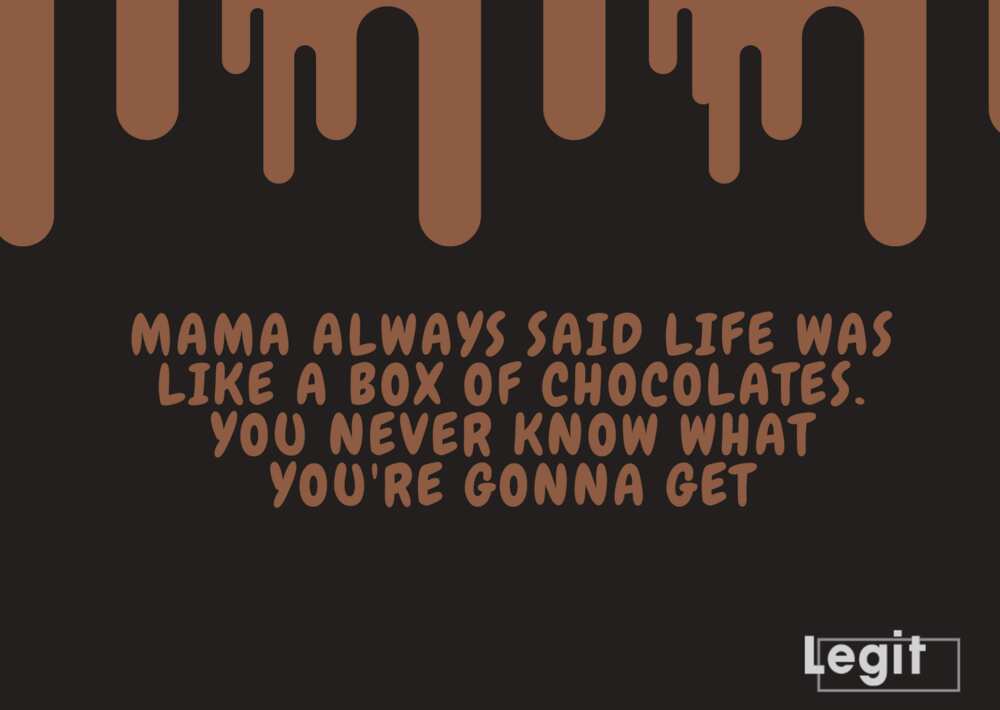 "Stupid is as stupid does."
"We all have a destiny. Nothing just happens. It is all part of a plan!"
"I had never seen anything so beautiful in my life. She was like an angel."
"They said it was a million-dollar wound, but the army must keep that money because I still have not seen a nickel of that million dollars."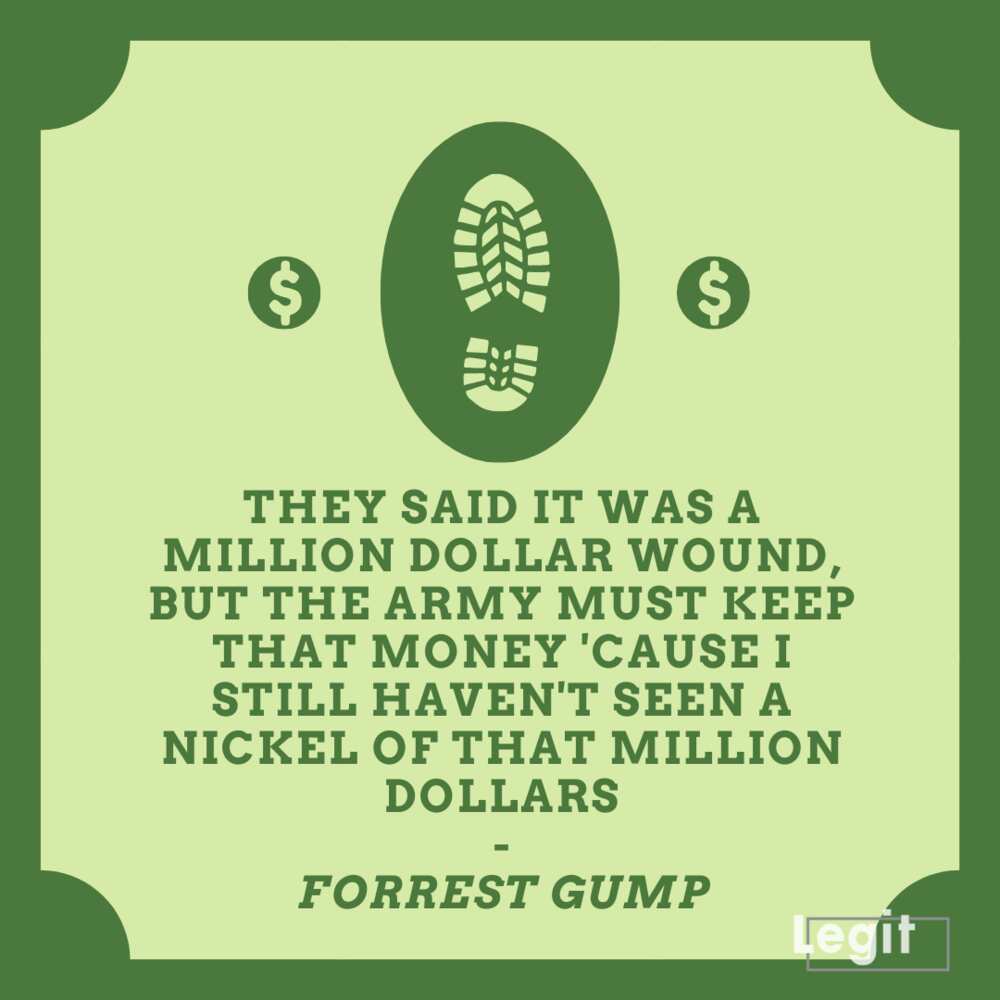 The best Forrest Gump quotes
These are some unforgettable quotes from this heartwarming movie.
"The priest, he said God is listening; and if I found Jesus, I would get to walk beside him in the kingdom of Heaven. Did you hear what I said? WALK beside him in the kingdom of Heaven! Well kiss my crippled a**. God is listening? What a crock of sh*t."
"The best thing about visiting the President is the food!"
"Lieutenant Dan was always getting these funny feelings about a rock or a trail or the road, so he would tell us to get down, shut up."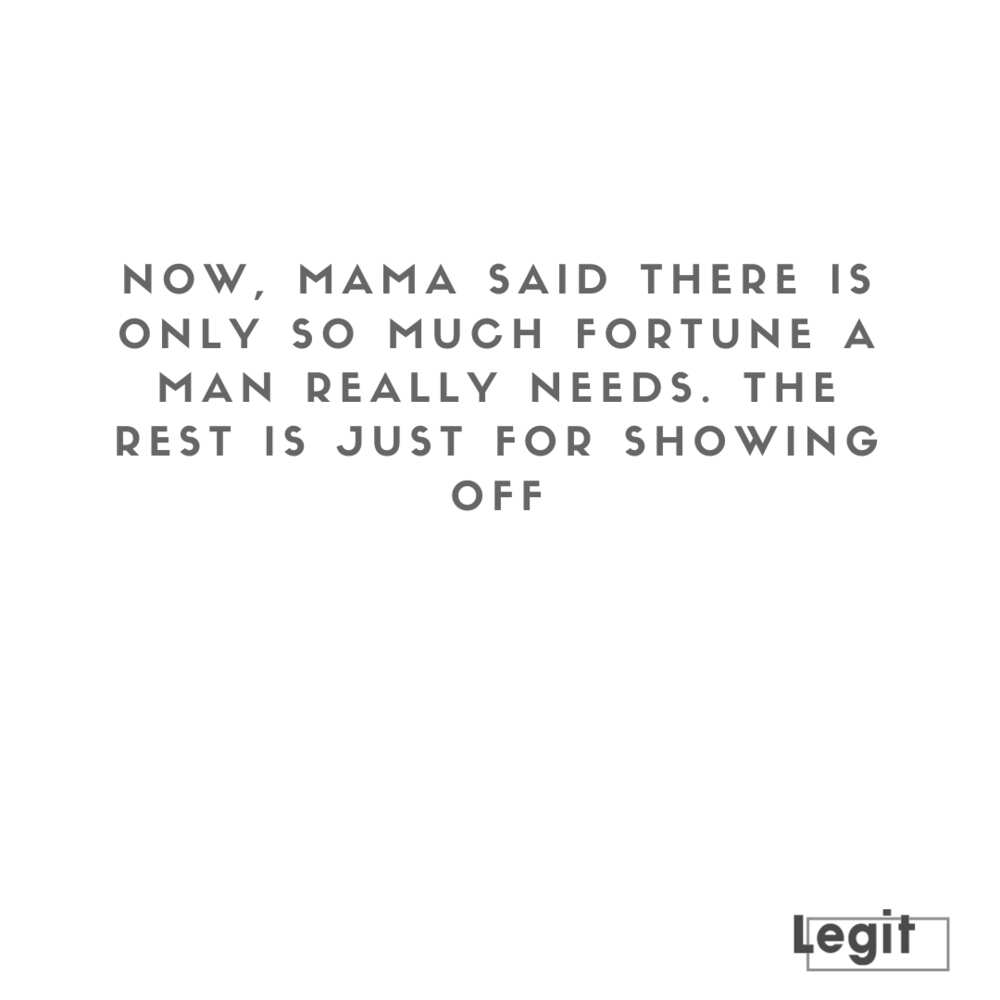 "They gave you an imbecile, a moron who goes on television and makes a fool out himself in front of the whole d*mn country, the Congressional Medal of Honor?" - Lieutenant Daniel
"Well, then, that is just perfect! Yeah, well I only got one thing to say to that. Godd*mn, bless America." - Lieutenant Daniel
"She had got the cancer and died on a Tuesday. I bought her a new hat with little flowers on it."
Forrest Gump mama quotes
Forrest Gump mama said quotes are a very integral part of the film. They are almost as famous as the words said by the main character himself.
"Mama said that miracles happen every day. Some people do not think so, but they do."
"You have to do the best with what God gave you"
"What is normal, anyway?"
"Mama always said, dying was a part of life."
"It's my time. Oh, now, do not be afraid, sweetheart. Death is just a part of life. It is something we are all destined to do. I did not know it, but I was destined to be your momma. I did the best I could."
"Now, mama said there is only so much fortune a man needs. The rest is just for showing off."
"My mama says they were magic shoes. They could take me anywhere."
Funny Forrest Gump quotes
The military is the last place that anyone of us would expect to find hilarious situations or conversations. However, most of the funny quotes from Forrest Gump are found in the scenes where he interacts with his peers and superiors.
Lieutenant Daniel Taylor - Have you found Jesus yet, Gump?
Forrest - I didn't know I was supposed to be looking for him, sir.
"Nobody gives a hunky sh*t who you are, p*ss ball. You are not even a low life-scum-sucking, maggot, get your a** on the bus, you are in the army now!" - Army Recruiter
Godd*mmit Gump, you are a Godd*mn genius. That's the most outstanding answer I have ever heard. You must have a godd*mn I.Q. of a 160. You are godd*mn gifted, Private. - Drill Sergeant
"The army was real easy. You just have to stand up straight, make your bed real neat, and always answer every question with 'Yes, Drill Seargent!'"
Forrest - Lieutenant Dan, what are you doing here?
Lieutenant Daniel Taylor - I am here to try out my sea legs.
Gump - But you do not got no legs, Lieutenant Dan.
"I am sorry I ruined your New Year's Eve party, Lieutenant Dan. She tasted like cigarettes"
"There are two standing rules in this outfit. One, take care of your feet. Two, do not go doing something stupid, like getting yourself killed!" - Lt. Dan Taylor
Forrest Gump love quotes
"I am gonna lean up against you, you just lean right back against me. This way, we don't have to sleep with our heads in the mud. You know why we a good partnership? Because we be watching out for one another. Like brothers and stuff."
"Why do you not love me, Jenny? I am not a smart man, but I know what love is"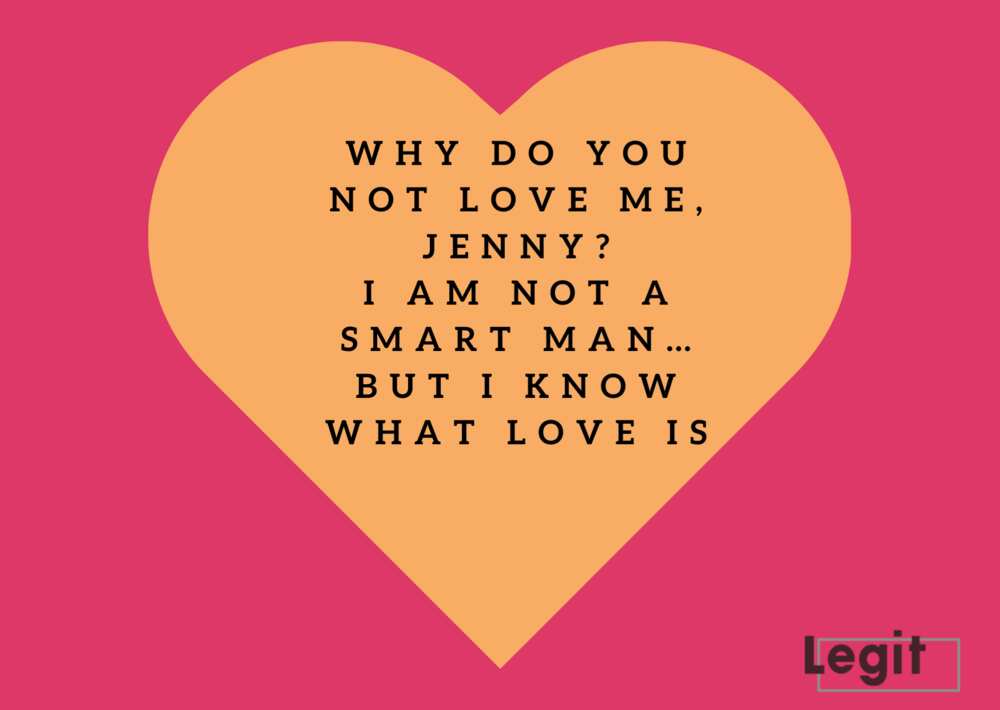 "Me and Jenny goes together like peas and carrots."
"Bubba was my best good friend. And even I know that ain't something you can find just around the corner."
Forrest Gump Jenny quotes
Jenny - Have you ever been with a girl, Forrest?
Forrest Gump - I sit next to them in my Home Economics class all the time
"If you are ever in trouble, do not be brave. You just run, okay? Just run away."
"Dear God, make me a bird. So I could fly away. Far far away from here"
Jenny Curran - Why are you so good to me?
Forrest - You are my girl!
Jenny Curran - I will always be your girl.
"You cannot be doing this. You cannot keep trying to rescue me all the time."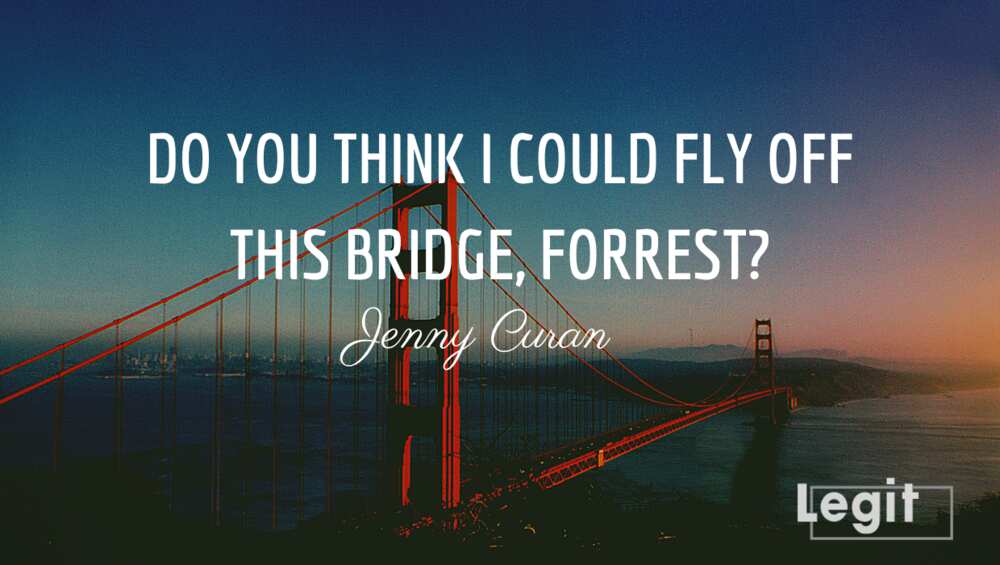 "Do you think I could fly off this bridge?"
Forrest Gump quotes running
Forrest Gump running quotes are vital to the story. They give us an insight as to why he choose to run continually.
"From that day on, if I was ever going somewhere, I was running!"
"Now you would not believe me if I told you, but I could run like the wind blows. From that day on, if I was going somewhere, I was running!"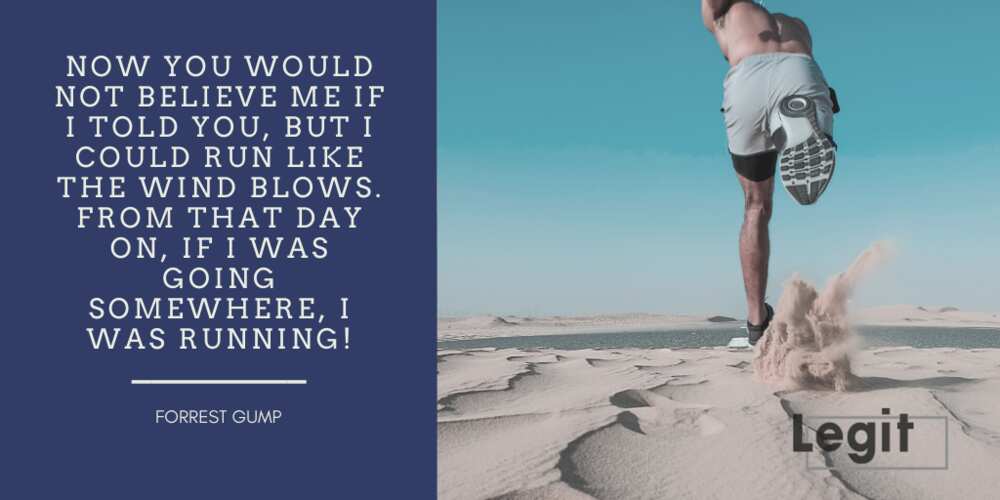 "For no particular reason, I just kept ongoing. I ran clear to the ocean. And when I got there, I figured, since I had gone this far, I might as well turn around, just keep on going."
"I figured, since I had gone this far, I might as well just turn back, keep right on going. I had run for three years, two months, 14 days, and 16 hours. I am pretty tired. I think I will go home now."
Forrest Gump shrimp quotes
"Shrimp is the fruit of the sea."
"Bubba was going to be a shrimping boat captain, but instead, he died right there by that river in Vietnam."
"I'm talking about a shrimp-catching boat. I've been working on shrimp boats all my life."
"So Bubba was from Bayou La Batre, Alabama, and his momma cooked shrimp. And her momma before her cooked shrimp. And her momma before her momma cooked shrimp, too. Bubba family knew everything there was to know about the shrimping business."
"Hey, Forrest, there is something I have been thinking about. I got a very important question to ask you. How would you like to go into the shrimping business with me?"
"Split everything right down the middle. Man, I am telling you, 50-50. And, hey, Forrest, all the shrimp you can eat."
Forrest Gump shoe quotes
"Those must be comfortable shoes, I bet you could walk all day in shoes like those and not feel a thing."
"My mama always said you can tell a lot about a person by their shoes, where they are going, where they been."
"I have worn a lot of shoes. I bet if I think about it real hard, I can remember my first pair of shoes."
"Momma says my back is as crooked as a question mark. These shoes are gonna make me as straight as an arrow."
The film, Forrest Gump, is a fan-favourite as it is a story of resilience and survival. Despite the hurdles that faced him since he was a child, the man had a fascinating and fulfilling life. He was a millionaire, husband, and father.
Most of the Forrest Gump quotes are quite inspirational, while the rest have a touch of humour to them. Which of these quotes was your favourite?
Source: Legit.ng