Tom Kaulitz had been a big name celebrity and rockstar in Germany for many years before being known worldwide. After he started dating the former Victoria Secret model, Heidi Klum, he has become a household name, and many people are curious to know who he is.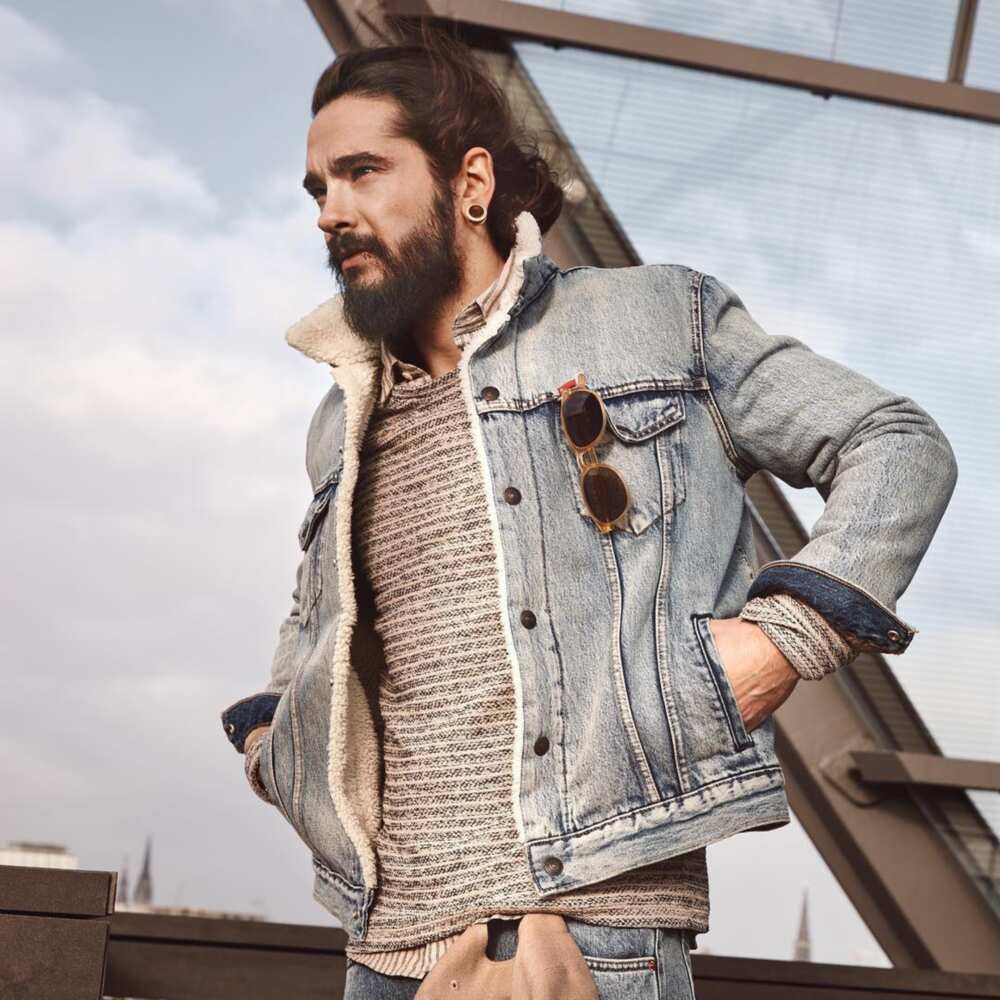 While fans of German rock music could have had an idea as to who he is, many people only found out about the star after he was spotted with Heidi Klum.
Here is all the available information about Heidi Klum's husband.
Profile summary
Name: Tom Kaulitz-Trümper
Date of birth: 1st September 1989
Age: 30-years-old
Place of birth: Leipzig, German Democratic Republic
Zodiac sign: Virgo
Nationality: German
Sibling: Bill Kaulitz (twin)
Height: 6 ft 2 inches (1.88 m)
Eye color: Brown
Natural hair color: Dirty blond
Profession: Guitarist, songwriter and music producer
Net worth: $25 million
Who is Tom Kaulitz?
Identical twin brothers, Bill and Tom Kaulitz, were born in 1989 in Leipzig. Tom is ten minutes older than Bill. Their parents, Simone Kaulitz and Jörg W, divorced when the boys were seven years old. Soon thereafter, Tom, his brother, and mother, moved to a village near Magdeburg. Their mother worked as a seamstress.
The brothers were interested in music at a very young age. At seven, Bill was writing lyrics, and Tom wanted to learn how to play the guitar. Their stepfather, Gordon Trümper - a guitarist from the German rock band Fatun- encouraged them to form their band.
Today, the twins' fashion sense is very different, and so is their hair. While Bill prefers an edgier sense of style and has different colored and short hair, his older brother has long luscious locks and has a more toned-down fashion sense.
The guitar player speaks three languages. They are English, German, and French.
Tom Kaulitz age
To anyone wondering, 'How old is Tom Kaulitz?', the star is currently 30-years-old. He and his twin brother, Bill, will turn 31-years old on 1st September 2020.
He is younger than his wife. Heidi Klum and Tom Kaulitz have a 16-year age difference between them. Heidi was born on 1st June 1973.
Tom Kaulitz net worth
The guitarist has an estimated net worth of about $25 million. Most of his income comes from the sale of his bands' music and merchandise. He also gets income from ticket sales during tours and concerts.
As for Tom Kaulitz wife, Heidi Klum, she has a net worth of $120 million with a yearly salary of $19 million. She gets her income from multiple jobs and business ventures such as being a TV host and producer, a businesswoman, and fashion designer, among others.
Tom Kaulitz Tokio Hotel
At ten-years-old, the twin brothers were performing at private parties, weddings, and talent shows in their hometown. In 2001, at about 12-years old, they met Georg Listing and Gustav Schäfer and formed a band. At first, their group was known as Devilish, but after their first record label dropped them, they changed their name to Tokio Hotel.
Tokio Hotel has four band members
Bill Kaulitz - Vocalist
Tom Kaulitz - Guitarist
Georg Listing - Bassist
Gustav Schäfer - Drummer
Apart from being the leading guitarist in Tokio Hotel Tom Kaulitz also helps his brother as a songwriter and also produces their songs.
A fun fact about how the band's name came about is that;
Tokio - is the German spelling for the city, Tokyo. The bandmates all love the metropolis and chose that as part of their name to showcase this
Hotel - Since they were touring a lot and spent the majority of their time in hotel rooms, they figured the band name should portray this too.
Today, the group has sold nearly 5 million CDs and DVD copies of their albums and singles. As for the band's discography, their most popular albums include Schrei (aka Scream), Zimmer 483, Humanoid, Kings Of Suburbia, and Dream Machine.
Tom Kaulitz Heidi Klum relationship
Tom Kaulitz and Heidi Klum first met on 22nd Feb 2018, through the TV show Germany's Next Top Model that is hosted by Heidi.
The Heidi Klum Tom Kaulitz relationship became official after a few weeks. They were spotted hand-in-hand at several high profile events and have even gone on holiday together.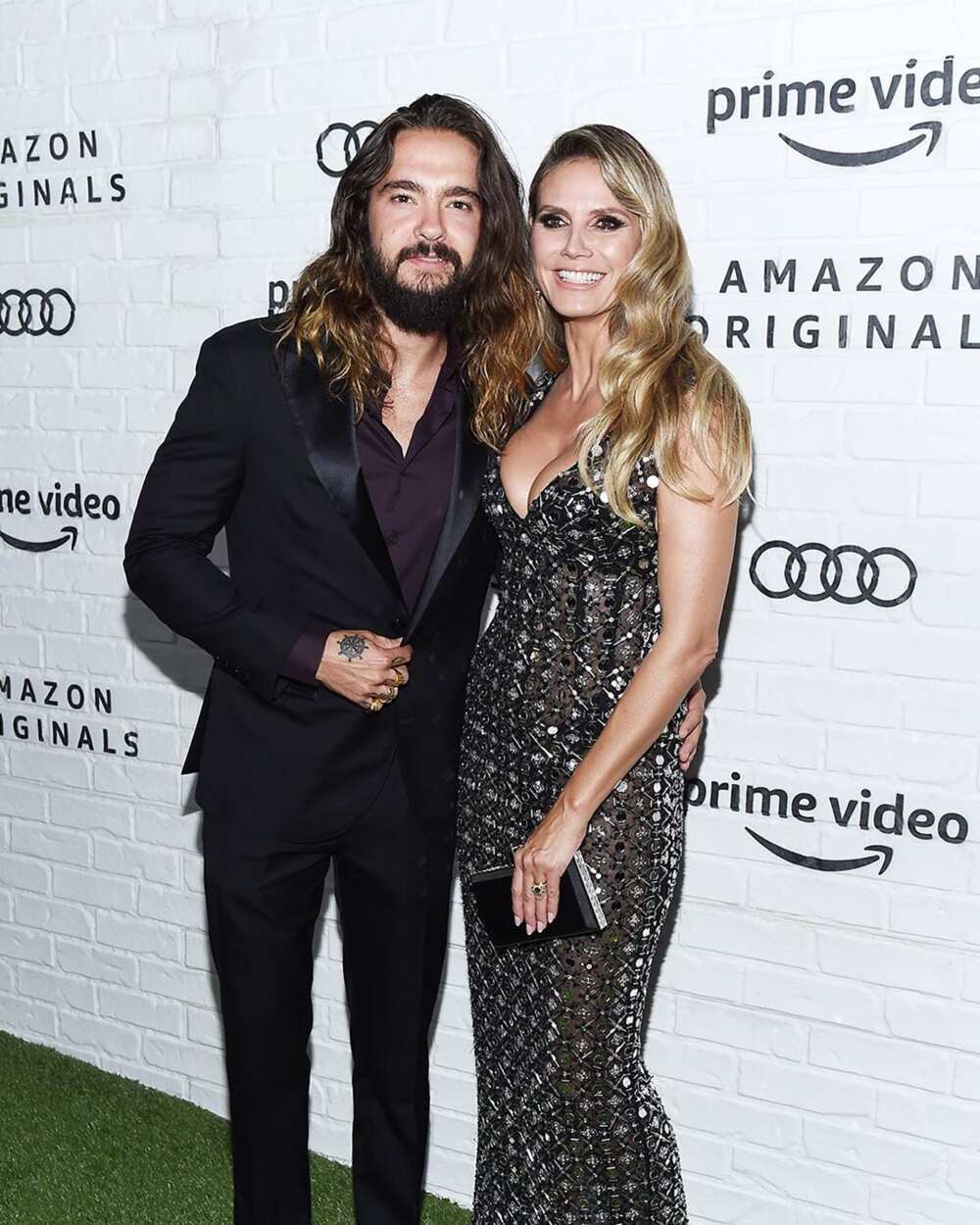 On 25th March 2018, the former supermodel and the rockstar were spotted making out while on the set of America's Got Talent in California. Less than a year into their relationship, the couple got engaged. After a romantic breakfast in bed proposal from the guitarist, the TV show host took to her Instagram to share the good news with her followers.
The lovebirds finally tied the knot in February 2019. They got married in a secret romantic getaway wedding onboard the Christina O Luxury yacht in Capri, Italy. The ceremony was so secret that the public only knew about the wedding in August 2019, after the model posted her wedding pictures on Instagram with the caption "We did it. Mr. & Mrs. Kaulitz."
When addressing the fact that she is older than her husband, Heidi stated that since it does not personally bother her, she chooses to live happily and not pay attention to what others may think or say.
Tom Kaulitz and Ria Sommerfeld
Like Heidi, the guitarist had been married before. The model and hairstylist, Ria, started dating the star in 2009 after they met in a club in Hamburg. The couple had been married for a little over a year, when in September of 2016, Tom filed for divorce.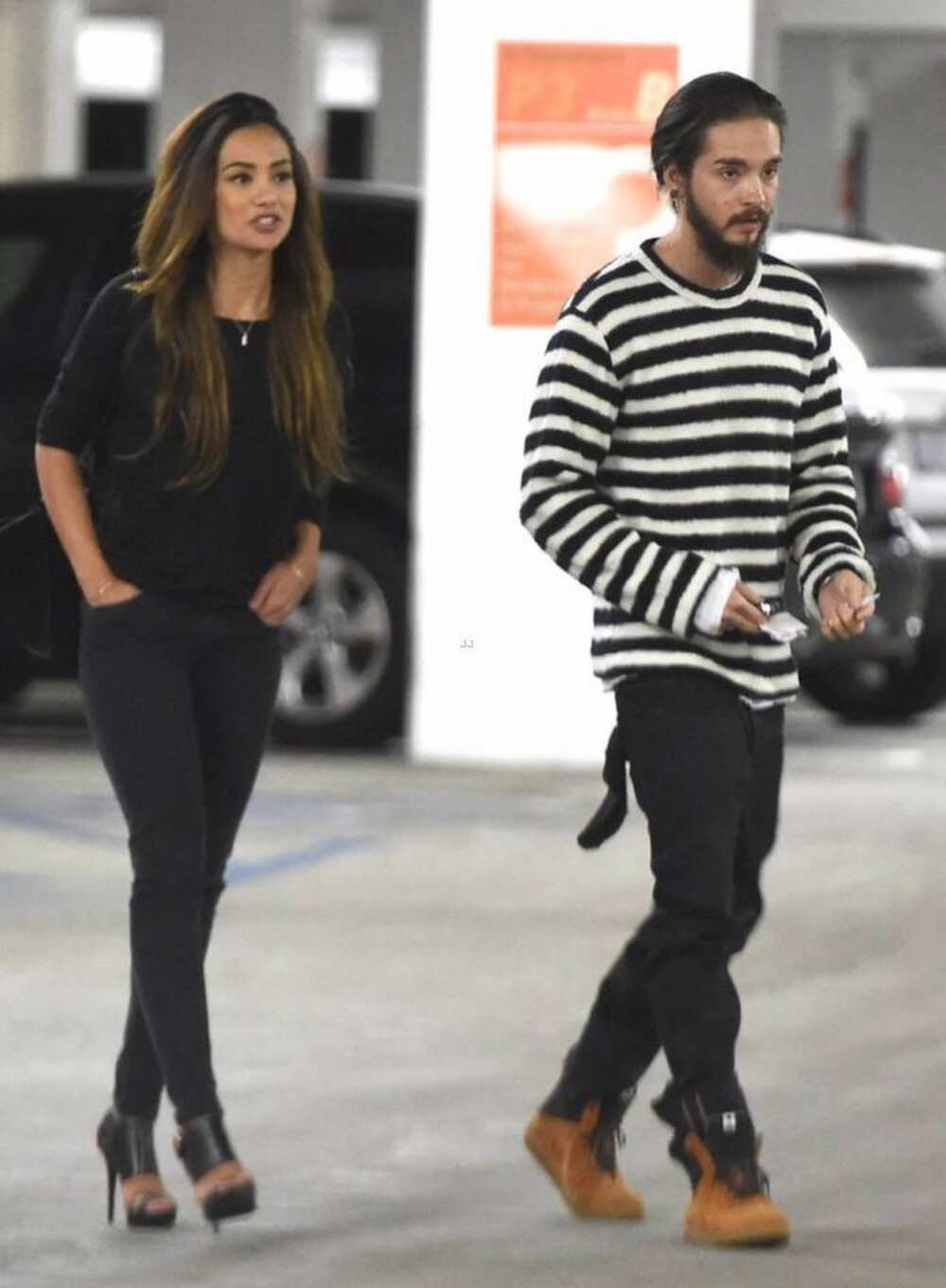 Like many Hollywood divorces, the documents cited irreconcilable differences as the reason for the marriage dissolution.
The divorce proceedings were finalized on 17th August 2018.
Tom Kaulitz and his new wife seem to be enjoying newly-wedded bliss together. We wish them a long and happy marriage, and we cannot wait for new music and more success from Tokio Hotel.