Khaligraph Jones x Lamaz Span K.O.B - Me Siogopi: video, lyrics, reactions
Have you had the opportunity to listen to the new rap hit by Khaligraph Jones x Lamaz Span K.O.B - Me Siogopi? Well, the two Kenyan artists have teamed up to release what many of their fans think is the hottest rap song ever. What is so amazing about the song?
The versatile and award-winning Kenyan rapper has done it again. This time around, he brings the amazing and talented Lamaz Span K.O.B on board. These two are rap gods; therefore, you can imagine how fantastic their collaborative work is.
Khaligraph Jones x Lamaz Span K.O.B - Me Siogopi description
Release date: October 10th, 2019
Format: Video/audio
Genre: Hip hop/rap
Producer: Motif of Blu Ink Studios
Director: Nezzoh Monts
Instrumental creator: Young Devante
Length: 4 minutes 48 seconds
Khaligraph's Khali Cartel 3 project that was released over a fortnight ago just hit a million views on YouTube. Mr Omollo, as he would prefer being called, has unleashed the much-anticipated smashing hit titled 'Me Siogopi' that is equally hot.
Khaligraph Jones x Lamaz Span K.O.B - Me Siogopi reviews and comments
The video premiered on October 10th, 2019 on Khaligraph Jones' YouTube channel. So far, the video has been viewed by a good number of fans. Below are their reviews and comments on social media platforms.
Dreams chaser: My brother and I never respected OG, but he has proven that the word respect is not enough for him. Respect the OG please, and I repeat Respect the OG.
Eugene Yegon: When Khaligraph comes in, you will see like four people hanged and wrapped in black polythenes. I think that just represented Sauti Sol members.
KingDavid: I love this guy am from Sierra Leone.
Alfy G: Testimony of beating all the odds despite the hate.
Wolfeschlegelsteinhausenbergerdorff: I must say that Mr Omollo is a very talented rapper. Don't look down on him. He will, and I am sure that he will be the world's famous. Work ethic and flow even in Nairobi Swahili slang.
Bramwel King: My Gangster points just boosted to 10,000 after listening to this. Mr. Omollo is fire.
Dennis Musembi: I'm afraid OG is overworking, he is just carrying the entire hip hop industry on his back…
Omo 9ja: I am from Nigeria, but Khaligraph Jones is a beast lol.
Cassim Zimmarish: These are the best beats I've heard on Khali.
Khaligraph Jones x Lamaz Span K.O.B - Me Siogopi lyrics
These are the incredible lyrics of the song.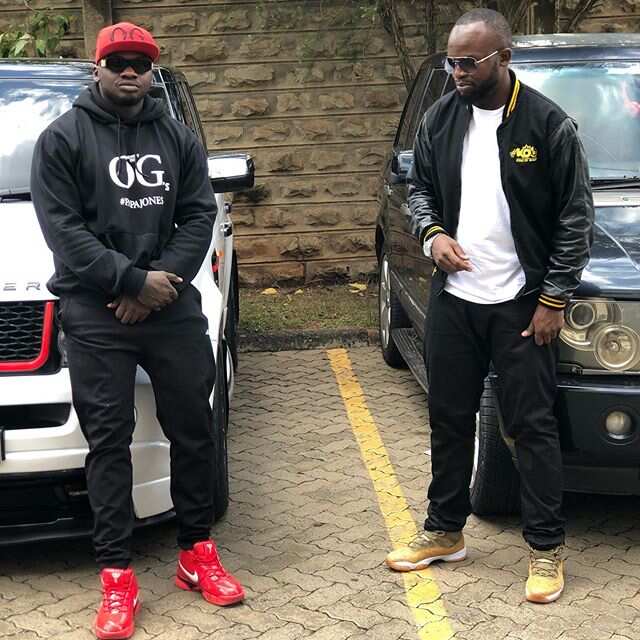 Yeah, ahuu
Scorpion, ahuu
Mi siogopi, ahuu
Yeah, yeah
(Me siogopi) X 4
Leo ni movie mnataka kuona na mi si Tokodi (Mi si Tokodi)
Visanga tutafanya leo lazima tupatiwe notice (Riakakakaka)
Lakini ambia mwenye nyumba nimesema siondoki (Hahahaa)
Cheki vile nimekafunga boss na mi sio chopi (Na mi sio chopi)
Mapesa najua kutafuata sana na mi siokoti (Na mi siokoti)
Makesi si pia natatua sana na mi sio korti (Na mi sio korti)
Na kale kambwenya kangu ka seko sina, na miss hio koti (Na miss hio koti)
Si tuko kimoja nikisema hawa ma OG ni konki (Konki fire)
Wako na kikosi ya mbogi ya Odi ya kina Munyoki (Munyoki murogi)
Na mi na Munyoki tukikuja kwako si hatutoki (No never)
Na ka una shida kimbia polisi ukapige ripoti (Toka kwenda)
Si aki ya nani leo lazima tuvunje rekodi (Vunja kivolume)
Ju kuna bash ya kuzima wasanii wa ngoma shoddy (Zima kabisa)
Si tuserereka mpaka wathii watoke na magoti (Hahaha)
But hizi ni vitu si tumezoea si hatuogopi (Rrrraah)
[Chorus]
(Me siogopi) X 4
Ka ni vitisho tumezoea, (me siogopi) X 2
(Me siogopi) X 4
Ka ni vishasha tumezoea, me siogopi (Rrraah kakakaka)
(Me siogopi) X 4
(Me siogopi) X 3 (Si me siogopi)
Me siogopi(Na we huogopi?) me siogopi (Ka we huogopi)
Me siogopi(But me siogopi) me siogopi (Rrraah kakakaka)
Oya gathee, hii si lingala mi sio Koffi (Mi sio Koffi)
Na ukinihalla nipate Java na miss hio coffee (Na miss hio coffee)
Cheki vile mi huwaliza ngori na mi sio Kofi (Kofi Annan)
Na ukijaribu kuleta nyoko nyoko hapa ni makofi (Blurry f*ckin)
Tabia za Pozze zinaweza fanya useme siokoki (Aki ya nani)
Lakini wacha ninyamaze gathee nibaki kwa topic (Ukanyamazesh)
Hii ngoma nimefanya na Omollo na mi siwachochi (Omollo mgani?)
Omollo mmoja yule alishinda trophy (Brrrraaaah)
Nishawachanua mi siogopi
Mi ni kurutu jo mi sio softi
Ka ni kuroga then mi ndio bossi
Ka unaugua then hii ndio hosi
Hii ni beef jo hii sio Sossi
Hii ni hit jo au sio Motif
K.O.B jo leta hio coffin
Nirest in peace jo mi siogopi
Mabuda mnachoma kazi ni ku copy paste
Hawa ma yungin ndo pia nyi mtrend
Mbona msikubali mmechapa
Ni ka mnasaka career zenyu zimeend
Mnazoza kwa mneti mashow mnapiga
Na zinafanyika ka kila weekend
Na ngoma mkitoa the only platform
Mnapata ni Citizen 10 over 10
Mi nipe candle siwezi potea
Ju kitu nafanya ni ngumu kusample (Woo)
Hard kuwa rapper lakini ikibidi
Namada pia beats za dancehall (Rrraaah)
Favourite rapper wako batty boy
Tulimpata akinunua tampons
Mbogi yangu ya ubakora ni major
Utatupata na akina Kansoul
Acha kiburi punguza kelele
Zako pang'ang'a kwa mtaa we ni mwere
Utageuzwa kichungi ukizidi na kwere
Nilianza kuhustle enzi za Nyerere
Legendary kama Luanda Magere
Nina ofisi huko Mwea Tebere
Niko na maratchet wale ukiketi mbaya
Soda yako watakuwekea mchele
Before nianze rap hapa Kenya
Kulikuwa na shortage ya skill
Hakukuwa na talent (Omollo)
Akina Pinye walimada industry
Wakafanya ikuwe barren
Wakasema nisiroge na ngoso
Ati sababu sijatoka Karen
But F*ck you n*gga, guess sai
Nani anapiga mavideo na kina Clarence
HBR nangoja mnipigie simu mniambie pole
Hio top 50 mlitoa
Inaonyesha vizuri hamkufika hata college
Ju ka si Khali ndio number 1
Inaonyesha vile mmedharau jina
Freestyle zangu ndo
Most viewed on your channel
Na bado mnakosa heshima
Aaah, aki ya nani, eyoo Motif imebakia nani
Mbona wathii hawanitakii amani
Hii game me naif*ck ninaimwagia ndani
Nani hapa Kenya ameisukuma
Hii culture ya Hiphop kushinda Omollo?(Iyee)
K.O.B na Khaligraph kwa battle field tunasimama solo
Ahh unarada fiti
Kuna wasanii kadhaa bado wasaliti
Wanasaka kiki, si hawataki kuona sisi tukipaa
Watafurahi tukikaa Kamiti
OG we are brand them amachichi
Ama vipi bado mi nafanya mziki
If it ain't about the money don't tryna reach me
Nishamaliza hii kitu inakaa mazishi
[Chorus]
Khaligraph Jones x Lamaz Span K.O.B - Me Siogopi download
If you like the song, you can download it from the following reliable site.
What do you think about the new rap song by Khaligraph Jones x Lamaz Span K.O.B - Me Siogopi? Is it a chart-topping hit? Share your opinions about the song in the comment section below.
Source: Legit.ng