Khali Cartel 3 ft. Bey T, Breeder Lw, Silverstone Barz, Rekles, Chiwawa: video, lyrics, reactions
Kenya's top rap god and hit-maker Khaligraph Jone comes through with Khali Cartel 3, another rap battle to entertain you and rock the music industry.
In Khali Cartel 3, he teams up with some of the best rappers in the industry. Silverstone, Bey T, Breeder Lw, Chiwawa, and Rekles have combined their talents to present the amazing rap.
Khali Cartel 3 description
Release date: September 26th, 2019
Format: Video
Genre: Hip hop/Rap
Director: Mike Lolly p and Khaligraph Jones
Producer: Motif
Length: 10 minutes 33 seconds
Khali Cartel 3 brings together six of your favorite rappers with each rapping about what artists go through in their day to day lives. What is interesting about the video is how the artists use a courtroom platform to air their 'cases.' Check it out, the rap is so amazing.
Khali Cartel 3 reviews and comments
What are fans and followers saying about the tune? Find out below.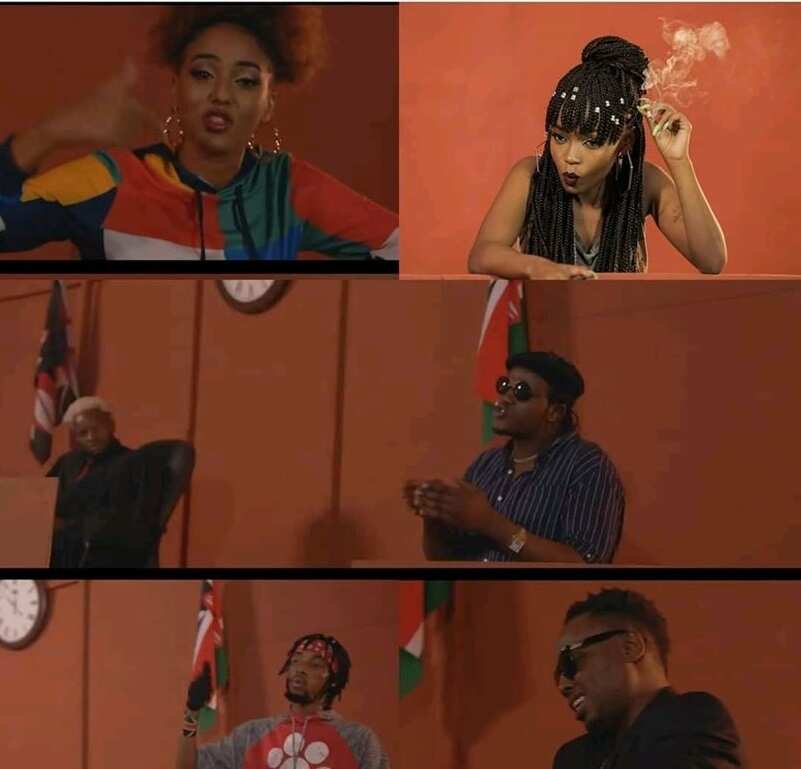 Ingenious Dennis: It is now official Kenya has the best Hip hop talent in Africa
Millan Koech: OG goodness I felt every d**n inch of this the first lady was epic Jones is King
Ignatius Mweteri kobia: I thought the judge's name was "Yorona" so its @KHALIGRAPH saying 'your honor.' Respect the OG.
Benjamin Musau Munyaka: Chiwawa. This guy was and is still one of my favorite rappers of all time.
Shee Emxy: You are all acting like you don know Motif produces Khali's music n always does it right......#motif
Ivy Nyambura: Song of the Year Content 100% Video 100% Rappers 1000% Bars 2000%
Maya Mumin: It hits different in Kiswahili. We've been sleeping on real talents out here...
Brian Juma: "Your Honour, tell me if you ain't feeling what she saying though".. What a way to start off a mega track Bey T Respect!!
Ruth Rima: Am I the only one who feels that the OG should also bring in Nyashinski... Respect Jones
Billy Williams: Please tell me there's a part 2 of this... "Your Honor" Omollo's bro Lamaz got to give his verdict on the case at hand by dropping some rough bars. This is fire!
Khali Cartel 3 lyrics
(Khaligraph)
Okay
You good?
You ready?
We can start, thank you so much first
I'd like to thank everybody for showing up for this session
You honor these are the rappers the mass has been requesting
Ladies and gentlemen
It's so important that you follow am your attorney but just address me as Mr. Omollo
And now your honor we gon go straight to the case
And address these people who insult you straight to your face
When these people working hard they busy taking the cake
Heard the masses saying artist aint got paper to chase
And what a shame when they constantly building they brands
And all the dope music that they be giving they fans they got —- to say
So kindly lets give them the chance
First rapper kindly make your way to the stand
What's your name? what you do?
(Bey T Verse)
Bey T, am the truth (and do you swear to say the truth?)
I just said I am the truth
Everything I ever wanted when spitting in a booth
I guess that's coz it's just in me when I flow I see the proof
Broady told me green light now its go I can't stop
I be praying on daily getting closer to the top
They appearing to the real kinda something like a pop
Hating when am doing kinda something like a app
Got the city on my shoulders
And the love now I receive but my socials aren't enough to see the media they receive
And we got our local talent but thats not what they perceive
Coz they really is not limit all to my people to believe music seems like real sh** we just tryna make it out
Even started up a movement and they tried to make it cout call the puppet out on-site
She know what I'm talking about
But the truth will always shine and in God I never doubt
Hard work beats talent but with me its double trouble
And I gotta lot to say they can't stop with a muzzle watch when people hear music they dig it like a shovel
Mama said just let it be and pu the focus on the hustle
Men Am rising from the dirt, ten toes on a gun
Real music knows no language
I'm do it with my son 254 to the world when I look who I'm ma run
I be queening in my city, ts about time I take the crown
Look back how far i come and its amazing
Loving through the process in the race but am na racing
Men am the weaker when they see me they are waving
This is just the warm up but we winning through our training
Bey T got the fire but I blow up super saying rising with the sun
You gon see me out ya window
Naenda juu now if you aint getting on my lingo get into the chips
I ain't talking bout a pringo
Kenya dropped some heat, I aint talking bout a single
(Khaligraph)
Thank you so much for that
I'm just hoping they got the info
Bey T girl you the future
When they acting like they aint know
But those tryna take what you came for
Your honor tell me if you aint feeling what she saying
Though Eyy, when will you people ever see the truth
The evidence is overwhelming yet you need a proof
Leo me ndo lawyer so mtaniskiza tu nimechoka hata na ngoso
So kindly bring breeder proof
(Breeder Lw)
First off niko njaa
Ngekua refa si ningemeza whistle
Juu uulize utanitambua lini ama unangojea yangu kifo
Nizaliwa nikiwa pro me ni mnoma by default
Na nadesire kuwa legend niko down ka icon
Niko kwa track na kali buda hii ni nini ka si dream ka true
Si walijifanya hawanioni design ya pickaboo
After this ni Omollo alafu breeder 2 na ni kobra
So kukipack itabidi umevunjika mguu
Utasema aje sina bidii na me husinda stu kukidnap
Soon as the beat starts speakers boom
Ni me na mic solo kwa booth
You snooze you loose rap kwangu ni kama Ruto na 2022
Alafu after hell si ni heaven paradise inaningoja
But pressure ya kuomoka ndo imenikalia ka sofa
Industry ngori yaan ku maneuver si ni struggle
Interviews mi siko booked kama libu haina kitabu
Lakini story ni ile ile huwezi winda subiri mzoga
So nkajitupa kwa wanjo na watesa bila koja
Si ni Tk ndo kikosi yangu na ni wicked naplay role mbili bado attacker alafu defence
Mi huwapea maneno za busara tangu nicresen bado na glesen
Nabii hawezi pendwa mahali anatoka na hiyo ni mistake
Si walifunga mlango so tunaknock doors off the hinges
Na nina ugonjwa haina tiba na hiyo ugonjwa inaitwa realness
Waambie wapunguze tamaa watuache pia si tudishi
Na mafans asante sana bila nyinyi hatunge do this
Na naapa kwamba siachi TK soldier until the finish
Nishaikamilisha 10/10 kama Willis
(Khaligraph)
10 over 10 big shout out to 10 over 10
Big shout out to Willis Raburu kutusupport again and again
U breeder you did it my friend and they be feeling you man and if we had more time I'd let you kill it again
we gotta pass it over
Yoh next witness are you ready?
Your honor, I gotta warn you this shawty hella petty
From Nakuru to Ni she got zero f*** to give
Double S in the house baby girl where your ways whats up?
(Silverstone Barz)
this the punch line queen lets get it
ooh we can get it for real
I'm the realest let's get it see
I set the bar far yeah I give it hella heights
Welcome to the dark side where we give you hella price
Coz this the I call a dream
See its costing plenty nights and the best to ever do
This the game invited all the intruders so
You think a throwing shot
I'm really aning with some shooters
They fishy cooking tuna all my cats is rocking is puma
Get my —- tight as spread the name like city rumor
Coz these rappers don't come like this
We run like this and too cool sound like this and shine like this I got smoke…
And I talking cannabis and even that we grind like this we green like the money calling pr….
I get it from the back
They don wanna open doors so we get in from the back
No debate bout who's the best swear am really on they necks
Never tripping for a cheque if they tripping get em checked
You can find me on a map
Dont know where y'all at I ain't talking about shopping
I'm taking all the bag boazz clean
I'm back heddy I'm bad at it I'm too good
Been ready but yeah aint ready this soul cool with the new school cut the cr*p
And cut the cheque cut it now you not a threat
I start rapping the beast come up
Som'one like the full moon
So what they talking bout bring more chic to the scene
But I swear y'all don wanna bring chics to the scene
Coz I around smoke all y'all in 1 session
Now are we talking bout a crown b I got it no question
I do a little school but never s by the book
I'm selling the oor nd plenty silver stone in this hook
I'm giving them barz and barz like…..
To tell a legendary what exactly you tryna tell me
I'd seen n getting paper than a secretary
So I'm on my grind I keep my sh*t on lock and if they f*** with me I gotta rep on the block
(Khaligraph)
You rep the block?
Baby girl you taking shots
Assuming u serious you gon have to face the cops
Your rage is off the cage
Not afraid to pop but wait
You do don gotta do that you was raised to rock
Your honor I'm sorry for that's how them OG's do
I'm not only reppin these people
They my hommies too
So let these motherf** pay wat they owe these dudes
Next rapper pia ni ngori woow
Rekles shukran kwa kuka mbogi imekurequest sana
You ready to wrap it up?
Uko tayari?
(Rekles)
Yes banaa
Nimekua nikingoja juu wako oy my case sana
Tuchanue basi reason pia we unahate drama yes check it…
Si eti nilifanya juu nimekosa kazi
Najua ni nyi bado hukaa kwa izo keja zina parking
Bado ndani ya ofisi mmejaza vitambi
Na round hii kukuwa fisi ngumu juu wanafwata maganji
Medidation kejani ka hakuna cheque
Wee nani hii pande
Si hatuna kitu si huishi daily na imani
Lullaby huku mtaa hukua sauti ya risasi
Jamaa mgreedy ana njaa inafaa unapakwa kamasi
Juu ukilala joo huwa silali formation toka zamani
Na sina' kitu kwa sahani pia sifiki bei ya Dasani
Aah na nikiwafikiria mnanisinya
Natapika juu kama ni kutuibia hamfikirii hata dakikia
Aah na sipendi wageni juu nina keja bila furniture
Bila hata deni nkiona landlord mi nasafisha
Ukiokota peana tu base inafaa kaa yangu ni yangu
Nikitaka napeana yote kwa bar
Hao hutupima sana ni juu izo suti wao wamevaa
Shukran ganja farmer juu you after kipuff si hurelax
Mi huomba ata kaa siendi church
Budako madhako bradhako sister wote wanadeserve
Na watajudge juu nacurse na ninachuki kwa verse
Si ati amebeba ni ameumwa joo na nyuki kwa a**
Kila asubuhi naamka na uji kwa glass
Na sijijui muhimu sana jo nirudishe class
Ati jokes kwa hizi mambulu ni joo kuni kwa kunye
Na bado bro hatupatani ka joh unyi na fudhi sleki sana
Si hatulali hata kidogo watiaji ndo huachanga waongeleshe jo kisogo
(Khaligraph)
Watiaji ndo si hupiganga
Wakijaribu kuleta zogo watiaji ndo huingizana
Wakisharushiwa hongo watiaji wamejaa kwa soko
Watiaji wanachoma foto
(Chiwawa)
Naomba ruhusa mahakama
Nitoe ushuhuda kuna shida nikisimama kwa huu muda?
Kwanza kabla ya maneno yote waha nishukuru hii nafasi nimepata kueka akili
Dunia haina haki ni shamba ya wanyama
Bora bado niko hainatumaini nitawa
Ndo napush on kila siku atakama sio rahisi
Kulala usiku ukijua unanyemelewa na fisi
Naeka Mungu juu ya yote juu siwezi jisaidia
Sheria mikononi naeza baki nawaibia
Wakinifwata kwa giza wakiomba sana nidunde
Wana keys smart kwa hii game
Nimeshika mic si bunde haama plau plau ping ping
Kwa gari zao kwenye manyumba zao
Nabring heat na sipendi madharau
Ka nimekosea naomba usinimiss judge
Hakuna Sunday me humiss church
What is your take about Khali Cartel 3 rap battle? Is it a hit or a miss? We would like to hear from you. Drop you views in the comment section below.
Source: Legit.ng