Kylie Minogue bio: age, height, net worth, boyfriend
Kylie Minogue is a renowned actress, singer and songwriter. Throughout her decorated career, Kylie has been described as a music and style icon. Her ability to reinvent herself in terms of music and fashion has earned her several nicknames, most outstandingly the 'Princess of Pop'. She has also been recognized as the top-selling Australian female singer to date.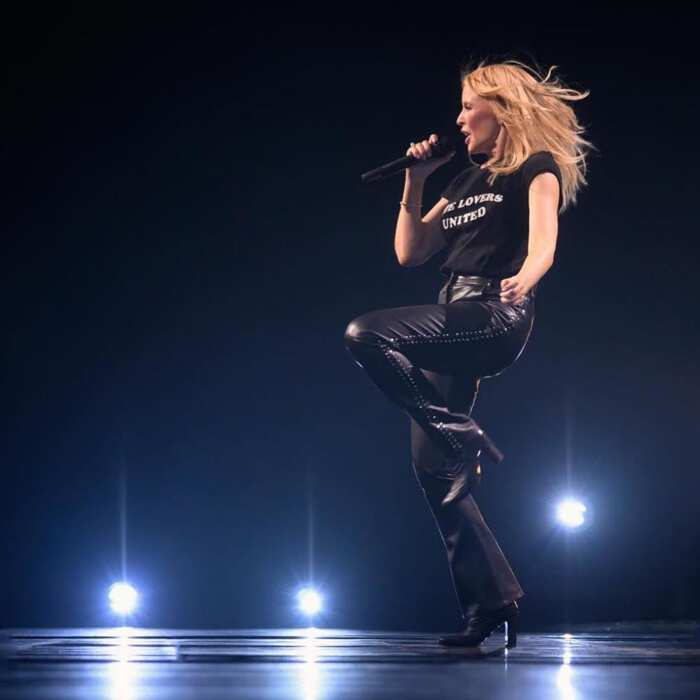 How old is Kylie Minogue? Kylie Minogue age is currently fifty-one years old having been born on 28th May 1968. She was born to parents Ronald Charles Minogue (an accountant) and Carol Ann Minogue (a former stage dancer). Kylie was the oldest of three children. She grew up in Surrey Hill, Melbourne and attended Camberwell High School. At a young age, the singer began her television career appearing in soap operas such as The Sullivans, Skyways and The Henderson Kids.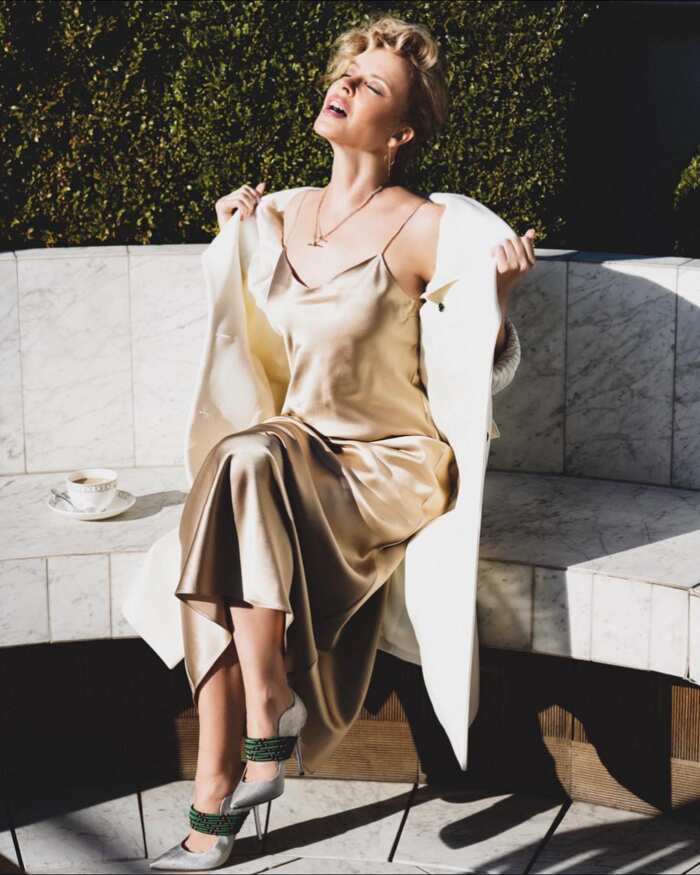 Kylie Minogue profile summary
Name: Kylie Ann Minogue
Birthday: 28th May 1968
Age: 51 years old
Birthplace: Melbourne, Victoria, Australia
Current residence: Chelsea, London, England
Profession: Singer, Songwriter, Actress, Author, Entrepreneur
Nationality: Australian, British
Ethnicity/Race: White
Zodiac: Gemini
Net worth: $90 million
Height: 5 feet
Weight: 49 kilograms
Kylie Minogue net worth
The artist's net worth is currently estimated at $90 million. She has accumulated this wealth through her multiple income channels. These include album sales and concert tours among other sources of income.
Body measurements
How tall is Kylie Minogue? Kylie Minogue height is 5 feet (152 cm). She tips the scales at 49 kilograms and measures 34-23-35 inches at the bust, waist and hips respectively.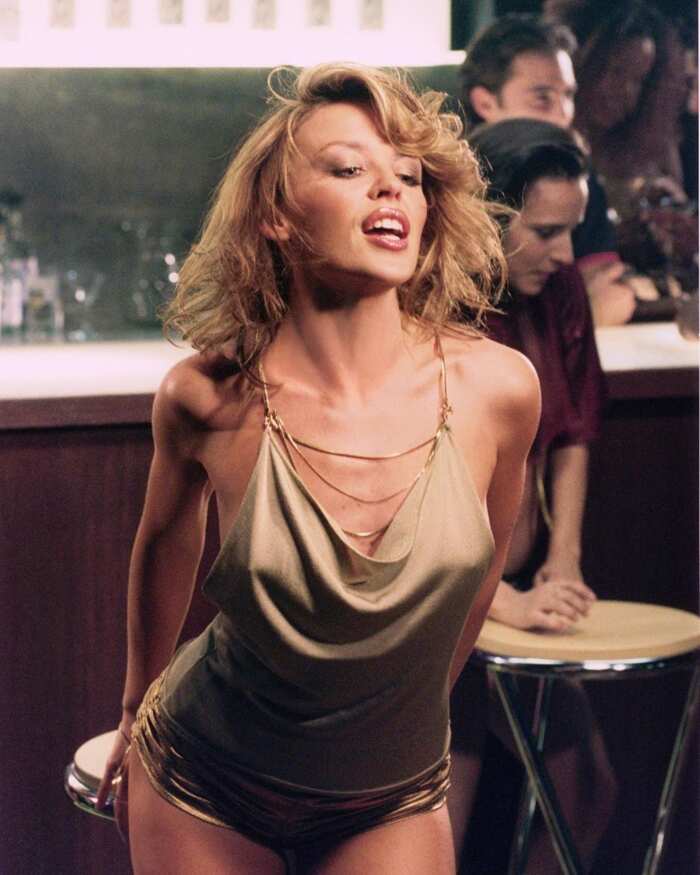 Career overview
Kylie achieved recognition within the entertainment industry when she was cast to play one of the characters in the television show, Neighbours. She then rose to eminence as an artist towards the end of the 1980s when she released four albums under the record label, PWL. Around the time when Kylie was releasing her fourth studio album, she had several top-ten hits in Australia and the United Kingdom. These included Step Back in Time, I Should Be So Lucky, Hand on Your Heart and The Loco-Motion.
The artist felt indifferent towards PWL Records due to the limited control she was given. She left the label in 1992 and joined Deconstruction Records. She then released two albums with the new label, one of which is widely regarded as her greatest creative album to date. Minogue then signed to the label Parlophone Records and released her seventh and eighth studio albums. The eighth, Fever (2001), went on to become Minogue's highest-selling album and extended the artist's reach to new markets.
Besides progressing her music career, Kylie was also making headways into the film industry. She appeared in her first significant film role in the 1989 film, The Delinquents. This was followed by roles in movies such as Holy Motors, Jack & Diane, Street Fighter and Moulin Rouge! Kylie was also on the judges' panel on reality television shows, The Voice Australia and The Voice UK in 2014. Besides acting and singing, Kylie has also ventured into fashion, children's books and product endorsements.
Initial career stages
Kylie first appeared in minor roles in The Sullivans and Skyways. In 1985, Minogue was cast as one of the lead characters in The Henderson Kids. She would often take time away from school to work on the show, much to the annoyance of her mother. Minogue left the show after the first season. The show's producer deemed it necessary to have her character written off.
In 1986, Minogue was cast to play Charlene Mitchell in the show Neighbours (1986. The show's romantic storyline became quite popular in the United Kingdom with the season finale episode attracting around twenty million viewers.
Kylie Minogue discography
Here are the singer's studio album releases.
Kylie (1988)
Minogue released her first single, The Locomotion, in 1987 under Mushroom Records. The song spent seven weeks on Australia's singles charts and then became the country's top-selling single in the 1980s. Minogue's success with The Locomotion allowed her to travel to England with Gary Ashley, one of the record label's executives. Kylie wrote her second single, I Should Be So Lucky, outside Stock, Aitken & Waterman's studio. The song is one of the most popular Kylie Minogue songs. It peaked at number one in Hong Kong, Israel, United Kingdom, Finland, Germany, Switzerland and Australia.
With The Locomotion, Minogue won her first ARIA (Australian Recording Industry Association) Award for that particular year's top-selling single. She won the second ARIA Award after releasing I Should Be So Lucky. Minogue's debut album titled Kylie was released in 1988 and featured an assortment of dance-pop tunes. The album spent several weeks at number one on the UK charts. Kylie was certified gold in America with the single, The Locomotion, peaking at number three on the Billboard Hot 100 chart.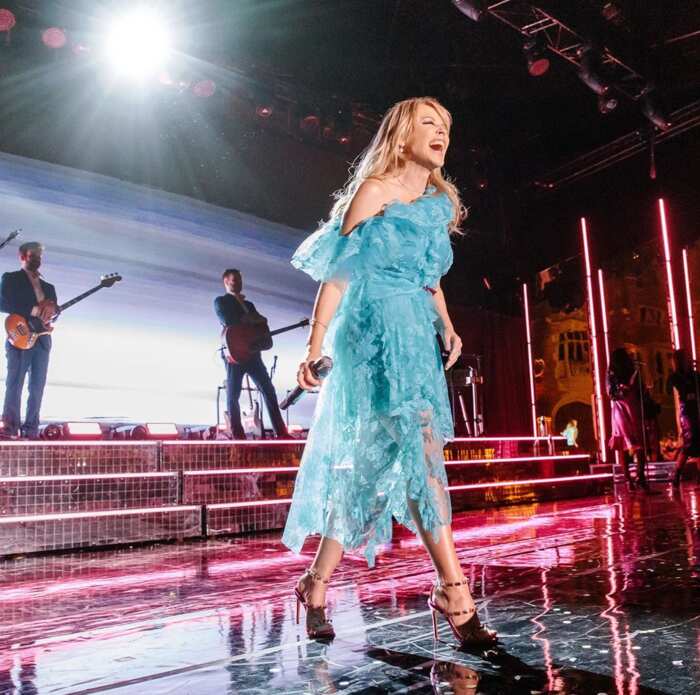 Later in 1988, Kylie left the Neighbours cast to focus more on her music career. She teamed up with another singer, Jason Donovan tom release the song Especially For You which topped the UK charts. In 2014, the single had sold a million copies in the United Kingdom.
Enjoy Yourself (1989)
Minogue released her second studio album titled Enjoy Yourself, in 1989. The album spawned two number-one singles and became a massive success in Australia, Asia and Europe. However, the album sold poorly in North America, forcing Minogue's American record label to drop her. In 1990, the artist embarked on her debut concert tour titled, The Enjoy Yourself Tour. She was also among the vocalists for the 1989 remake of Do They Know Its Christmas? –A song aimed at raising funds for charity-.
At around the same time that Minogue released her second album, her debut film, The Delinquents, was also released. The movie became quite popular with audiences but received mixed reviews from film critics.
Rhythm of Love (1990)
In November 1990, Kylie released her third studio album, Rhythm of Love. The album was termed as more mature compared to her previous album releases. Her work relationship with producer Michael Hutchence was seen as a significant factor in her change of music style. The album's lead song, Better the Devil You Know, debuted at number four in Australia and number two in the UK.
According to Minogue, shooting the video for Better the Devil You Know, made her feel like part of the video's development process. She said that while she was not in charge, she had a voice in the production of the video. The album's second and fourth singles became top ten hits in Australia and the UK. After releasing the album, Minogue went on the Rhythm of Love Tour in 1991.
Let's Get to It (1991)
Minogue's fourth studio album was released in 1991, peaking at number fifteen on the UK Charts. Lets Get to It became her first album to miss the top ten spots on the UK album charts. The album's first single, Word is Out, became Kylie's first song to miss out on the top ten spots on the UK singles charts. In 1992, Minogue released her first Greatest Hits compilation album. It peaked at number one on the UK charts.
Kylie Minogue (1994)
Kylie signed to Deconstruction Records in early 1993, a step that marked the beginning of a new journey in her music career. In 1994, she released her fifth album titled Kylie Minogue. The album was a success in Australia and Europe. The album's lead song, Confide in Me, spent several weeks at the top spot on Australian charts. Two other singles in the album peaked at top twenty on the UK charts. The Kylie Minogue album eventually sold more than a quarter-million copies.
In 1995, Kylie teamed up with artist Nick Cave to release the single Where the Wild Roses Grow. Nick became interested in working with Kylie after hearing her song, Better the Devil You Know. He described the song as having 'pop music's most distressing and violent lyrics.' The video for Where the Wild Roses Grow received extensive attention across Europe.
Impossible Princess (1997)
In 1997, Kylie's sixth album, Impossible Princesswas released in 1997. The album involved collaborations with artists such as Sean Moore and James Bradfield. Around the time of this album's release, Kylie was dating Stéphane Sednaoui, a French photographer. He encouraged her to widen her creativity. The couple's shared interest in Japanese culture led to the creation of manga and geisha-inspired artwork for the Impossible Princess album.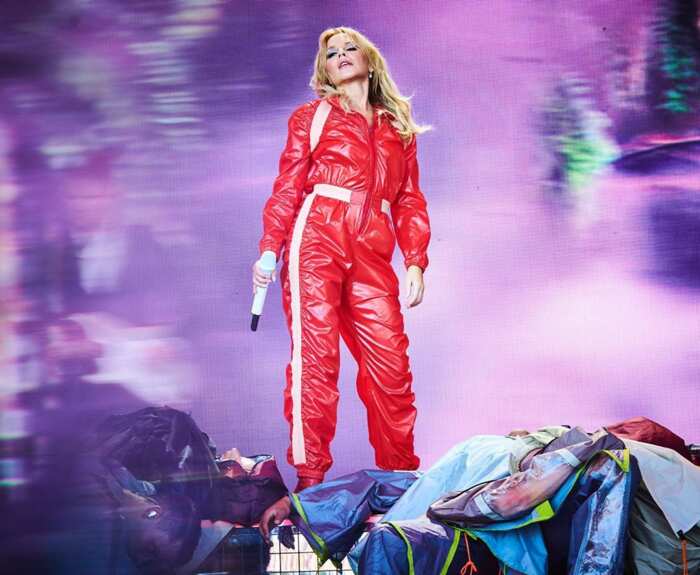 Impossible Princess received undesirable reviews when it was released. However, in later reviews, it was praised as the artist's best personal effort and best album. In 1998, Kylie embarked on the hugely-successful Intimate and Live Tour.
Light Years (2000)
In 2000, Kylie signed to Parlophone, a record label that wanted to reinvent Kylie's style as a celebrated pop artist. She released Light Years, her first album under the label, and her seventh overall in September 2000. The album was a massive commercial success and became the artist's first album to top the Australian charts. The album's lead single, Spinning Around, debuted at number one on the UK singles chart.
The Light Years album and its lead single, Spinning Around won Kylie consecutive ARIA Awards in 2000 and 2001. In September 2001, Kylie released the single Can't Get You Out of My Head. The single reached number one in more than 45 countries and sold more than five million copies. The single also became the artist's most successful song to date. The video for Spinning Around featured Kylie in gold-coloured hot-pants in what became a Kylie Minogue dancing trademark.
Fever (2001)
Kylie's eighth album, Fever, was released on October 2001 and topped the charts in Germany, Austria, Australia, Ireland and the UK. The album sold more than six million copies all over the world. Fever was released in the US in 2002 and debuted at number three on the Billboard 200. The US release was Kylie's first in thirteen years. She then went on the KylieFever2002 concert tour across Australia and Europe to support the Fever album.
Body Language (2003)
Kylie's ninth album, titled Body Language, was inspired by the likes of Prince, Scritti Politti, and The Human League. The album's sales were significantly lower than projected especially following the global success of Minogue's previous album, Fever. However, the album's lead single, Slow, peaked at number one on Australian and UK charts. In America, Slow peaked at the top spot on club charts and got a Grammy Award nomination in the Best Dance Recording category.
X (2007)
The artist released her tenth album, X, in 2007. The album featured artists such as Calvin Harris, Cathy Dennis and Guy Chambers. X received criticism for its trivial content. However, the album and its lead track, 2 Hearts, peaked at number one on Australian album and singles charts. The album received a Grammy Award nomination for the Best Dance/Electronic album.
In 2008, Minogue went on the KylieX2008 tour. The tour was her most lavish one, with a £10 million production cost. The artist toured 21 countries across Asia, South America and her native Australia. KylieX2008 was a commercial success, raking in about $70 million in ticket sales. She later embarked on her first North American tour titled For You, For Me.
Aphrodite (2010)
In July 2010, Kylie released her eleventh studio album titled Aphrodite. The album featured Stuart Price in the role of executive producer. Minogue collaborated with various artists in writing songs for the album. These included Kish Mauve, Calvin Harris, Pascal Gabriel, and Lucas Secon. Aphrodite received mostly positive reviews from music critics.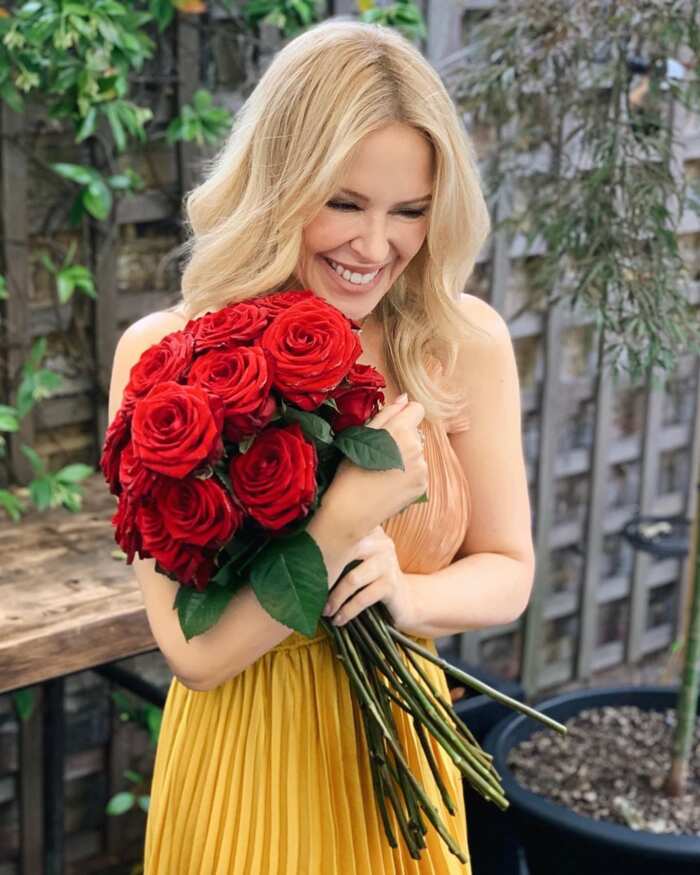 Aphrodite peaked at the top spot on UK charts, twenty-two years after Kylie's first UK number-one single was released. In 2011, Kylie went on a tour titled Aphrodite: Les Folies. The tour took her across Europe, Africa, North America, Australia and Asia. The stage setup was inspired by Grecian culture and the birth of Aphrodite. The Aphrodite: Les Folies tour was quite successful, grossing about $60 million.
The Abbey Road Sessions (2012)
In 2012, Kylie embarked on a one-year celebration of her twenty-five-year stint in the entertainment industry. Dubbed K25, the celebration began with tours in Australia and England. The tour grossed over $2 million and was widely praised for its warm and friendly atmosphere. In October 2012, Minogue released The Abbey Road Sessions, which was a compilation of orchestral and reworked versions of her previous songs. The album debuted at number two on the UK charts and received favourable reviews.
Kiss Me Once (2014)
Kylie's twelfth album featured contributions from Pharrell Williams, Ariel Rechtshaid, Sia Furler and Mike Del Rio. Kiss Me Once peaked at number two in the UK and number one in Australia. Two singles from the album did not chart inside the UK singles chart top ten. In March 2015, Minogue's contract with Parlophone Records came to an end. The artist's future music releases were to be handled by the Warner Music Group.
Kylie Christmas (2015)
In November 2015, Minogue released her first Christmas album titled Kylie Christmas. The album was re-released in 2016 as Kylie Christmas: Snow Queen Edition. Around the same time, she recorded This Wheel's on Fire, for the film Absolutely Fabulous: The Movie.
Golden (2018)
Kylie released her fourteenth album, Golden, in April 2018. Golden debuted at number one on the Australian and UK charts. With this feat, Minogue reached the top position in UK charts for four consecutive decades. In June 2019, the artist released a compilation of her greatest hits titled Step Back in Time: The Definitive Collection.
Artistry and achievements
The artist has achieved some excellent feats throughout her decorated career. The most notable ones include:
In January 2007, London-based wax museum, Madame Tussauds unveiled its fourth Kylie Minogue Waxwork.
In January 2007, a bronze cast of Minogue's hands was added to the 'Square of Fame' at the Wembley Arena.
In 2010, Kylie was declared as the 'most powerful celebrity in Britain'. This was after research that sought to identify how marketers search for potential brand and celebrity partnerships.
Kylie won the Silver Clef Award in 2012 for her contributions to the music industry.
Three Brit Awards
One Grammy Award
Two MTV Video Music Awards
Two MTV Europe Music Award
One Music Industry Trust award
Seventeen ARIA Music Awards
Philanthropy
Kylie has helped raise funds for various causes on different occasions.
1989: She participated in the remake of Do They Know It's Christmas? The song was done in collaboration with other artists under the name Band Aid II to help raise money for charity.
2008: Minogue supported a campaign to raise funds for abused children. Around $93 million was donated to the National Society for the Prevention of Cruelty to Children as well as a charity known as ChildLine.
2010: Minogue joined other artists to record a cover version of Everybody Hurts. The song was to raise funds to assist victims of the 2010 Haiti earthquake disaster.
2010 and 2012: Kylie was part of the AIDS Support Gala.
2014: Kylie launched a campaign titled One Note Against Cancer. The campaign is, in essence, a charity organization that helps with cancer research.
Filmography
Kylie has appeared in minor and significant roles in various films. Her most notable roles include:
The Delinquents (1989) - Kylie played Lola Lovell in this film about two under-age lovers.
Street Fighter (1994) – The actress played Cammy.
Moulin Rouge! (2001) - Minogue plays the green fairy in this film about a poet who is attracted to a beautiful courtesan.
Jack & Diane (2012) – The actress portrays Tara in this 2012 romantic thriller.
Holy Motors (2012) – Kylie plays Eva Grace in Holy Motors. The film follows dawn to the dusk period in the life of a man named Monsieur Oscar.
San Andreas (2015) – Minogue plays Susan Riddick in this 2015 film about a man rescuing his daughter after an earthquake.
Swinging Safari (2017) – The actress played Kaye Hall in this 2017 coming-of-age film.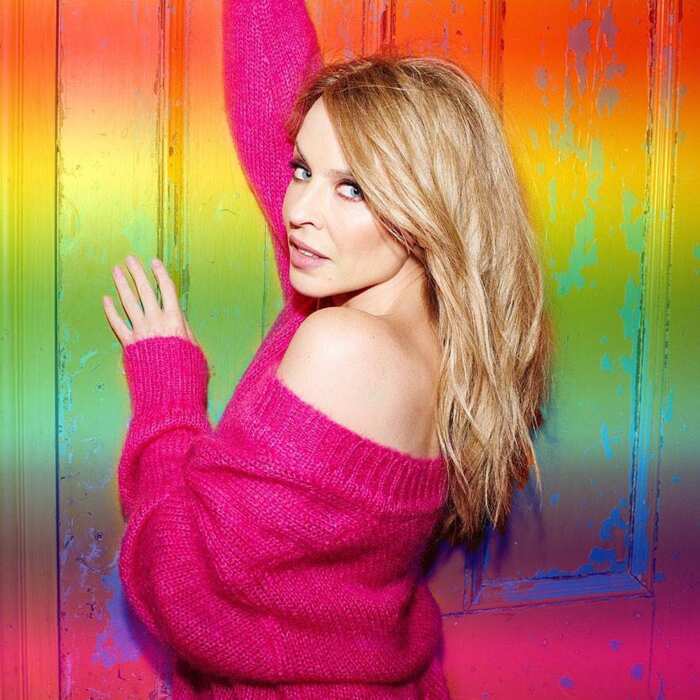 Working with The Voice
In January 2013, Kylie joined the edition of BBC One's, The Voice UK as a coach. She worked alongside will.i.am, Tom Jones and Ricky Wilson. The show's opening episode garnered 9.35 million viewers, a significant rise from the previous edition's 8.1 million viewers. In November 2013, Kylie became a voice coach on the television show, The Voice Australia.
Kylie Minogue boyfriend and dating history
One of the most common questions among the artist's fans concerns Kylie Minogue husband. Minogue is reportedly dating British GQ's Creative Director, Paul Solomons. The two are rumoured to have grown quite close in recent months. The singer posted an adorable photo of Paul on social media further fueling speculations of her alleged relationship. Here is a brief look into Minogue's previous relationships.
Jason Donovan: Kylie and Jason's on-screen romance in Neighbours blossomed into a real-life relationship. However, the couple split in 1989.
Michael Hutchence: Minogue allegedly dumped Jason for Michael. The two are said to have dated until 1991 when they broke up after Michael fell in love with Helena Christensen.
Lenny Kravitz: The singer was reportedly in a brief relationship with singer Lenny Kravitz in 1991.
Stephane Sednaoui: Sednaoui is a French actor, photographer and director whom Kylie allegedly dated for two years between 1996 and 1998.
James Gooding: The singer met Gooding and the two reportedly dated for three years. After their split in 2003, Gooding admitted to cheating on Kylie.
Olivier Martinez: After the cheating saga from her previous relationship with Gooding, Minogue fell in love with Olivia Martinez, a French actor. The couple later separated, citing that the decision was amicable and mutual.
Joshua Sasse: Kylie and Josh allegedly began dating in 2015. In 2016, Josh confirmed the couple's engagement after referring to her as his fiancé. The couple split in 2017.
Kylie Minogue hot pictures
Here are a few Kylie Minogue young pictures from her early career life.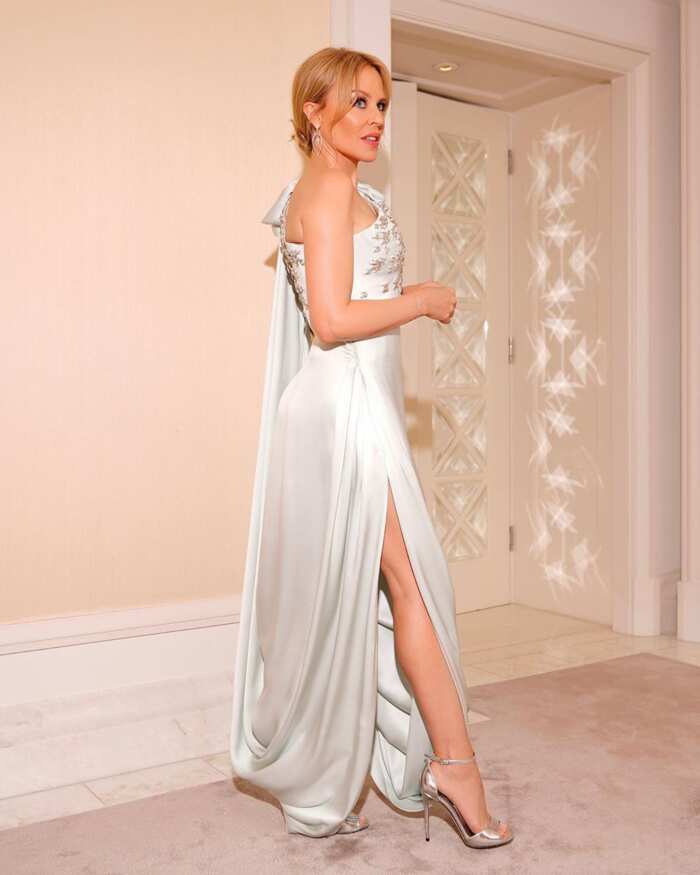 The singer looking great in a dress.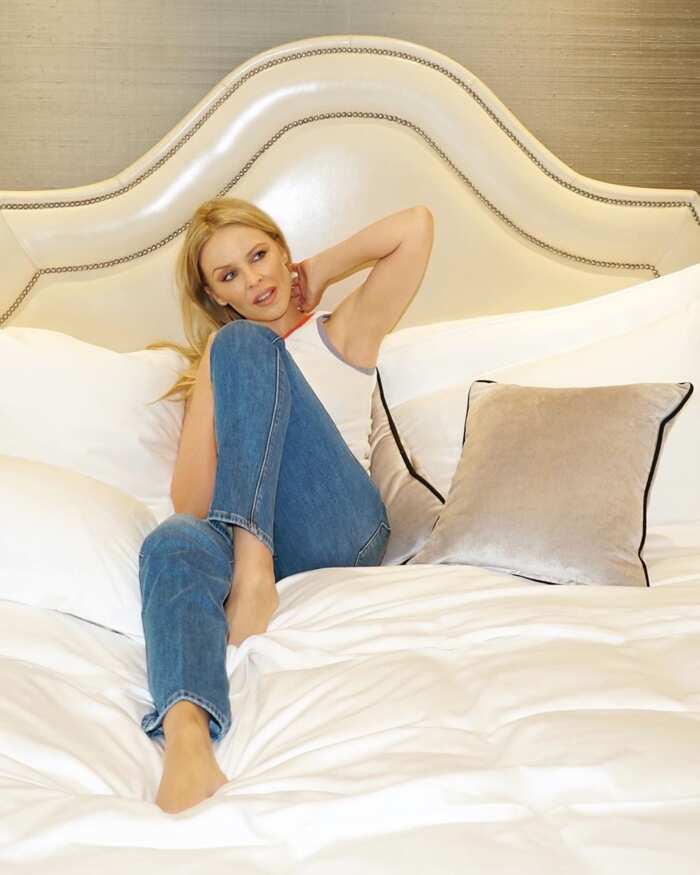 This Kylie Minogue bio paints the picture of a resilient woman who has worked relentlessly in her career and philanthropy. Kylie's ability to adapt to various music styles, television and film roles is undoubtedly inspirational to many people. The talented singer has managed to remain relevant throughout her four decades in the entertainment industry. What did you find most intriguing about Kylie?
Source: Legit