Top 50 burgundy hair styles to try in 2019
If one day you wake with an idea to try the burgundy hair colour, you will not regret! It has always been a particular "must-have" among people who like experiments and those who like to stand out in the crowd. We will help you find the exact burgundy hair color to make you feel more confident and attractive!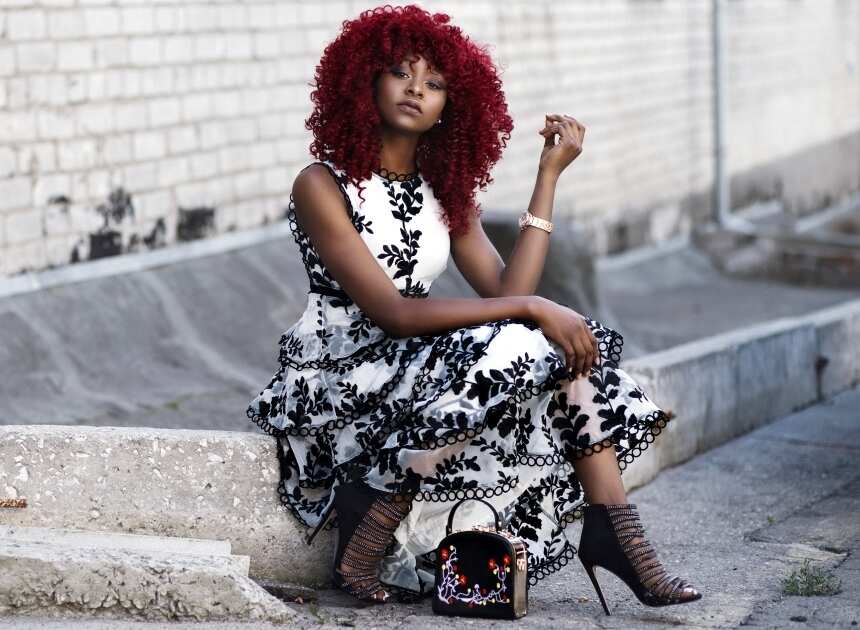 Burgundy is a wonderful and unique colour that will give you an edge. Moreover, if you decide to dye your hair this colour, you will always find yourself at the center of attention as the tones of ruby produce a particularly magnetic effect.
Burgundy hair color dye ideas 2019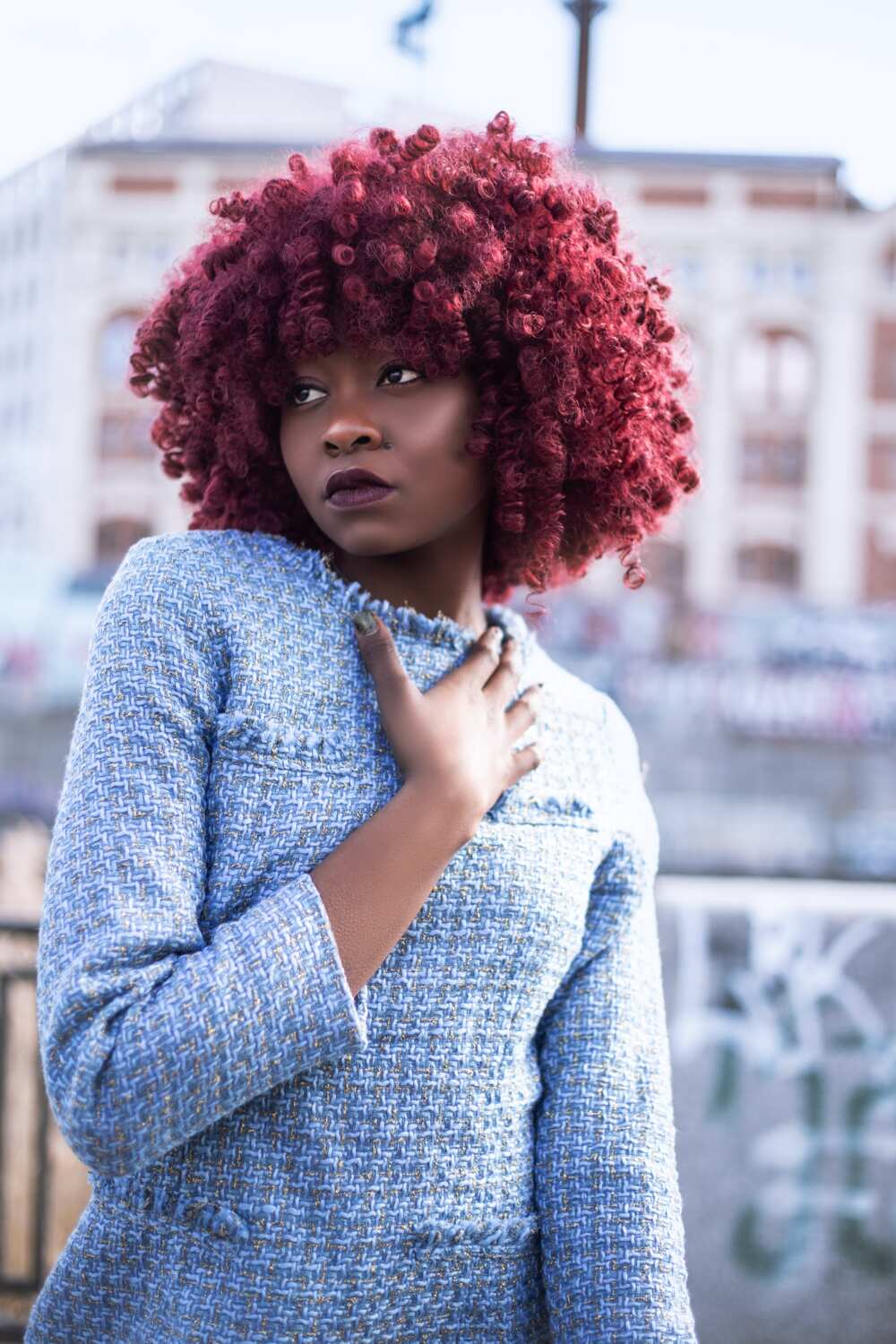 A burgundy hair color is a fabulous one. You can weave it, curl, make light waves and look gorgeous every day. A refined dark wine tincture is an excellent choice for brown skin. It helps ladies obtain a more stylish appearance. Moreover, you can combine several dyeing technologies and colors to get a unique colour. Note that it is always better to have your hair dyed by a professional.
Top 30 burgundy hair color chart
Take a look at some of the most amazing burgundy hair styles that women have been rocking throughout the years.
1. Magic scarlet tint
This hairstyle is just gorgeous, what do you think?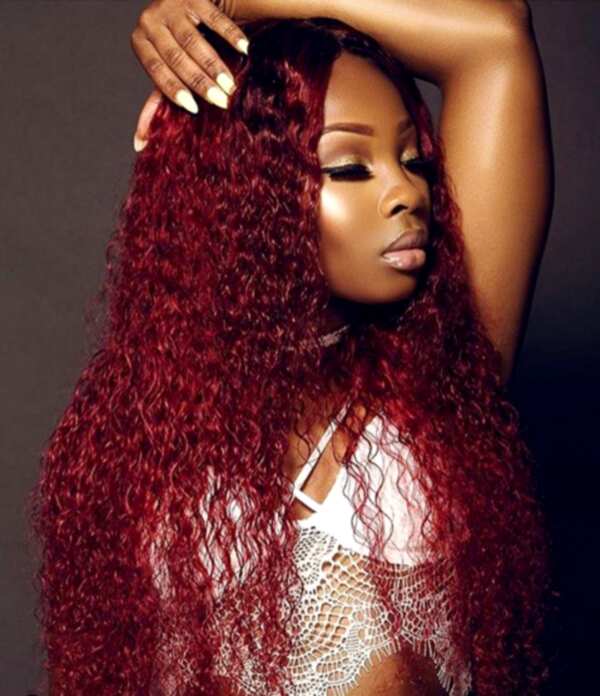 2. Black and bright ruby waves
This wavy style is a brilliant option if you want to be stylish and glamorous.
3. Burgundy hair ombre
Ombre is one of the most popular techniques adored by millions of people worldwide.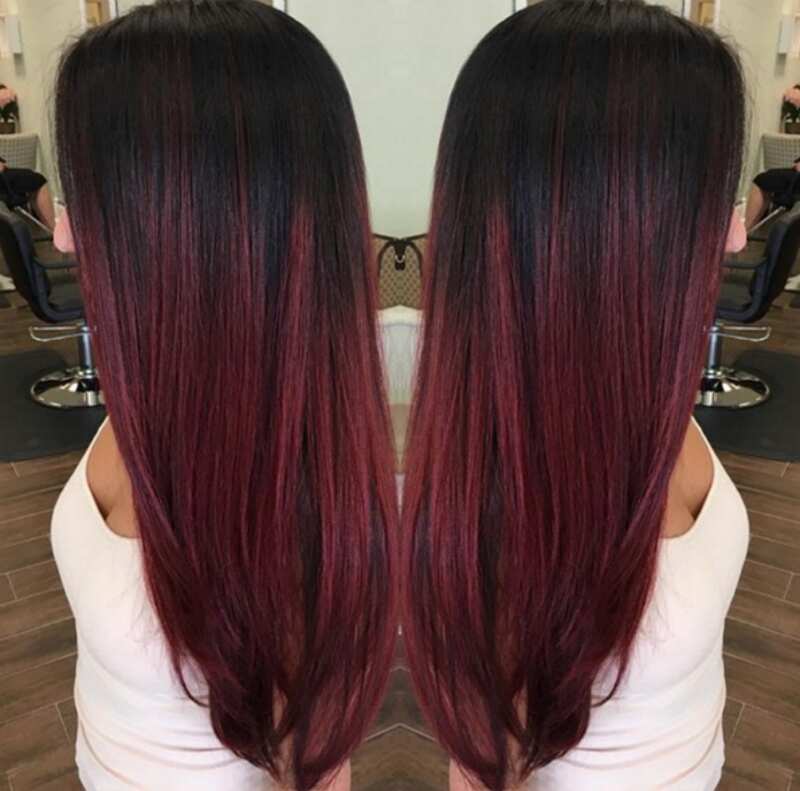 4. Dark burgundy hair dye on braids with Kanekalon
Another opportunity to draw admiration is to weave a braid with Kanekalon.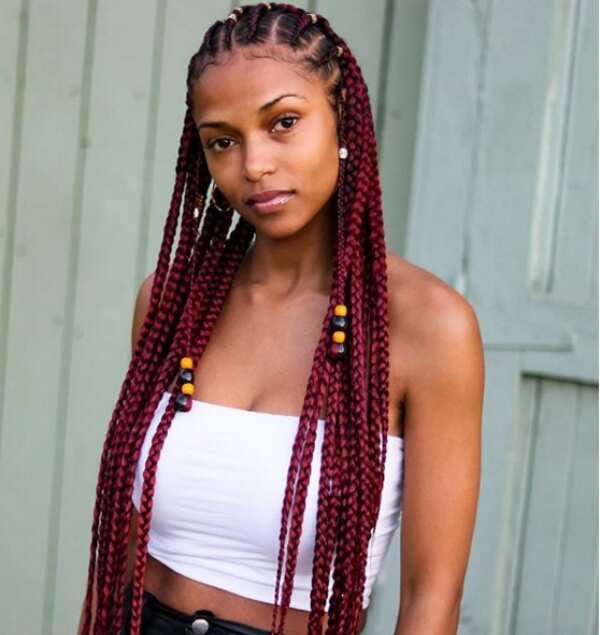 5. Extravagant
If you plan to visit a rock concert or a thematic party, this style will perfectly complement your clothes.
6. Intense rose tint for a short haircut
Who said that experiments are impossible when you have short hair? A trendy haircut may become more stylish and impressive if you use the deep fuchsia color dye.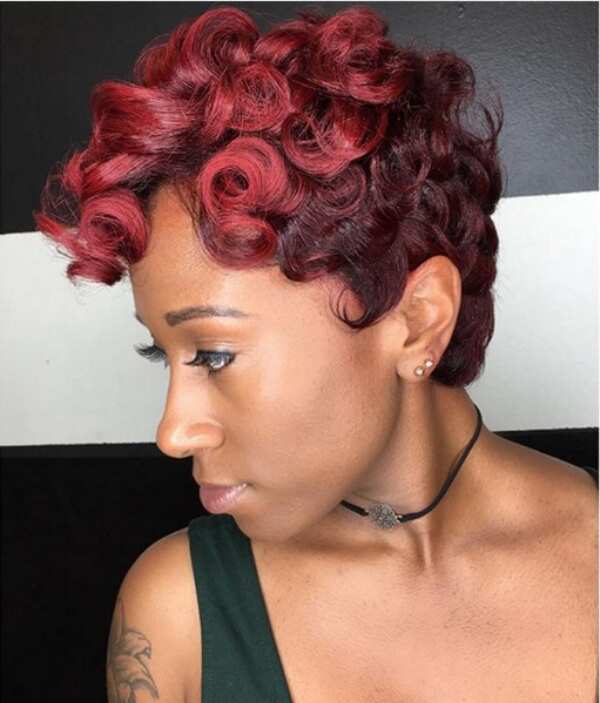 7. Maroon bob
Being fringed at the front, the layers of the magnetic tint will underline your chin and add a particular charm to your look.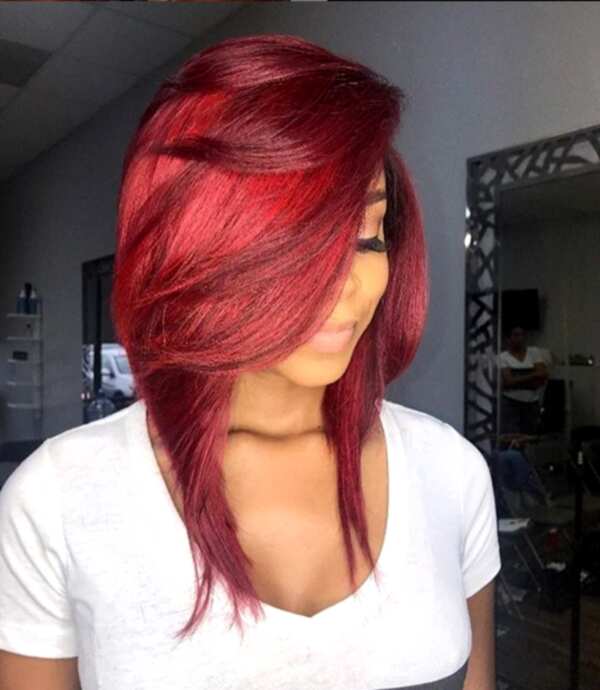 8. Romantic waves
It is a quite well-known fact that waves are perfect for your first date as they help to create a romantic appearance. This choice is suitable for both long and short locks.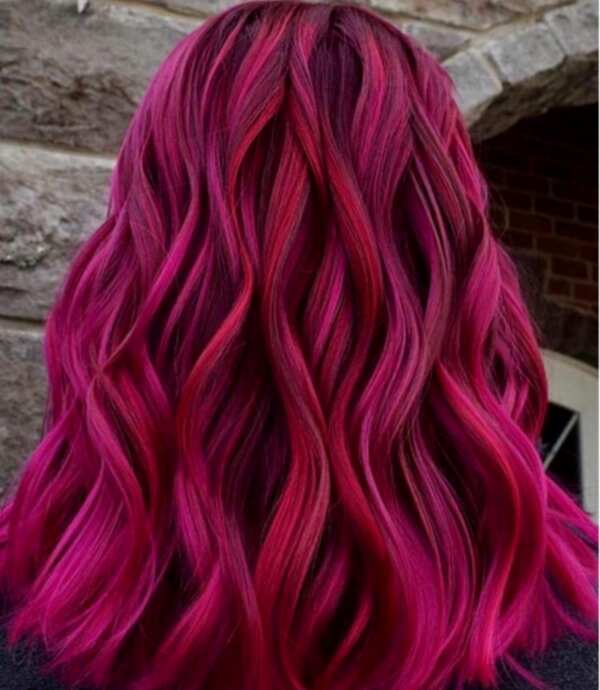 9. Burgundy hair balayage
Balayage is similar to the process of creating the masterpiece of art: a hairdresser creates a light shift between the tones so that you can hardly define where one stops and another one finds its beginning.
10. Burgundy lemonade braids
A deep red dye is similar to the color of the wine that tempts, attracts and makes you feel special. If you want to fascinate your friends, you can try these small braids.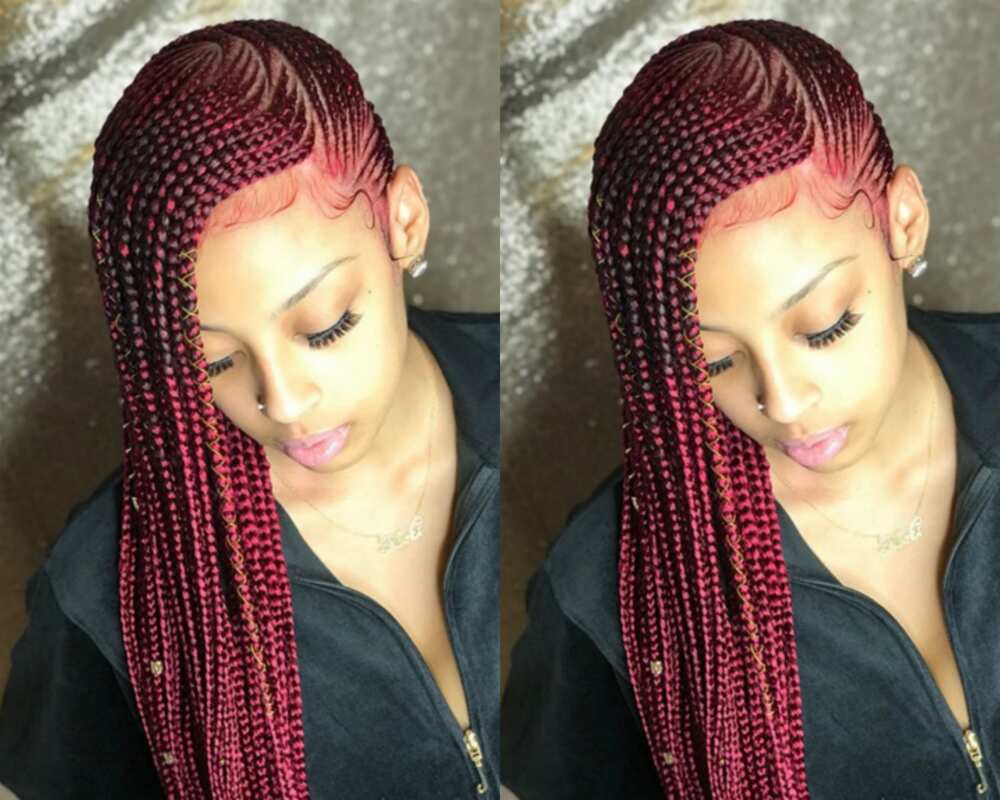 11. Messy scarlet curls
Girls know that having too many curls is never enough. Thousands of beaming springs will make you feel like a queen.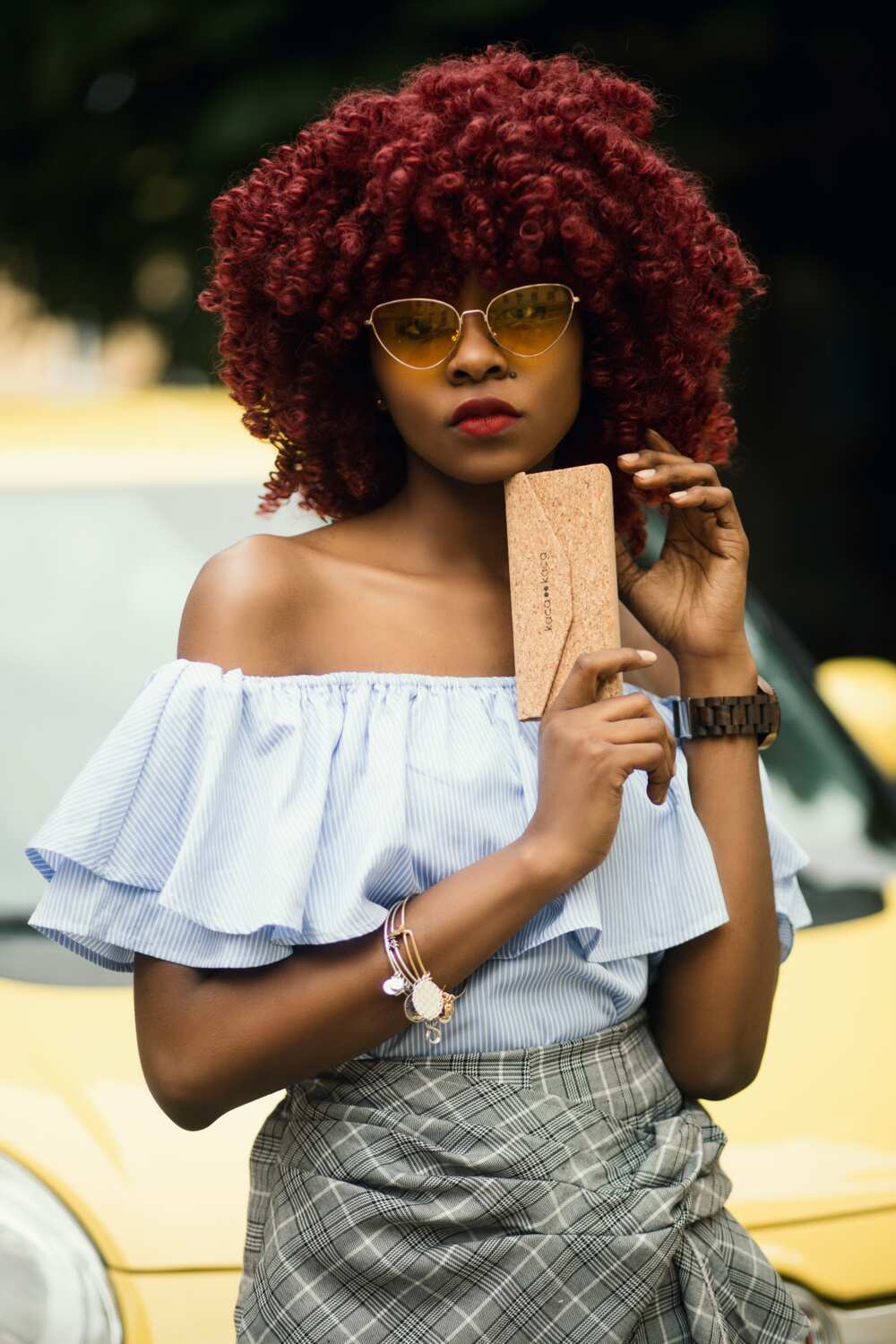 12. Bright berry hue
It is utterly enticing, juicy and impressive. This tincture is stunning and fits both long and short haircuts.
13. Scarlet hot combo
Pink shades ideally follow burgundy hair and make it more profound and enchanting.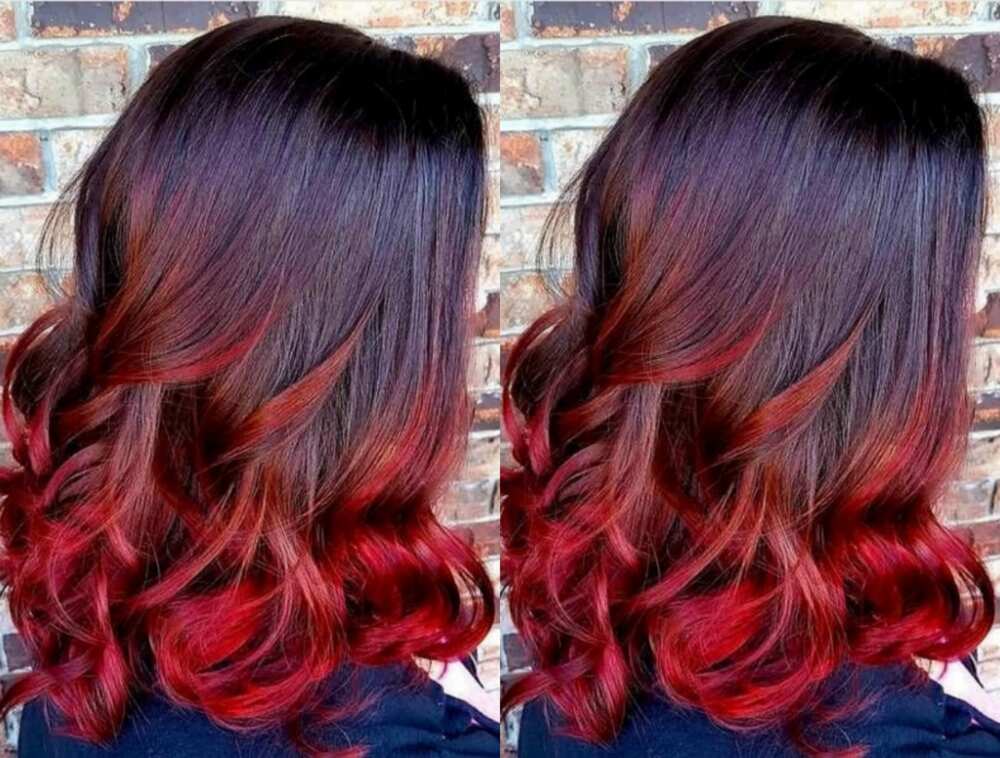 14. Bright burgundy hair highlights
This type of dyeing allows you to create an illusion as if the sun has played with your haircut and lightened it over time.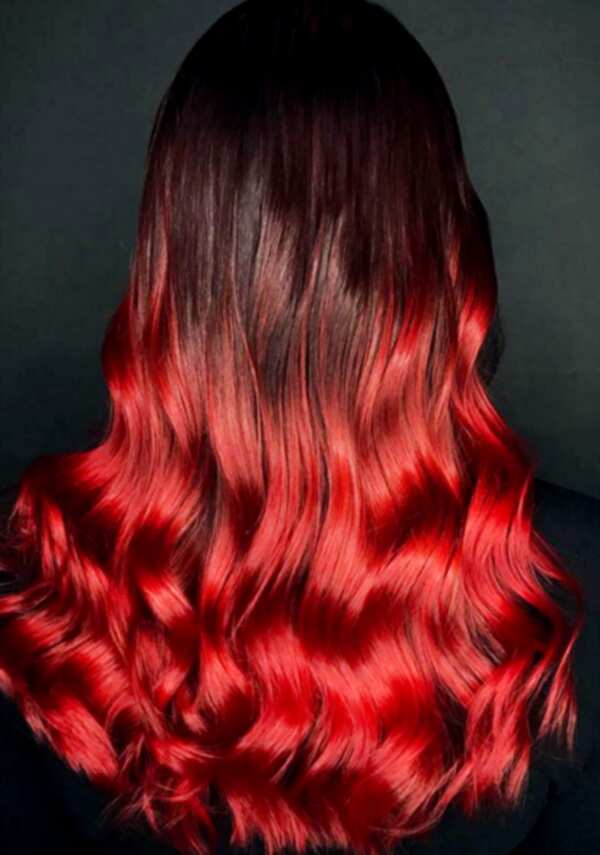 15. Black or red brown hair
The combination of black and crimson or dark-brown and ruby deserves particular attention. This play of shades will make you look fresher and more attractive.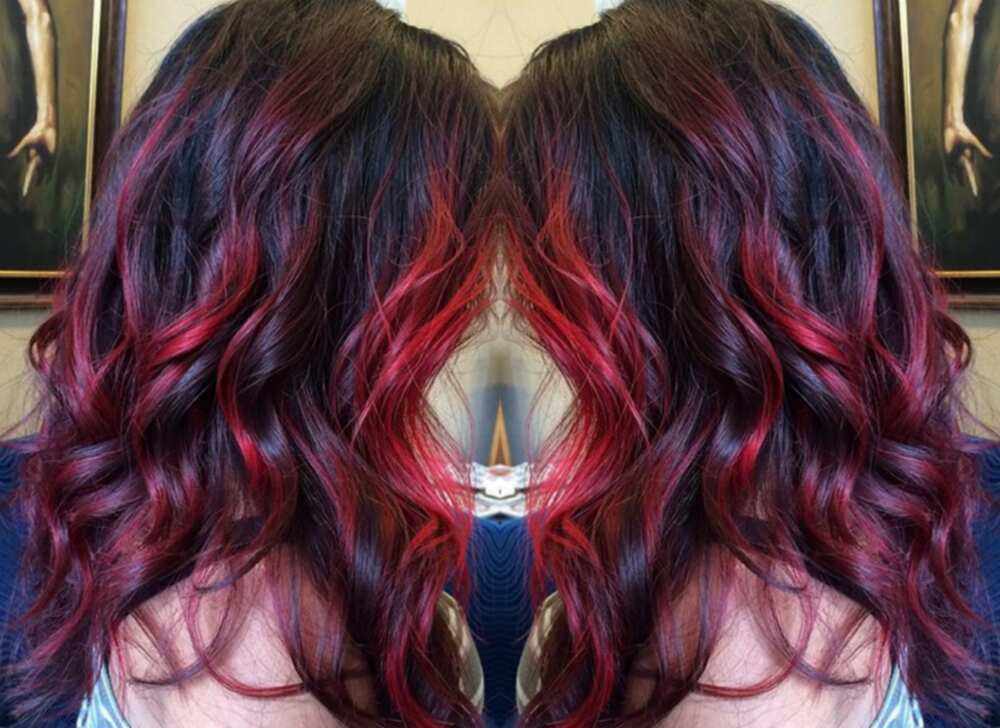 16. Dazzling cornrows
Plait cornrows in this amazing colour and look magnificent.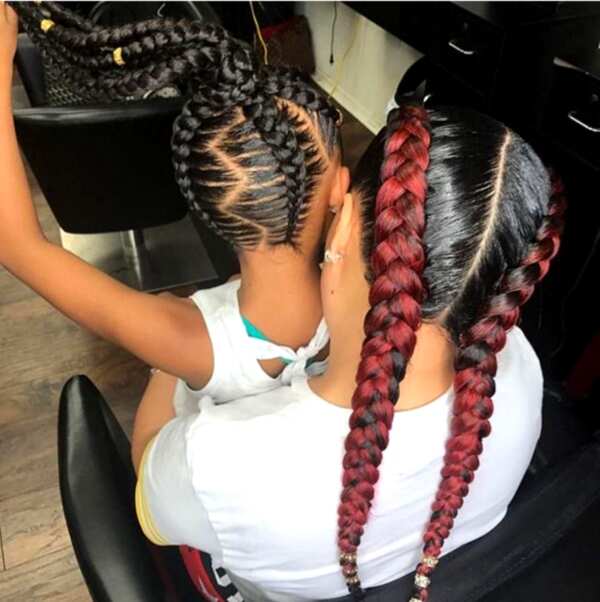 17. Blunt cut ponytail and bangs
This style is a quite playful one. Your locks tied in a high ponytail will turn into a sensation, modern and luminous.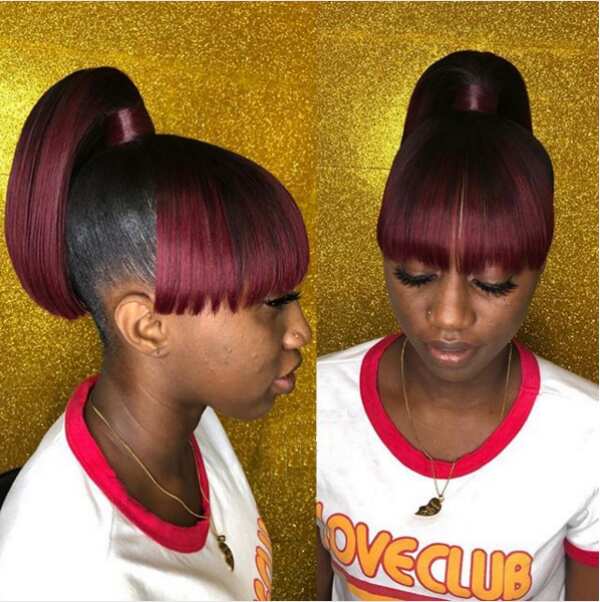 18. Refined dark burgundy hair
If you are a lucky owner of completely straight locks, this tincture will be a perfect choice for you. Those shiny locks will make you appear more stylish and confident.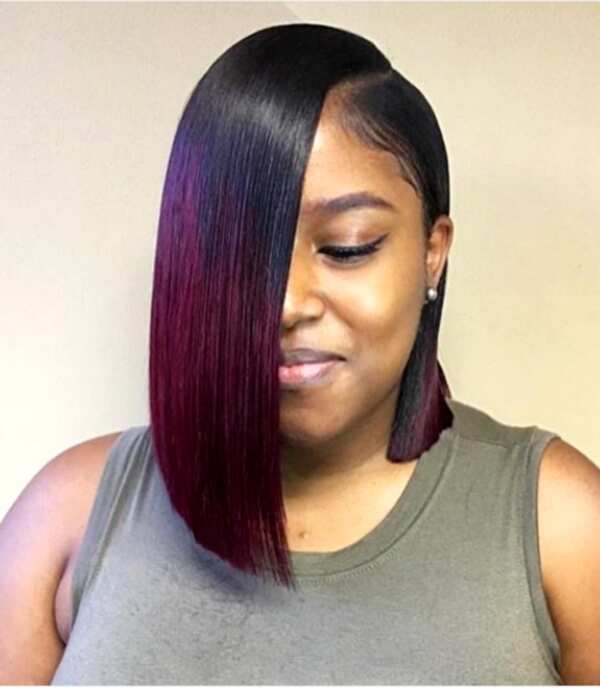 19. Wavy
Make your locks straight and slightly curl the tips to achieve this magnificent look.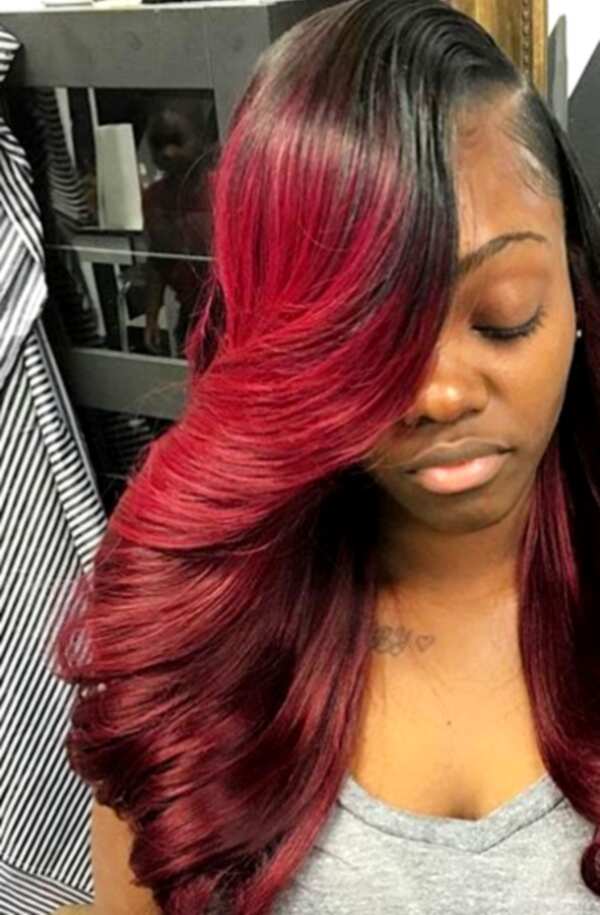 20. The messy bob!
You can dye your locks neither deep ruby or light burgundy and create a light mess to enhance the play of shades.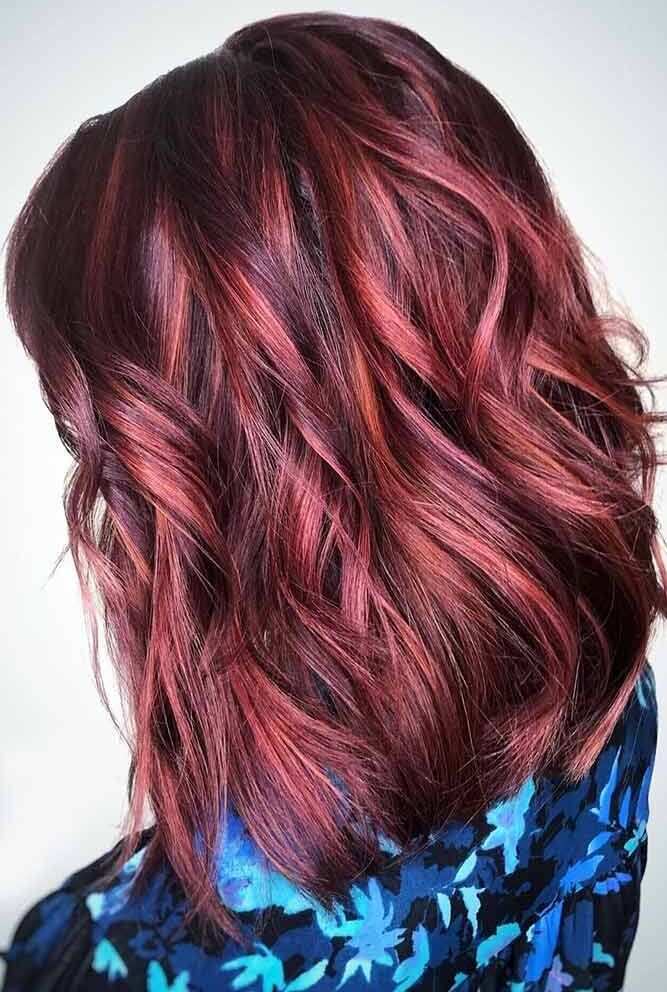 21. Maroon box braids
This ravishing solution is one of the best choices if you like wearing box braids and want to stand out from the crowd. It allows you to create a new gorgeous style every day: a ponytail, a thick braid, one or two top buns, etc.
22. Maroon tips
What an amazing yet simple hairstyle.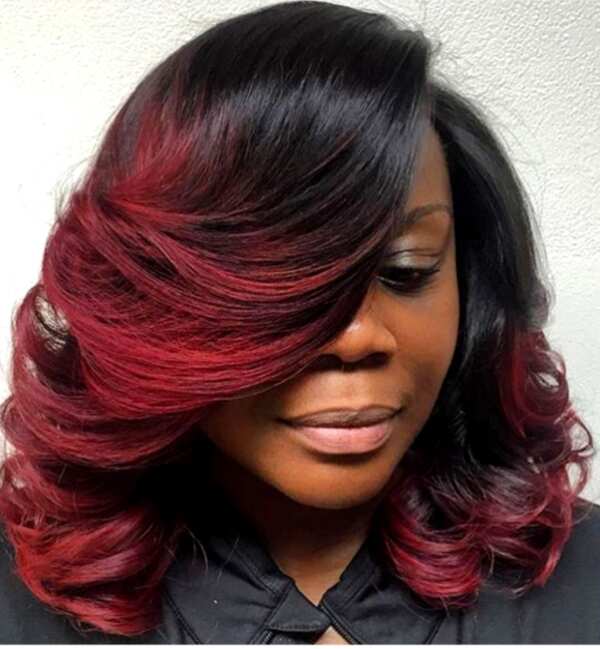 23. Crimson Senegalese twist style
These Senegalese twists will make your appearance fresh and more beautiful.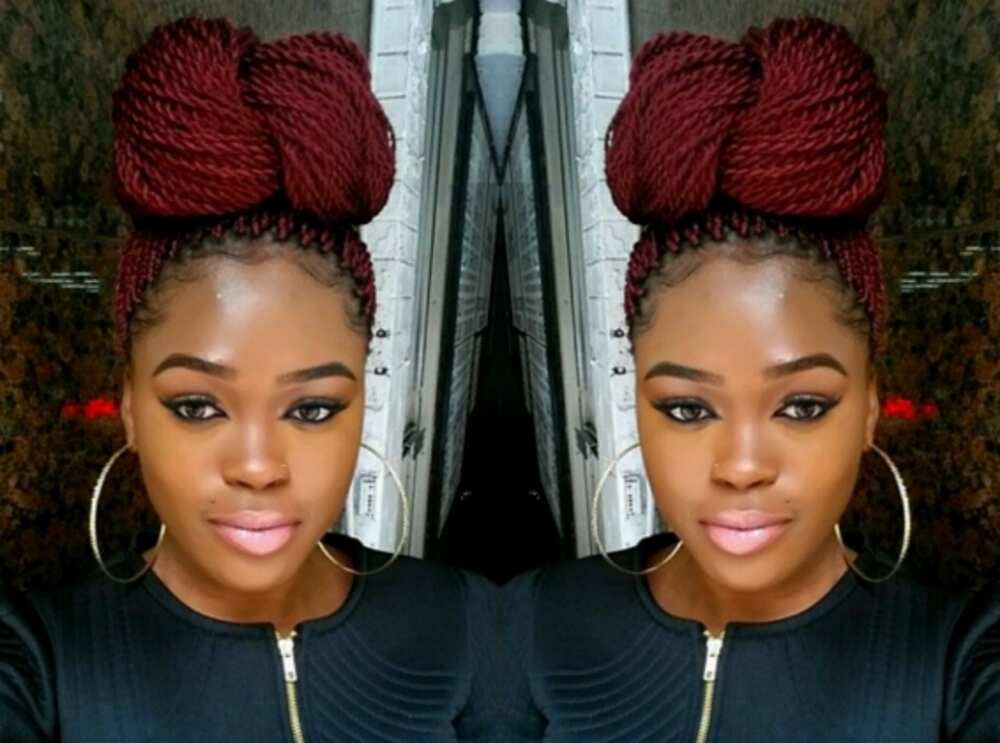 24. Messy scarlet cut with bright crimson tips
If your cut seems too dull being dyed only with one tint, then why not add a bit of light crimson hues? Refresh your appearance and create an enchanting messy cut to look stylish every day!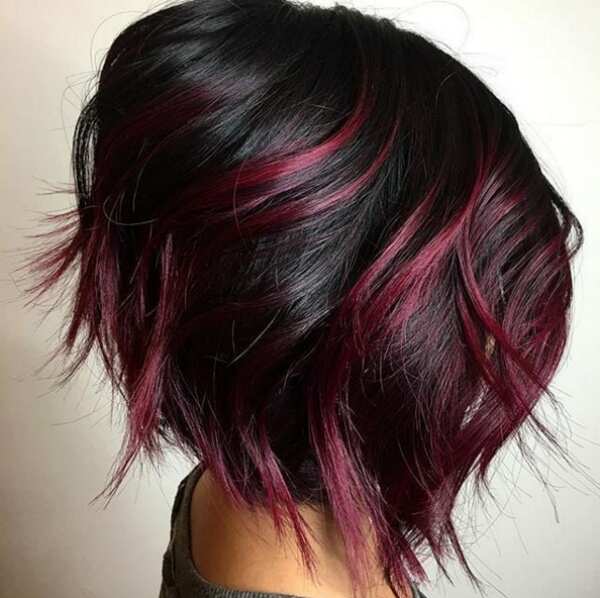 25. Plum ruby hair
These curly locks will definitely attract the attention of many.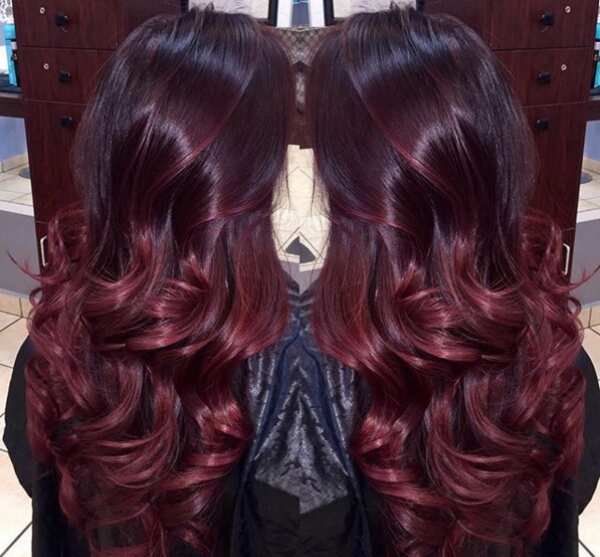 26. Ruby brown toned waves
If you still cannot define which tone to choose, you can try the brownish mixture. These lovely hues will give you extra attention and a brighter look.
27. Maroon finger waves
Red wine tones seem to go well with any length. These enchanting finger waves will perfectly adorn your head and provide an elegant, eye-catching look for any event.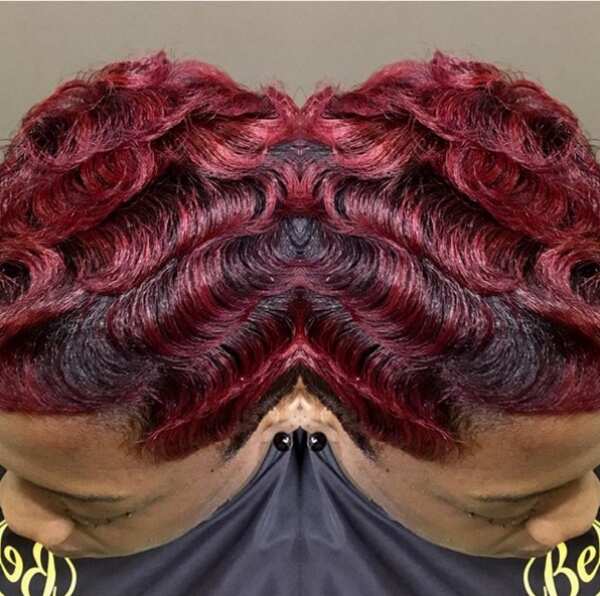 28. Burgundy hair weaves
Look stunning in this long and dazzling hairstyle.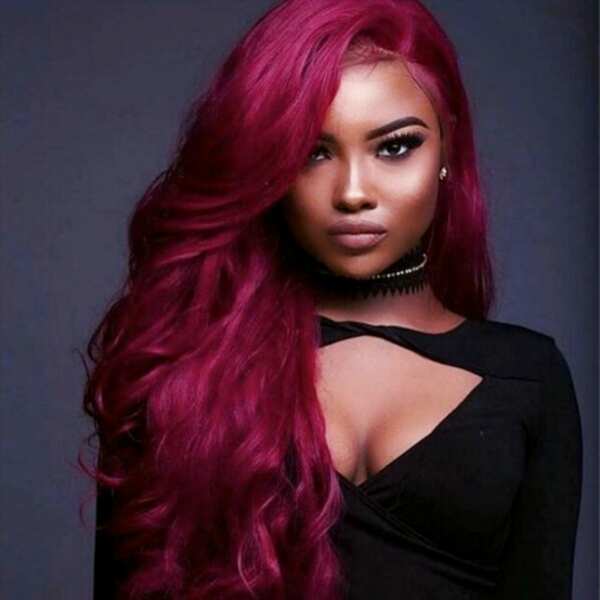 29. Crimson halo twist
A vibrant cherry halo is a terrific choice for the simple lady.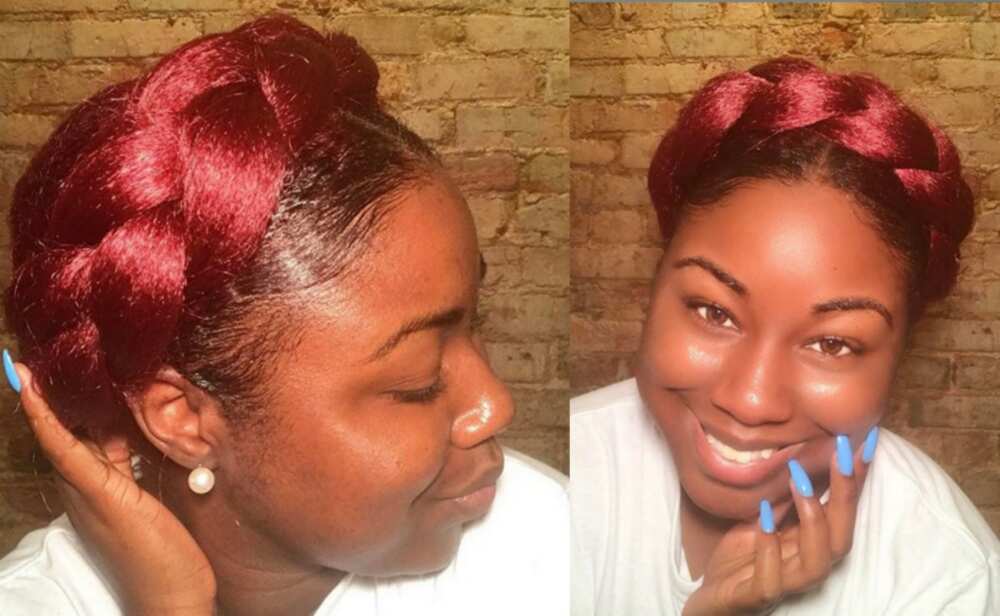 30. Black and crimson tail
Why not try this hairstyle which is all the rage right now?
31. Double burgundy buns
This idea is an excellent choice if you like crimson shades.
32. Rich scarlet and cherry curls
These long and luscious curves are definitely worth trying.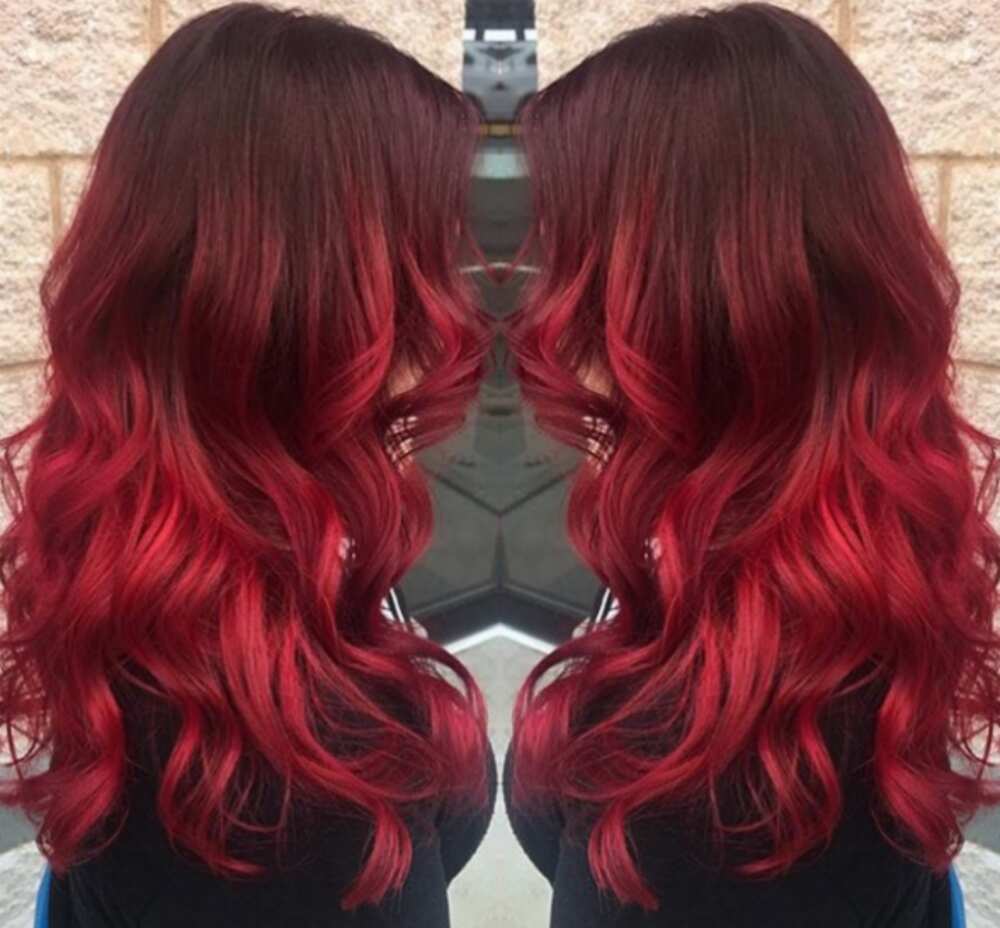 33. Scarlet layer haircut
This style is an excellent choice for short to medium hair.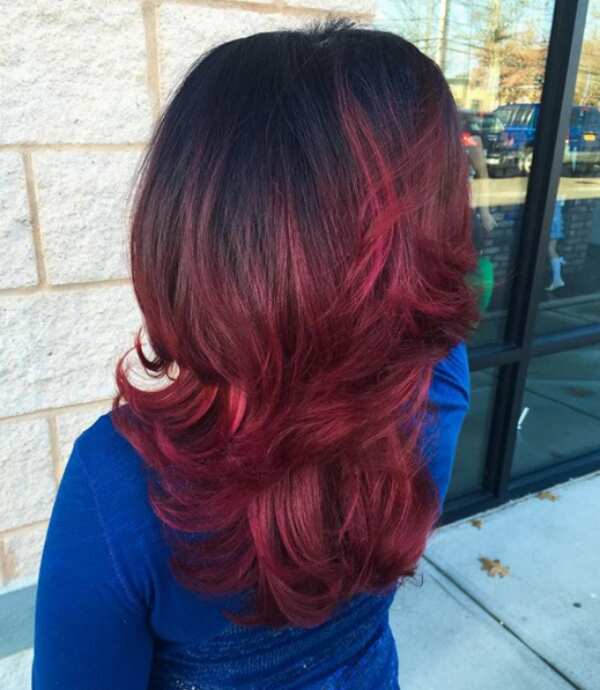 34. An amazing maroon style for a bride
A deep scarlet dye is an excellent choice for parties, breaking the dull routine and, of course, for a wedding! There is no better combination to enhance your natural beauty on such a special day than combine a white dress with the intense wine hue.
35. Brown to maroon ombre curls
This is another hot mixture that you should definitely try.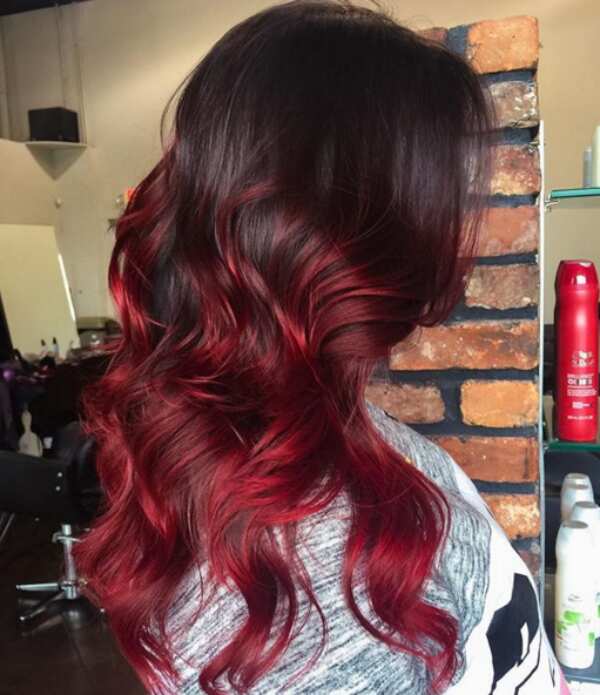 36. Bold maroon locks
If you like sleek, long locks and wish to look trendier, then dark crimson hue is the exact thing you need. The dark scarlet color enhances the radiance and adds additional sophistication to your appearance.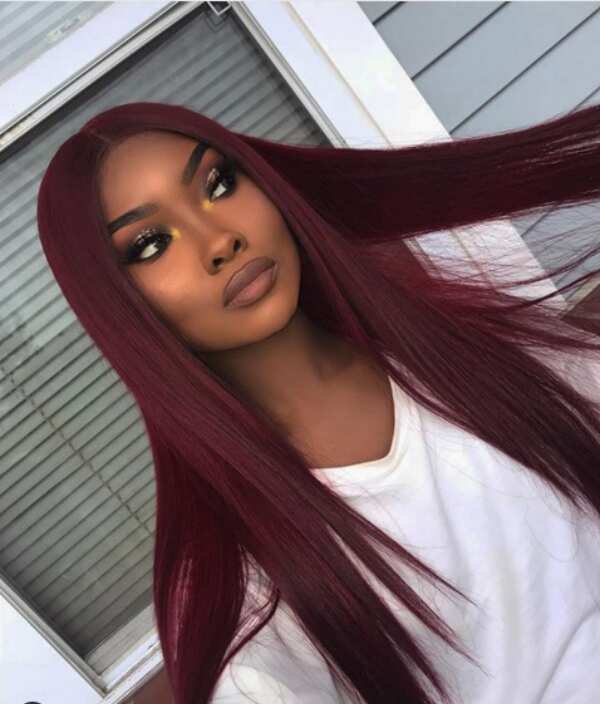 37. Light scarlet ombre
These colorful beach waves are a brilliant combo for middle-length wavy locks. It starts from black roots and then turns into bright maroon on the tips.
38. Deep crimson and wine red waves
This option is excellent for any celebration. Deep crimson tones are supplemented with lighter red ones and produce an interesting effect.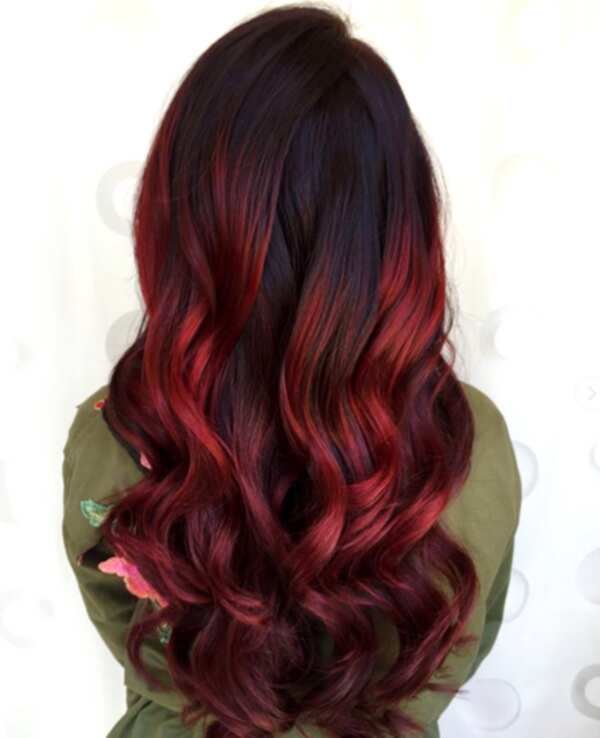 39. Messy red bun style
A messy style of your locks is an excellent solution for going to a party, a business meeting or just staying at home. You can wear it with any clothes and look attractive.
40. Crimson blonde style
This variation of burgundy ombre is a mind-blowing combination. The deep red wine palette at the roots smoothly changes into a brilliant blonde dye.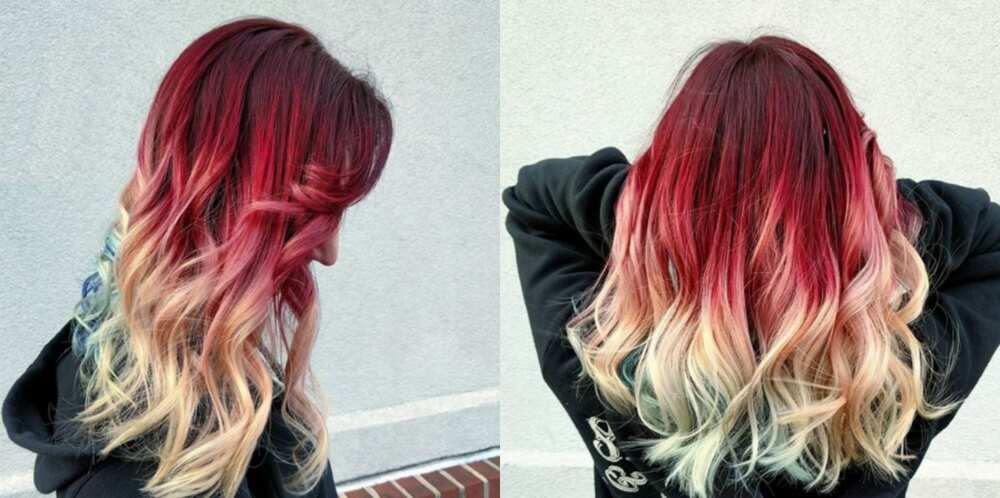 41. Waves with bright red tips
When you make light waves, it always looks incredible. However, you can make them look ten times better if you try this magnetic light red tincture.
42. Short and simple
This mixture is a beautiful and concise one.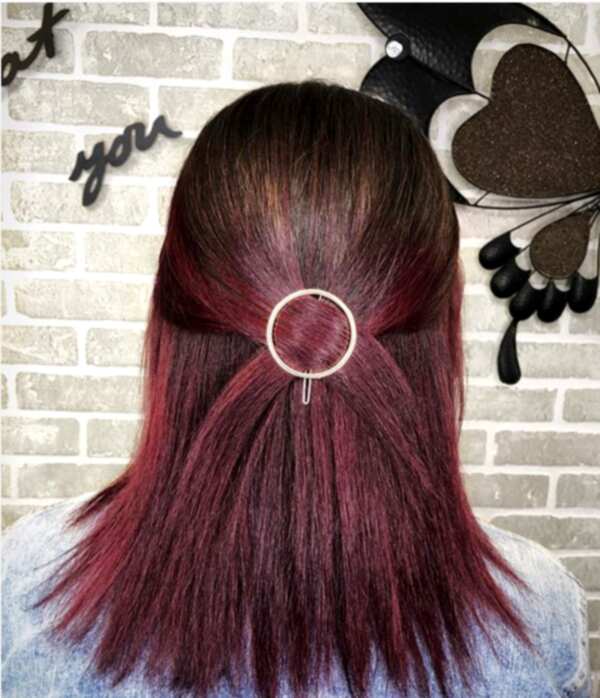 43. Two-tone combo
Using just one tone might seem dull if you have already tried combinations. Thus, when you blend two tints of saturated red wine tint, get ready for unique radiance and admiring gazes.
44. Maroon to copper tints ombre
This ombre idea is another excellent solution that looks amazing, especially if the sunlight lights it. The shades of copper make the cut trendier and more radiant.
45. Scarlet extensions
If you dream about a gorgeous mane or long locks, but your hair is thin or short, then you can achieve such a fantastic effect by using extensions. They will help you reach the desired goal just within a few hours.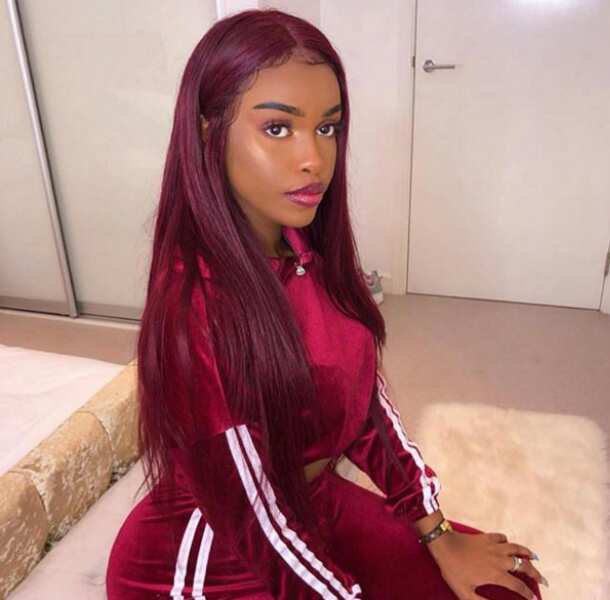 46. Cherry wine color transition
This style is an excellent choice that provides a rich palette of tints. The maroon shades on the roots smoothly transfer into the light cherry tones on the tips.
47. Sleek Bob
This is another marvelous example of how the right tone can completely change your appearance. Even if your hair is short and straight, it can look attractive.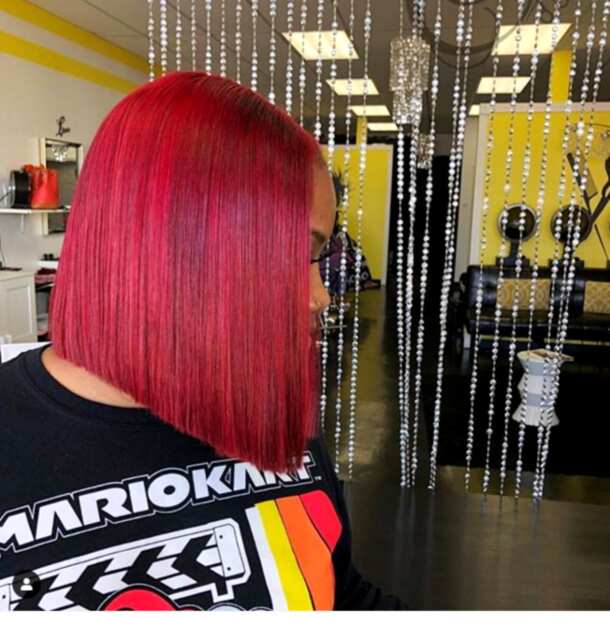 48. Deep red hair idea
A dark red dye is an excellent choice if you want to look stylish and more professional. Straight or a bit messy, it will always make you look incomparable.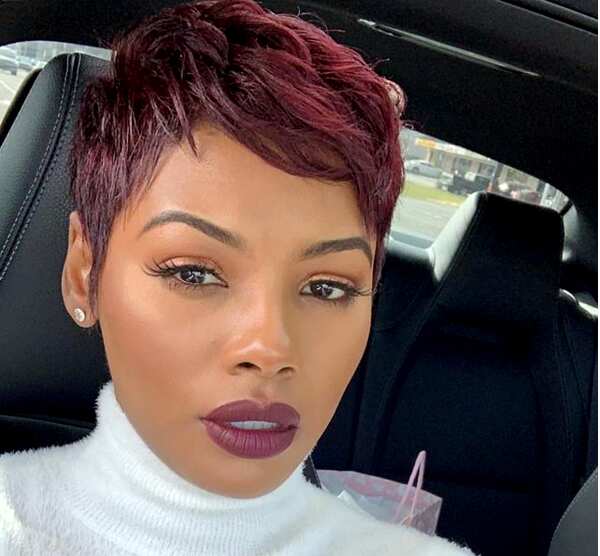 49. Red wine
This style is excellent for a party, a dinner, an anniversary or any other event. You can wear it with a dress, a suit, and sportswear.
50. Dark maroon short hairstyle
A vivacious dark crimson hue perfectly matches any length. It will make you look more youthful and mysterious.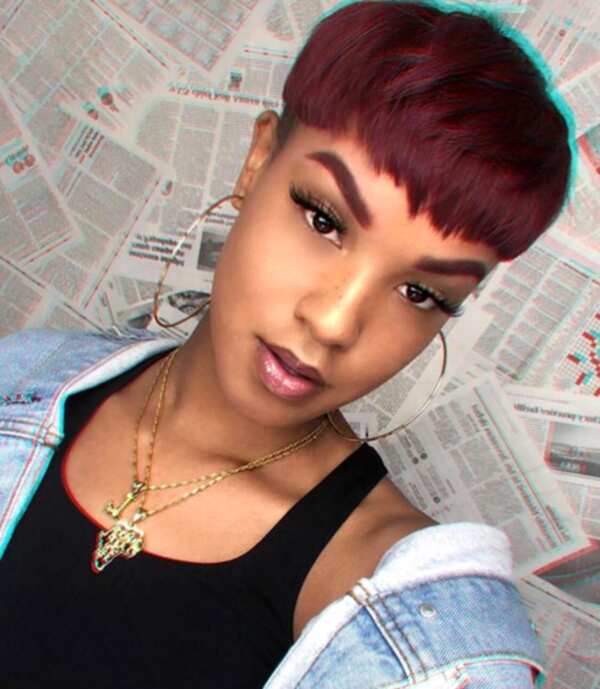 There are a lot of different tones of the burgundy colour. Choose a burgundy hair style from our collection above and you will surely stand out.
READ ALSO: Easy natural hairstyles for short hair
Source: Legit.ng