Rapper Gucci Mane net worth, age, height, real name, weight loss
Do you like rap and trap music? If you enjoy both genres, you must be happy to know several facts about one of the most famous American rappers, a musician who helped pioneer the Trap music genre – Gucci Mane. Besides, this man is not only one of the most famous musicians but also one of the richest ones. So what is Gucci Mane net worth? Go on reading to find it out!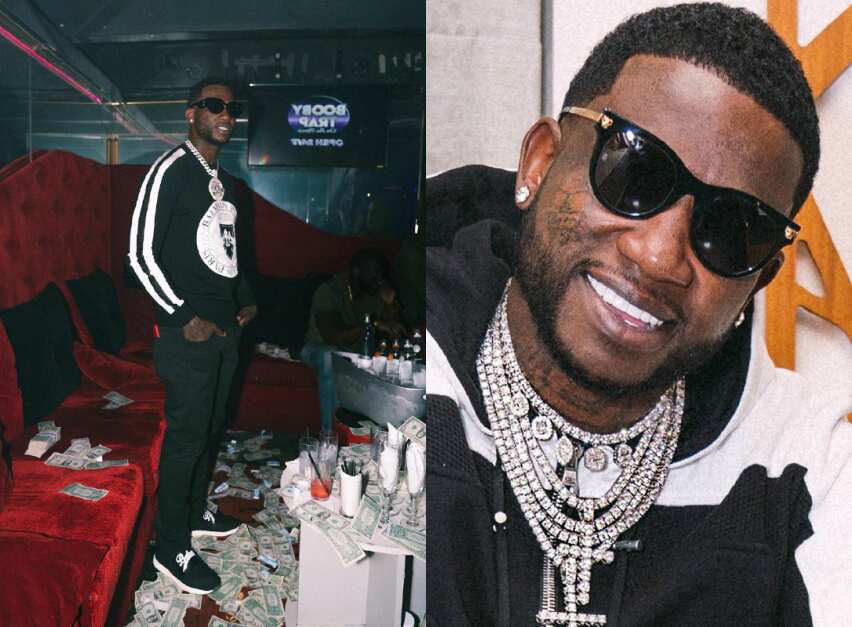 Per Aspera ad Astra, or through hardships to the stars – that is what the rapper's life was like. He has never experienced what is to be a child of a rich dad or to be kissed by luck, but today he has literally everything he needs. How much money does Gucci Mane have and more importantly, how has he earned it?
What is Gucci Mane net worth and how has he earned it?
If you want to know the answer to the question "What is Gucci Mane's net worth?" you should also know how he has earned it and what he actually does to maintain it.
First of all, he worked really hard to create a decent musical heritage: the man has released 13 studio albums, 7 EP's, several collaborative albums, and over seventy mixtapes. Moreover, he created his own label 1017 BrickSquad, Guwop and promoted such young artists like Young Thug, Waka Flocka Flame, and Chief Keef. Besides, the man claims himself to be the creator of a completely new music genre – Trap music. It means that he brought fresh ideas and diversity into the rap genre. In one of his interviews he commented:
"I'm going for Trap Muzik on this, 'cause a lot of people don't really know that I created trap music like I got that old."
Moreover, he posted a photo on his Instagram account (with almost 11 million followers, by the way!) where he marked the day of birth of the Trap Music genre.
According to all said above, can you imagine how much Gucci Mane worth? Today Rapper Gucci Mane net worth is estimated at approximately $12 million! However, he has not always been rich and popular and had to come through many difficulties before becoming himself.
Many of his fans ask: "What is Gucci Mane's real name?" His birth name is not similar to his pseudonym at all. Gucci real name is Radric Delantic Davis. He was born on February 12, 1980, in Alabama. Therefore, Gucci Mane age is already 39.
As a 14-year-old boy, he started writing poetry and rapping. Soon, the boy released his first CD named La Flare and the single "Black Tee". It all was followed by his debut album Trap House in 2005.
READ ALSO: Post Malone net worth, age, height, house, cars
In 2006, the young star recorded the second studio album with the single "Freaky Girl," that appeared as number 12 on Hot Rap Tracks, 19 on Hot R & B / Hip-Hop Songs and 21 on Hot 100 tracks. Apparently, blinded by crazy popularity, he did not only work hard releasing more and more hits but also lived a kind of spoiled life.
However, something went wrong in 2013. It was in September 2013 that he was arrested and sent for three years in an Indiana federal jail for drug and gun charges. While being arrested, the tall and big man (Gucci Mane height is 6 ft 2 in or 188 cm) cursed and threatened the police. He was guilty of carrying a concealed weapon, disorderly conduct and marijuana possession.
The rapper was released in May 2016. This period made him take a break in his creative career, and the star admitted it in one of his interviews:
"I pride myself on just being a man. I didn't stand on the fact that I was a rapper. I stood on the fact that I'm Radric Davis the man and I made everybody who dealt with me deal with me as Radric Davis the man, from the corrections officers, from the judge, from the lawyer, from federal prisoners… I'm not rapping in prison; I'm in the same suit you in….I wasn't in the mood to play the celebrity game."
However, the man claims that this life experience changed him. He commented:
"[Prison] was one of the best things that ever happened to me, looking back on it. It's a life-changing experience, being in a place that is full of death, full of violence, full of rage, full of despair. It motivated me to change my life because I'm never going back there."
Not only spiritual transformations happened to the star in prison. 100-pound Gucci Mane weight loss became inspirational for many of his fans.
The star even created an encouraging video for those who are currently on their way to a fit body. He said:
"I used to be fat. For people who ain't in shape, people who ain't healthy, people who need some inspiration, listen: I was 290 pounds, now I'm 190 pounds. I lost 100 pounds. I'm 190 right now. I said I'm 190! So check this out: You can do it if I can do it. Use me for inspiration. 'Cause I see a lot ya'll and y'all look terrible."
Everything is possible; however, to achieve this goal, there is no need to go to prison as Radric Davis did.
The man continued his work in 2017. He was brought up by the collaboration with Offset, 2 Chainz, Rick Ross, and Young Dolph, released his 11th official studio album, and featured more stars like Migos ("I Get the Bag"), Nicki Minaj("Make Love"), the Weeknd ("Curve"), Monica ("We Ride"), and others. Also in 2017, the rapper issued his third official LP of the year, El Gato: The Human Glacier and it landed within the Top 30 of the overall albums chart. Later in 2018, the celebrity released his thirteenth album, Evil Genius, which featured Quavo, 21 Savage, Kevin Gates, Migos, Lil Yachty, and even Bruno Mars.
How is Gucci Mane net worth spent?
Today the rapper has enough money to lead a luxurious life. He has a big mansion and several expensive cars. Among his cars one may distinguish:
Ferrari 458 Italia – $240,000
Lamborghini Gallardo that costs about $200,000
Dodge Charger SRT8 that costs about $67,645
Bentley Mulsanne that costs about $306,425
Ferrari 612 that costs about $250,000
Dodge Challenger that costs about $28,090
He is married to one of the most beautiful models Keyshia Ka'Oir, and the woman claims herself to be an expensive wife:
"Gucci is an amazing husband because he supports me. A lot of men are intimidated by successful women. Not him, though. He wants me to shine. He wants me to be successful. At least, it'll have him save more of his money if I've got money, right? Because I'm an expensive wife."
The family lives in a huge mansion that is believed to cost around $9 million. It is equipped with all the necessary items for careless and luxurious life: a swimming pool, spacious bedrooms and bathrooms, gardens, a modern façade, a stylish fountain and many other things.
Gucci Mane net worth allows him to be a star and to live like a star. What do you think?
READ ALSO: Christian Okoye: wife, son, net worth, highlights and football life
Source: Legit.ng