Nikah wedding dresses in Nigeria - Best designs for special brides
Special grace and uniqueness characterize Nikah wedding dresses in Nigeria. They also have significant differences from European wedding dresses. Regardless of modern fashion trends, every Muslim woman should dress according to the traditions of her nation. However, wedding dresses for Nikah are no less gorgeous.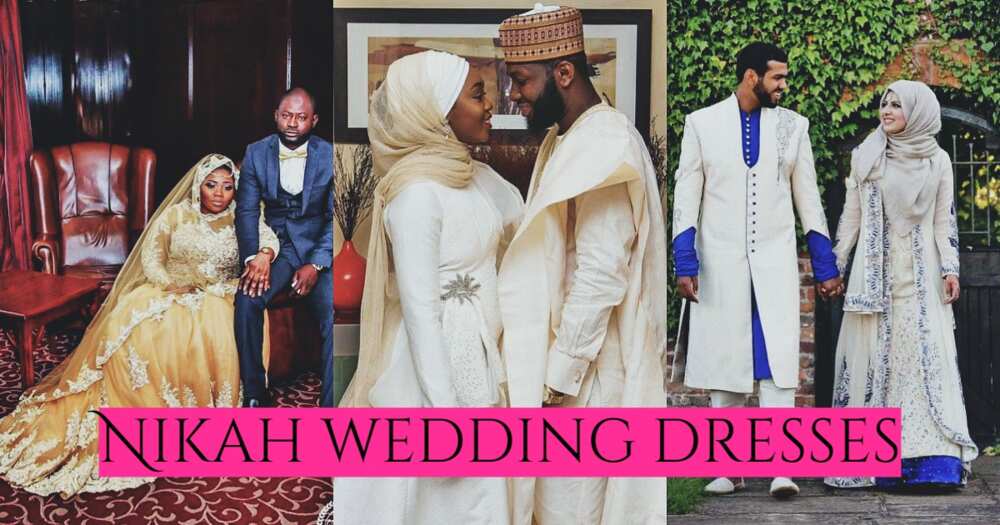 The preferences of the young couple, family traditions, culture, and religion have a significant influence on the style of the wedding. If the bride and groom profess Islam, then they will adhere to the important traditions and rituals during the wedding celebration. Muslim clothing of newlywed is very different from the similar European one. But all brides want to be beautiful, so choosing clothes for marriage is an essential thing for them. What are Muslim wedding dresses? How to make the right choice? In this article, you will find all the answers to the questions, so read attentively.
Muslim wedding gown
The main feature of Muslim wedding dresses is that it covers almost the entire body, except for the face, hands, and feet. Revealing shoulders, forearms, and even the neck, of course, are forbidden.
It should be also mentioned that the bride in front of the altar should look modest, so many brides refuse to use transparent or translucent fabrics in their wedding dress. However, in some models, such fabrics are used, but the main traditional requirements for Nikah dress are preserved.
A wedding attire must be long, with a hidden neck, long sleeves, and not fitting the body shape (however, sometimes brides choose fitted dresses, but of a very modest style). You may ask then, how a bride can look gorgeous in such a strict dress? Actually, it is difficult to find a Muslim wedding dress that is not beautiful.
A high-neck dress ideally conveys the beauty of the Muslim bride, and various decorative elements or unusual patterns become the helpers, in this case, creating adorable wedding outfits. Sometimes a Muslim wedding dress becomes a real work of art. The strict silhouette emphasizes the purity and innocence of the bride.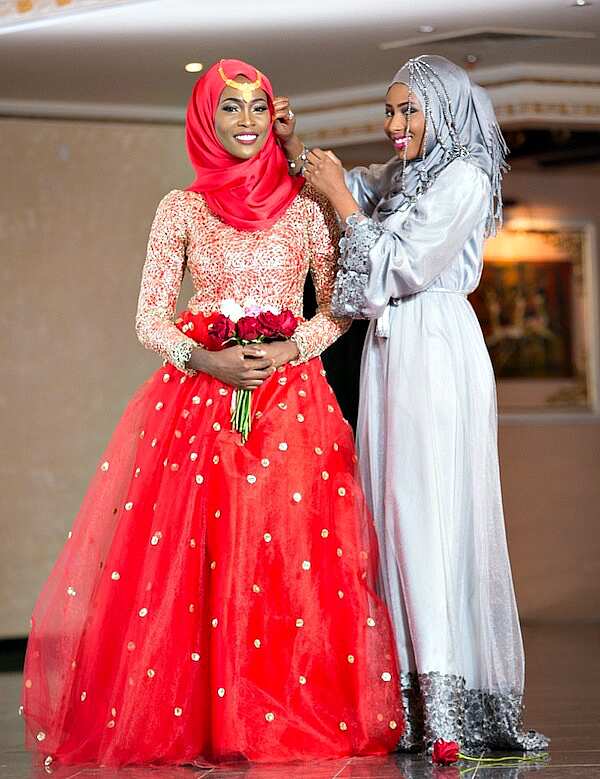 Photo: glamsquadmagazine.com
READ ALSO: Reception dresses for brides in Nigeria to rock in 2018-2019
Bright colors are accepted for Nikah dresses, but many brides prefer beautiful high-necked Muslim dresses of delicate colors. You can opt for a snow-white model, but shades of beige, cream, blue, pink, silver or gold are also very popular among Muslim brides.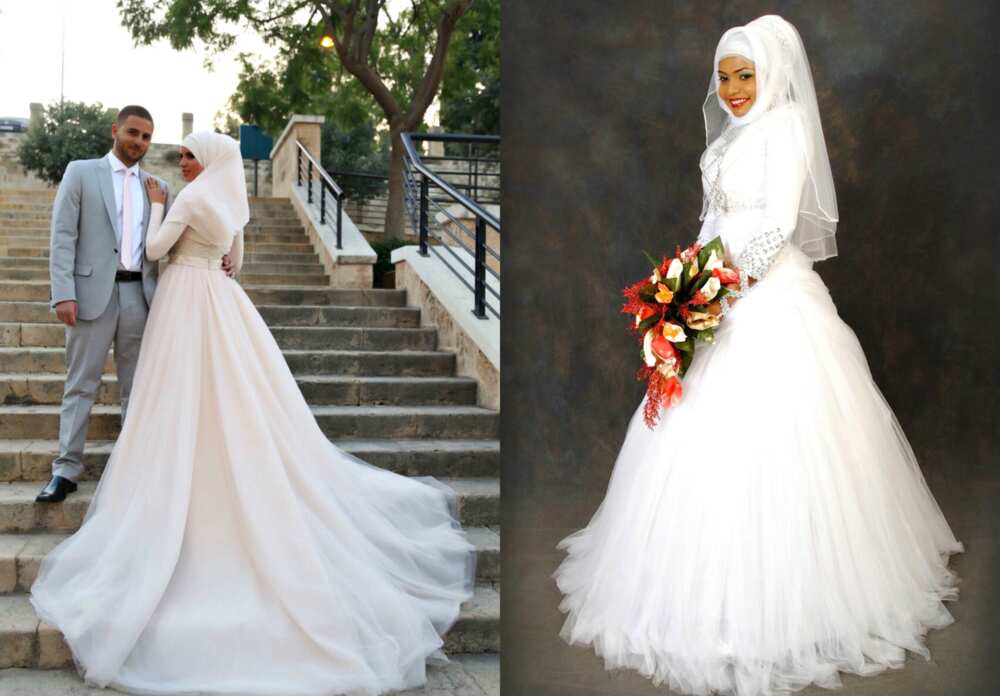 The presence of headwear in the Muslim wedding dress is required. You can use a silk scarf or gele, embroidered with stones, beads, which will make the image of the bride perfect. Hair can be hidden under a veil or a headdress with a veil.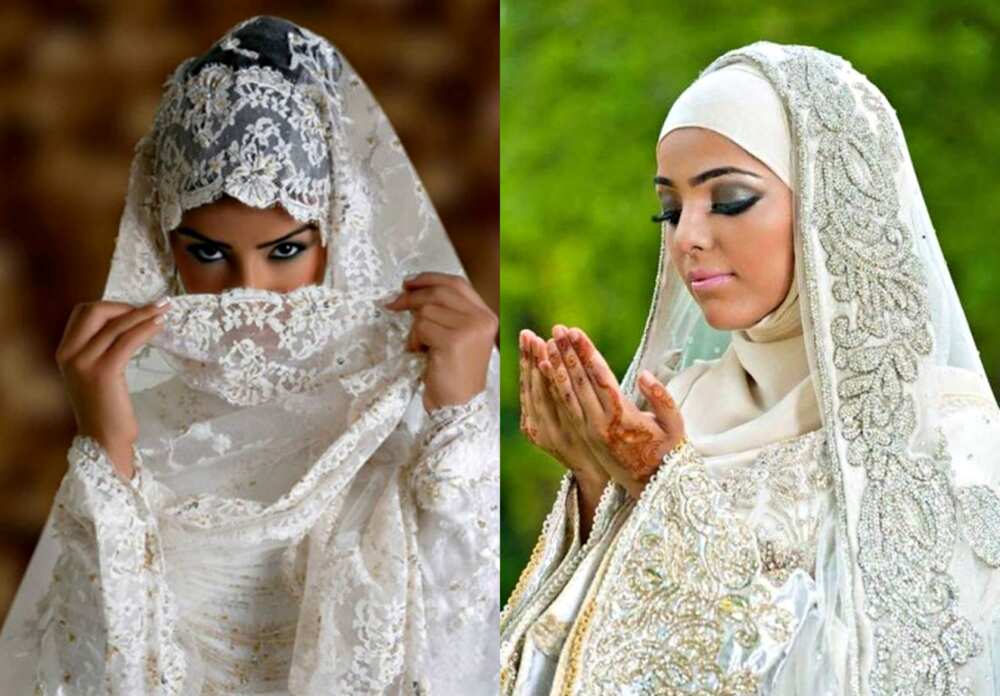 Islamic wedding dresses are made from different materials, so designers use a large assortment of shades, however, they are in search of new materials so that each bride looks feminine and gentle.
Also, designers constantly embody various ideas when creating Muslim wedding dresses, use original jewelry. With such a huge assortment it will not be difficult to choose the best one. The charming modern dress will look unique and fit the traditions of the Muslim nation.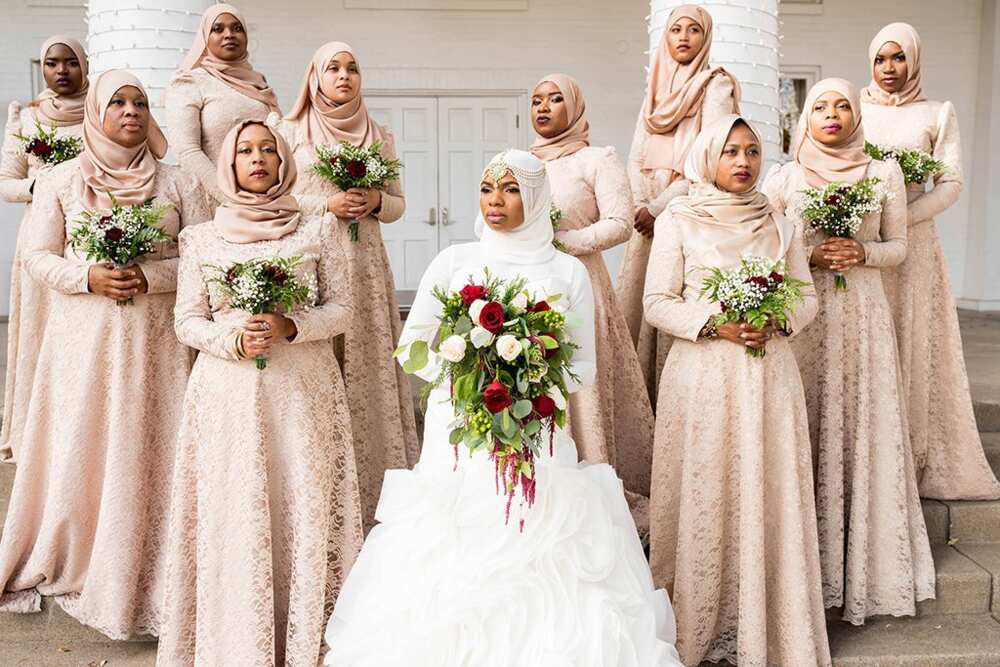 Photo: homesecurity.press
READ ALSO: Latest bridal train styles in Nigeria
Today there is a huge assortment of Muslim wedding dresses:
The bride has the right to opt for a strict design with long sleeves or to focus on embroidery with oriental motifs.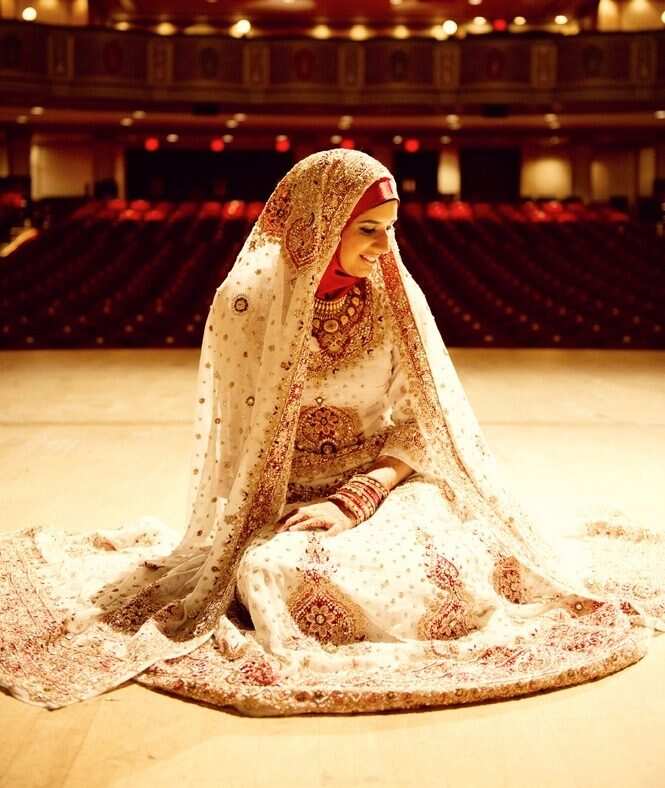 Photo: homesecurity.press
A girl can choose a trouser suit for a celebration or give preference to a bouffant chiffon dress. Such outfits look pretty gentle and elegant.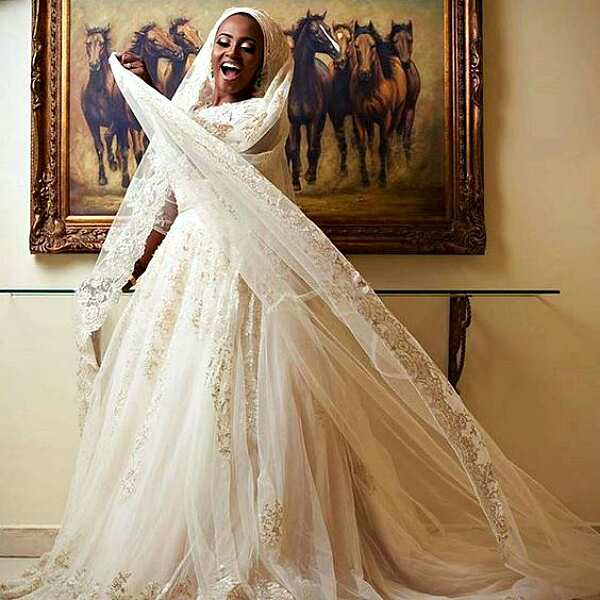 Photo: homesecurity.press
Many Muslim brides choose dresses in European style.
A huge range of wedding dresses allows a Muslim girl to conform to all traditions and at the same time show her individuality. In contemporary Nikah wedding dresses, any bride will look modern and modest.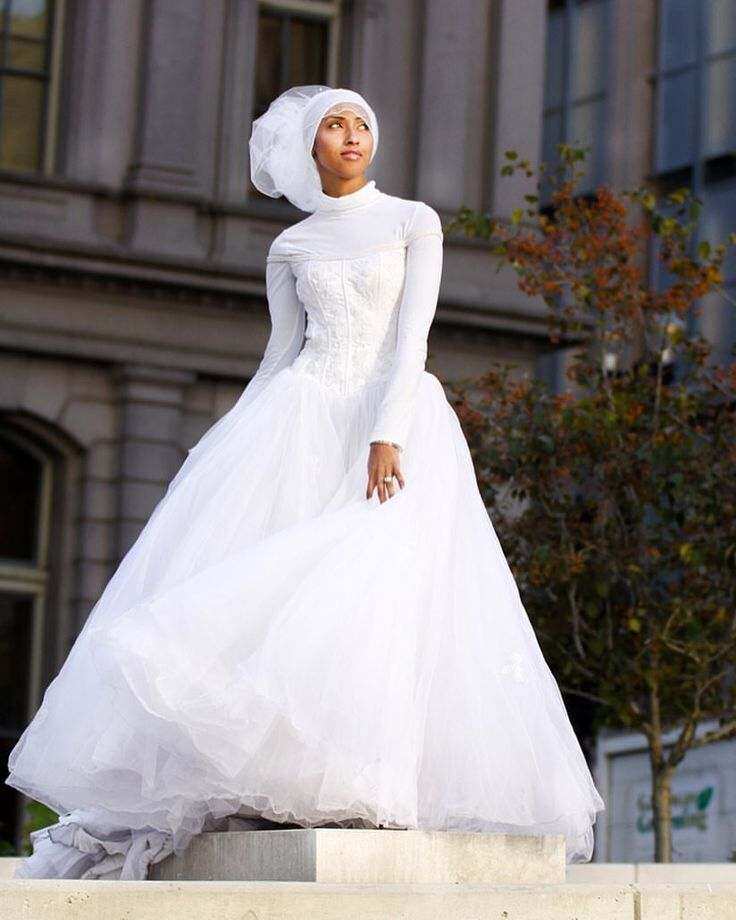 Photo: pinterest.com
Wedding gowns in Nigeria for Muslim brides
Muslim wedding dress in Nigeria can be called a real masterpiece because it is a common thing to decorate it manually. Designers are working on the creation of fabulous styles, where jewelry plays the leading role. They use gold threads, create unforgettable oriental motifs using beads. Especially popular is lace trim to embody tenderness and luxury.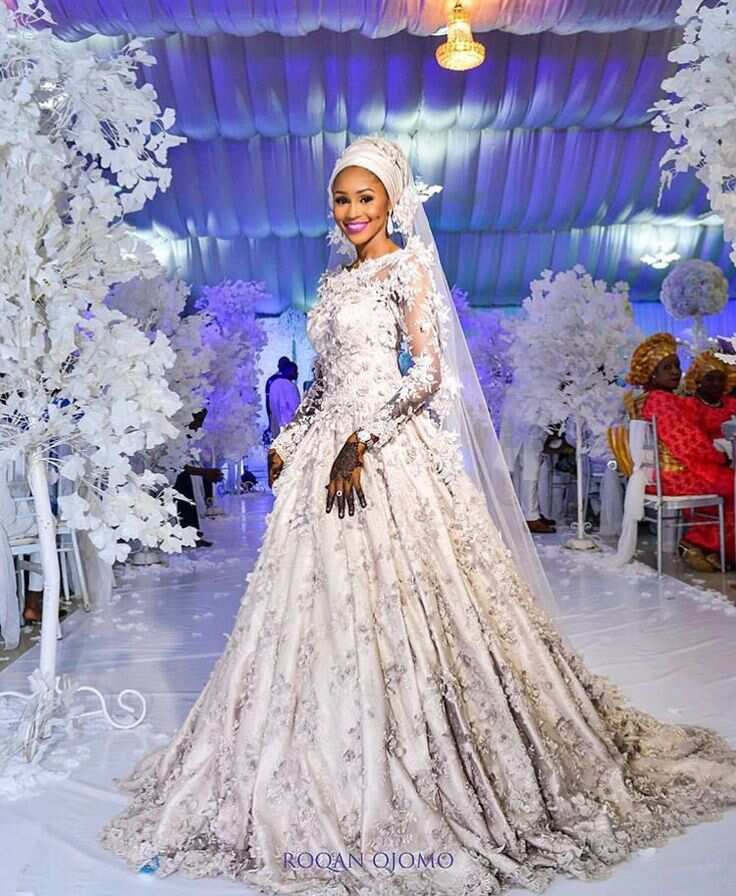 Photo: nguoitapviet.info
READ ALSO: Nigerian lace styles for wedding in 2018
Bouffant layered chiffon wedding dress
A style of a Muslim wedding dress in Nigeria with a chiffon skirt will help make the girl beautiful and elegant. The design of the bottom of such a dress can be made multi-layered to give pomp, airiness to the image of the bride. Chiffon skirt looks exciting. The top of the wedding attire can be decorated with lace and beads. Such bridal attire can be presented from any pastel shade fabric. The bride in the lush colorful dresses such as pale turquoise, cream, pink will also be beautiful.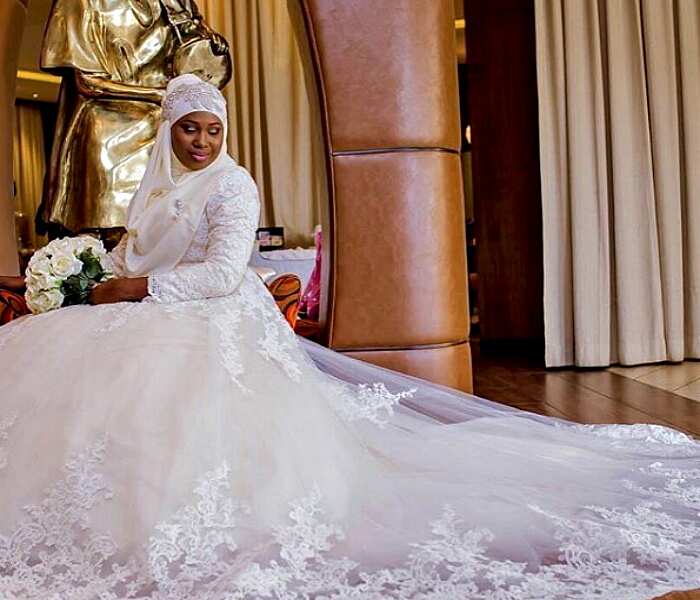 Photo: pinterest.com
A-line wedding dress with gold embroidery
Muslim wedding dresses in Nigeria are the embodiment of modesty and wealth at the same time. Outfits of the A-silhouette are ideally suited to the requirements of the "hijab" because they do not attract undue attention to the body of the bride. They can be richly decorated with handmade gold embroidery. On white fabric, it looks spectacular, elegant and turns the festive decoration into a beautiful work of art.
The A-silhouette Nikah dress with glittering gold embroidery is a great choice for rich Nigerian wedding and the bride who knows her worth.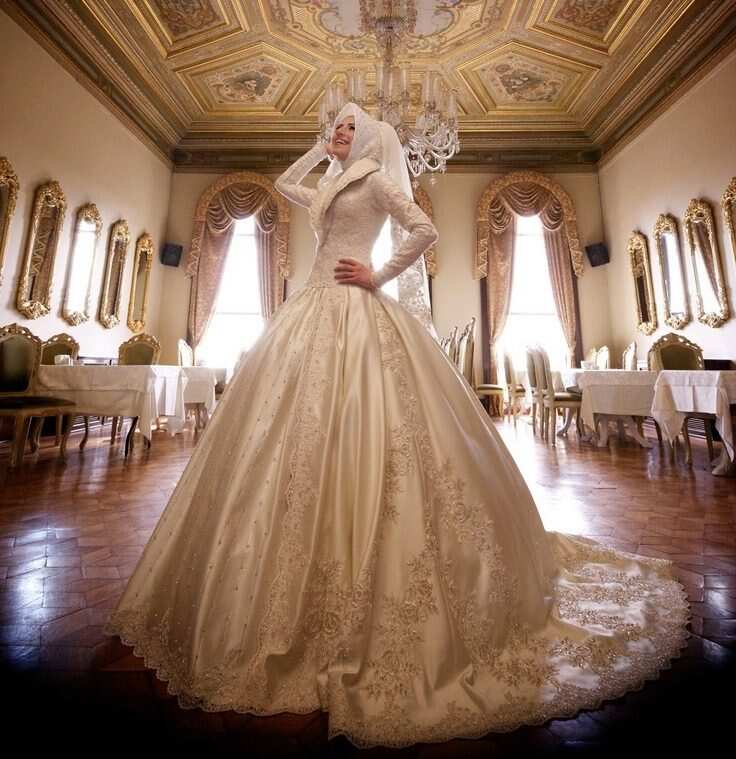 Photo: pinterest.com
Tight-fitting wedding dress with lace
Islamic bride in Nigeria will look worthy and beautiful in a tight-fitting dress with lace. The tenderness of the decor will perfectly highlight the youth and innocence of a bride. The design with lace for the Nigerian bride is a wedding fashion trend in 2018.
In a fitted mermaid dress with long sleeves and a small train, a bride will look modest and stylish at the same time. Lace skirt will help to create an elegant and pure image of a lady.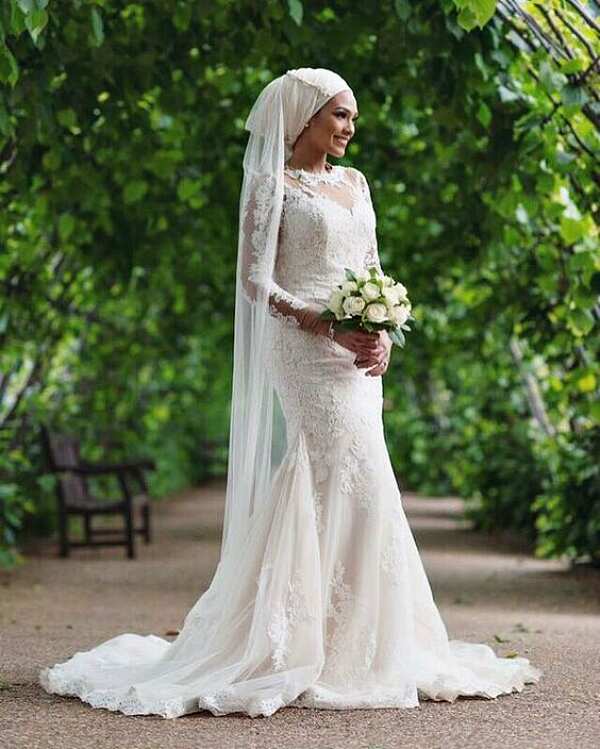 Photo from pinterest.com
Wedding dress embroidered with shining stones and rhinestones
Nigerian Muslim wedding dresses with rhinestones, shiny stones are a great choice for a celebration. The rich decor of the bride's outfit gives it a unique and beautiful look. Embroidery with rhinestones, beads, and stones creates a fantastic embossed decoration on the clothes in the form of intricate ornaments.
The glass beads look impressive in combination with such a dress. Those decorative elements, which are similar to beads but differ from it in larger sizes and a cylindrical shape are trendy this season.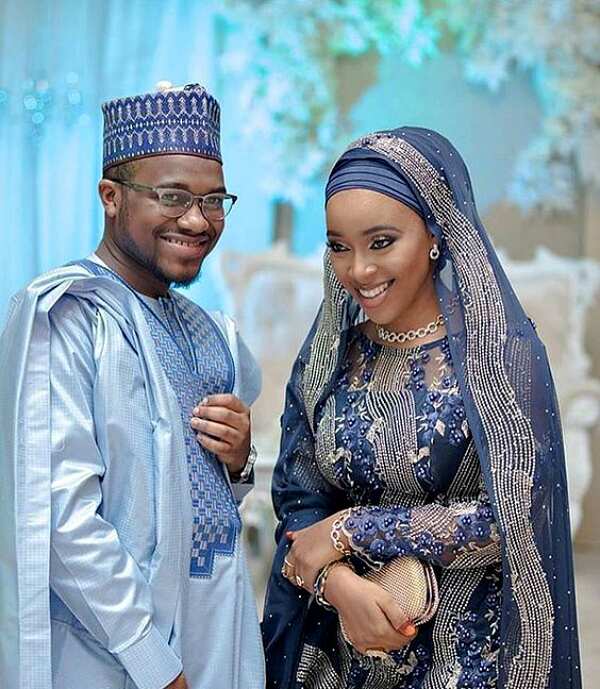 Photo: pinterest.com
Islamic wedding dresses of modern styles
In the modern market, there is a huge variety of wedding dresses for Muslim brides. Any lady can choose the style that will emphasize the dignity of the figure in the best way. Fashion designers create wedding dresses for Muslim brides of a very laconic sometimes even simple cut but decorate them with very stylish decorative elements and of course, choose very expensive fabrics. Leading Nigerian designers are creating stunning models of Muslim wedding dresses.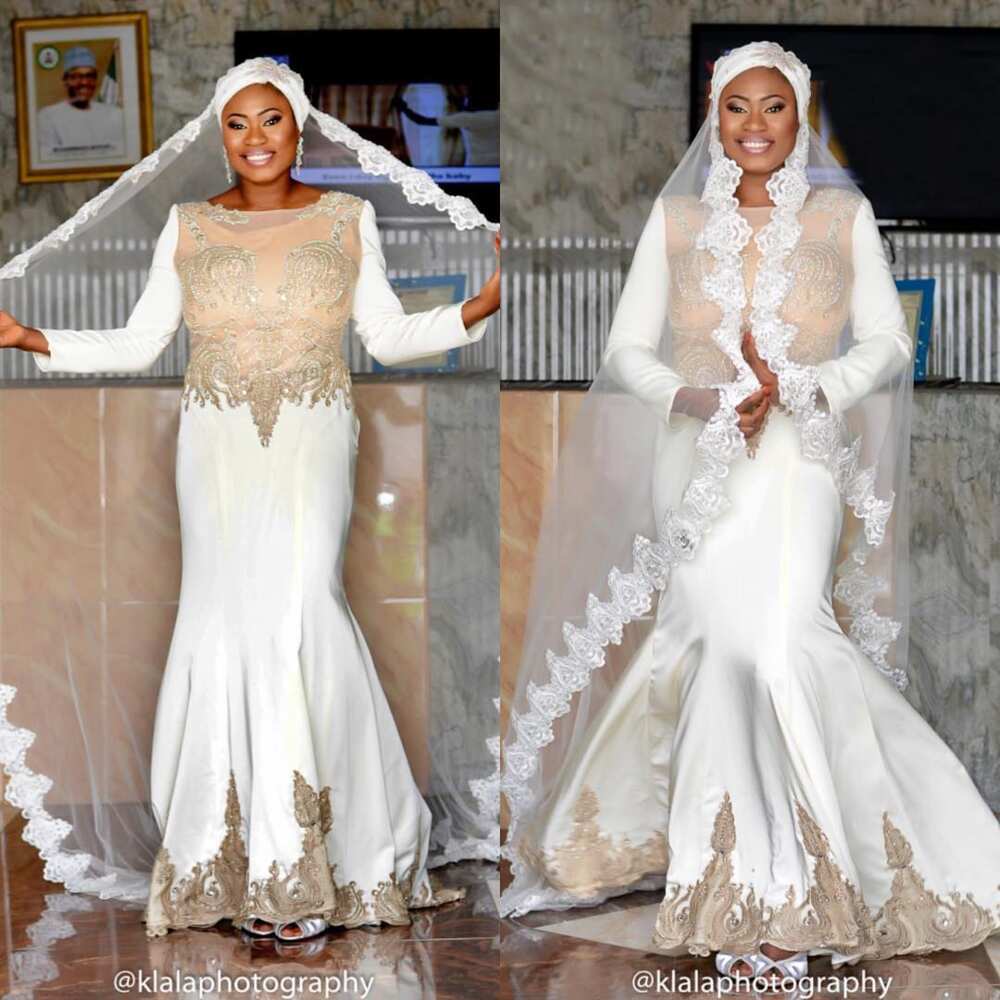 Photo: www.selectastyle.com
Although the creation of dresses is based on a strict style, this does not prevent the use of traditional ornaments, guipure ribbons and lace, and embroidered stones as decorations. This is quite a difficult job because tailoring and decoration of dresses is manual work. It is worth noting that men see Muslim girls as a riddle, modesty, and respect for traditions.
Irna La Perl is an Indonesian designer whose wedding dresses are in high demand among residents of Muslim countries. She creates unique dresses of a conservative style but makes them gorgeous and delicate thanks to light fabrics, ornaments and drapery, which are not prohibited by Muslims. All her creations are stylish and romantic. Wedding dresses from Irna La Perl have a lot in common with European dresses, but at the same time fully correspond to the Muslim culture.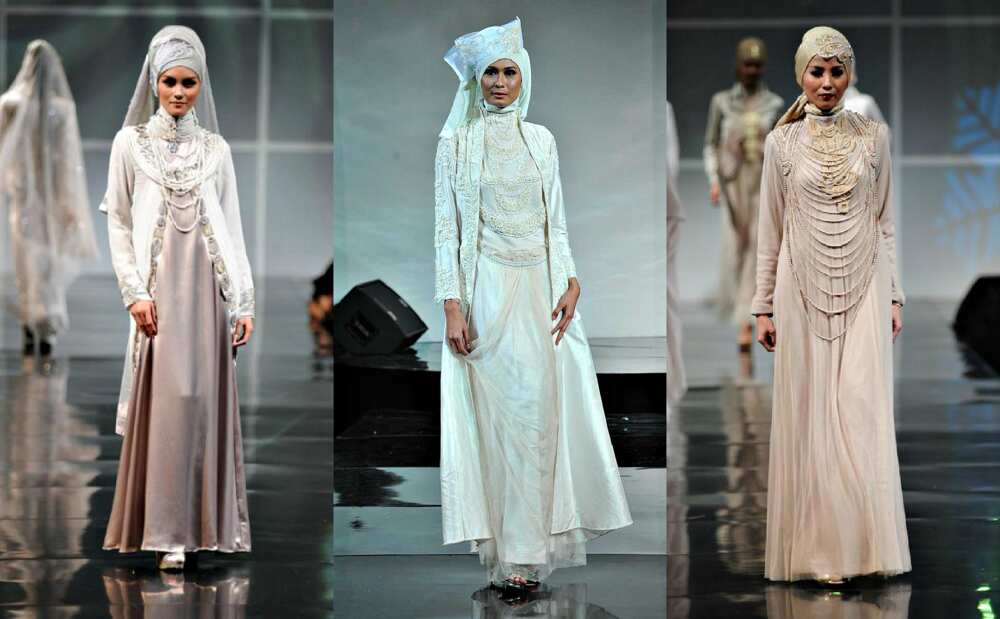 A Nigerian bride wearing Muslim wedding dress personifies tenderness, modesty, and beauty. The choice of wedding clothes for ladies professing Islam is huge. Each year, designers bring to the attention of Islamic brides new models for all occasions. Wedding clothing decorated with rhinestones, beads, lace, gold embroidery, looks unusual and bright, so the bride, correspondingly, will look amazing in it. Photos of beautiful outfits above confirm our arguments. Use our tips and be the most beautiful Muslim bride!
READ ALSO: Wedding bridal gowns and accessories in Nigeria that are trendy this season
Source: Legit.ng