How to create and style space buns: tutorial and styling ideas
We have seen a lot of varieties of bun hairstyles. Today, space buns can be considered the most popular option. This hairdo can be seen not only on ordinary ladies but also on the heads of celebrities, who have made it so extremely popular. That is why a lot of women are wondering how to do this type of head-dress. We are going to tell you how to style this hairdo and present the best styling ideas.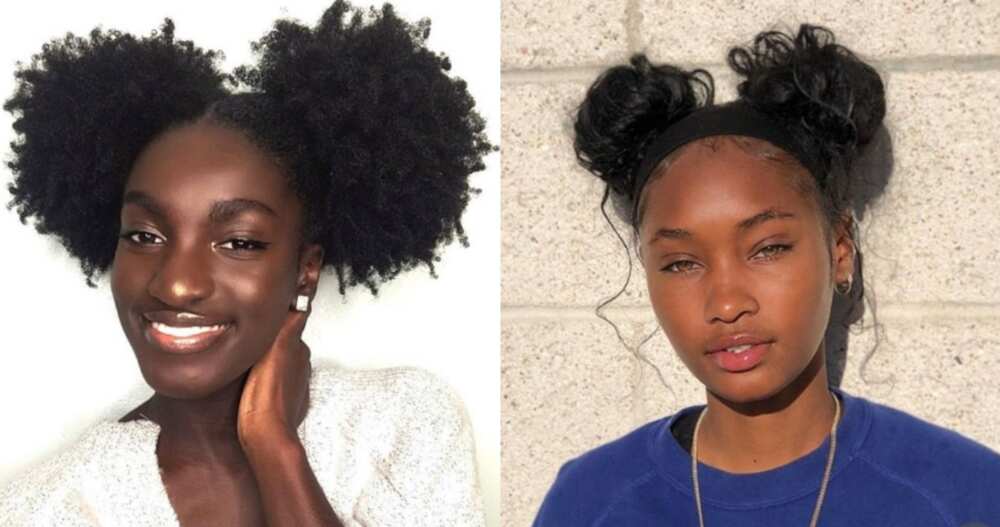 Space buns are an adorable and beautiful head-dress, which is meanwhile so easy to perform. We are going to prove to you that and tell you how to make space buns.
How to do space buns hairstyle?
The main advantages of this head-dress are a convenience, ability to perform both on long and short locks and, of course, simplicity and little time of making them. To create this hairstyle, you will need thin elastic hairbands, a comb and hairpins.
Easy space buns tutorial
All you need to do to create a classic option of this hairstyle is to follow these simple three steps:
To begin with, it is necessary to divide the main mass of your hair into two parts and make two high ponytails from each of them, fixing them with a thin elastic hairband. You can apply some gel to help yourself comb your locks and make it sleeker and shinier, or you can leave it natural looking.
Take another elastic hairband and wrap around a ponytail once, and for the second time wrap one of your ponytails halfway. Then you need to wrap the ends around the already created bun. Fix the ends with hairpins.
Repeat the same with the second ponytail.
This is the result that you are going to achieve.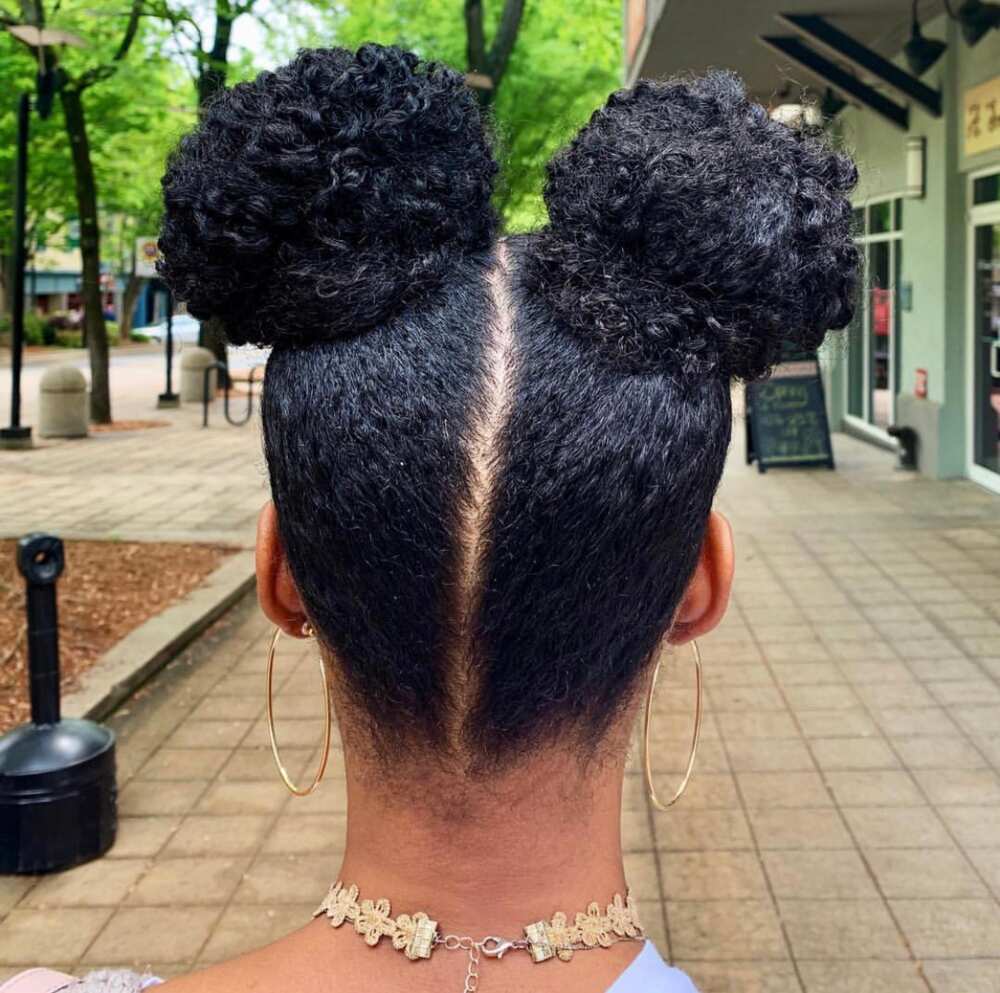 You can make the procedure even more straightforward:
First, divide the hair into two parts.
Then make a bun from each of them without even using elastic hairbands, but only fixing it with hairpins.
This option is more suitable for owners of short and not very heavy thick locks because otherwise, hairpins will not hold the weight of the hair and the whole thing can fall apart. Also, owners of short African type hair can just leave two ponytails and get extra voluminous updo by teasing locks. The difference will not be visible.
As you can see, just two or three steps are keeping you away from looking like a cute and adorable princess.
Best ideas for a space buns hairstyle
We always look for various ways to express ourselves. A hairstyle is not an exception. We have prepared some best ideas on how you can style your buns. Check them out and hurry up to do some experiments.
1. A head-dress with knots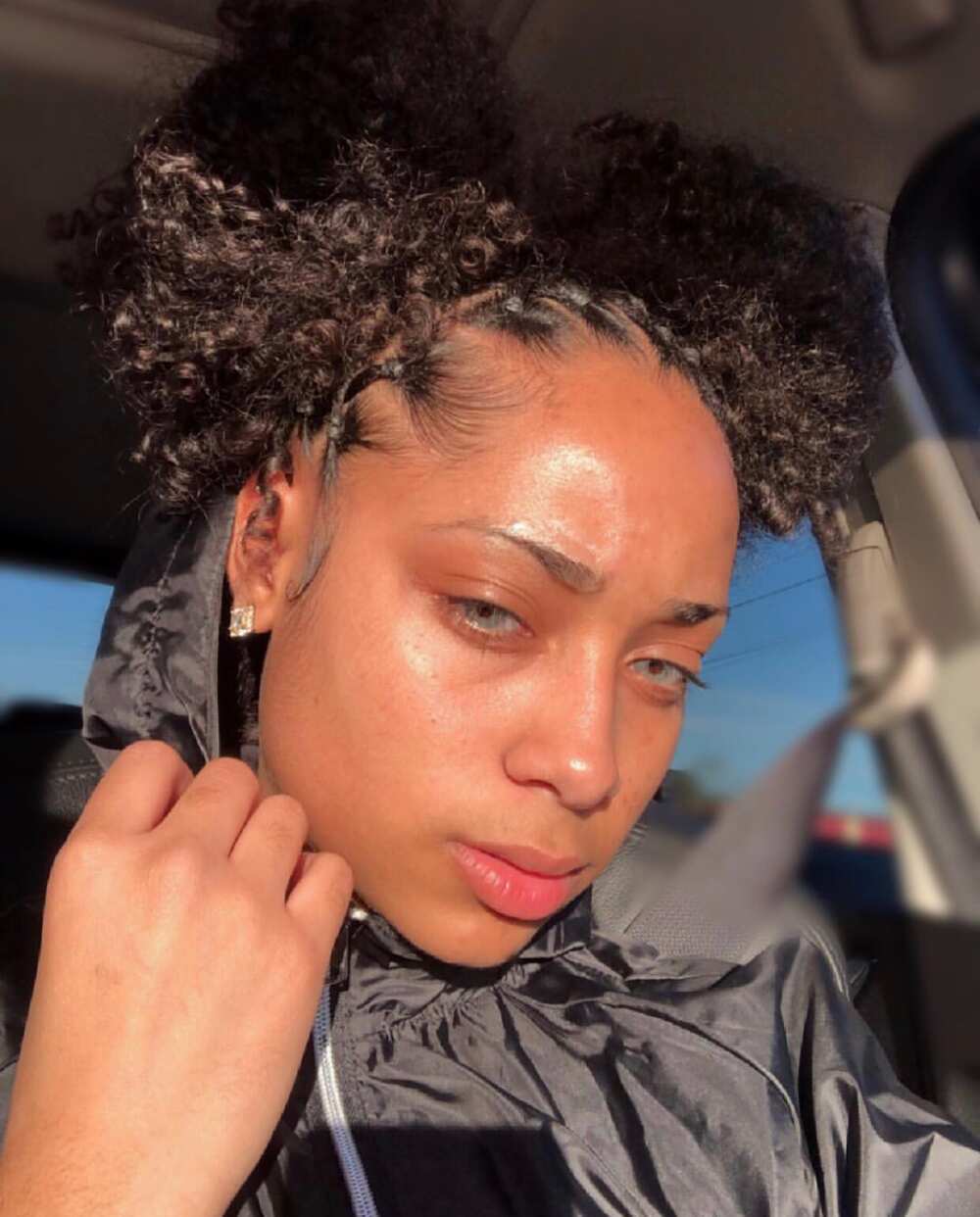 Here is an interesting variation of this hairstyle. You can decorate your head with braids, twists, or little knots to make the whole thing look even nicer. You can make any type of braids, and they will look beautiful anyway.
2. Buns with two loose strands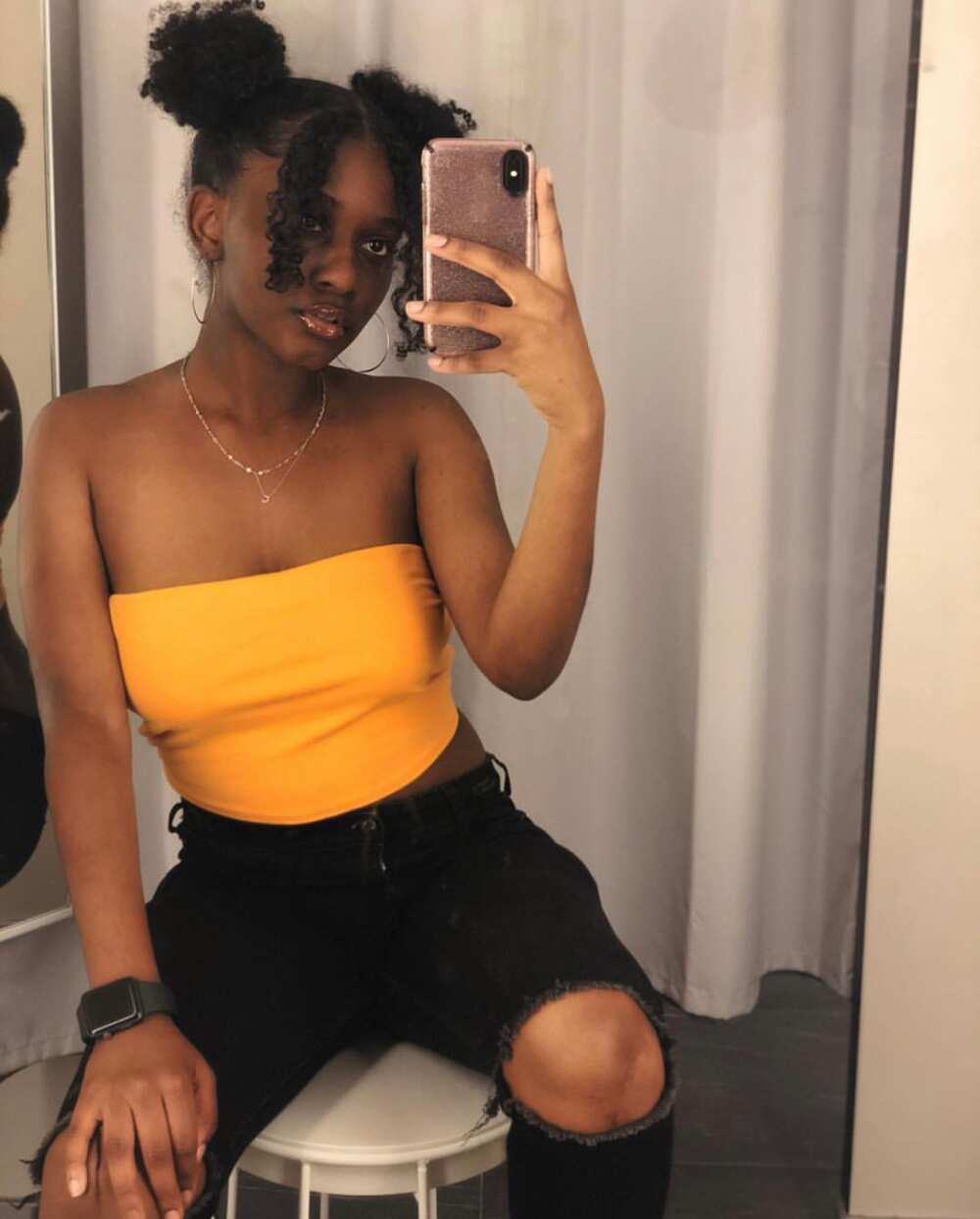 Just look at how a little detail changes the whole look. With these two loose hair strands, you will be more chick and trendy.
3. Space buns for short hair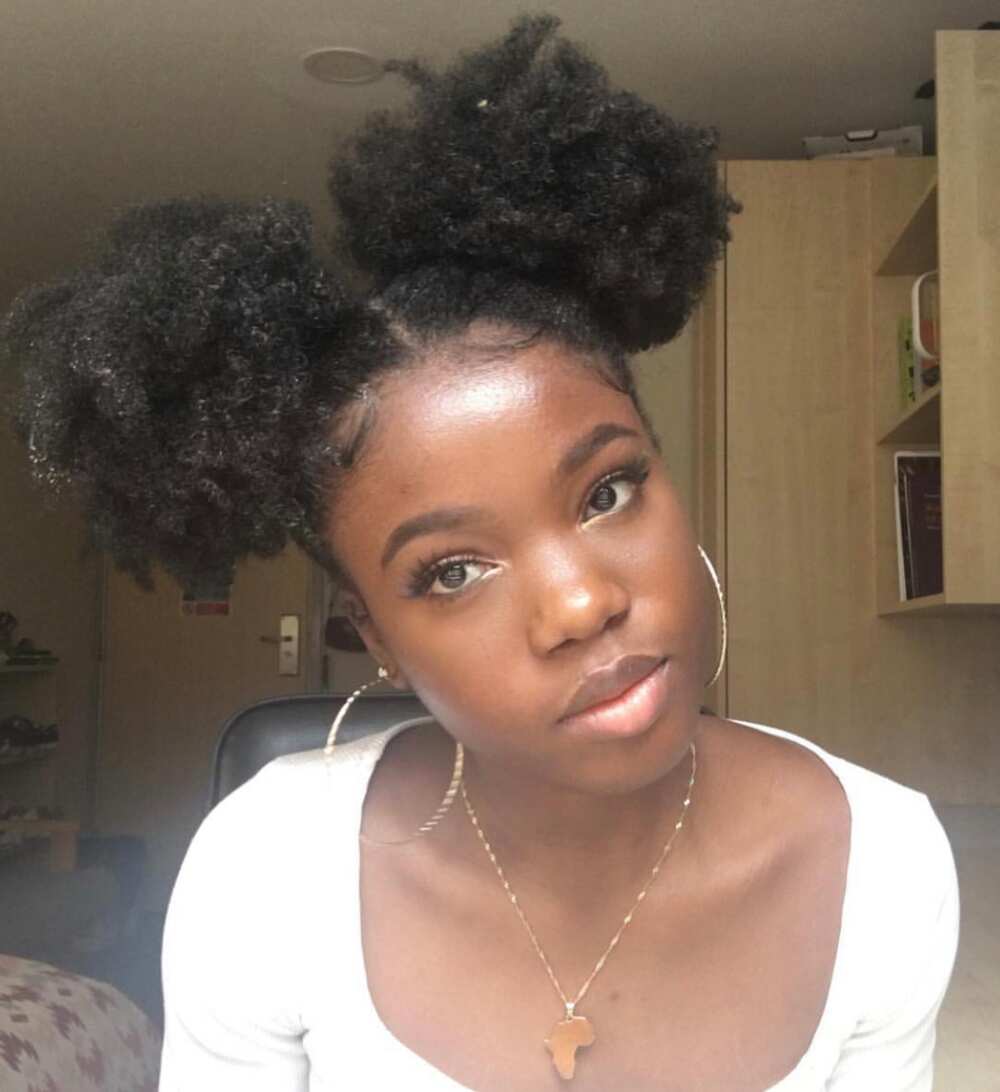 This is how the updo will look on very short hair. These are just two ponytails, but they look like a regular head-dress made of longer hair.
Here is another look with short hair.
4. Half-updo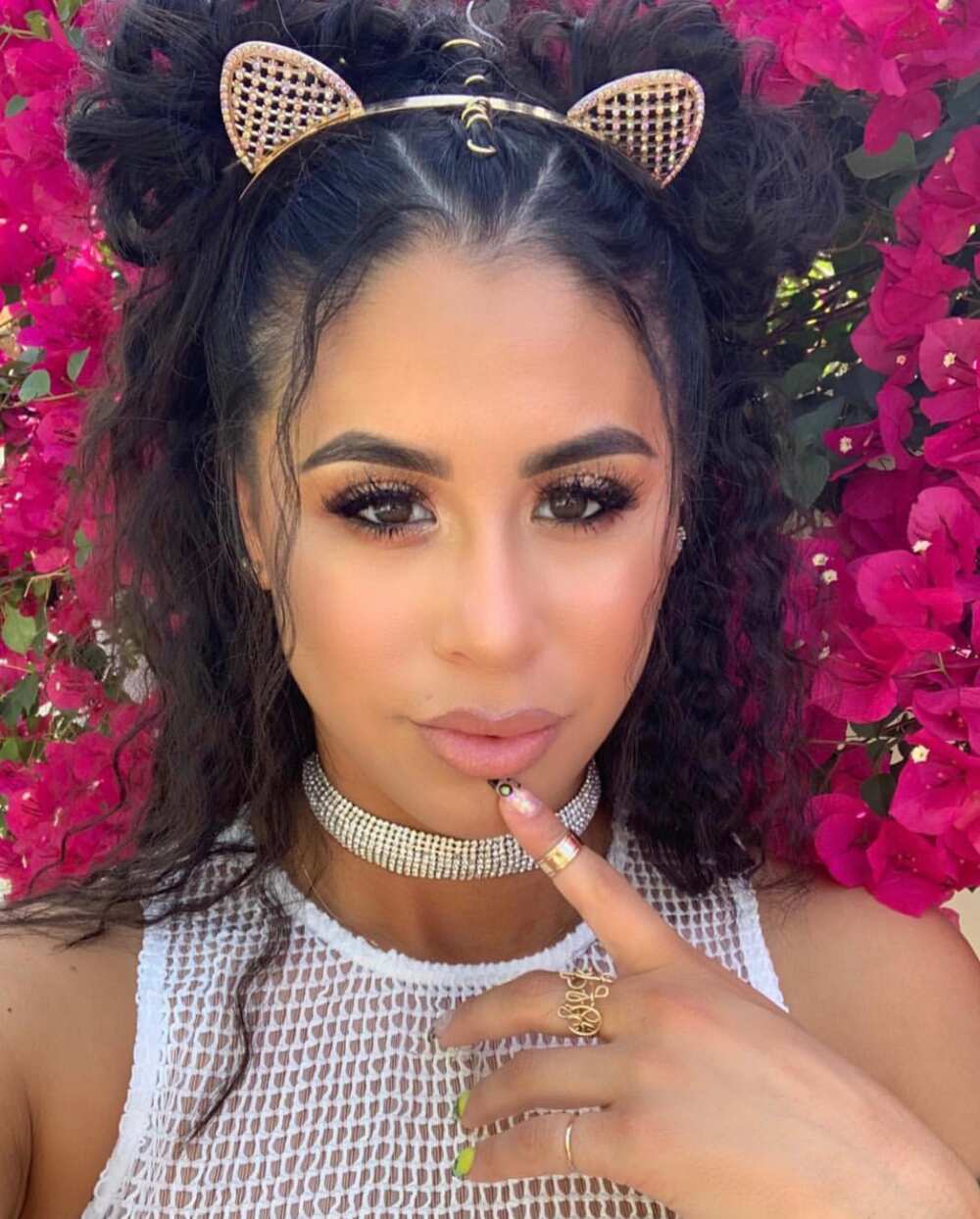 Another way to style this hairdo is leaving some hair free, making a half-updo. In the picture, we can see one more small detail – a little braid decorated with rings. It makes the hairstyle look more special and interesting.
READ ALSO: 35 inverted bob hairstyles to rock in 2019
5. Braided space buns with beads
This updo also can be performed with braids. This one is a bit complicated. First, you will have to make bunches, collect them together into two ponytails, and then make a bun. It might take time, depending on your weaving skills, but the result is totally worth it.
6. Buns with dreadlocks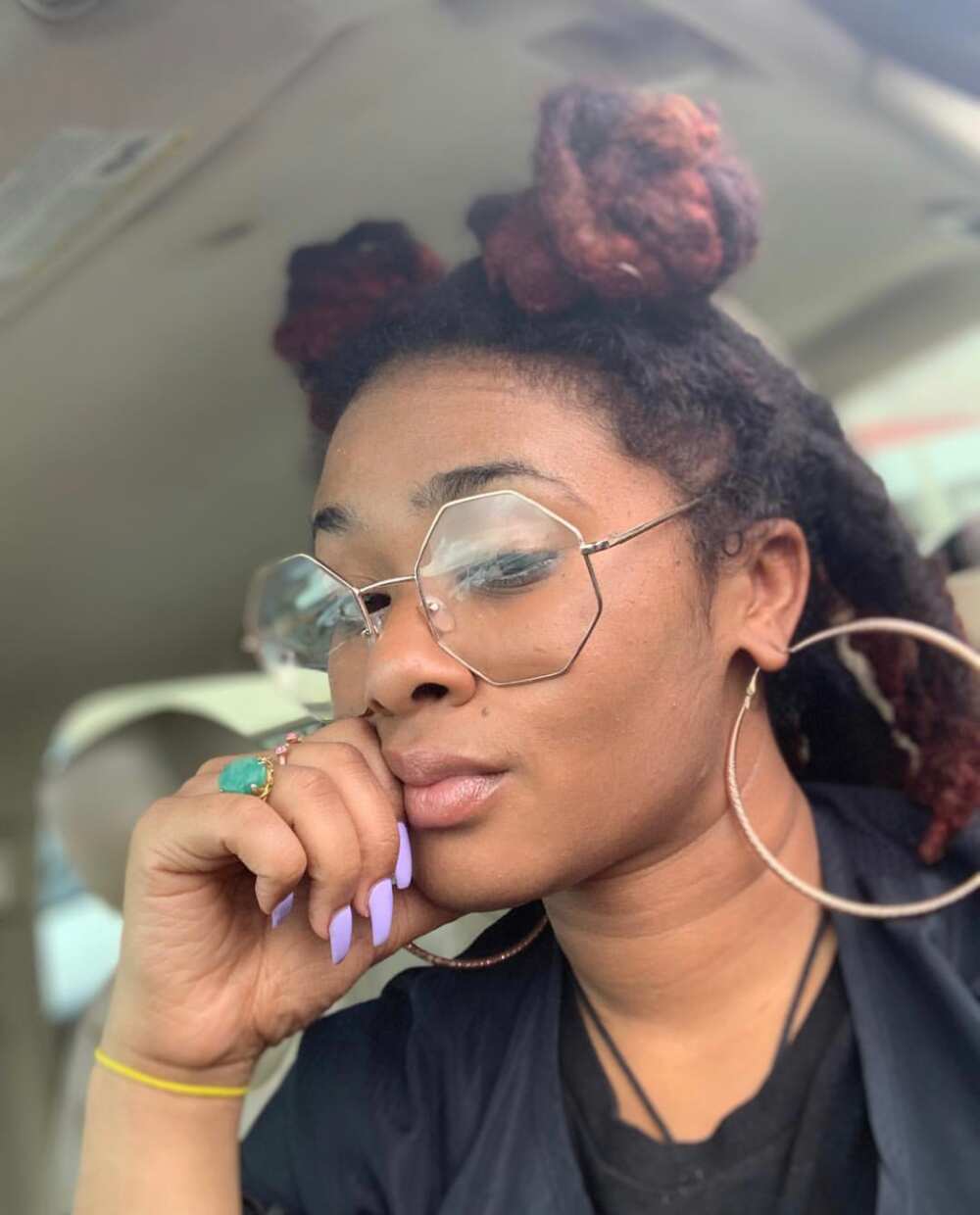 If you are an owner of dreadlocks, nothing is stopping you from wearing this hairstyle. You can do both an undo and a half-updo.
7. Space buns with bangs
If you had your bangs cut recently, you are risking to look way too cute with this updo. Bangs and buns are the best and cutest combination ever.
8. Zigzag parting
You can make the comb-out look differently by simply using another way of parting. For example, this zigzag part looks really wonderful.
9. Yellow faux space buns
Just look how bright and adorable this one looks! There is a simple resume – if you have faux hair, your chances to create something really exciting and fantastic are much higher.
10. Space buns on straightened hair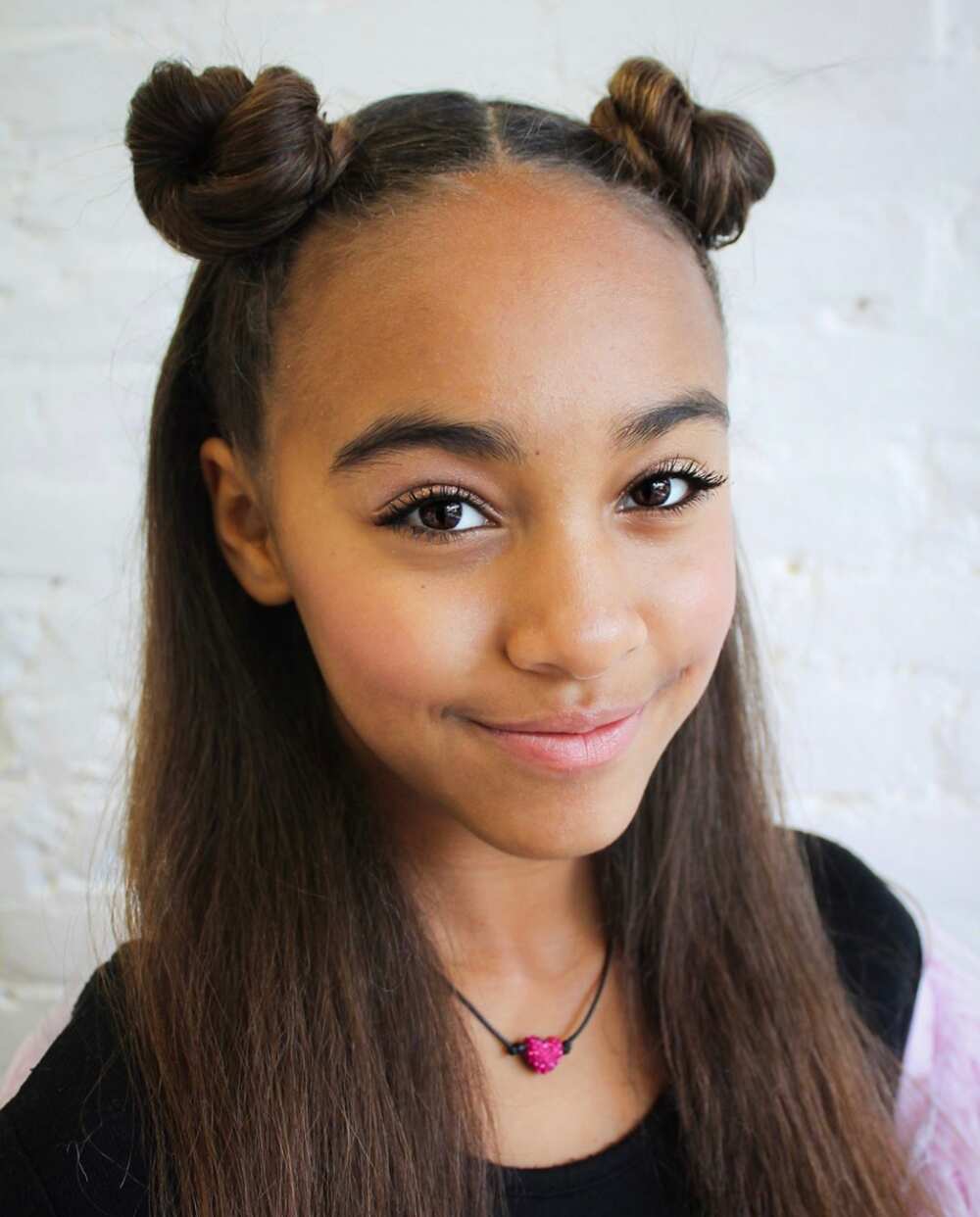 To create this cute variant, you just need to straighten your hair and make small buns from two little sections of hair near the forehead.
Space buns are fun and a beautiful hairstyle which will make every lady look incredibly romantic and lovely. Moreover, it is so easy and takes so little time to perform it. The most significant advantage of it is perhaps that the more messed up it is, the more lovely it looks. So you do not need to be worry if some hair sticks out of the hairdo.
READ ALSO: How to style short natural hair at home
Source: Legit.ng