Simple fishtail braid tutorial for braiding your own hair
If you want to give your hair a Hollywood chic look, our easy tutorial will help you to pimp your style. The technique of fishtail braid weaving is a stylish and interesting version of the plait. To learn how to make such a beautiful hairstyle, you do not need special skills, and we will prove it to you right now.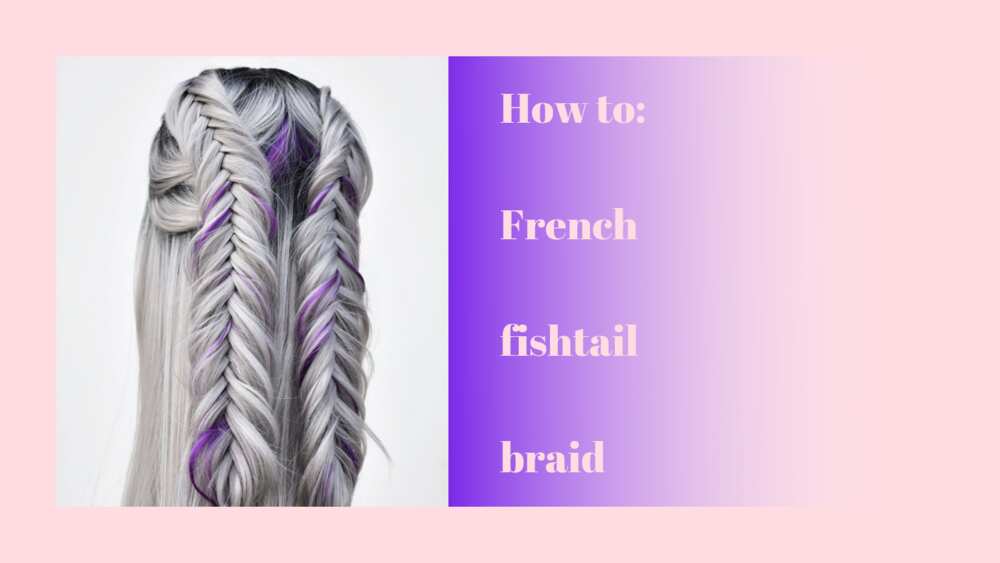 A fishtail braid is a comfortable and most importantly, stylish hairdo, which is performed from only two strands. It looks as if you are an experienced hairdresser who did not spend more than five minutes to create it.
How to do a fishtail braid yourself
This style of braiding is not as complicated as it may seem. This hairstyle is woven of two strands, and the process itself does not take much time, but this hairstyle looks absolutely charming.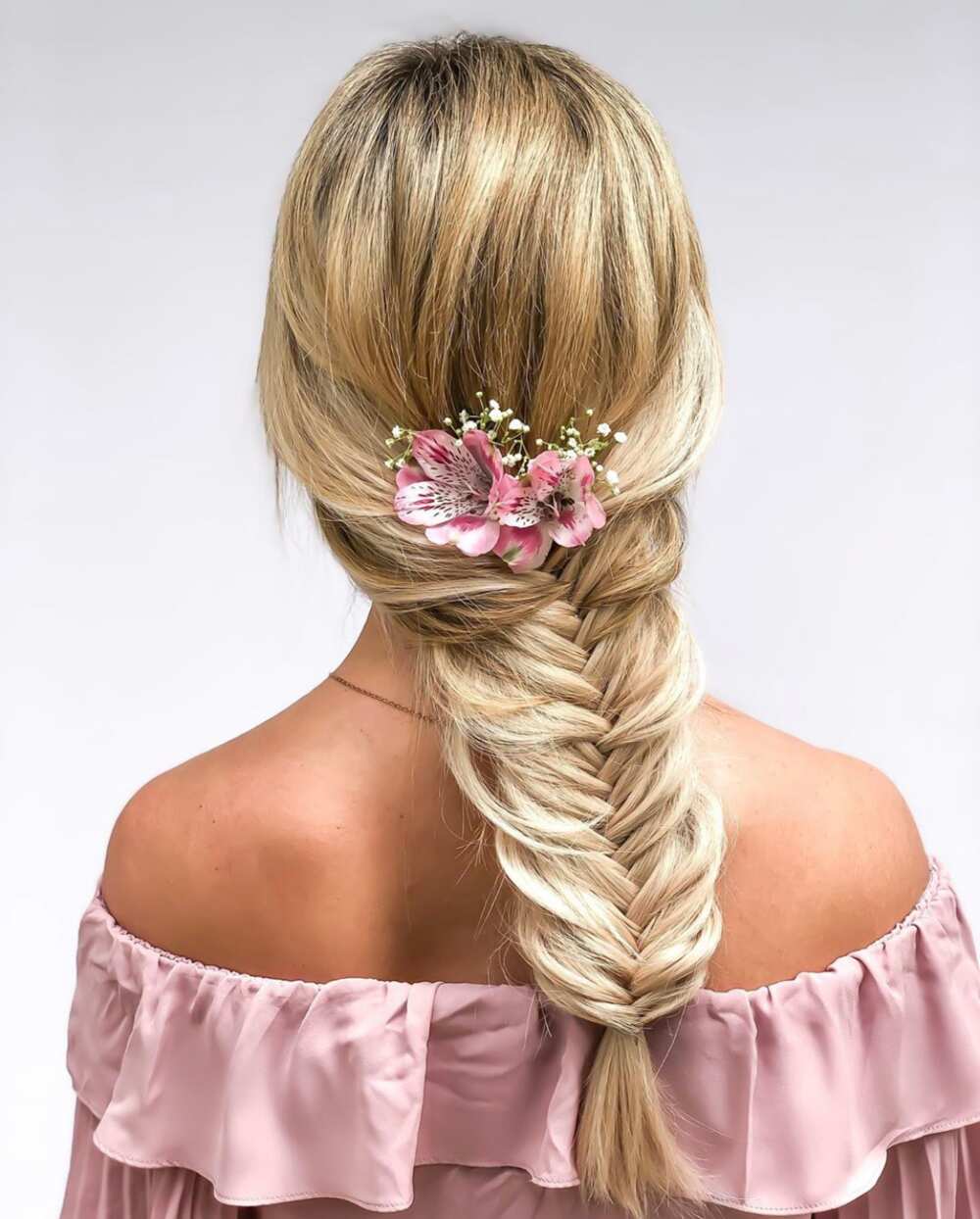 This hairstyle is an excellent option for every day and also can adorn your festive style. It allows you to make a suitable hairstyle, which is not limited to one variant. You can always come up with a new way to beautifully style your hair.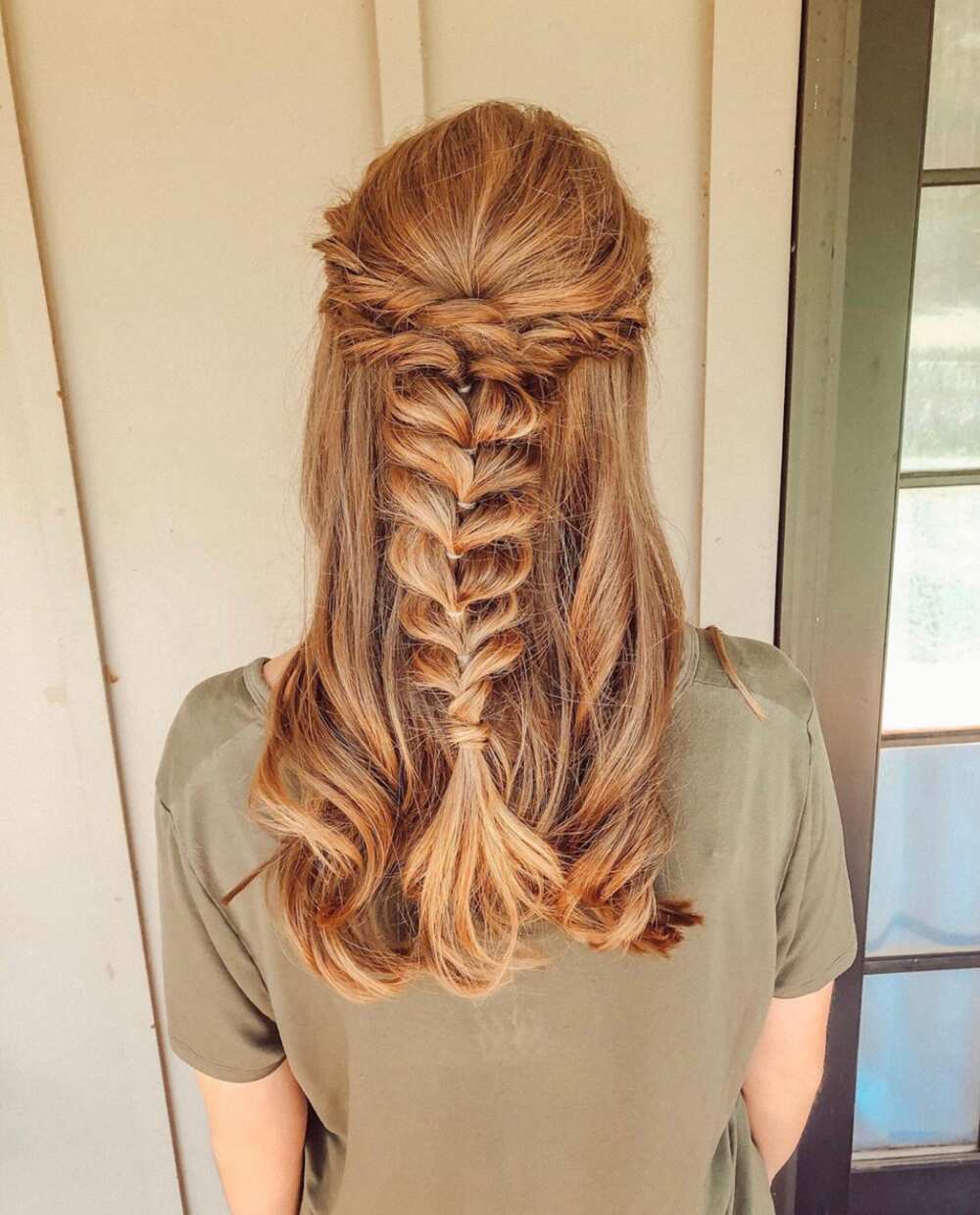 As we have mentioned before, weaving such a fashionable plait is not difficult at all. So how do you create such a plait?
Fishtail braid step by step
A fishtail French braid is woven on clean dry or slightly wet hair if it is wayward and unmanageable. Such thin braiding looks especially fascinating on straight hair. So for owners of curls, it is recommended to comb the hair with a round brush or relax it, so the structure of the plait will be more visible.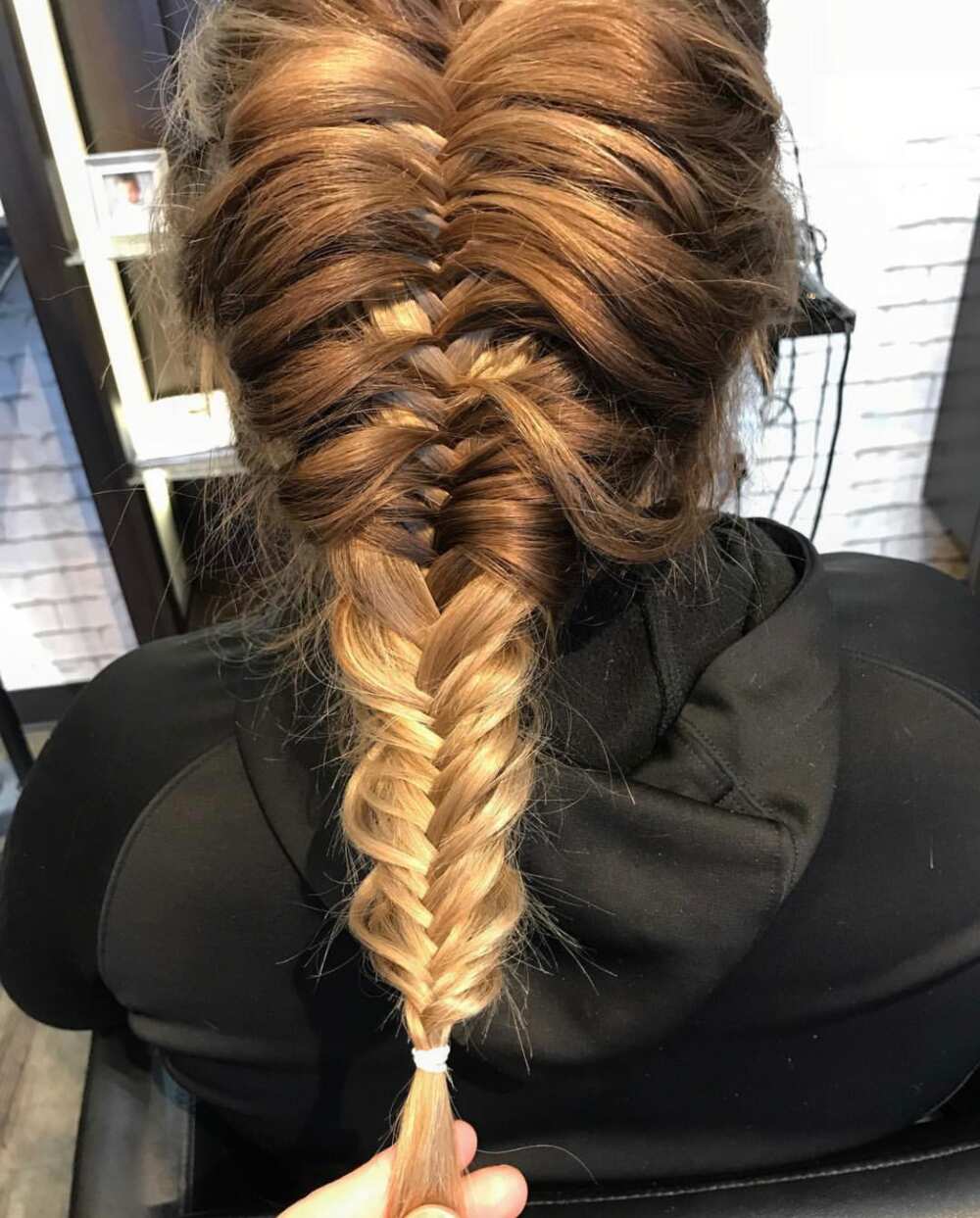 To create such an incredible hairstyle, follow the steps below:
To begin with, you need to comb the hair carefully and divide them into two equal parts. There is another option – scrape your hair into a ponytail and start to weave – it will be a little bit easier.
If you begin to weave a cornrow style, part a triangle section where the cornrow will begin and divide this strand into three parts.
Use a traditional weaving first so that you have only two strands left in your hands.
Next, pick a small strand of hair on one side and put it inwards, combining it with the second strand in the other hand.
Then repeat the same steps with the other strand.
Continue to weave the light strands into thicker ones until you reach the end of the length of your hair.
Fix the tip of the hair with a small hair band.
Voila! Your hairstyle is ready. You can leave it in this style, or you can add some volume to it, slightly loosening some strands of the plait.
If the hairstyle did not work out quite neatly, do not rush to reweave it. Some carelessness will not spoil this hairstyle, but make it more romantic and informal. If you still want it to be as perfect as possible, use some hair pins to hide and fix the sticking strands.
READ ALSO: How to create and style space buns: tutorial and styling ideas
By the way, the main advantage of this hairstyle is its diversity. There are quite a lot of variants of such interesting weaving – from easy to sophisticated – which will allow diversifying your look. The weaving pattern is always the same.
Thus, you can make two long pigtails in the style of a fishtail weaving. For this, you will need to:
Divide the hair into two parts.
Repeat weaving a fishtail on each of them.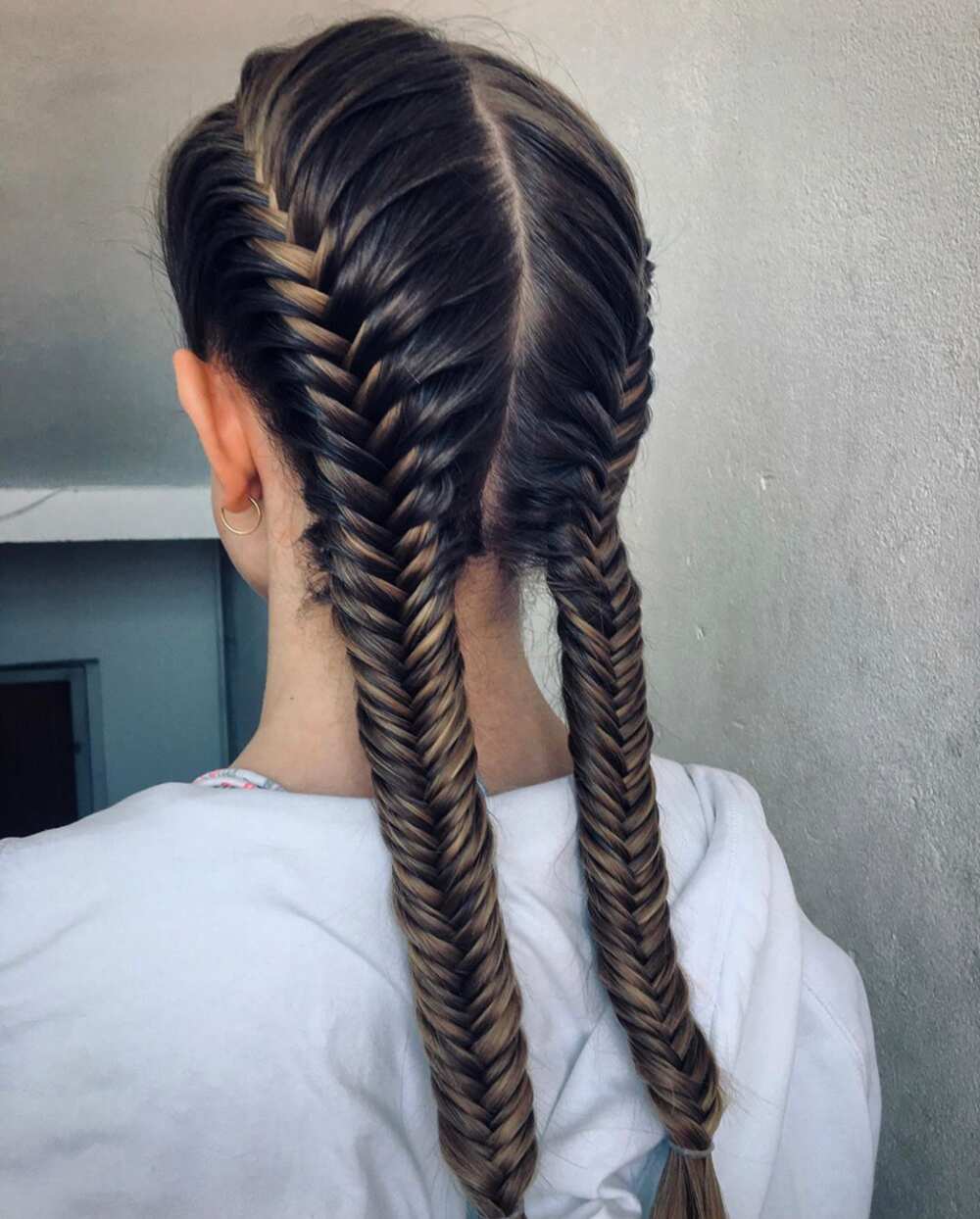 Also, you can make a double fishtail plait. For this, you will need to:
Start weaving a braid straight from the roots.
Divide the hair into two parts and gently take the strands on one side and weave them one on another.
Make two pigtails in the back, and then, using the same principle, weave them together or make two separate bunches and twist them together to form one big and voluminous braid.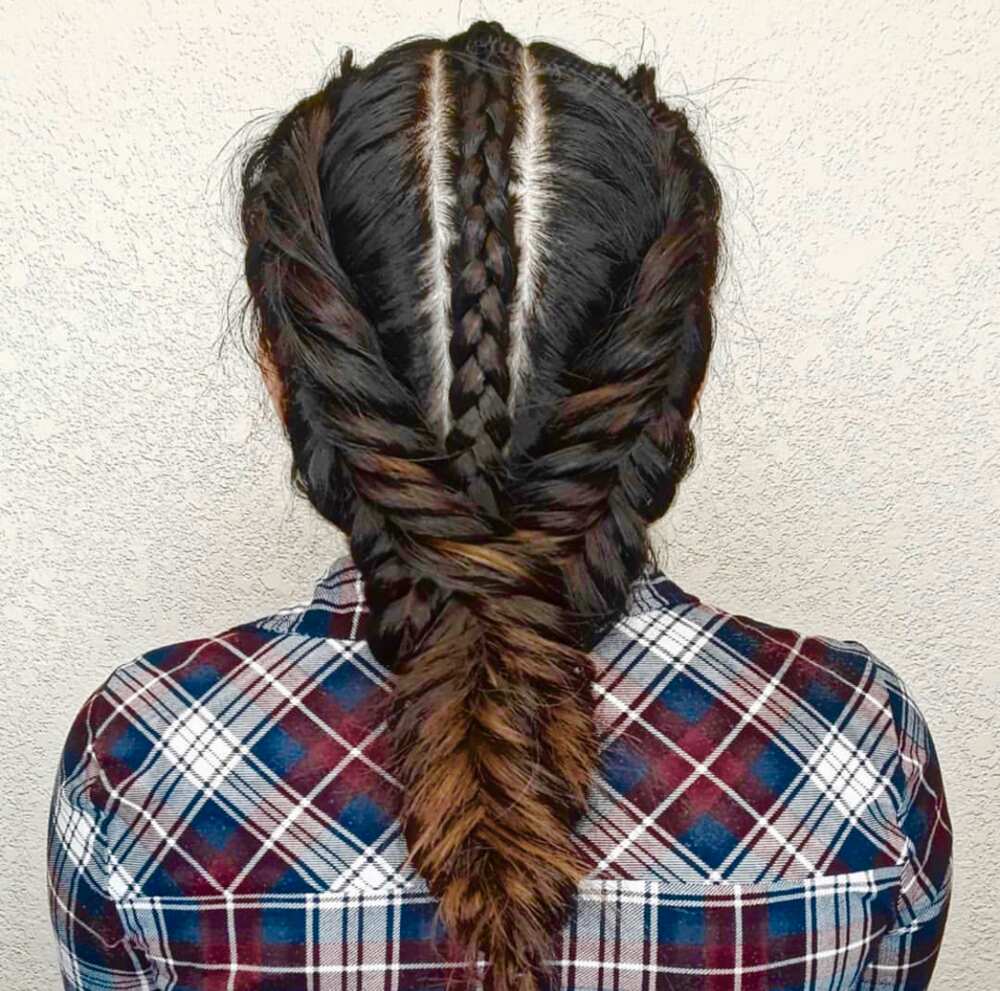 You can also make a fishtail braid to the middle of the hair length. For this, you will need to:
Take side strands from one side and the other.
Weave them in the back with an already well-known technique.
Fix the braid with a small hair band.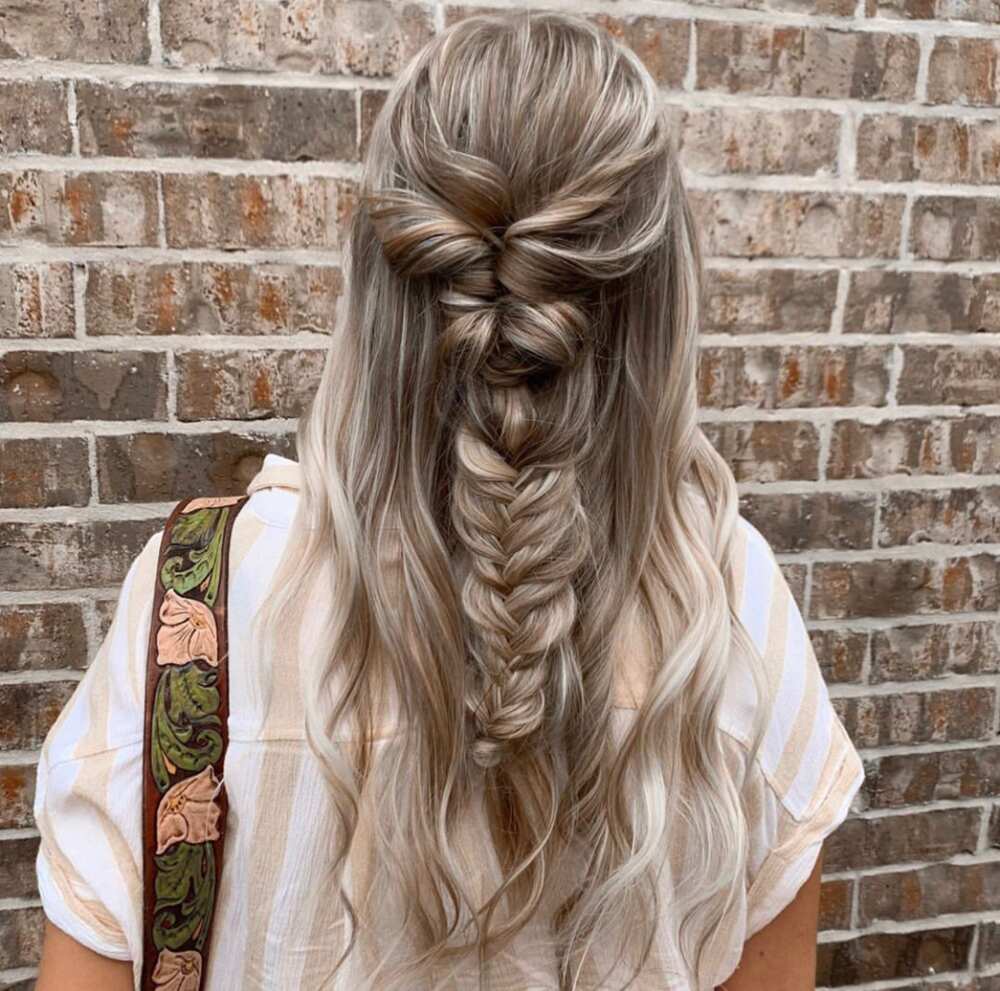 This option looks very cute and is perfect for a date.
A fishtail braid will definitely become one of your favourite hairstyles. As you can see, performing it is straightforward and take little time. So, even if you are not skilful enough to create neat head-dresses, this option will work perfectly for you. Try it, and you will look like a queen.
READ ALSO: How to style short natural hair at home
Source: Legit.ng