Buba and sokoto designs for ladies
When you think of female Yoruba dressing, chances are, buba and sokoto designs are not among the first things that come to mind. However, these pieces of Nigerian traditional wear that are considered to be more masculine are getting more and more popular with the ladies. Check out the many styles of buba and sokoto for women that might make you change your opinion on modern women's fashion in Nigeria.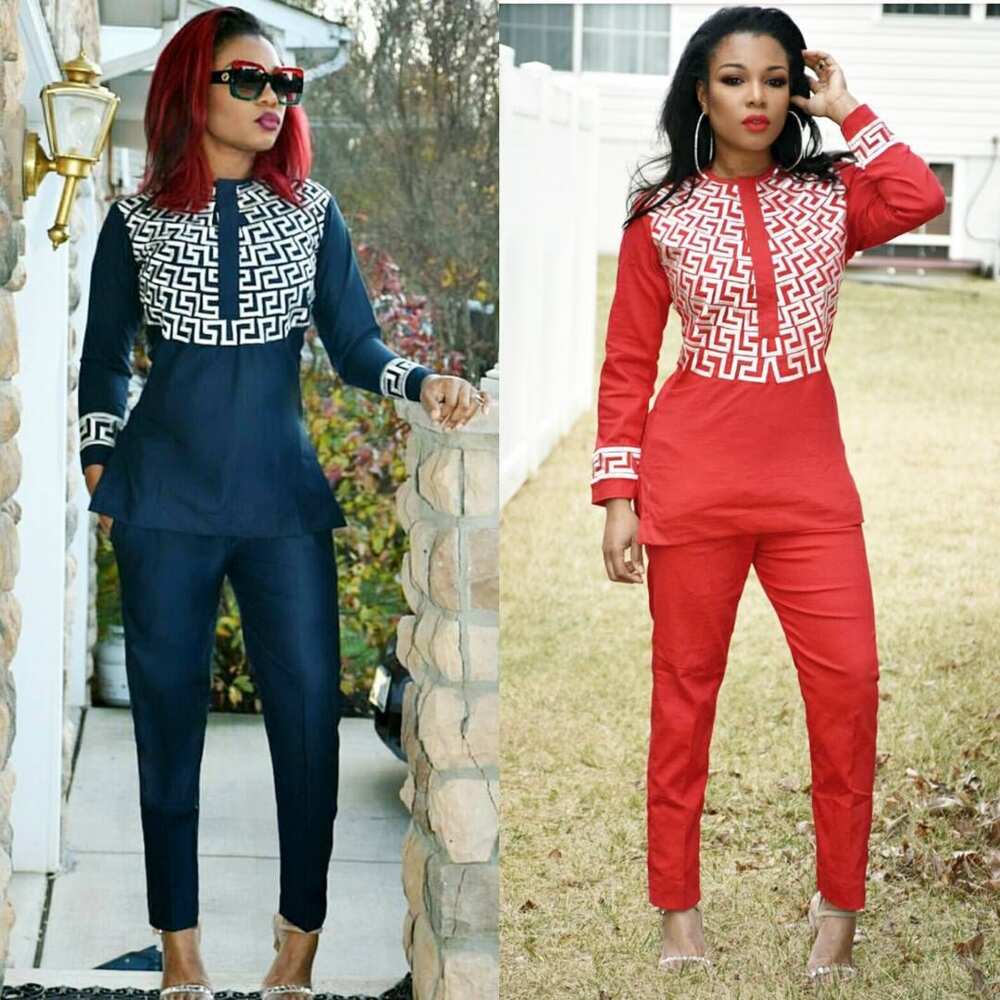 Photo: pinterest.com
Buba and sokoto as part of Yoruba traditional attire
So what exactly are buba and sokoto? Well, they are both parts of Agbada, traditional Nigerian clothing worn by the Yoruba people. Sokoto is the general name for the long pants worn with the outfit. The most popular type of trousers that goes with agbada is sooro; they are ankle-length and close-fitting.
Buba is a shirt with a round neckline and sleeves (usually elbow-length, but they can be shorter/longer) that goes underneath the agbada, which is a large, loose-fitting outer robe. That said, people often wear a buba without the outer robe, especially in circumstances that are more casual.
Now, most of the time, such outfit is worn by men, but nowadays Nigerian women decided to get in on that as well, and boy, do they look good! To prove this point, we have prepared some beautiful female styles of buba and sokoto for your enjoyment, so check them out and join the trend!
Buba and sokoto for ladies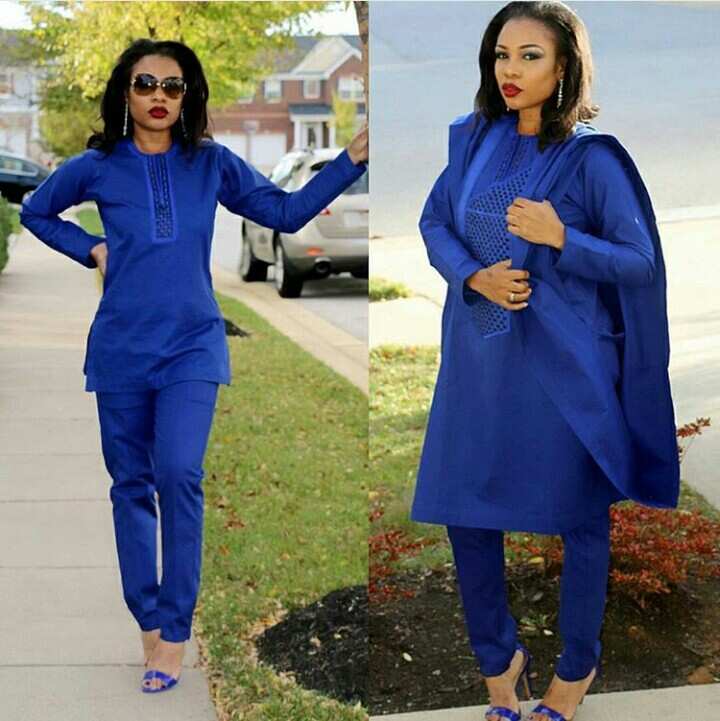 Photo: 6ters.com
READ ALSO: Yoruba traditional wedding attire for bride and groom
Let's start with a visual representation of what we have talked about in the first section. On the left, you can see the model wearing her buba and sokoto, while on the right, you can see her sporting her agbada on top of the buba. Either way, she looks great, and blue is a really good choice for an outfit like this. Notice how the shoes also match the whole ensemble.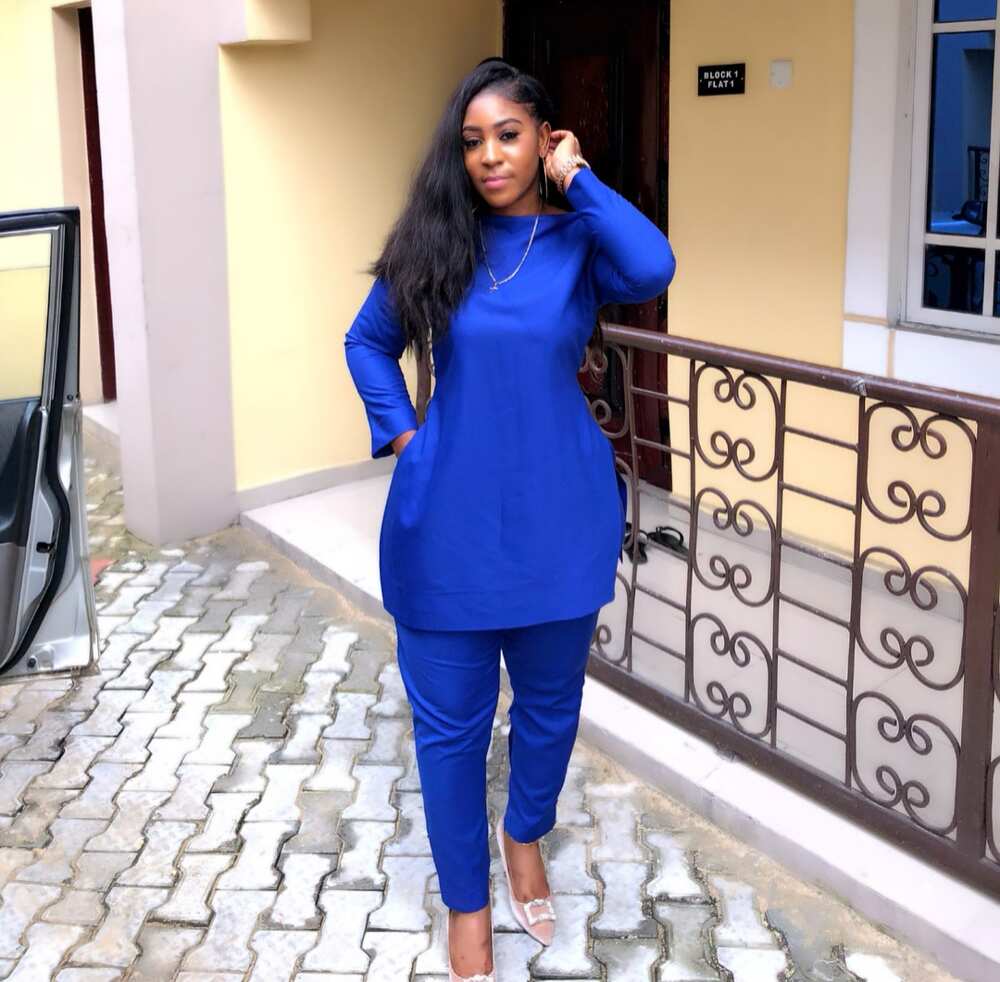 Photo: ankarastyles.org
Here is another blue outfit, but this one is even simpler that the first one. What makes it special, though, is the way the buba is cut. You see, it is tailored to be fitted at the curves, thus emphasizing the beautiful hourglass figure. This type of look is also great, because the simplicity of the clothes gives you more room for experimentation with various jewellery.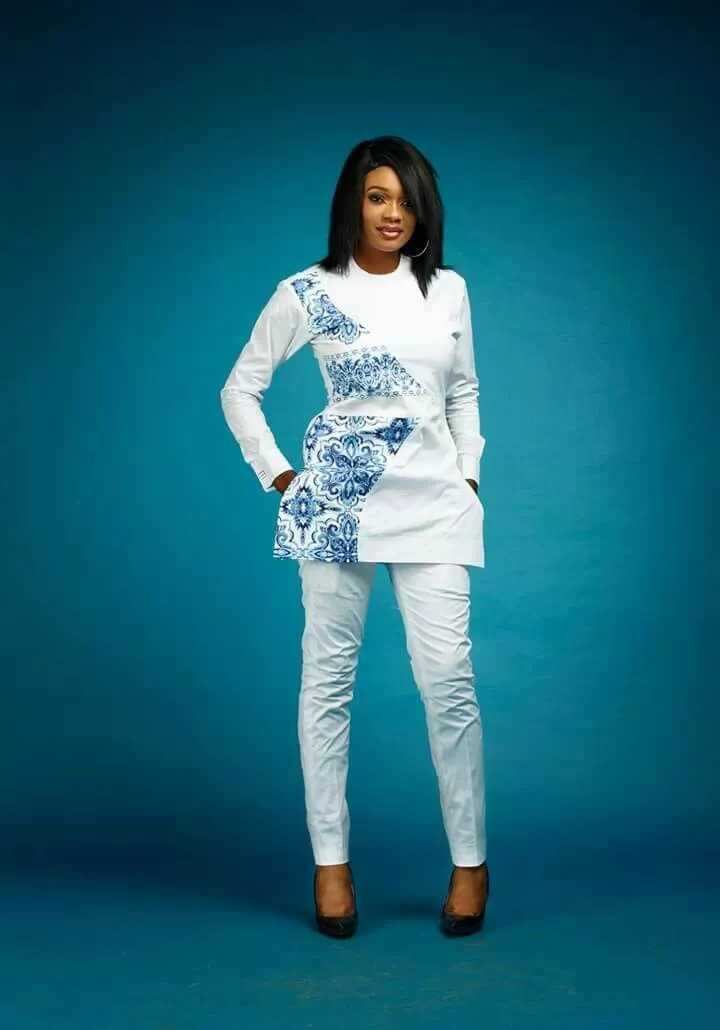 Photo: eagleee.com
If you want to look unique and special, then this is an outfit you should consider. Not only will you stand out by wearing something that is usually considered to be masculine, but you will also be able to impress everyone with the beautiful designs on your buba. However, white is tough to wear, so make sure you are extra careful with everything while wearing it, unless you want to risk ruining a great look.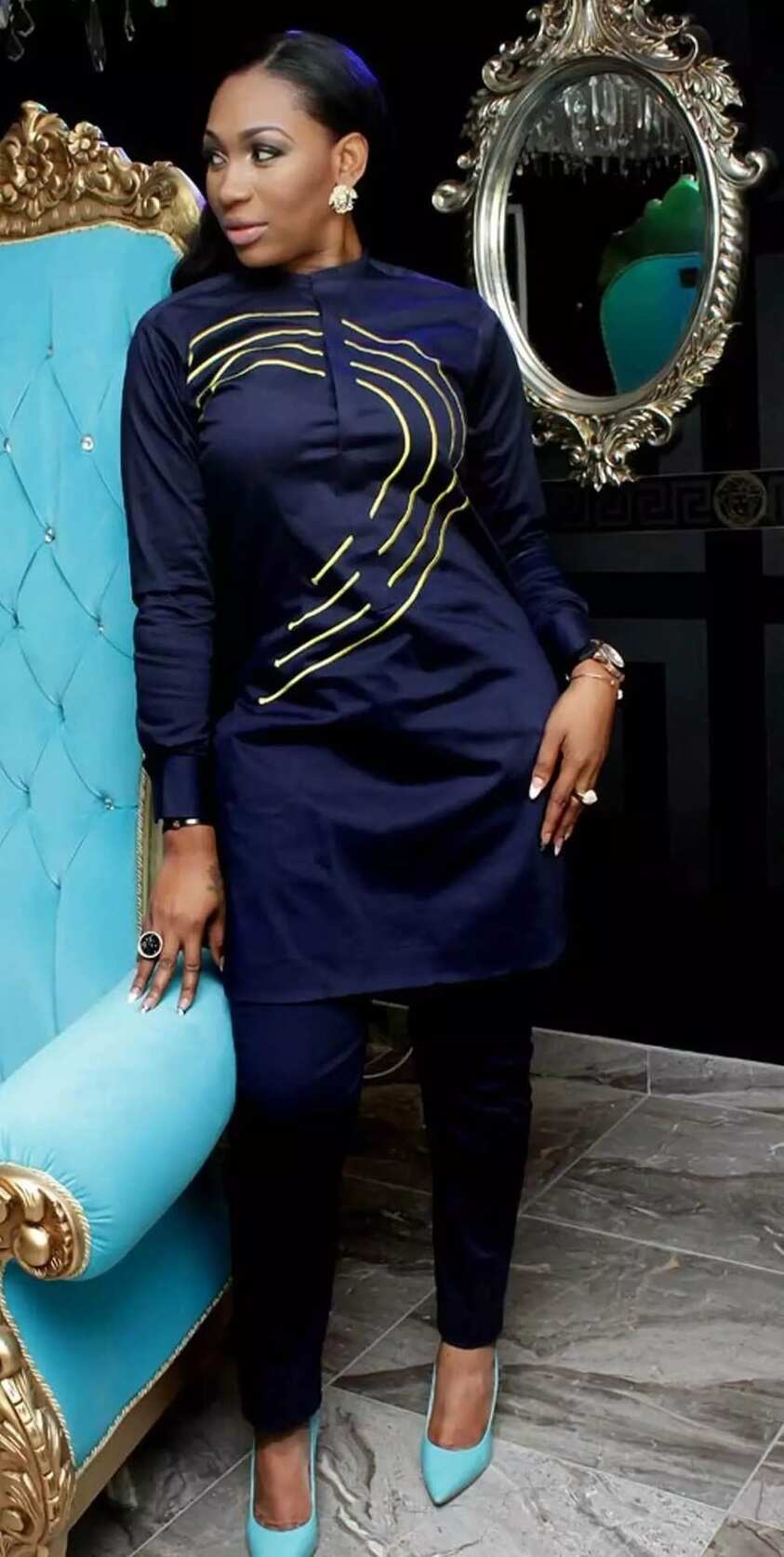 Photo: legit.ng
This is another look that proves that blue is one of the best colours for the buba-sokoto combo, especially for women. We do not know why that is, but there is something about the deep blues that just looks so good. That said, while we approve of most of the styling choices in this case, the aquamarine pumps seem to look better with the armchair than with the outfit. So keep in mind that not all shades of blue go together well.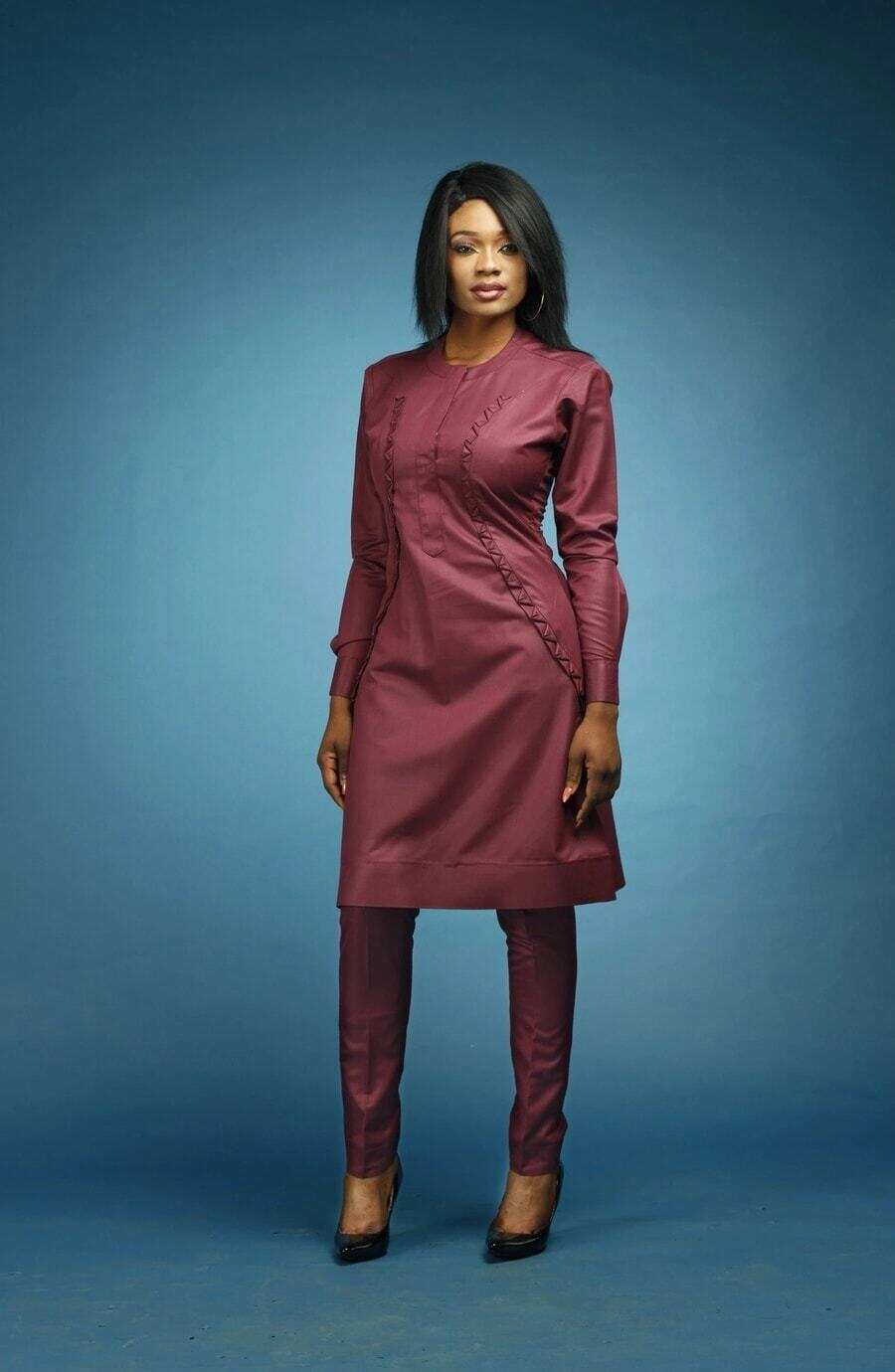 Photo: nigerianfashion.ng
READ ALSO: Ethnic groups in Nigeria and their mode of dressing
In case you are not the biggest fan of blue, or you would like to try a top that is slightly longer than usual, you should try something like this. This particular colour is great, because it is one of the easiest to choose makeup and accessories for (there are lots of lipsticks and nail polishes that would match this perfectly). We also love the detailing of the buba; it is faint, yet fascinating.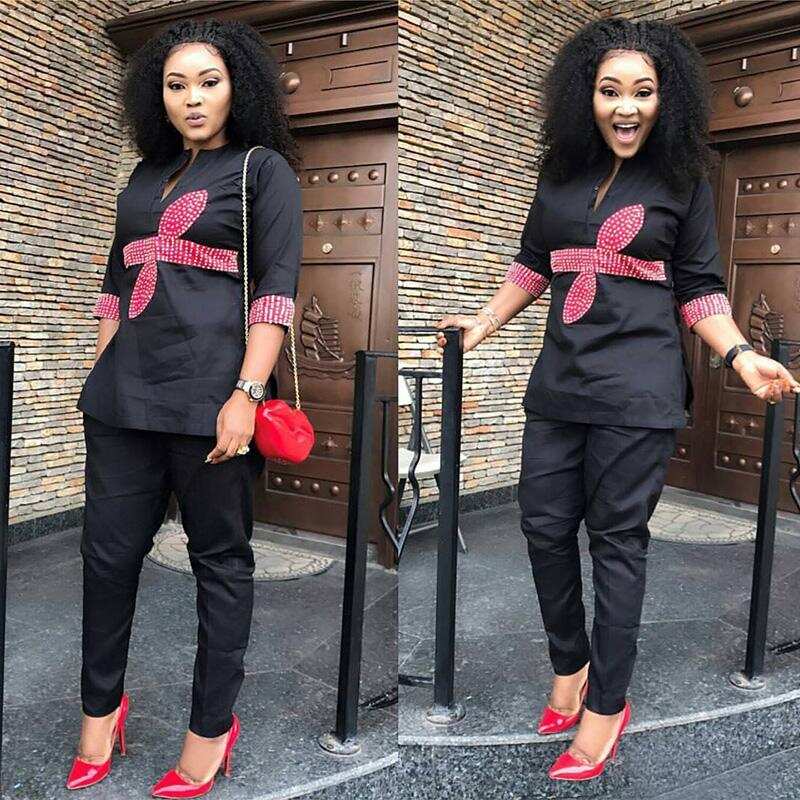 Photo: owame.com
Sometimes you just cannot avoid that need for pink and rhinestones, so why deprive yourself of them? You can always spice up a very simple look with some vibrant and sparkly elements, if that is something you cannot imagine your life without. In addition to the eye-catching inserts, you can also add some brightly coloured accessories to make your look complete.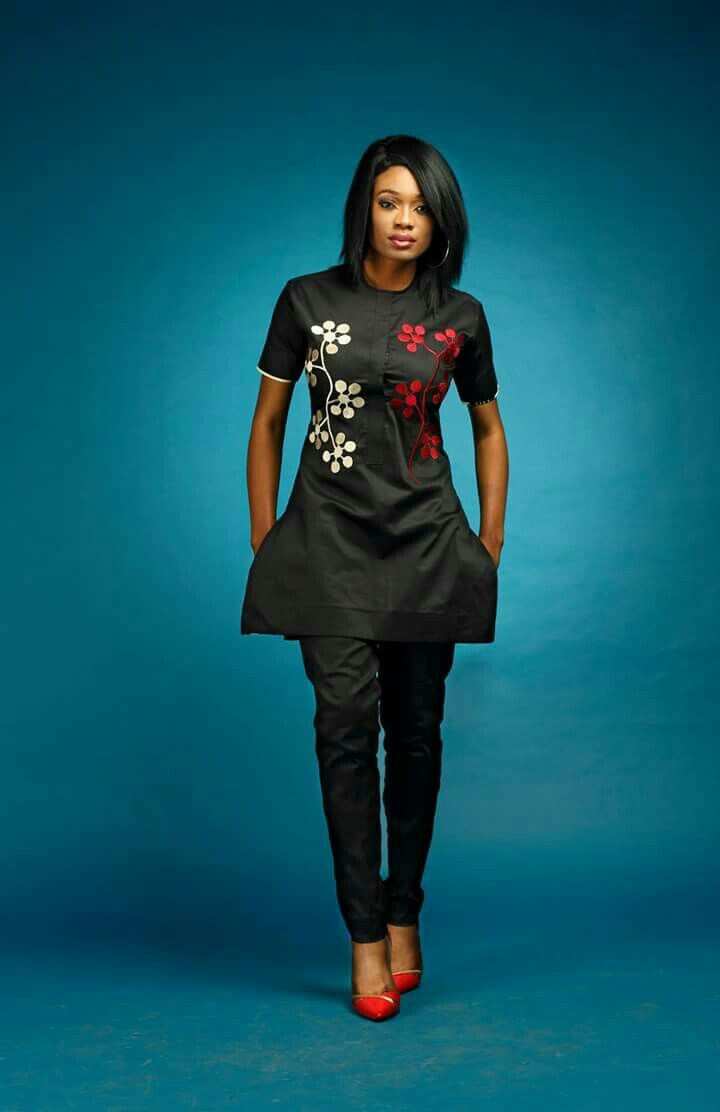 Photo: pinterest.com
If you do not want to wear a boring black ensemble, but shiny things are also not your thing, some tasteful embroidery should do the trick. What could have looked like a very minimalistic and run-of-the-mill look is transformed with some simple decorations. To make it look even better, you can always add a colour accent, such as a vibrant pump.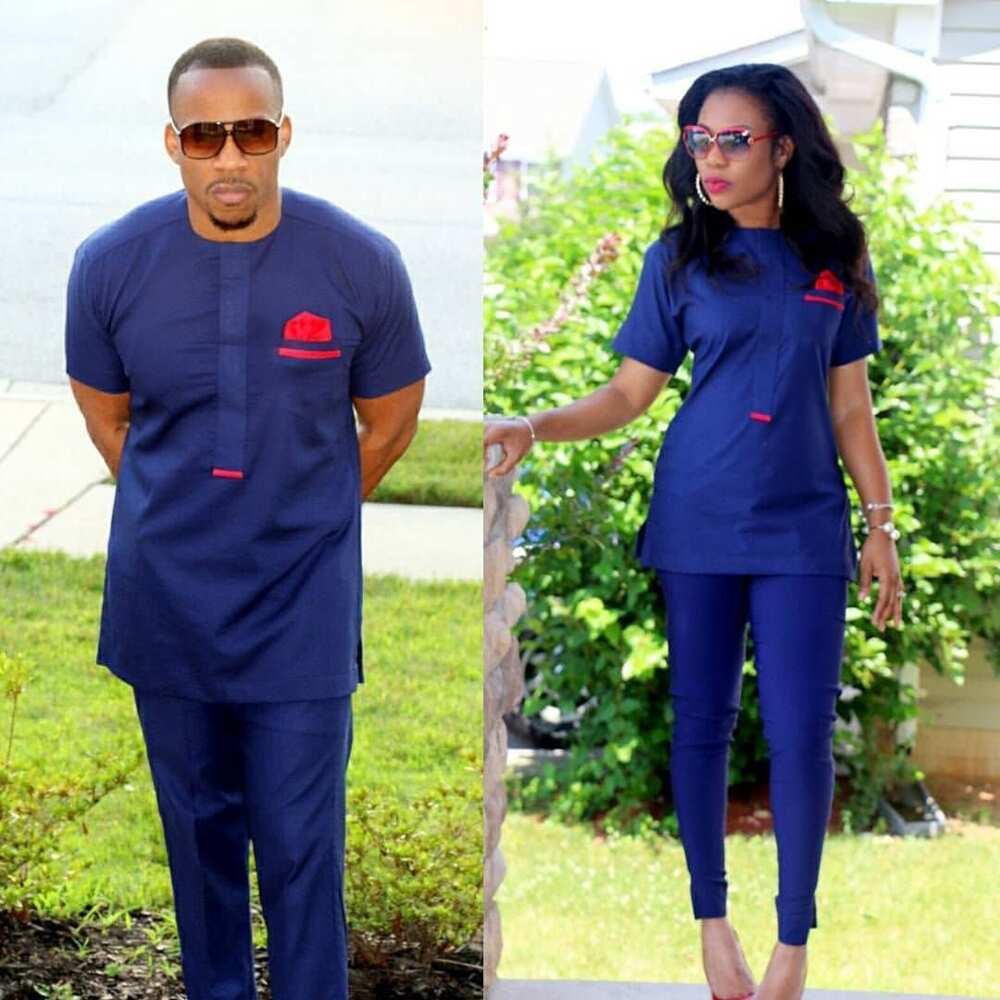 Photo: pinterest.com
READ ALSO: Modern African dress styles to rock in 2018
Matching with your man is always very cute, and the combination of buba and sokoto is absolutely perfect for this. While the outfit obviously sits differently on the man and woman in this photo, it looks great on both of them. You should definitely try to recreate this look with your beau, and you can even hold a contest for who looks the best in their outfit.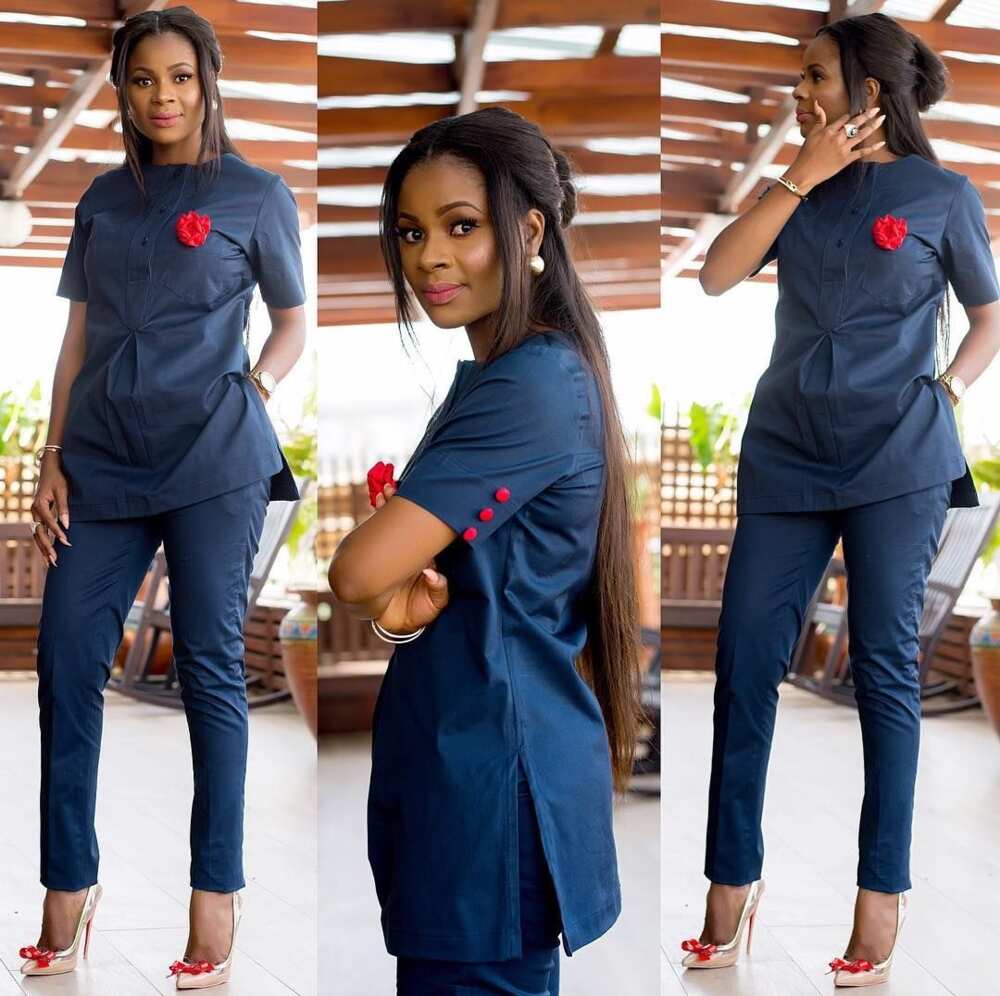 Photo: pinterest.com
In case you have not noticed, we have returned to our blues, as it is truly one of the greatest colours for an outfit like this. Just look at how beautiful are the buba and sokoto on this lady. We absolutely adore the tiny red elements of the look, such as the buttons on the sleeves, or the bows on the shoes. Even though it is not very fitted to the body, it still looks very elegant and feminine thanks to those little touches.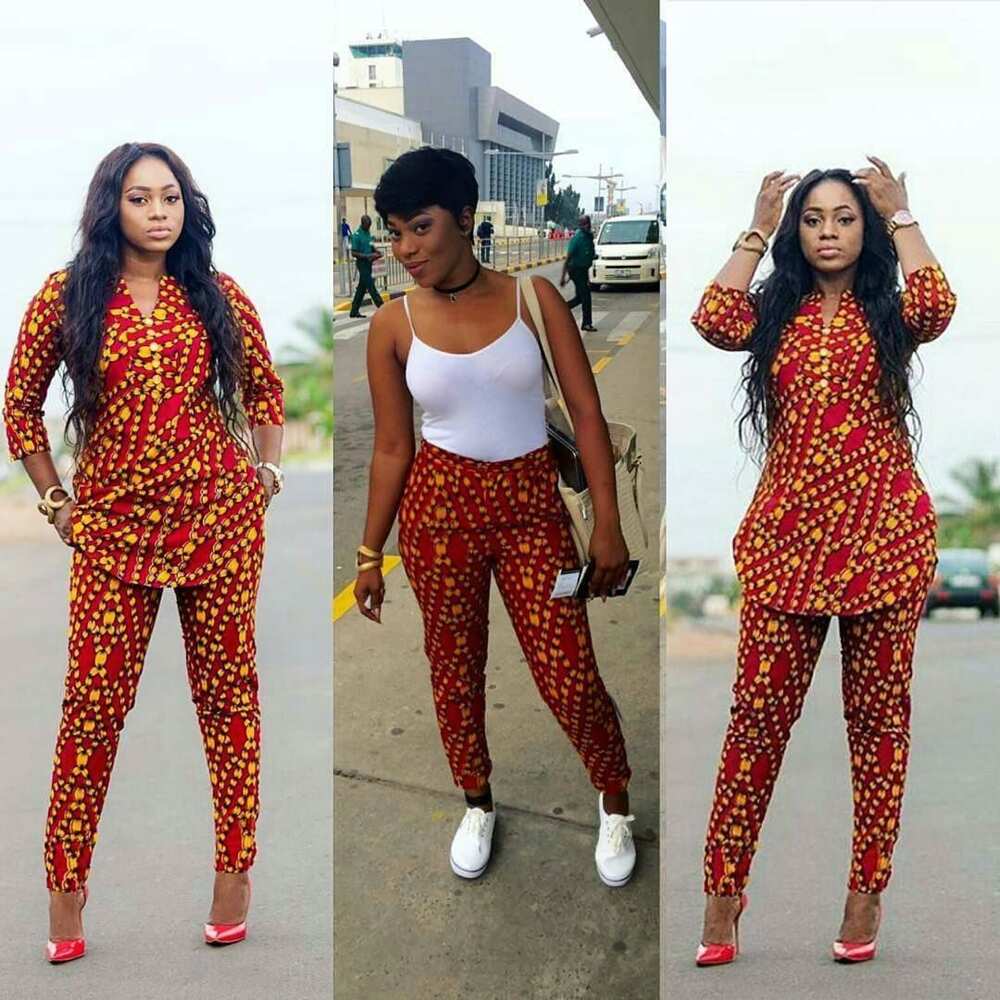 Photo: pinterest.com
At the end, we want to offer you an option of how you can make your look versatile. You can, of course, wear buba and sokoto regularly, but you can also pair them with other clothes. For instance, here you can see how you can use the pants and create a whole new look around them. You can also pair the top with some monochrome pants, whatever floats your boat.
Those were all the feminine buba and sokoto designs we had for you today. Which ones did you like best? Would you consider wearing something like this? Do you already own buba and sokoto and wear it on a regular basis? Let us know in the comments.
READ ALSO: Female native wears in 2018 for real fashionistas
Source: Legit.ng