Nigerian people are known for having beautiful clothing, and Idoma traditional attire is among the most appealing wears in the country. Learn more about the Idoma mode of dressing, including the meaning and importance behind the colours.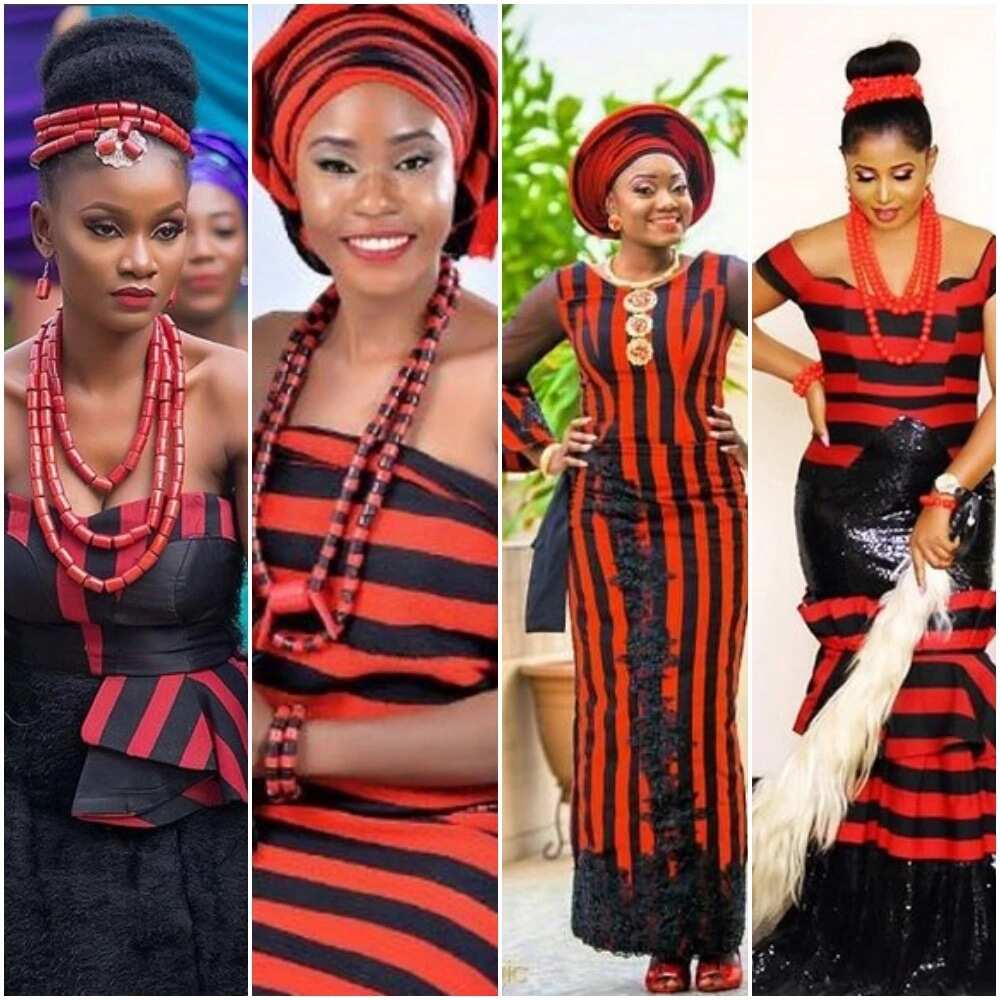 Photo: idomavoice.com
Who are the Idoma people and what do they wear?
In case you do not know, Idoma people are the second largest ethnic group of Benue State, and there are around 2.5 million living in seven LGAs across the state, including Agatu, Apa, Ohimini, Otukpo, Okpokwu, Ogbadibo and Ado. They can also be found in Cross River and Nassarawa states.
While there are certain differences in Idoma culture and dialect in different parts of the country, there is something that is the same for all the people, and that is the colour scheme of traditional clothing. While it only has been around since the 1980s, it is an important part of this ethnic group's identity. Idoma attire is known for being black and red, and both colours have special meaning.
The black in Idoma clothing (also known as Apa or Edema) represents earth and burial shroud. Red represents royalty or red feather. The same red feather can often be seen atop the head of the traditional Idoma leader.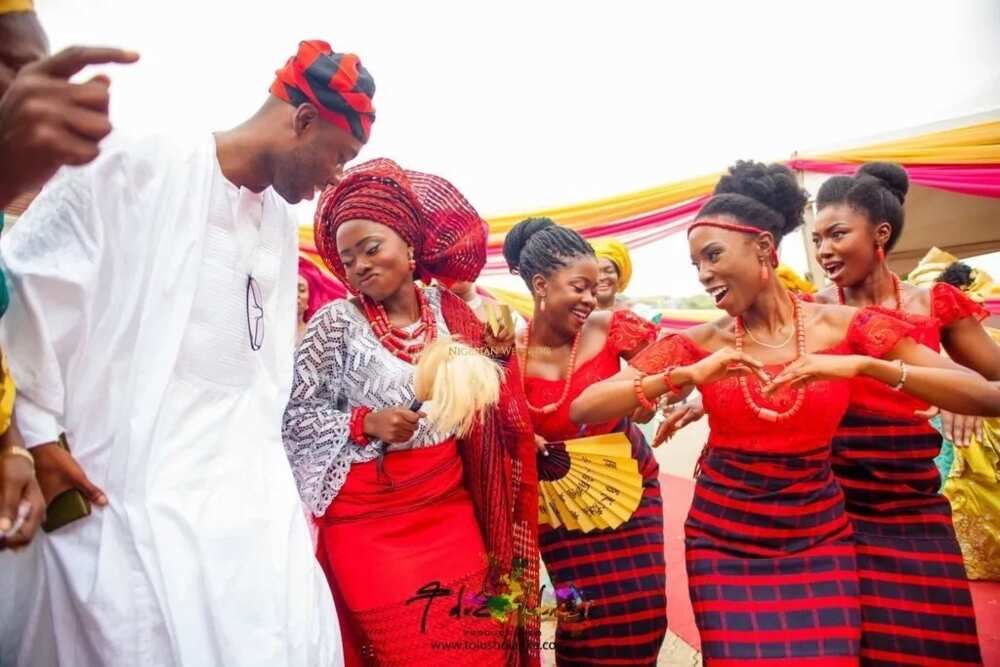 Photo: nigerianweddingblog.com
READ ALSO: Igbo cultural dressing
These days, Idoma people tend to wear their traditional attire mostly to special events, such as local meetings, festivals, weddings and burial ceremonies. As a matter of fact, the burial wears have their own name, Opa, where the black represents mourning and the red represents respect for the dead.
As for the local meetings, traditional attire is a must, where men have to wear caps and mufflers and women have to wear head gear. Those who do not wear their traditional garbs could face fines or even penalisation.
While the colours are very important for Idoma people, the rules are not exactly strict for the way you should wear them on a daily basis. You can wear black and red mufflers, caps, kaftans, blouses, skirts, gowns, wrappers or even use the colours in decorations for festivities. As long as you see some red and black, you will easily recognise Idoma people.
Gallery of Idoma cultural dress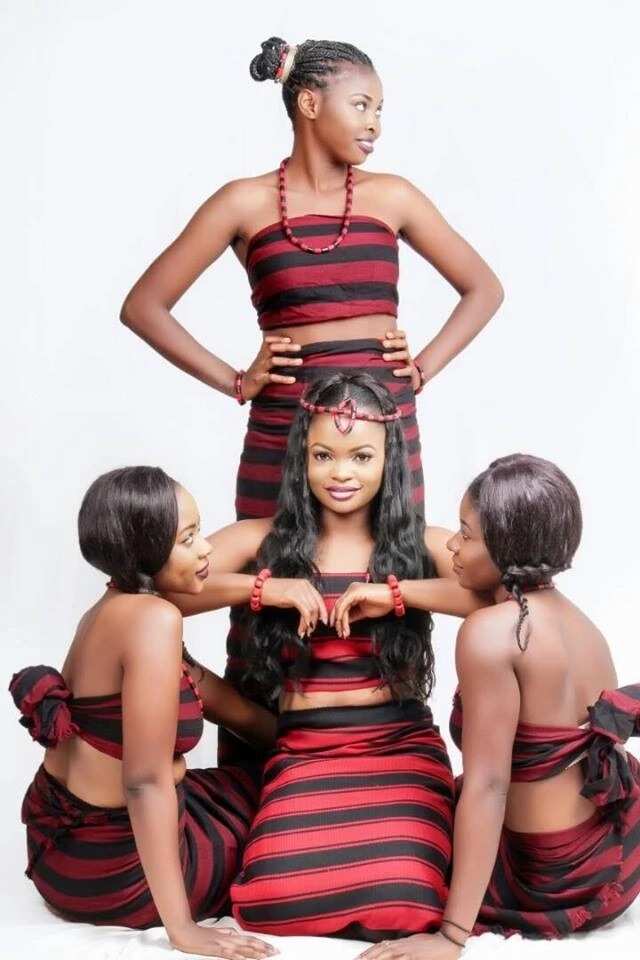 Photo: commons.wikimedia.org
READ ALSO: Igala traditional attire
Now that we have told you a little about the clothes, colours and their significance, let's take a look at some beautiful people wearing their Idoma attire. Here is our little gallery of traditional clothes of this ethnic group: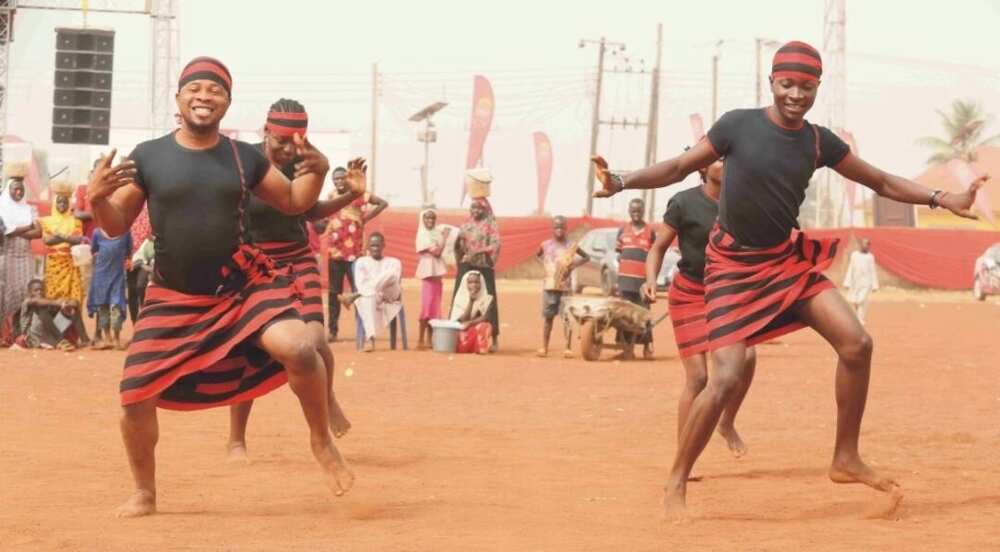 Photo: dailypost.ng
This is a group of young people in their Idoma wrappers and head wraps that are most likely performing the traditional Ogirinya dance, where one has to rapidly jump on their toes. They sure seem to be having a lot of fun there!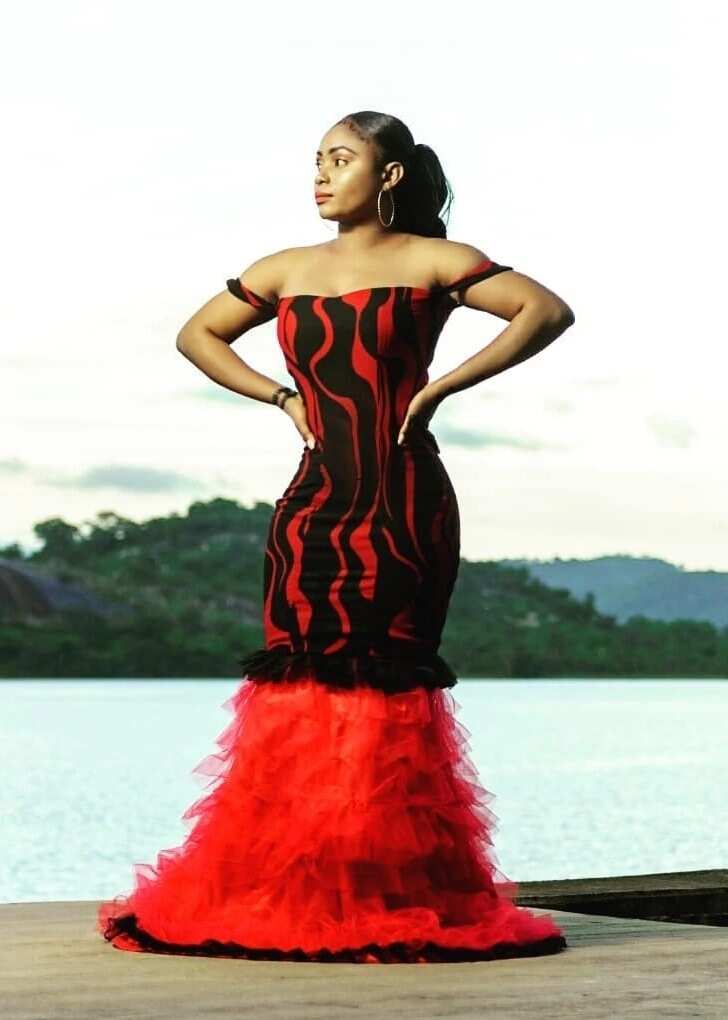 Photo: deskgram.net
Idoma colours are often incorporated into modern wears, such as the gown in the picture above. While it looks very contemporary and new, it still has that distinct colour scheme that points to the origins of the person wearing it.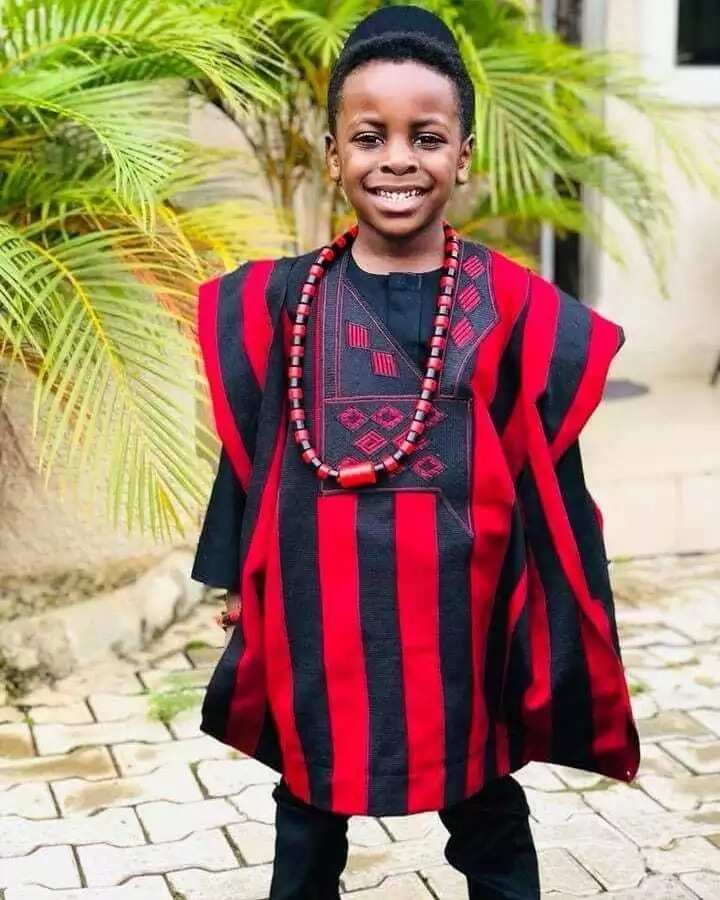 Photo: haip.club
Here is an adorable little gentleman in his black-and-red agbada looking dapper. His outfit is completed with similarly coloured bracelet and necklace that match the clothes perfectly, along with the little black hat.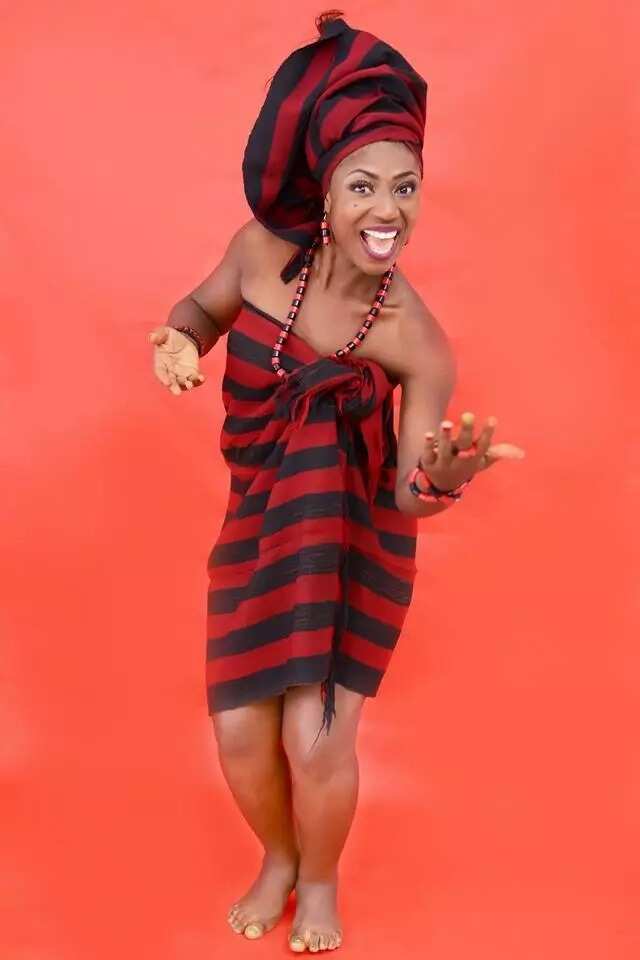 Photo: idomavoice.com
The woman in this photo is wearing her Idoma colours in a more traditional way: a simple length of striped fabric secured around her body with a matching gele and accessories. She looks very happy about it, too!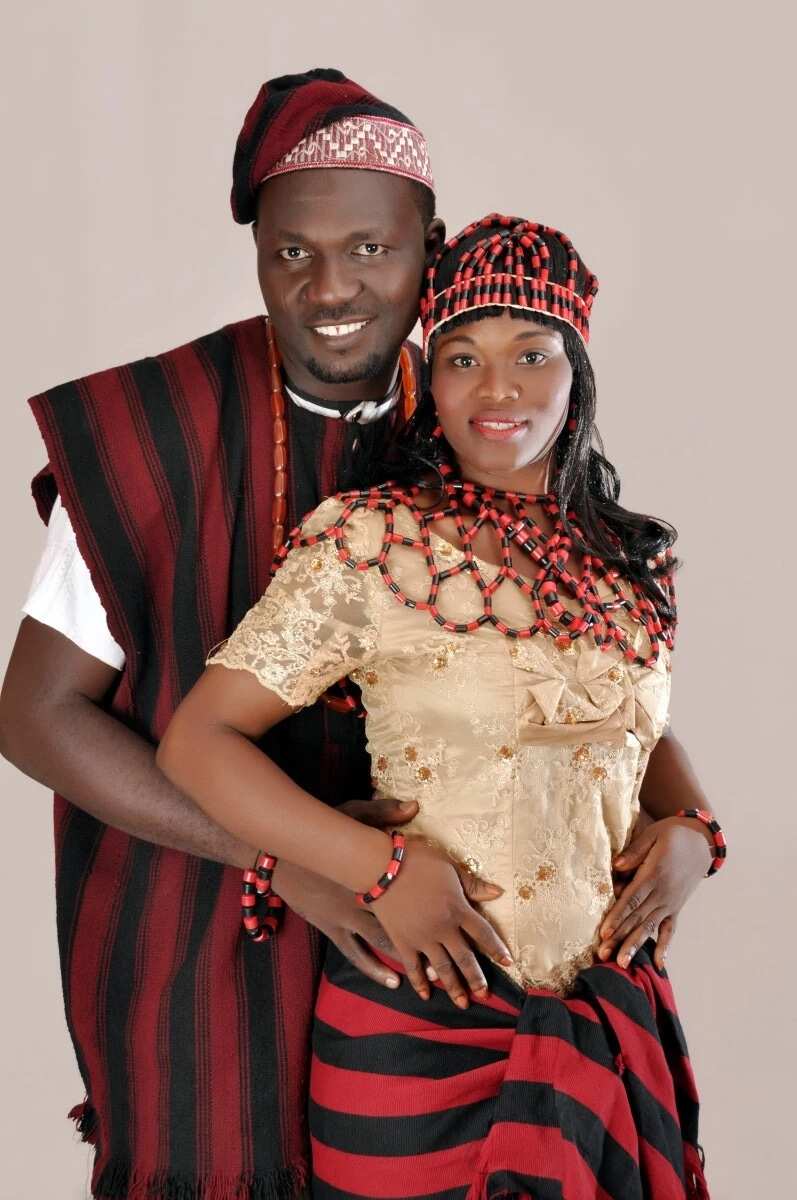 Photo: lesjayblog.wordpress.com
As we have mentioned before, traditional Idoma attire is often worn to such important events as weddings, and here is a perfect illustration for that. Both bride and groom are representing their people with their black-and-read wears and accessories, and they look gorgeous.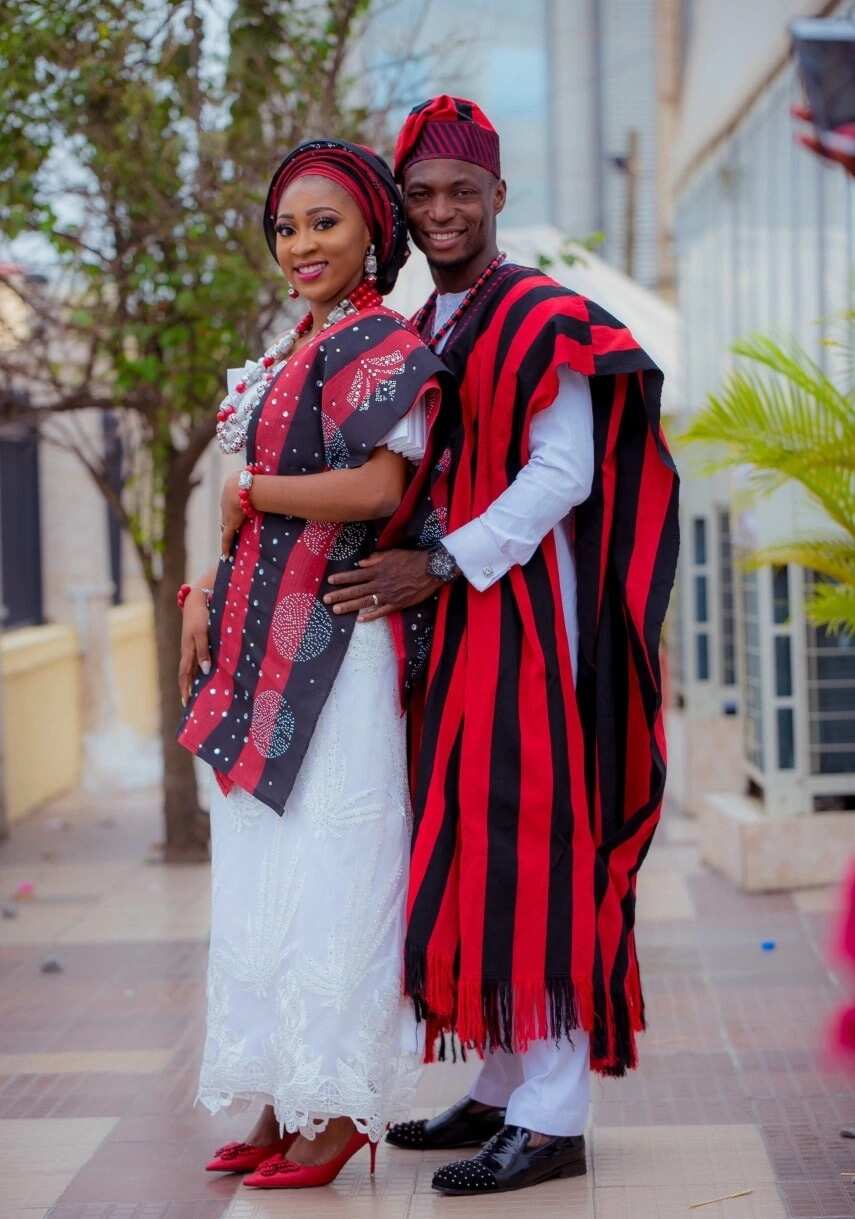 Photo: lindaikejisblog.com
This is another way you can incorporate the colours of your people into your wedding attire. While the dearly beloved are wearing white clothing, they are also draped in their striped shawls and are wearing matching jewellery. It is also very cute how the bride's shoes are red while the groom's are black, creating a perfect ensemble.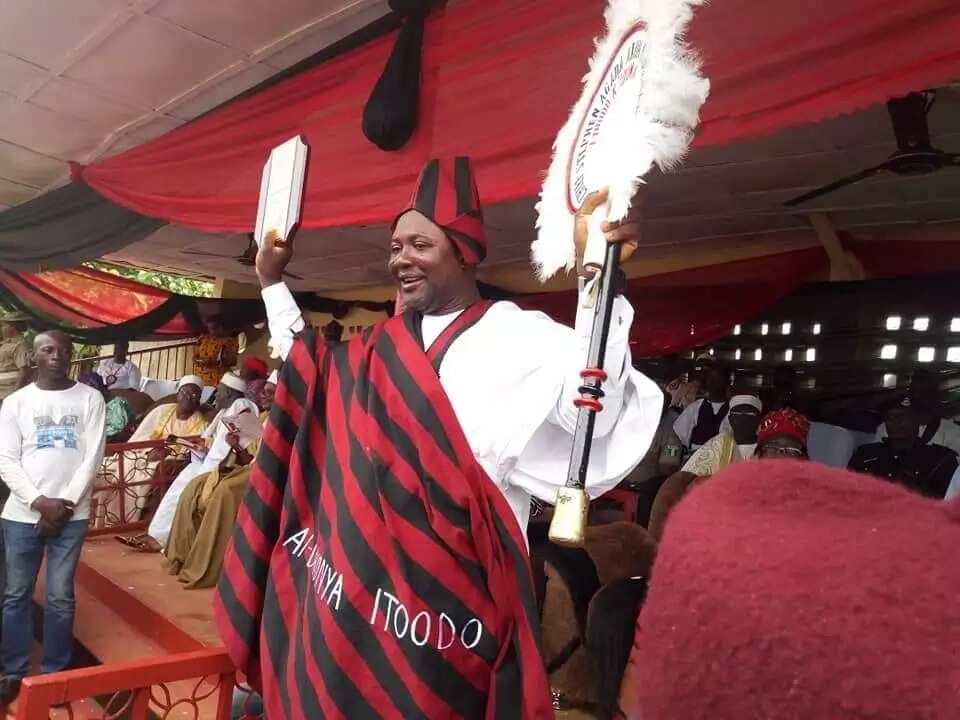 Photo: nnrnews.com
READ ALSO: Igbo culture clothing and traditional styles
In this photo, you can see Chief Stephen Agada Akor receiving his chieftaincy title. In fact, he is actually the youngest Idoma person to receive this title in the history of Idoma Land and Otukpa in particular. Good for him!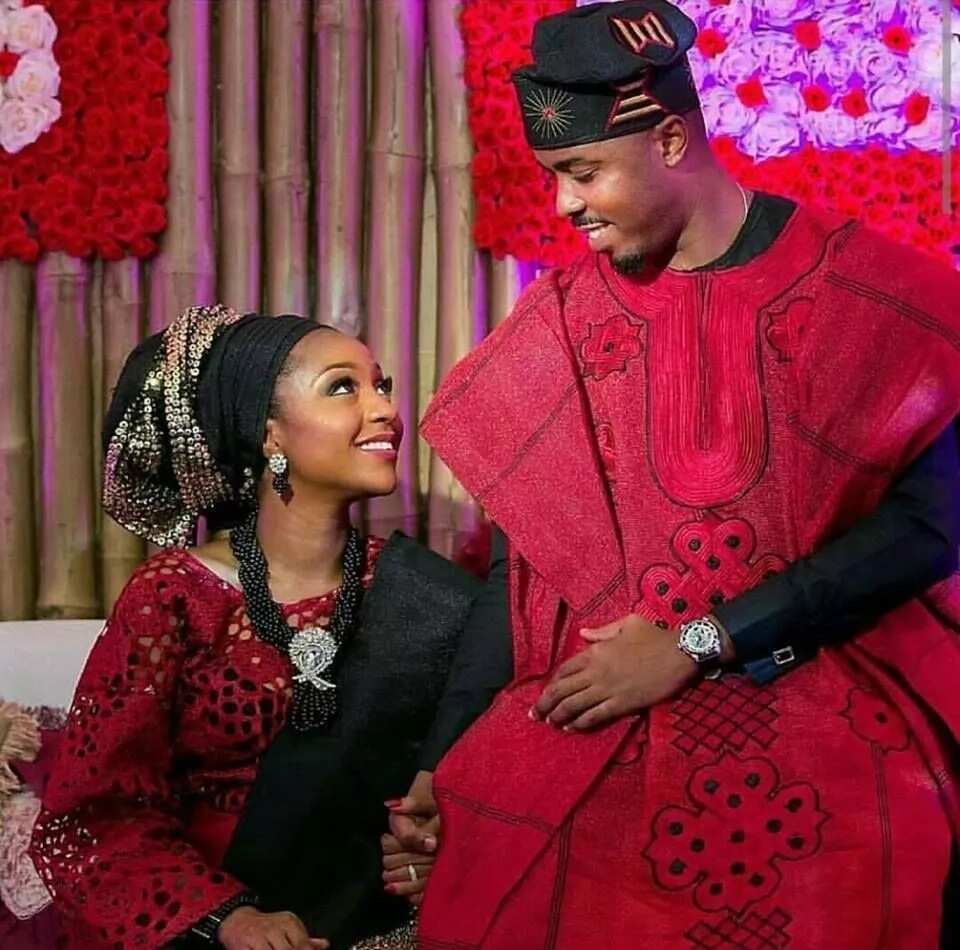 Photo: pinterest.com
While Idoma people usually wear striped black and red clothing, some might not be into it. That said, if they still want to pay respects to their culture, they can simply go for tasteful attire made in the traditional colour scheme.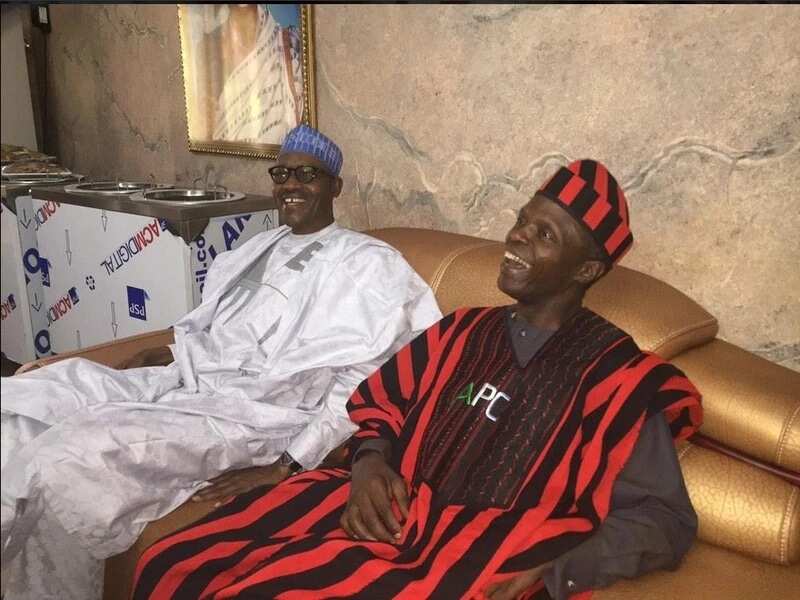 Photo: talkparlour.com
Here is a smiling President Buhari sitting next to an equally elated Vice-President Osinbajo. The latter is dressed up in traditional Idoma clothes.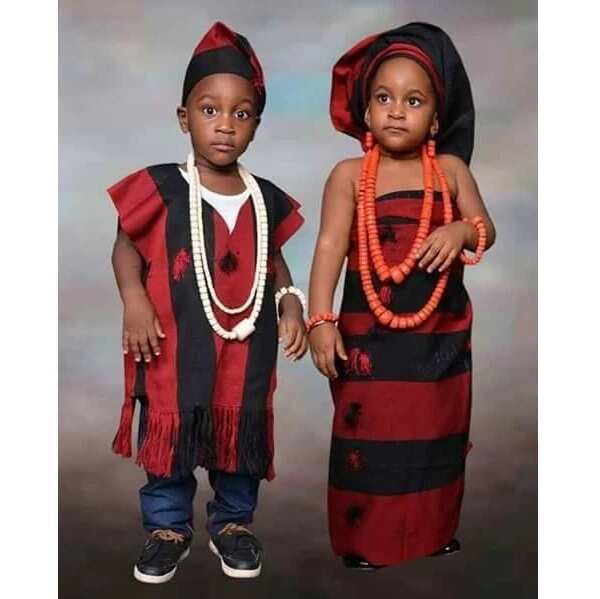 Photo: wikiwand.com
Last but definitely not least is this cute pair of kids wearing their traditional Idoma wears. Both of them look very fashionable and ready to hit the runway, or to be guests at someone's wedding. Either way, it is always a good idea to introduce your children to the tradition of your people from young age.
And there you have it, a brief overview of traditional clothing of Idoma people. We hope you have been able to learn something new about the culture of over 2.5 million Nigerians.
READ ALSO: List of languages in Nigeria and their states
Source: Legit.ng