Ethnic groups in Nigeria and their mode of dressing
Let's talk about ethnic groups in Nigeria and their mode of dressing. You will not believe just how diverse all the different traditional clothes are, and all of them belong to different parts of our one beautiful nation. If you are just as interested as we are in customary wears of various peoples in Nigeria, then you will definitely enjoy this article.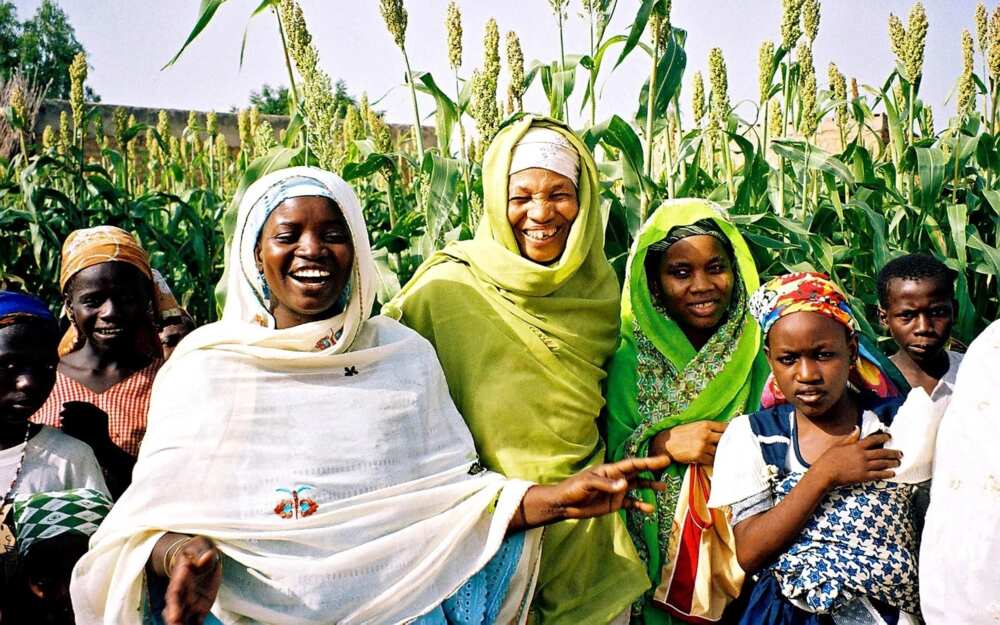 Photo: bitcoinist.com
Ethnic groups of Nigeria
It is quite amazing how many ethnic groups in Nigeria there are, and each of them has its own history, culture and, of course, style. That said, as there are dozens (if not hundreds) of peoples who live in Nigeria, it would most likely be impossible to talk about all of them in detail.
For that reason, we have decided to focus only on the major ethnic groups in Nigeria and their traditional wears. That way, you will be able to learn more about at least some of the people rather than too little about too many.
WithouT further ado, let's jump into the fashion of ethnic groups in Nigeria and their culture.
Edo people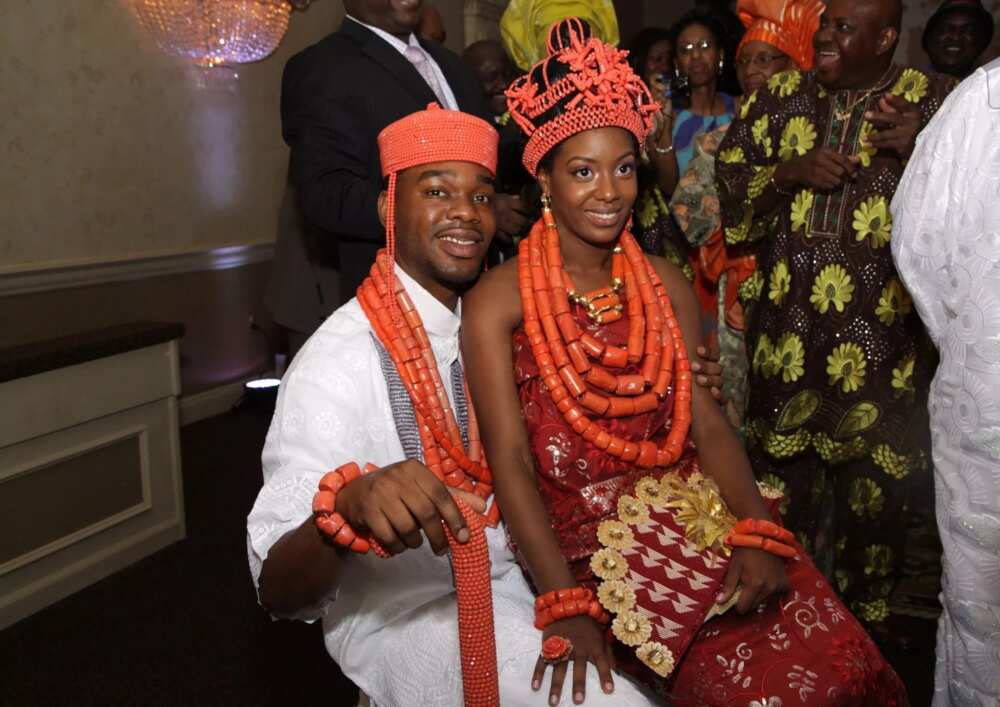 Photo: pinterest.com
READ ALSO: Edo traditional wedding attire
The Edo people (Binis, Esan, Afemais and other tribes that live in Edo State) are known for their flashy and colourful wears. Edo men wear flowing attire made with voile, Ankara, lace, Guinea or Jacquard, along with trousers or white wrappers and loose shirts. They also tend to accessorize their looks with walking sticks and embroidered caps.
Edo women usually adorn their gowns or wrappers with jewellery made of coral beads. That said, men are also often seen wearing corals, especially for special events. The beads are meant to symbolise freedom and royalty.
Urhobo/Isoko people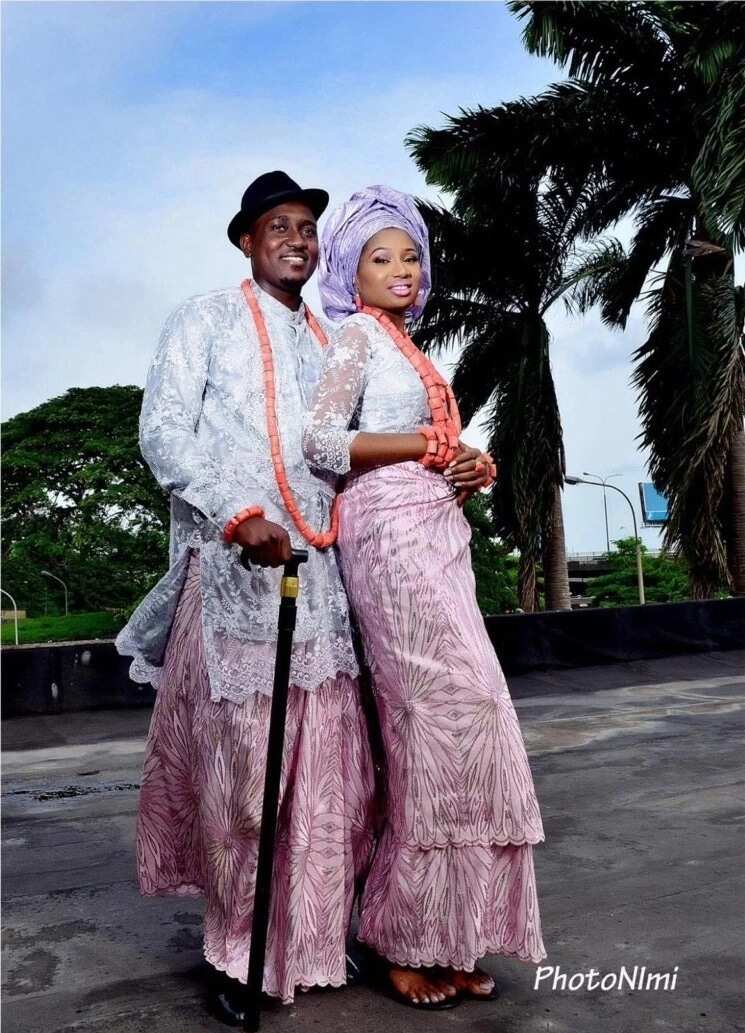 Photo: photonimi.com
These people are the predominant tribe in Delta State, particularly in its central and south regions. While Urhobo and Isoko are different peoples, they are often grouped together because of the similarities in their cultures and languages.
As for the way they dress, Urhobo/Isoko men usually wear white lace shirts (or sometimes other pastel shades), Georgian wrappers and black cowboy hats, and they carry walking sticks. Ladies can be seen wearing two wrappers made out of the same material as the men's, along with a head tie and a blouse. Both genders tend to accessorize their looks with coral bracelets and necklaces.
Yoruba people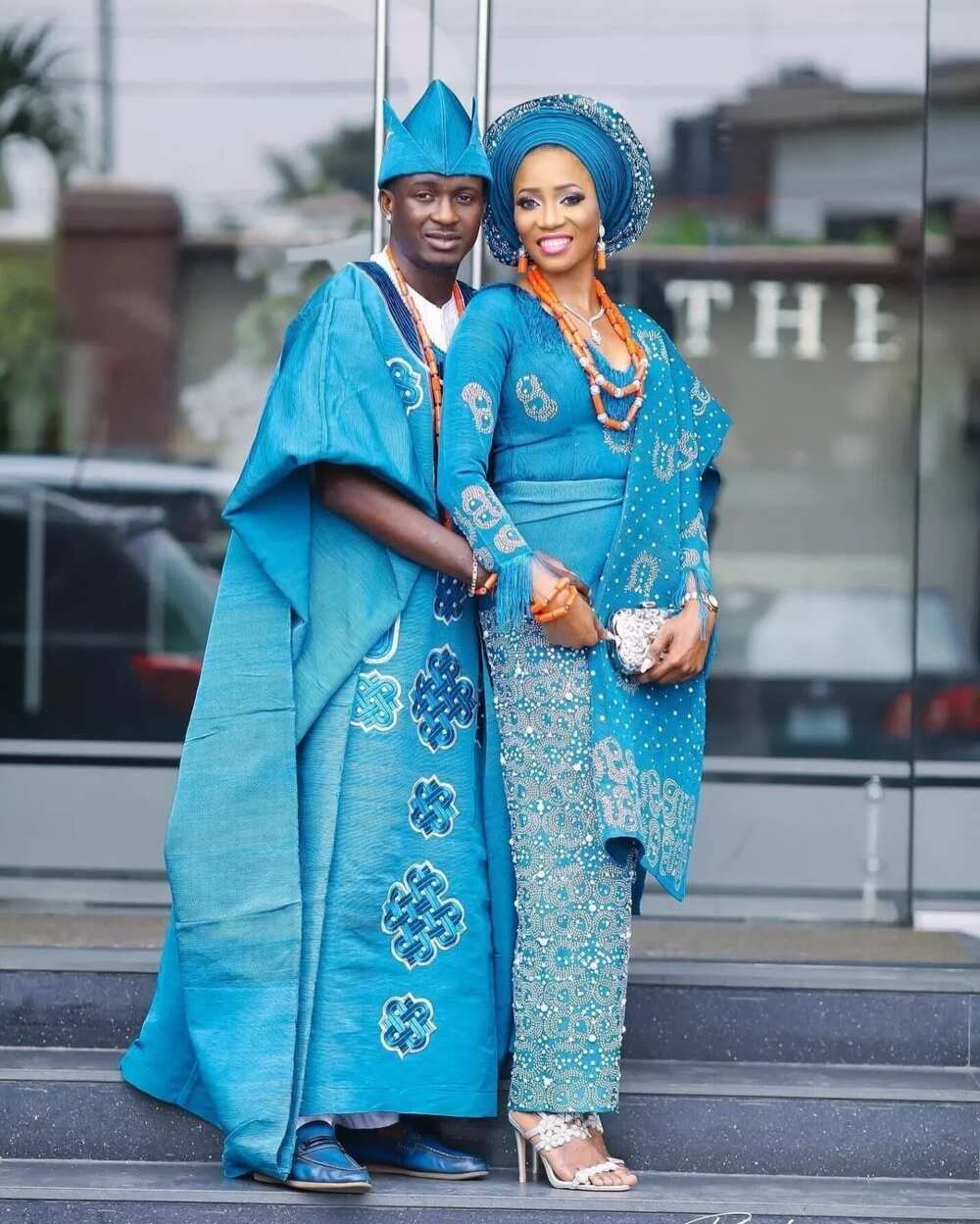 Photo: pinterest.com
As this is one of the three major tribes in Nigeria, chances are, you already know what Yoruba people wear, but if you need a refresher, we would gladly give you one. Yoruba men usually wear a Sokoto and a Buba or an Agbada, along with Fila (traditional cap).
Yoruba women wear Iro and Buba (wrapper and a top), along with a Gele (head wrap) on their heads and Ipele (sash) over the shoulder. Usually, the Ipele and Gele are made out of matching fabrics; some of the time, the wrapper also matches, while the top can be a completely different colour.
Igbo people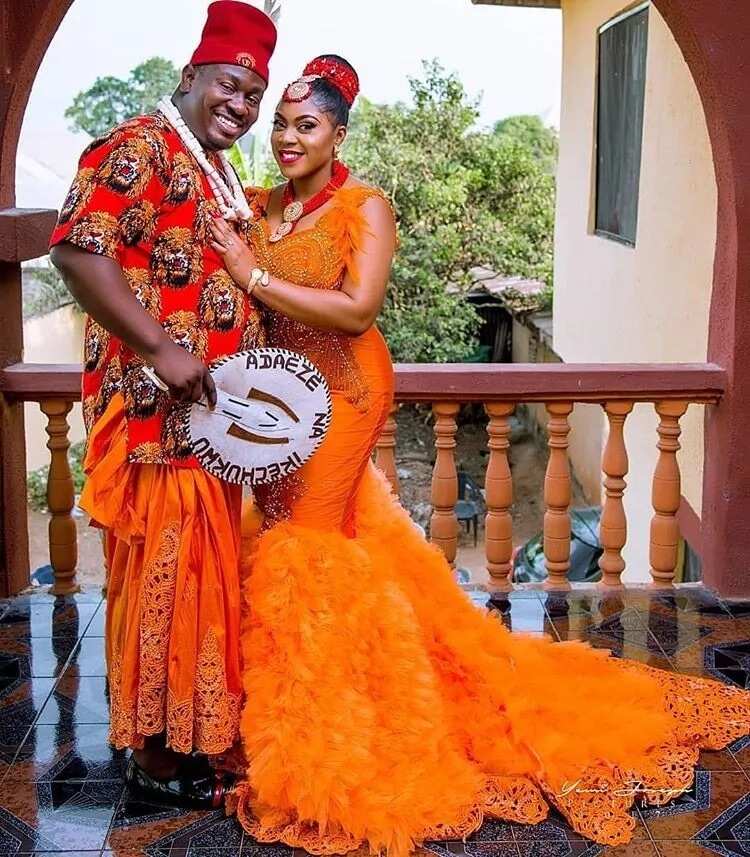 Photo: piccorn.net
READ ALSO: Igbo traditional dress styles
Once again, we are talking about another major Nigerian tribe, but it is still important to note what the Igbo people traditionally wear. Igbo men wear Isiagu (a shirt with large lion heads, crowns or other symbols) or a long shirt, wide-legged pants or wrappers, as well as caps (for example a leopard had called Okpu Agwu or a fez) and corals.
The clothes of Igbo women is very similar to those of the Edo women, as the main attraction of their outfits is the abundance of coral. The clothes usually consist of a blouse and skirt or a dress. If we are talking about a special event, such as a wedding, the women can also be seen carrying horse tails.
Hausa/Kanuri/Fulani people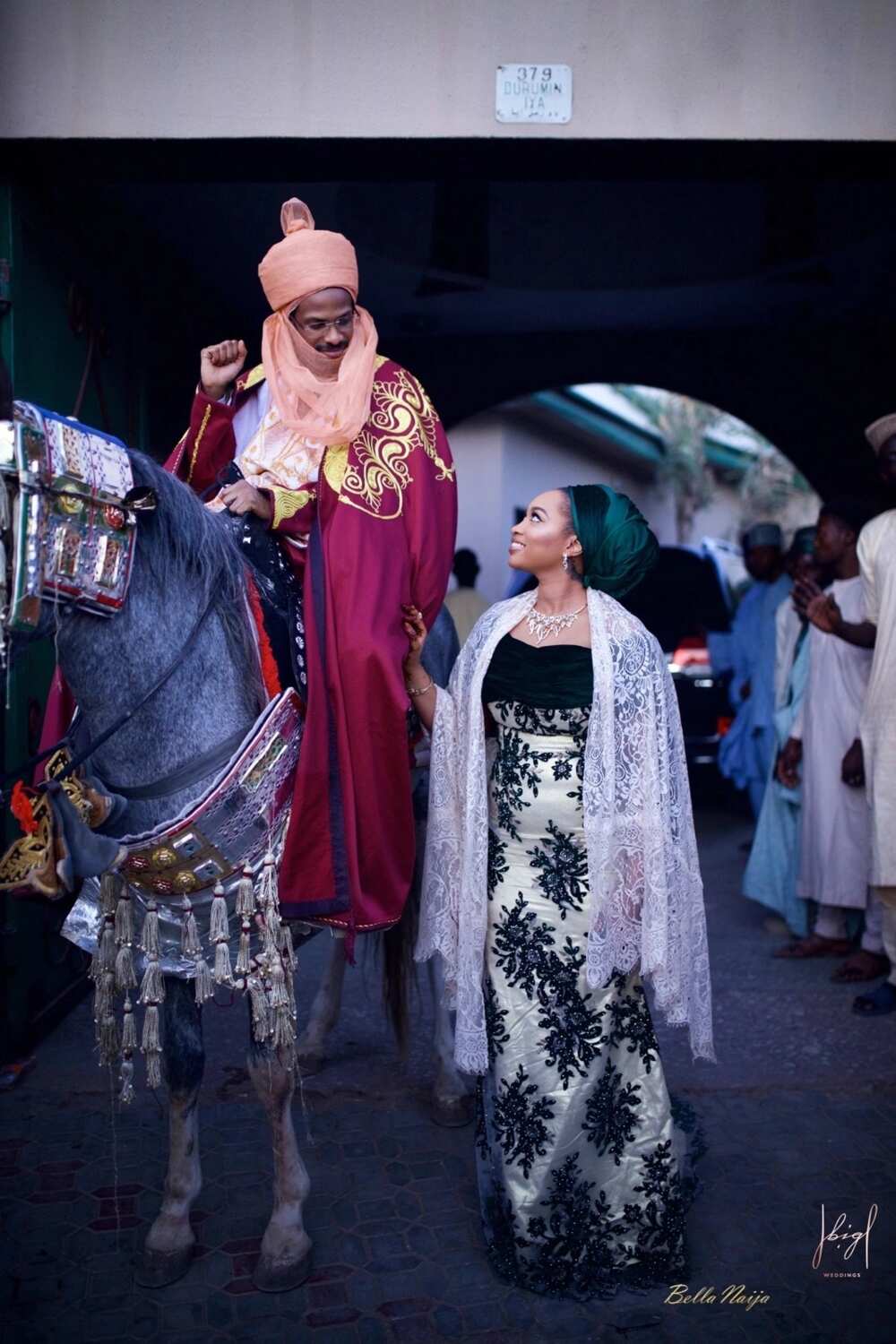 Photo: bellanaija.com
These people have traditionally occupied the north of Nigeria, and their culture and clothing share a lot of similarities, which is why we have grouped them together. Hausa/Fulani men traditionally wear large flowing gowns called Babban riga with robes by the name of juanni and jalabia. These clothes usually have elaborate embroidery around the neck. Men also wear either Tuareg-style turbans or embroidered caps (hula).
As for women, they traditionally wear zani (wrappers) that are made out of colourful cloth called atampa, along with matching blouses, head ties and shawls. They can also be seen with beautiful body paint ornaments. In everyday life, they can wear embroidered blouses and wrappers and sport some face marks and traditional jewellery.
Efik/Ibibio/Annang/Oron/Eket people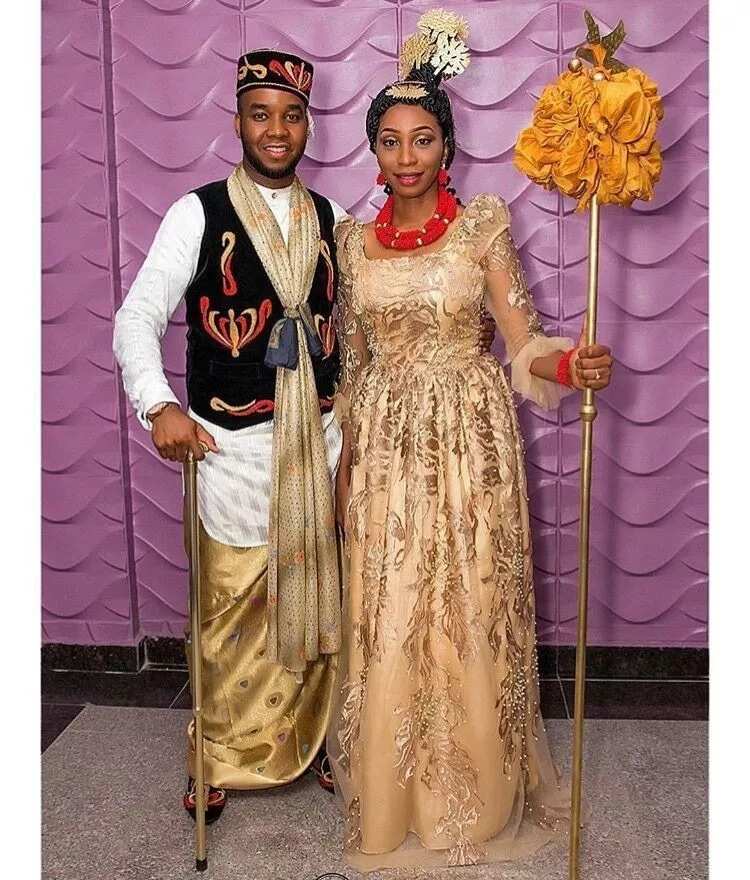 Photo: pinterest.com
READ ALSO: Names of Efik traditional attire
Here we have another big group of tribes who share similarities in their traditional attire. You can find these people in the south of the country. While the clothes they wear are quite similar those of the Igbo people, they still have a very unique and distinct look.
Men often wear long wrappers with long shirts that reach the middle of the thigh, along with beads and caps, and they carry walking sticks. Women wear Ofod Ukod Anwang or Onyonyo, or, if it is something like a wedding, they can wear both. The first outfit consists of a short top and wrapper with some traditional accessories for the arms and legs, while the second is a gown accompanied by large golden hair accessories.
Tiv people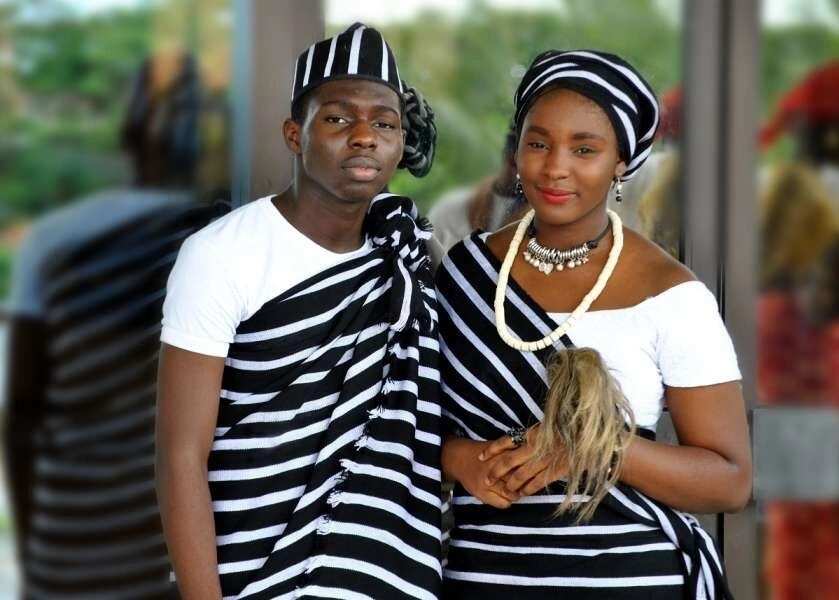 Photo: pulse.ng
The last tribe we want to mention is the Tiv people, whose traditional clothes are among the most fascinating we have ever seen. Both men and women can be seen wearing striped black and white clothing by the name of Anger. When they moved to the place they currently reside in, they realised that the zebras, whose skin they used to make clothes, was not native to their new home. That was why when they learned how to loom, they chose to honour their heritage by making black and white garments.
While traditionally the striped cloth was meant to be draped around the torso, these days, it has been fashioned into all kinds of clothing, particularly robes and dresses. In order to accessorize, Tiv people wear black and white bead jewellery, and men in particular wear striped hats and sometimes scarves.
While there are still lots of peoples in Nigeria we have not mentioned, most of their clothing is similar to what we have already described. That said, if we have not talked about one of the ethnic groups in Nigeria that is close to your heart, feel free to share your knowledge in the comments. We are certain that people would love to learn more, as we sure would!
READ ALSO: Fashion in Nigerian traditional styles: latest tendencies of 2018
Source: Legit.ng