Top 10 famous Nigerian footballers the country is proud of
With about 190 million people, Nigeria is not only one of the most populous countries on the planet. It also boasts many talented men and women. Let us talk about the most famous Nigerian footballers. How did they make our big country so proud? What are the names of the top 10 male players who make their motherland well known outside the country? What clubs do they play for in 2018?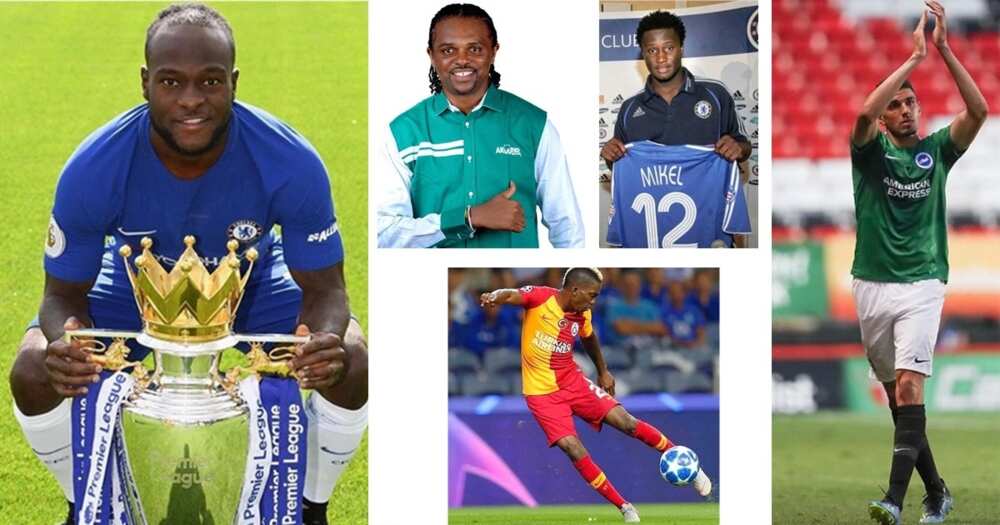 Nigeria players
Not many countries in Europe, Asia, America, and Africa have as many impressive footballers as Nigeria. While thousands of people are in love with football and start to play soccer in the streets, only a few of them get really noticed by popular foreign and African clubs and can develop professionally playing in the most prestigious matches.
Several Nigerians have reached incredible heights playing football. And you should know the names of Nigerian footballers who are successful in England, Turkey, Norway, Italy, Portugal, and other great football clubs across the globe.
Most famous Nigerian footballers: Top 10
Before we list the names of Nigerian footballers who are famous even outside the country, we should mention that football players who originate from Nigeria have been representing us in European tournaments ever since 1949. Thus, the history of Nigerian football abroad is nearly 70 years.
1. Alex Iwobi
READ ALSO: Who is the best footballer in the world in 2018
Born in 1996, this 22-year-old Nigerian footballer plays in the Premier League matches. He is a member of the famous English Arsenal football club. Besides, he plays for his national team.
One of the 10 most famous Nigerian footballers, Alex Iwobi, moved to England when he turned 4 years old. According to infoguideafrica.com, the player's net worth is approximately 5 million U.S. dollars.
2. John Obi Mikel
This successful and famous Nigerian football player originates from Jos. At birth, he was given the name John Michael Nchekwube Obinna, but his fans call him John Obi Mikel.
Obi showed real talent playing soccer when he was 12 years old. Pepsi chose him from several thousand boys to be part of their football team, and this was the start of his incredible career.
He played for Chelsea for several years and made some good money thanks to his high salary. Based on celebritynetworth.com, his net worth is about 25 million U.S. dollars.
John Obi Mikel currently plays for Chinese football club called Tianjin TEDA.
3. Victor Moses
This famous footballer is turning 28 years old on December 12th, 2018. He lost his family when he was only 11 years old. The boy didn't give up. He played football in the streets, and he got help from his relatives when he needed it the most. He moved to the United Kingdom and studied in London.
He did great in school in terms of sports playing for his school team. His talent was noticed, and he finally got a chance to play in the Premier League clubs such as Liverpool and Chelsea. According to finapp.co.in, Victor's current net worth is nearly 23 million U.S. dollars.
4. Leon Balogun
READ ALSO: Top 10 finest footballers in the world
This 30-year-old footballer was born in Berlin (Germany), but his biological father is a Nigerian. Leon is a part of Brighton & Hove Albion team and plays for Premier League (his 2-year contract was signed in the spring). He has played for different clubs, including Hannover 96, Werder Bremen, Fortuna Dusseldorf, Mainz, and others. According to articlebio.com, Leon's net worth is approximately 3 million U.S. dollars.
5. Kelechi Iheanacho
This player is also one of the famous Nigerian footballers. His full name is Kelechi Promise Iheanacho. He was born 22 years ago in Imo.
Kelechi demonstrated his talent in football ever since he was young. He played for his academy squad and represented Nigeria in the FIFA World Cup in 2013 (U-17). That year our country played against Mexico and get our 4th title.
Kelechi's game attracted famous clubs, and he finally became a part of Manchester City team in 2014. These days Iheanacho plays for Leicester City, but he also plays for Nigeria as a part of the national squad. According to lailasnews.com, Kelechi's net worth is approximately 2 million U.S. dollars.
6. Peter Etebo
This famous Nigerian football player was born in Lagos and started playing soccer professionally in 2012. That year he became a member of Warri Wolves. He played for this squad for 3 years and got a chance to grow further.
Peter's career is interesting and fast. He was noticed by Portuguese professionals and joined Feirense club in 2016, and later he moved to Stoke City where he plays now in the Premier League.
According to playerswiki.com, Peter's net worth is around 1 million U.S. dollars.
7. Wilfred Ndidi
This 21-year-old man is one of the top popular Nigeria players. He was born in Lagos in 1996.
The boy who loved football a lot started his professional career in his motherland. He played for Nigeria U20 team and moved to Belgian team Genk in 2015.
Two years later, in 2017, Wilfred Ndidi officially joined Leicester City team and now he plays in the Premier League. This makes him not only famous outside his home country but also makes millions of Nigerians proud of their fellow citizen.
According to playerswiki.com, his net worth is about 1 million U.S. dollars.
8. Kanu Nwankwo
READ ALSO: Who is the richest footballer in Africa in 2018?
Even though Kanu is a retired football player, he still makes Nigerians proud of him. He is a true soccer legend who is now 42 years old.
Kanu was born in Imo State and played as a forward since the 1990's. His professional career started at Federation Works team in Nigeria. He later played for many different Nigerian squads and international clubs such as Inter Milan, Portsmouth, and Arsenal.
He won the African Footballer in 1996. According to celebritynetworth.com, Kanu has a net worth of about 9 million U.S. dollars.
9. Henry Onyekuru
This 21-year-old footballer who was born in Onitsha in 1997 and started his professional football career in 2010 is already famous even outside Nigeria.
Henry is a part of Galatasaray team and plays for Everton Premier League squad on loan. Henry Chukwuemeka Onyekuru is a promising young star who is believed to earn about 16 million Naira per week as a part of the Everton team, according to vanguardngr.com.
10. Ahmed Musa
Who doesn't know this 26-year-old footballer born in Jos? He is a well-known professional Nigeria football player who represents Al-Nassr team (Saudi Arabia) and also plays for the Nigeria national squad.
He is best recognized by millions of his countrymen for scoring several times in FIFA World Cup competition in 2014. He is the first Nigerian player to achieve such impressive results and proved to be a real professional in the field.
Ahmed's incredible career began in the GBS Football Academy, but he later moved to JUTH and Kano Pillars Nigerian football clubs making himself a name in the world of football. His impressive goals made him noticed by international clubs.
Ahmed Musa played for VVV-Venlo (Dutch squad), CSKA Moscow (Russian team) and Leicester City (English club). In 2018, he joined Al-Nassr team, and this deal is believed to cost over 25 million British Pound, according to vanguardngr.com. The contract is for 4 years. According to lailasnews.com, Musa's net worth is about 18 million U.S. dollars.
While we listed only 10 famous Nigerian footballers, there are many more wonderful soccer players who were born in Nigeria and play for our country or represent international clubs at an impressive level.
Nigerians, you can be proud of our successful compatriots!
READ ALSO: Who is the richest footballer in the world?
Source: Legit.ng