Nyesom Wike's biography and career
Rivers State Governor Nyesom Wike is a famous lawyer and a politician in Nigerian. He is the sixth governor of the State and has held the post since the 2015 general elections in the country. His biography provides more details about who he is.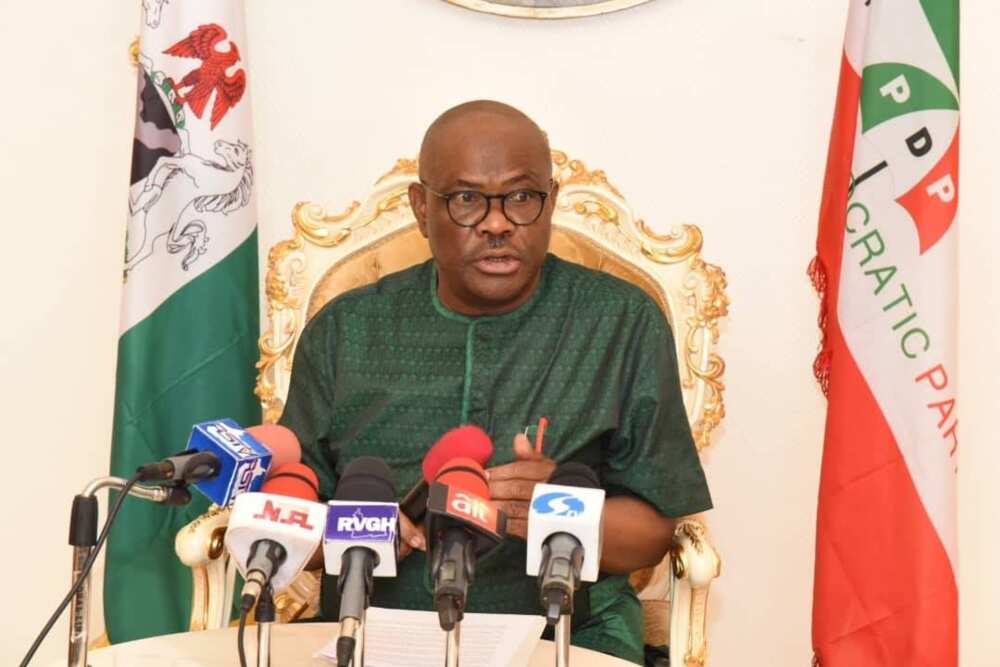 The ebullient politician has always believed that Rivers and other oil-producing states within the country ought to get more attention from Abuja (the country's capital city). This observation has worked well for politics' sake and the loyalty of his regional peers. He has been able to achieve a lot in his capacity as a politician.
Profile summary
Full name: Ezenwo Nyesom Wike
Date of birth: December 13th, 1963
Zodiac sign: Sagittarius
Place of birth: Rumuepirikom, Obio-Akpor, Nigeria
State: Rivers State
Nationality: Nigerian
Ethnicity: Black
Gender: Male
Occupation: Politician, lawyer
Political party: People's Democratic Party (PDP)
Nyesom Wike biography
Governor Nyesom Ezenwo Wike was born on December 13th, 1963, Rumuepirikom, Obio-Akpor, Rivers State, Nigeria. He is the son of Reverend Nlemanya Wike.
How old is Governor Nyesom Wike?
The Governor is 57 years as of 2020. He celebrates his birthdays on December 13th, every year.
Educational background
Having been brought up in Rivers State, he attended Government Secondary School Eneka in Obiakpor, Rivers State, where he sat for his O'level exams.
After graduating, he proceeded to the Rivers State University of Science and Technology (RSUT), where he obtained a degree in Law.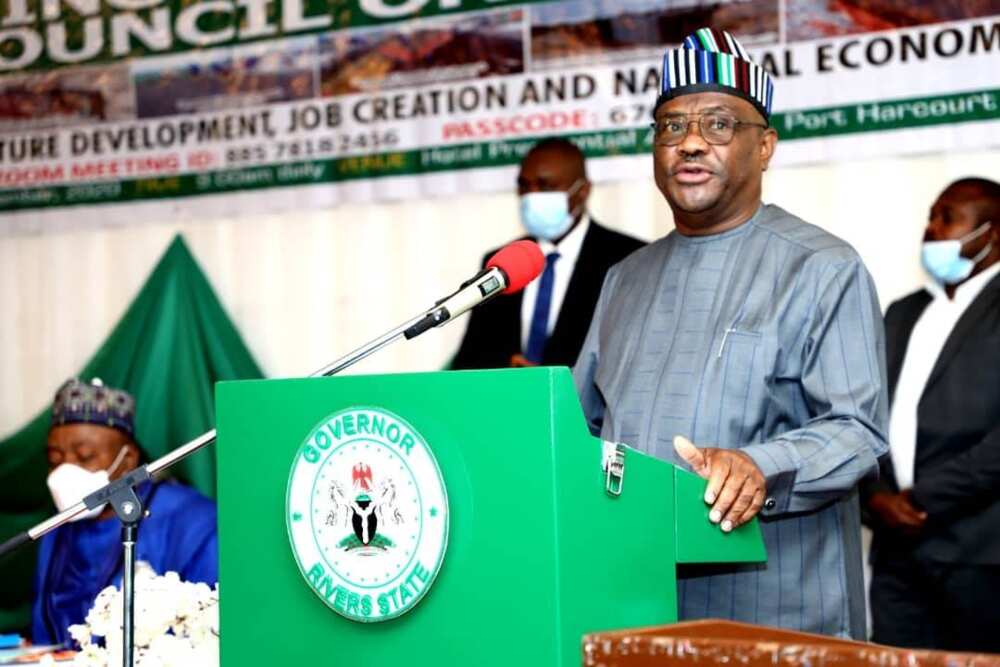 The Governor then joined Nigeria Law School and completed his studies in 1997. He also holds a Masters degree in Political and Administrative Studies from the same university.
His career
After his education, Ezebunwo Nyesom Wike worked briefly in the private legal practice before he ventured into politics. He was elected as the Executive Chairman of Obio/Akpor Local Government Area (LGA) for two terms from 1999 to 2007. He distinguished himself as one of the best performing chairpersons of the council.
While he was in office, Ezebunwo served as Deputy President, Association of Local Governments of Nigeria, ALGON, in 2004 and was later elected the President of ALGON. He was also an African representative in the Commonwealth Local Governments Forum.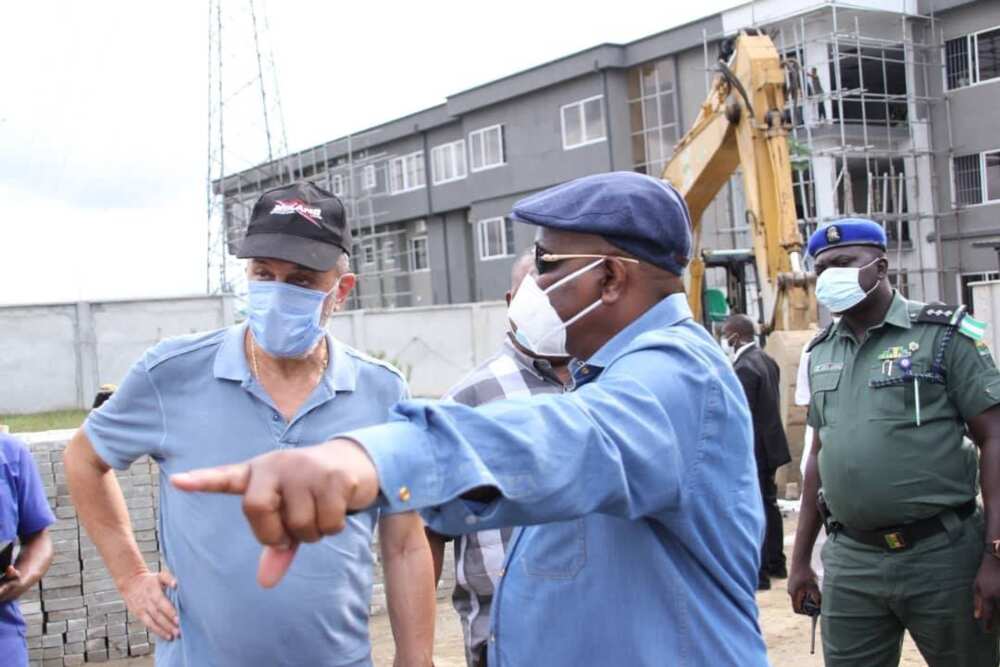 When he finished his tenure as LGA's Executive chairman, he got appointed as the Chief of staff at the Government House in Port Harcourt. He was also assigned as the general manager of the campaign team during Governor Amaechi's re-election campaign.
On July 14th, 2011, he was appointed Minister of Rivers State for Education, and later as Minister of Education of the Federal Republic of Nigeria after Mrs Riqqayatu was sacked. However, he resigned voluntarily to vie for Governorship of Rivers State on the People's Democratic Party's ticket.
On December 8th, 2014, he won the Rivers State People's Democratic Party gubernatorial election primaries and subsequently won the general elections in April the following year. On April 3rd, 2019, he was re-elected as the Governor of Rivers State in the 2019 general elections.
Awards and achievements
As a lawyer and politician, Nyesom Ezenwo Wike's significant contribution to the development of various government systems can not go unmentioned. During his tenure as the Minister of State for Education, he made a remarkable impact in the sub-sector of basic education.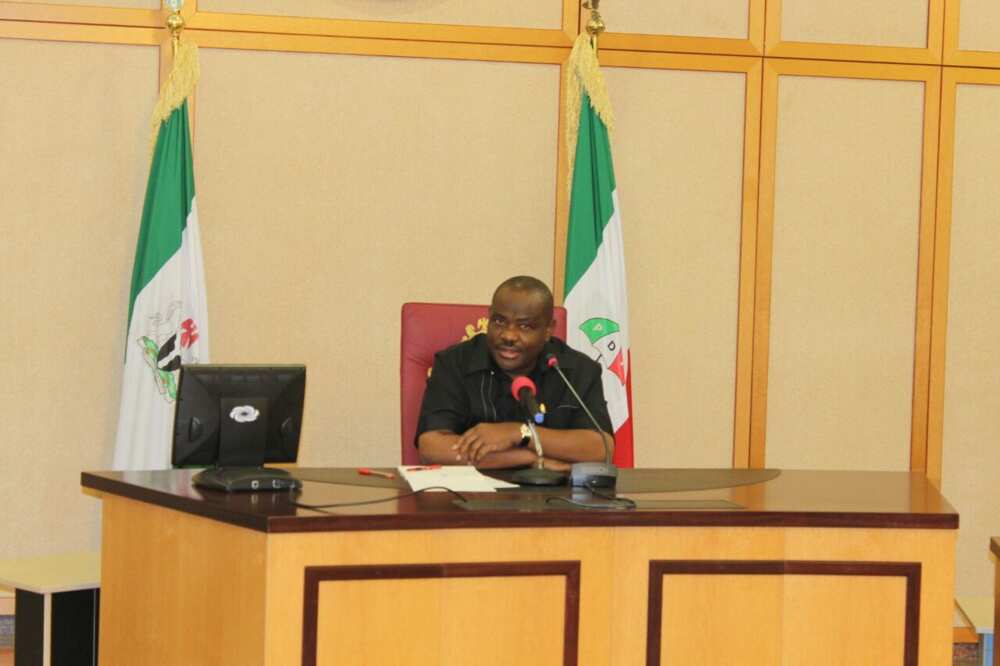 He spearheaded a nationwide reform of the nation's education system. Some of the notable programs he championed for include:
Enabling access to quality education for about nine million Almajiri children in Northern Nigeria. He pushed the program through by constructing dedicated schools in affected states.
Construction of basic education vocational training schools for out-of-school children in Southern Nigeria.
Construction of Special Girl-Education Schools for less privileged girls in 16 states of the country.
He championed the free distribution of books across the nation, and since 2011, over sixty million textbooks and library resource materials have been distributed.
As a result of his dedicated efforts to improve the lifestyle of his people in Nigeria, he has scooped two awards. They include:
The Nigeria National award of the Commander of the Order of the Niger (CON).
On February 23rd, 2018, The Sun Newspapers honoured him with the Governor of the Year Award 2017.
What is Nyesom Wike net worth?
Ezebunwo Nyesom Wike is a wealthy man. He has an estimated net worth of a staggering $550 million., and he is the second-richest Governor in Nigeria.
Nyesom Wike family
The River State Governor is a family man. He has a beautiful wife and three children. Nyesom Wike wife is called Eberechi Wike, and the children are Jordan, Joaquin, and Jazmyne.
Who is Nyesom Wike wife - Eberechi Suzzette Obuzor Wike?
Eberechi is a judge of the Rivers State High Court of Justice. She was born on May 24th, 1972 to Dr Ikechukwu Amadi Obuzor of Odiokwu, in Ahoada West Local Government Area of Rivers State.
She studied Law at the Rivers State University of Science and Technology, in Port Harcourt and proceeded to Nigeria Law School. She was called to the Bar on February 25th, 1998.
Eberechi Suzzette Obuzor also holds a Master's degree in Law from the University of Sussex in the United Kingdom.
How did Nyesom Wike and wife Eberechi meet?
The couple were classmates at the Rivers State University of Science and Technology, where they both studied Law. A conversation between them was initiated when Eberechi asked for notes from Wike, and their love story began from there.
The couple has been married for twenty-one years as of 2020, and one notable thing about these two is their public displays of affection. The Governor has been dubbed a romantic husband as he has often kissed his wife in public.
At the moment, they are both proud parents of 3 children and are heartily devoted to their respective professions.
Rivers State's governor Nyesom Ezenwo Wike is undoubtedly one of the most successful politicians in Nigeria. In his stint in public service, he has achieved a lot, both in governorship and in previous posts. He is indeed a role model for numerous people within and outside Nigeria.
READ ALSO: Niyola biography: who is the person behind the music star?
Legit.ng recently published an article on Niyola's biography. Niyola is a famous Nigerian singer, songwriter, and producer. She has released numerous songs that are receiving much airplay in the country.
Like most celebrities in the world, her journey to fame has not been a walk in the park. It has called for sacrifice and a lot of determination. Niyola has had to endure a lot to be where she is today.
Source: Legit.ng