Get chic in Ankara gowns in 2018! Many women who dream to look feminine and stylish are interested in photos, styles, and trends of beautiful Ankara dresses. Attentively studying the gowns' fashion trends, you can understand how to choose the best outfits to create attractive images. We have gathered the best styles for your inspiration.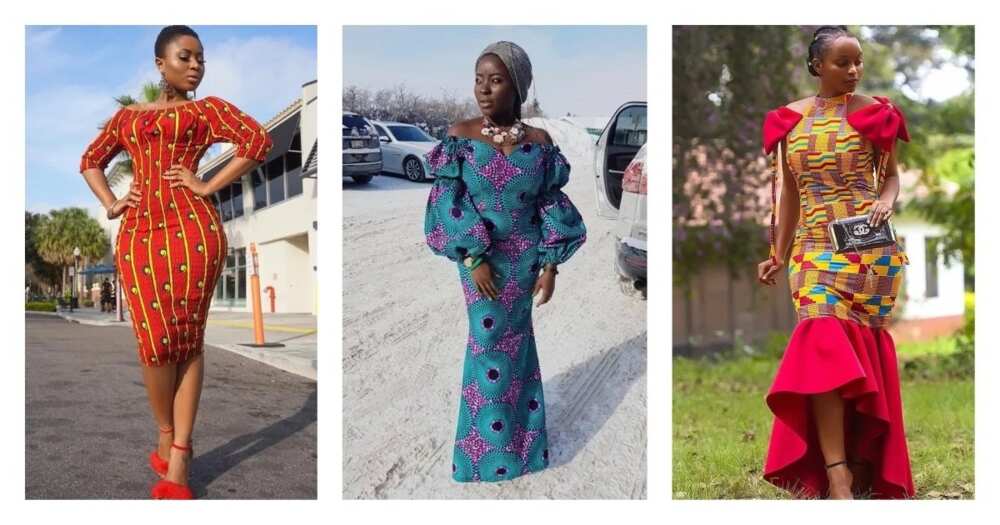 Top ideas to get chic in Ankara gowns
Latest fashion trends determine the tailoring features of Ankara dresses. Each lady has the right to find out the peculiarities of the style's direction. It helps her to choose successfully the attire taking into account the girl's image, advantages, and disadvantages of the figure.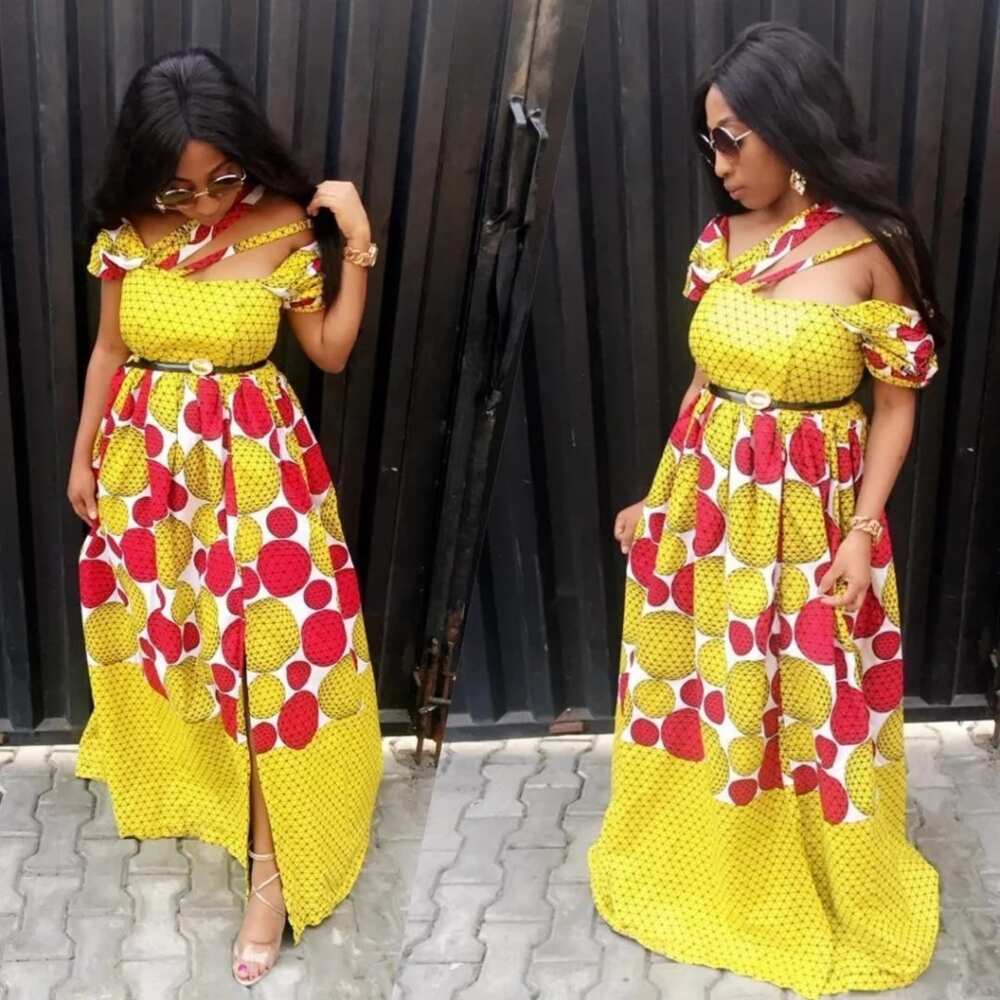 Main types of tailoring for trendy Ankara gown styles in 2018
Overstated waist visually makes a lady slimmer and taller. Such dresses are ideal for creating an urban image, as they can be combined even with shoes on a flat sole. Ankara gown style with the overstated waist can make a cute and feminine image.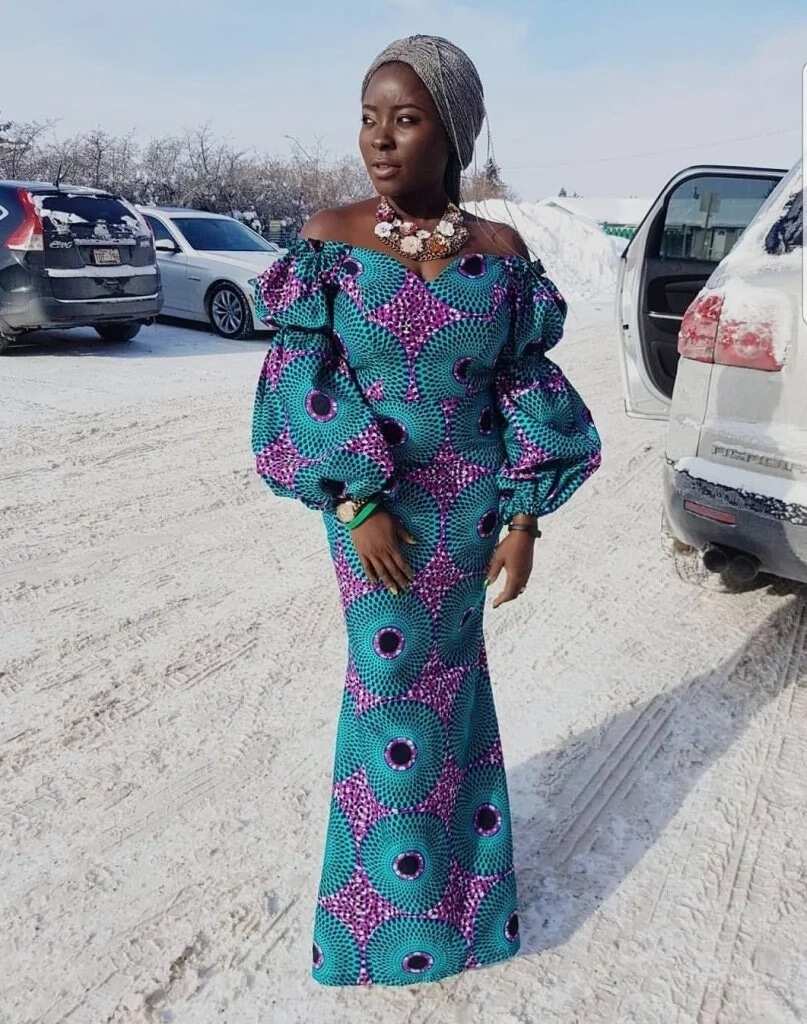 Dresses with underlined shoulders correspond to the latest trends of 2018. Such models can make the shoulders visually wider. Even if a girl has a small chest, she can focus on the shoulders.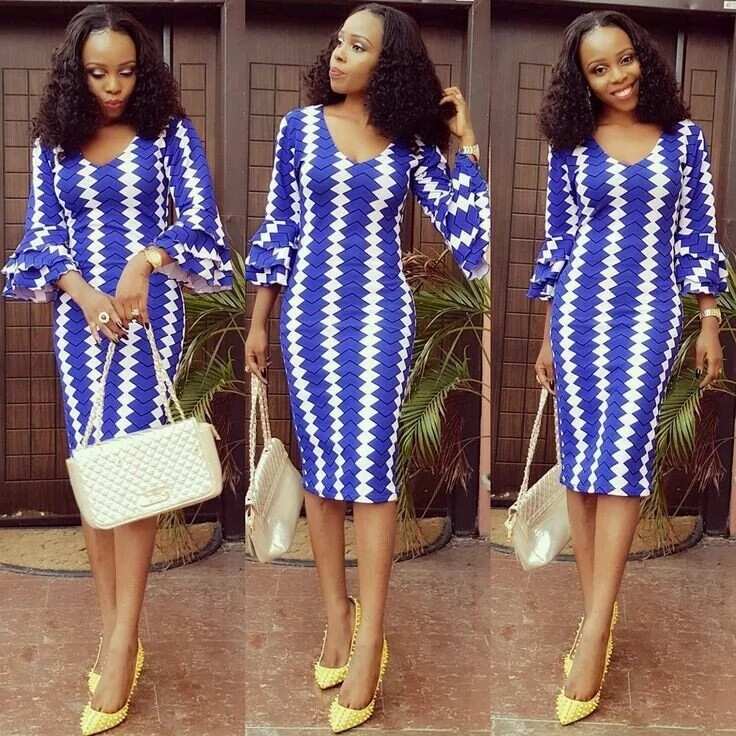 A deep neckline of classical tailoring in the form of a boat or V-shaped is in fashion. Both variants of the neckline help to emphasize the beauty of the chest and shoulder lines.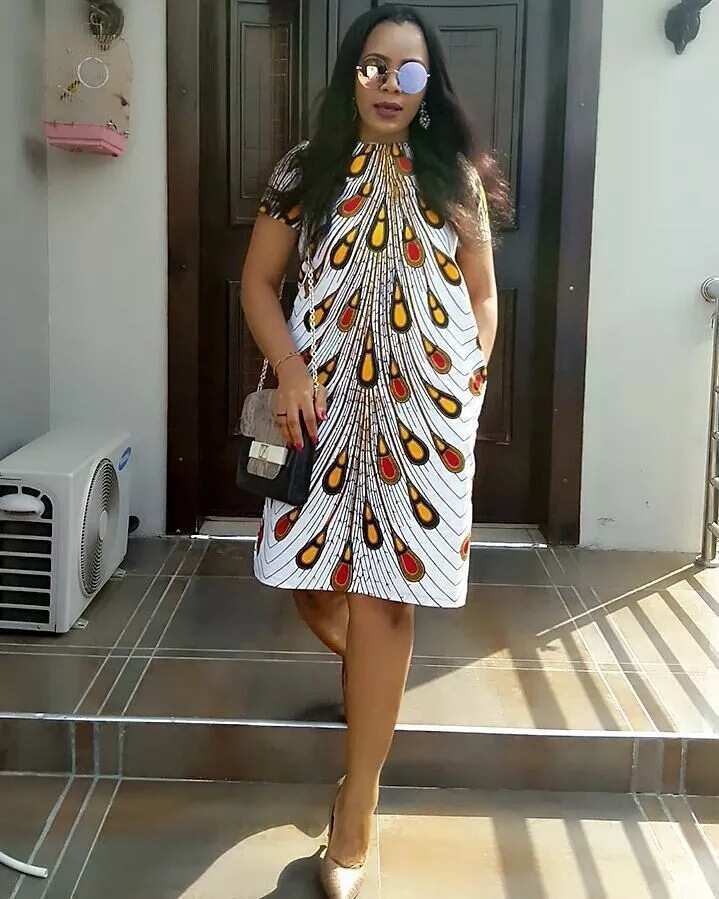 Ankara straight oversize dresses deserve special attention of beautiful ladies. Such dresses are suitable for different types of figure. Oversize dresses are ideal not only for slender girls but also for ladies with extra pounds. This style is ideal for various shoes and accessories.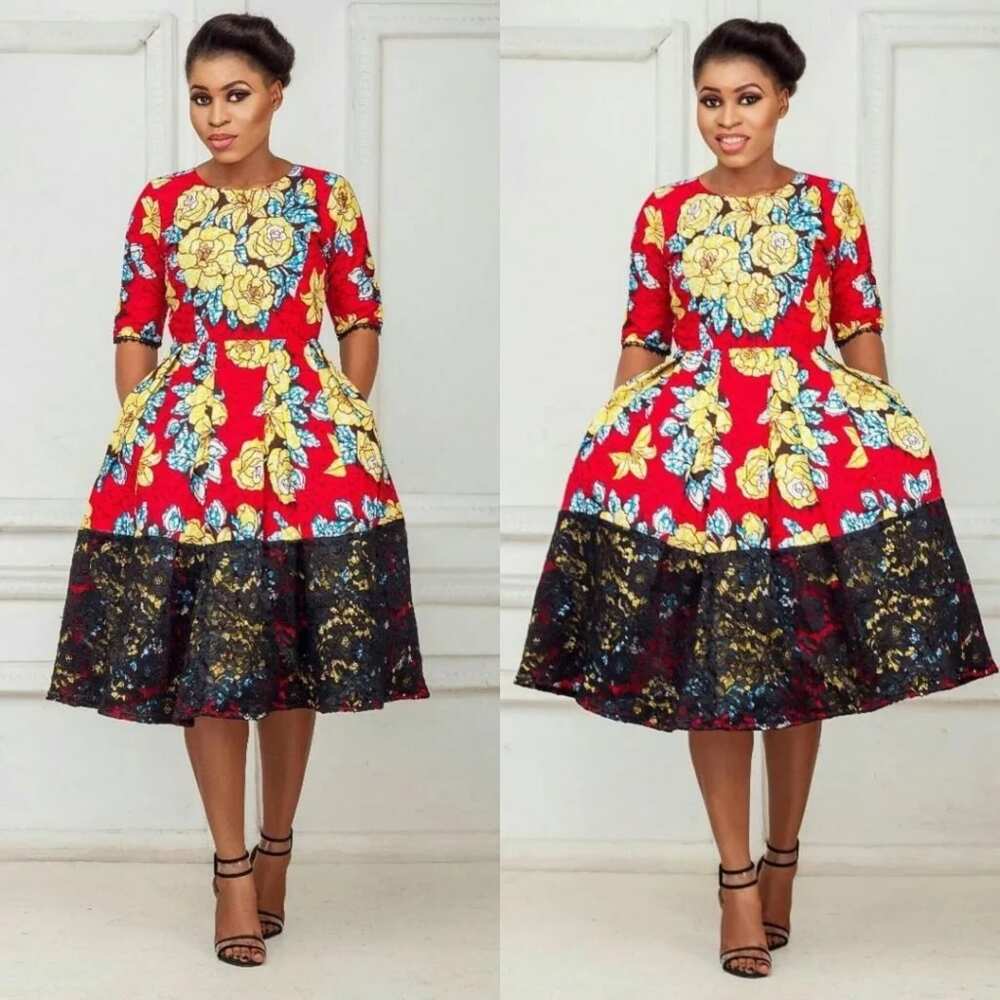 Ankara gowns looking like models a la Dior are worth your attention. Such dresses are mostly used for festive events. At the same time, the outfits can be chosen even for the everyday image if you like sophistication and elegance.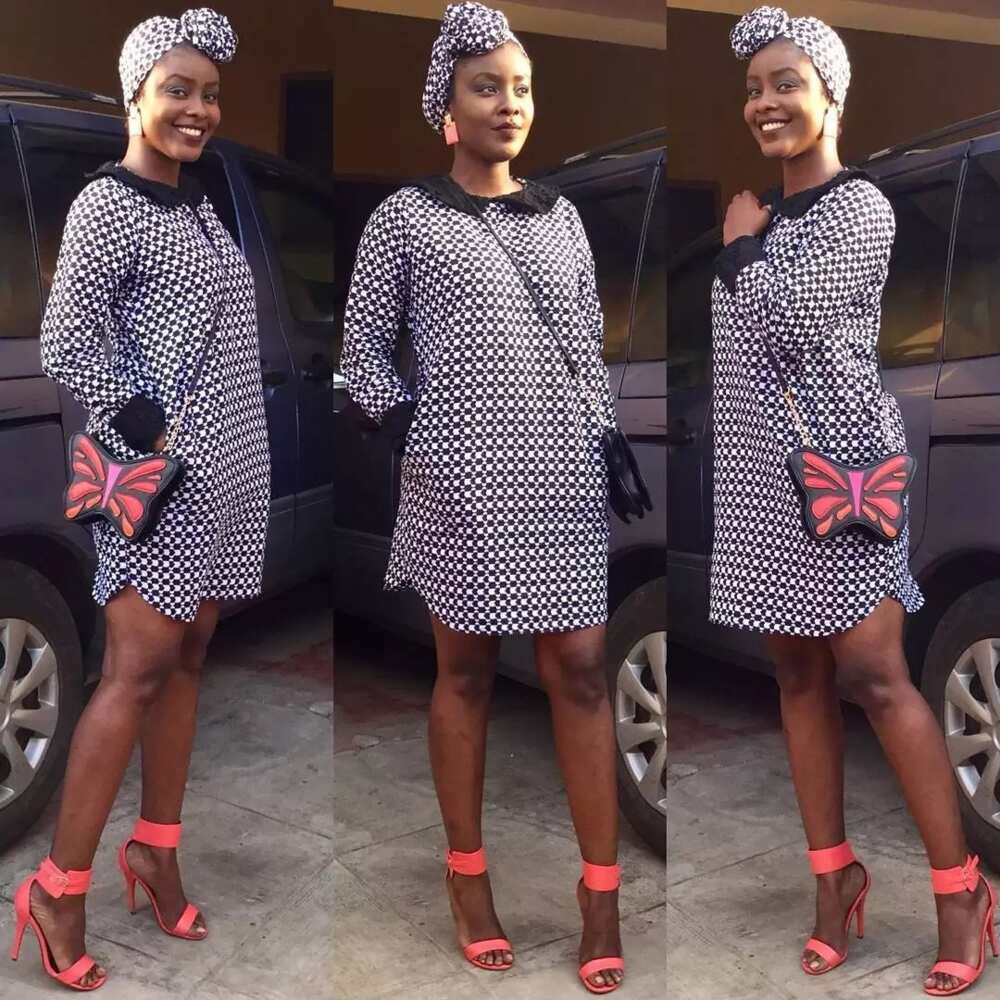 Latest Ankara styles in vogue
In 2018, the most diverse colors are in fashion:
Ankara black and white outfits correspond to fashion trends
Black and white colors can be combined in different ways, and the result is always interesting. Ankara black and white dresses have various patterns. When choosing such a dress, it's desirable to refresh the image with bright accessories. However, red accessories are already in the past when combined with a black and white outfit, since this color combination is too simple and even become obsolete. We advise you to choose purple, mustard, green, emerald, and coral accessories.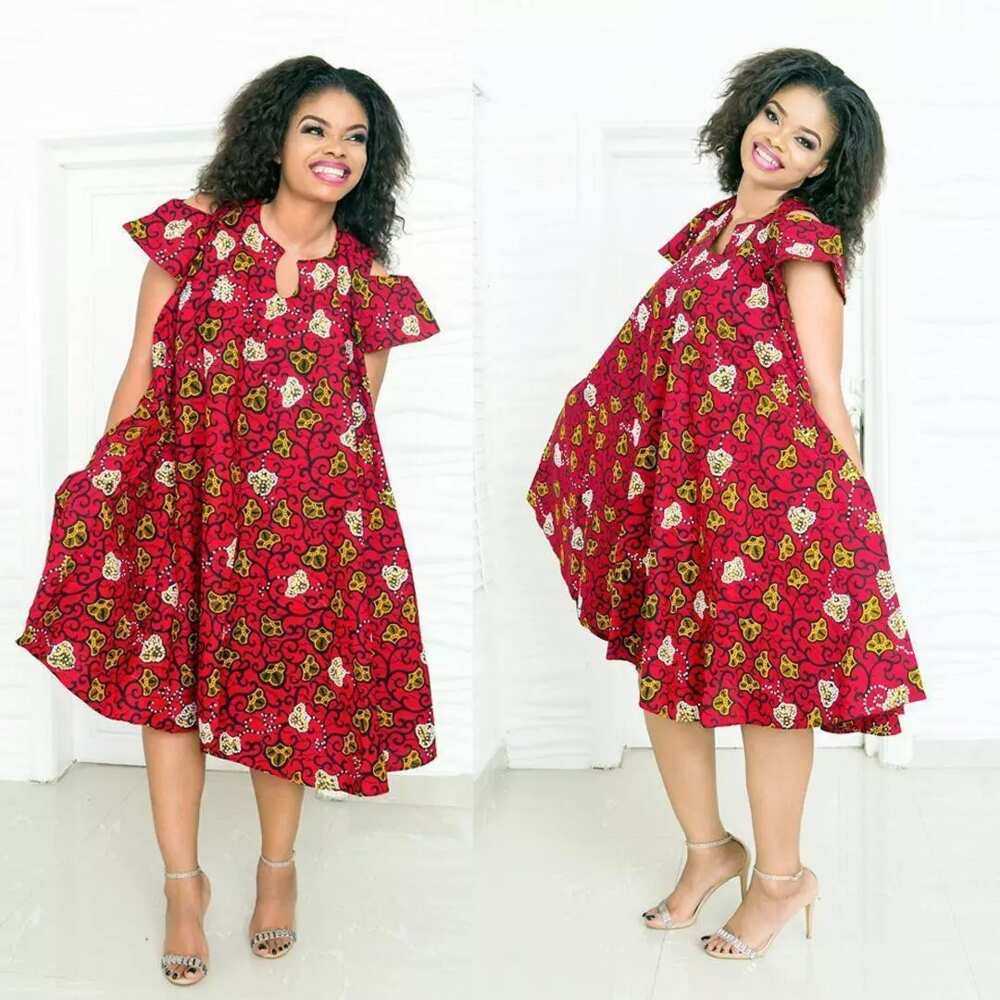 Ankara red dresses are still matching fashion trends
If you want to create a bright and attractive image, you can choose a closed red dress. If the preference is given to the evening party, it's possible to show a sense of style and personal expression, but at the same time, you must keep towards sophistication and elegance. Let's combine red with any other colors, including beige, milky-white, gray, black, and blue. It's desirable to avoid bright accessories, as they lead to the fact that the image looks unnecessarily variegated.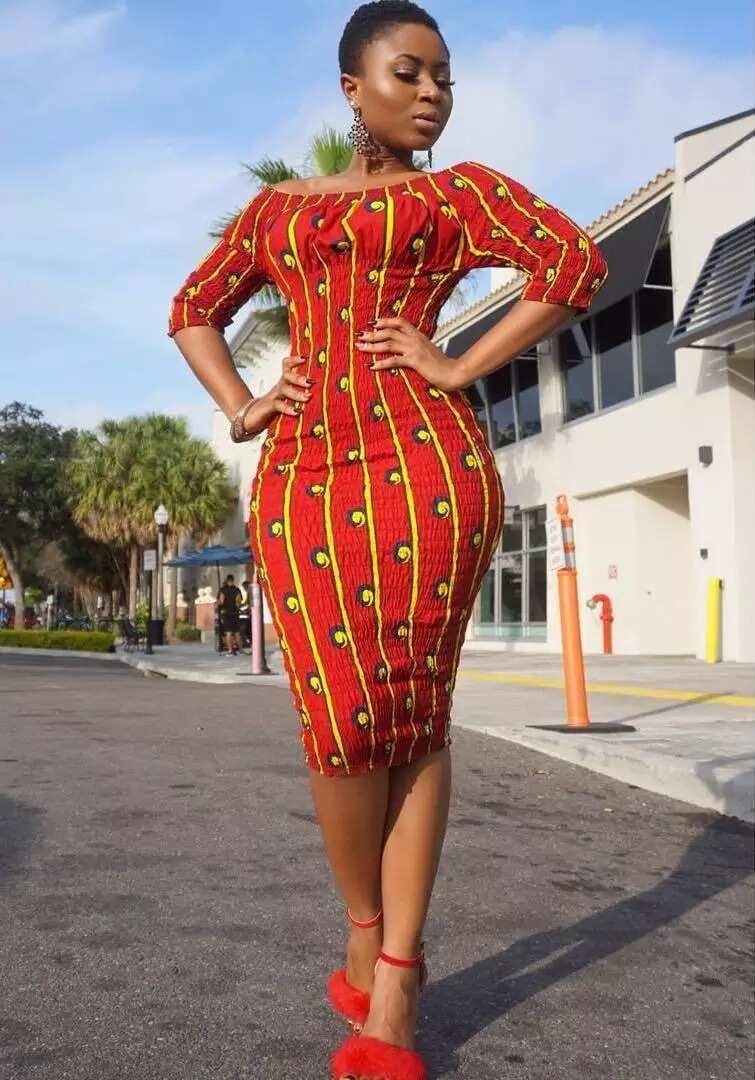 Orange dresses are ideal for cheerful young girls
Designers assure that in 2018 you need to choose orange attires since they are universal and can emphasize the beauty of Nigerian lady.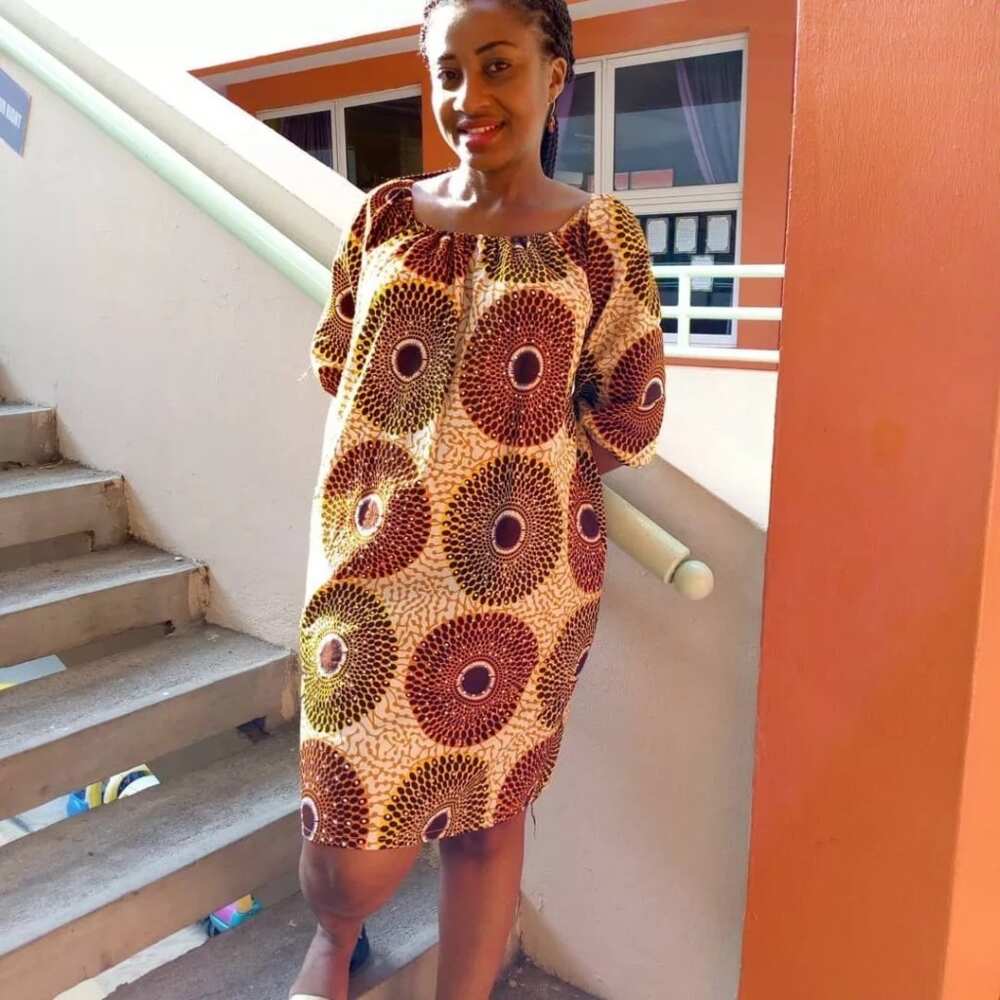 The combinations of brown, black and gray
This combination corresponds to the classics and is distinguished by elegance. In this case, it's desirable to pay special attention to the outfit's style, accessories, hairdo, and makeup.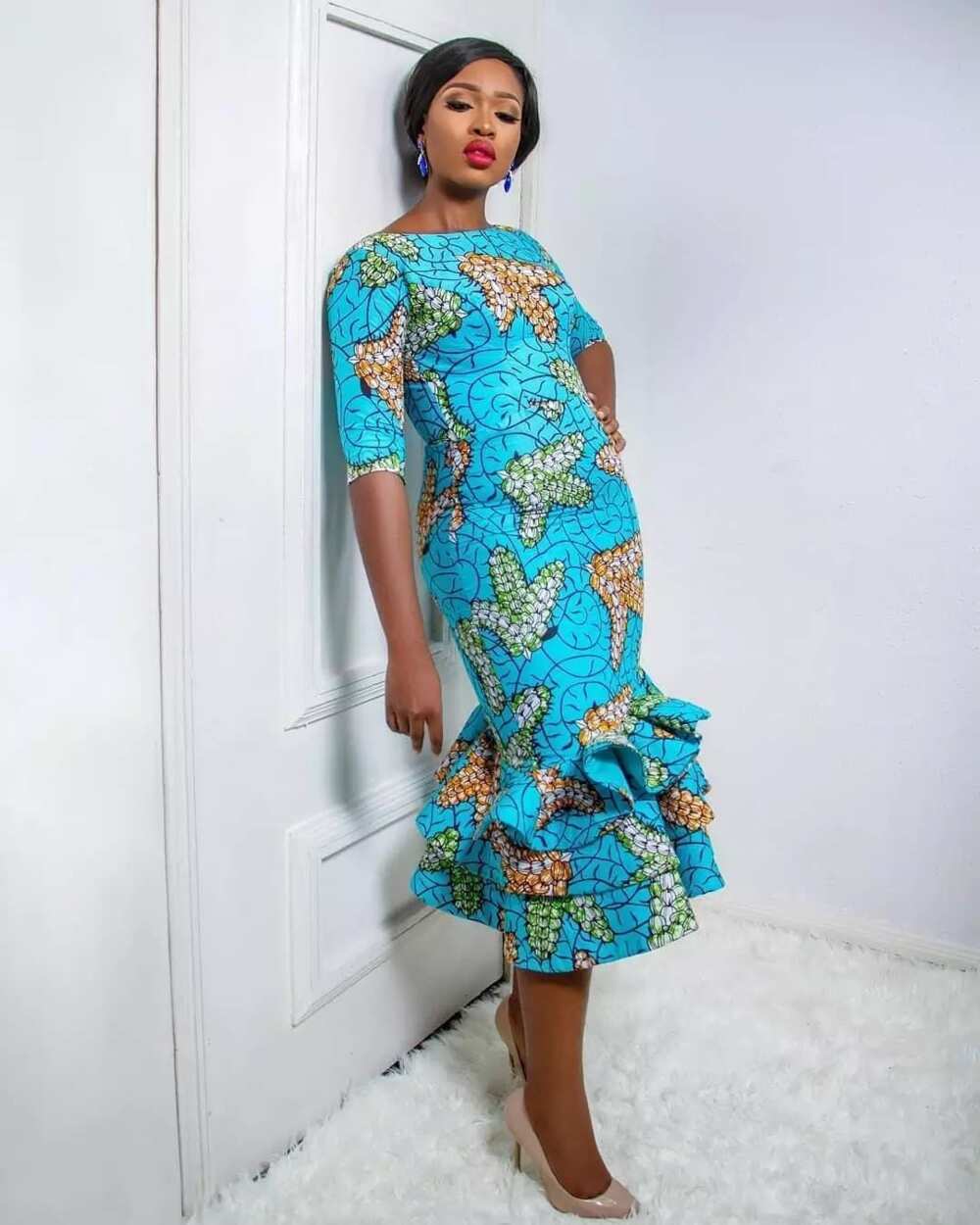 Modern Ankara styles: trendy patterns and ornaments for Ankara gowns
Choosing dresses, you can also give preference to trendy prints defining the overall style of the created image:
flower patterns;
floral ornaments;
modern and classic embroidery;
geometric patterns;
small abstract patterns;
traditional prints: strip and cage
The lovers of minimalistic style appreciate the patterns located only in one place of the attire, but not over the whole surface.
READ ALSO: Latest Ankara styles 2017-2018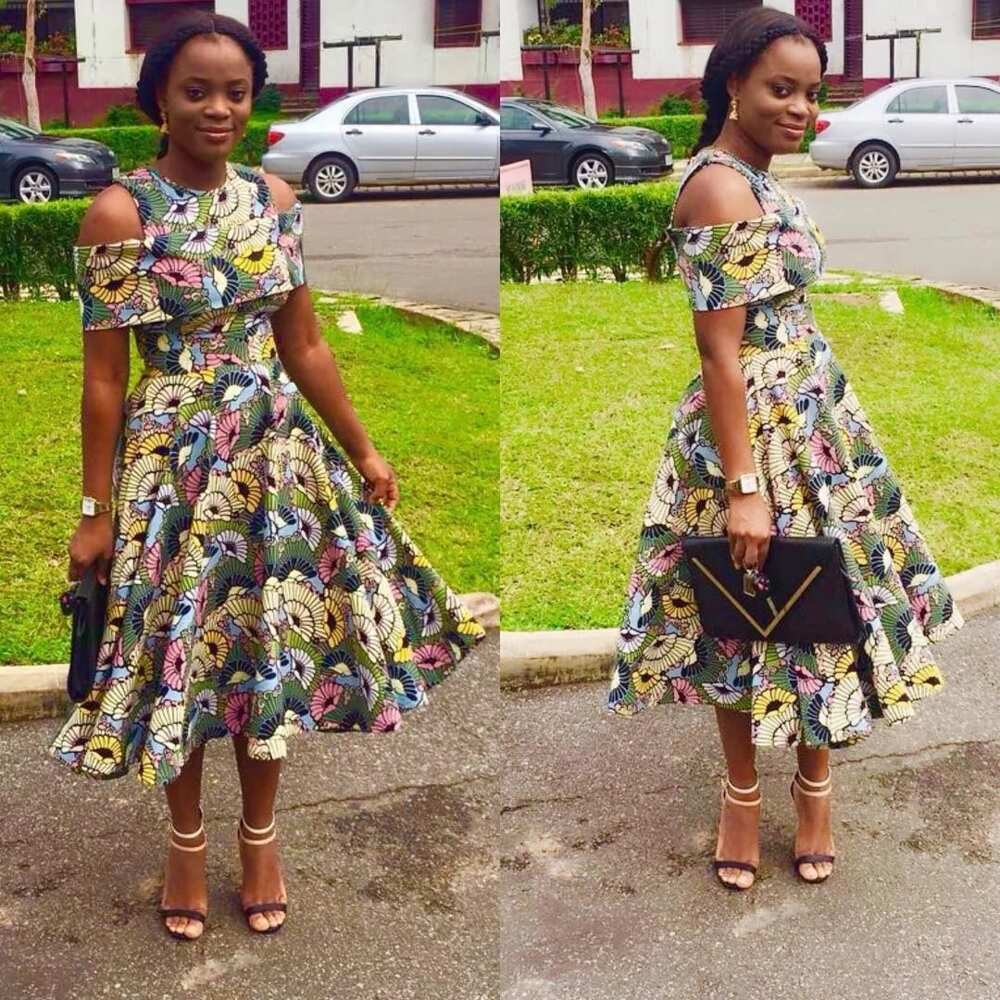 Trendy styles made with Ankara: designs for dresses in 2018
Beautiful long and midi dresses in romantic style are in demand this season. These outfits are traditionally made of light and delicate colors. The bows, embroideries, flower patterns and ornaments, as well as lace and chiffon trims, are actively used as décor for Ankara gowns. Moreover, the overstated waist and flared skirt are the main elements of romantic dresses.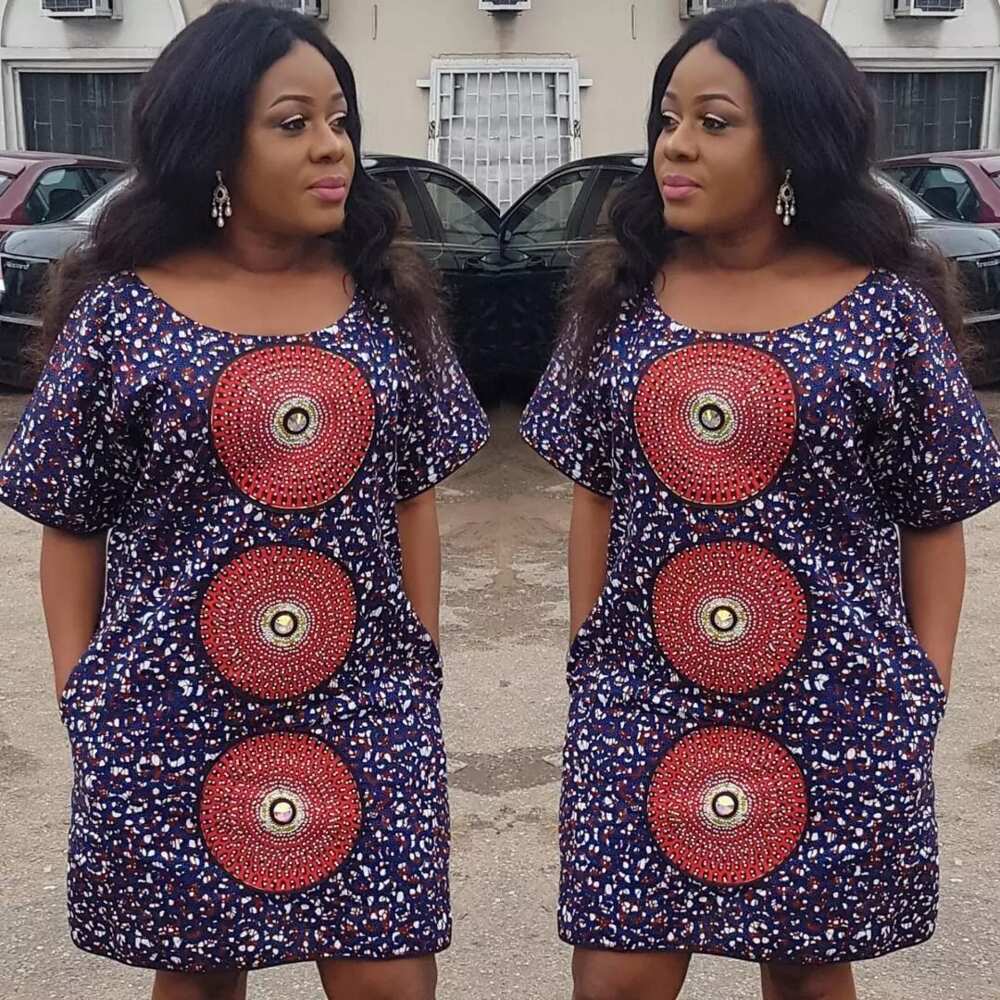 Ankara short gown styles with spacious cut are ideal for active girls who try to look feminine and touching.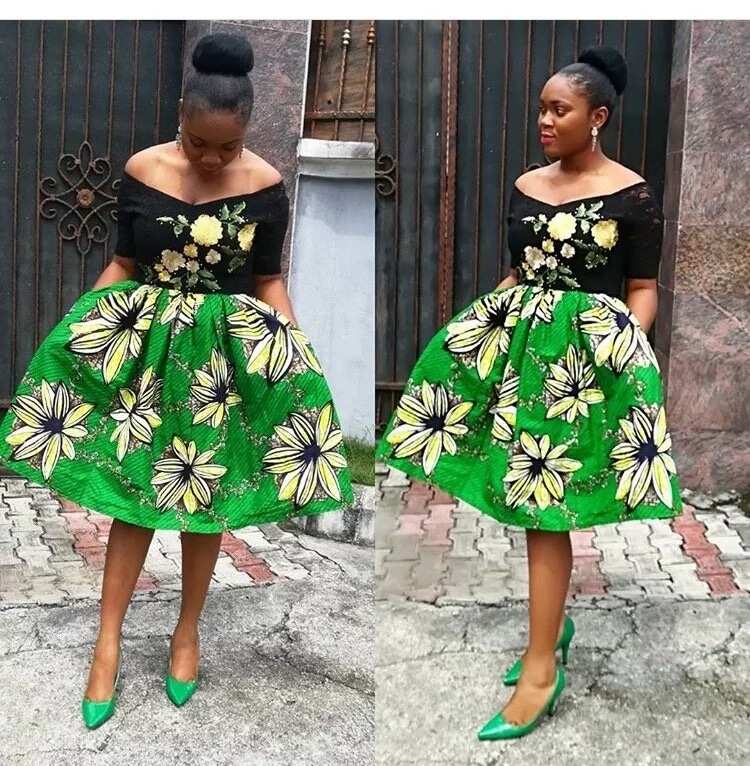 Retro dresses are also attractive. Such gowns have fitted or spacious tops and skirts with wide folds. It's necessary to note the variety of such outfits. Thanks to them, the girls of any figure can choose the perfect outfit for themselves.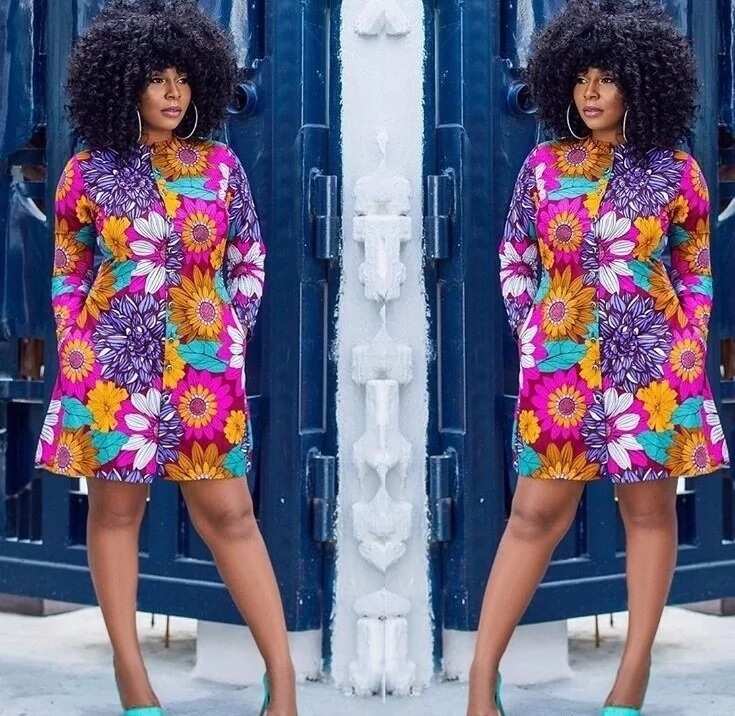 Ankara dresses in patchwork style also promise to be relevant. The main differences are bright and contrasting colors, decorative bows, and various embroideries. Decor in the form of plisse and draperies, lace inserts are on trend. Moreover, you can choose gowns with high collars, which can transform almost any created image.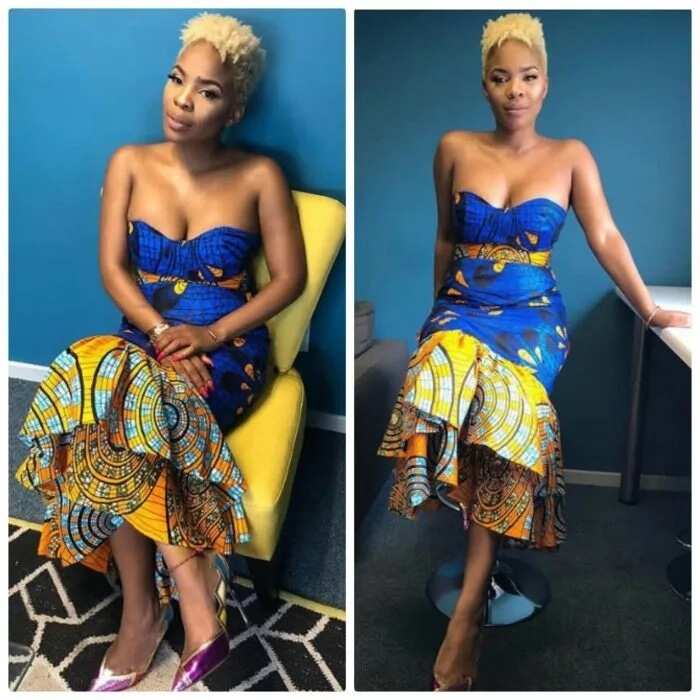 Bustier dresses are classic. They advantageously emphasize the chest and shoulder of a lady. The main features are the bodice in a straight line and decorative details, highlighting the women's hips and waist.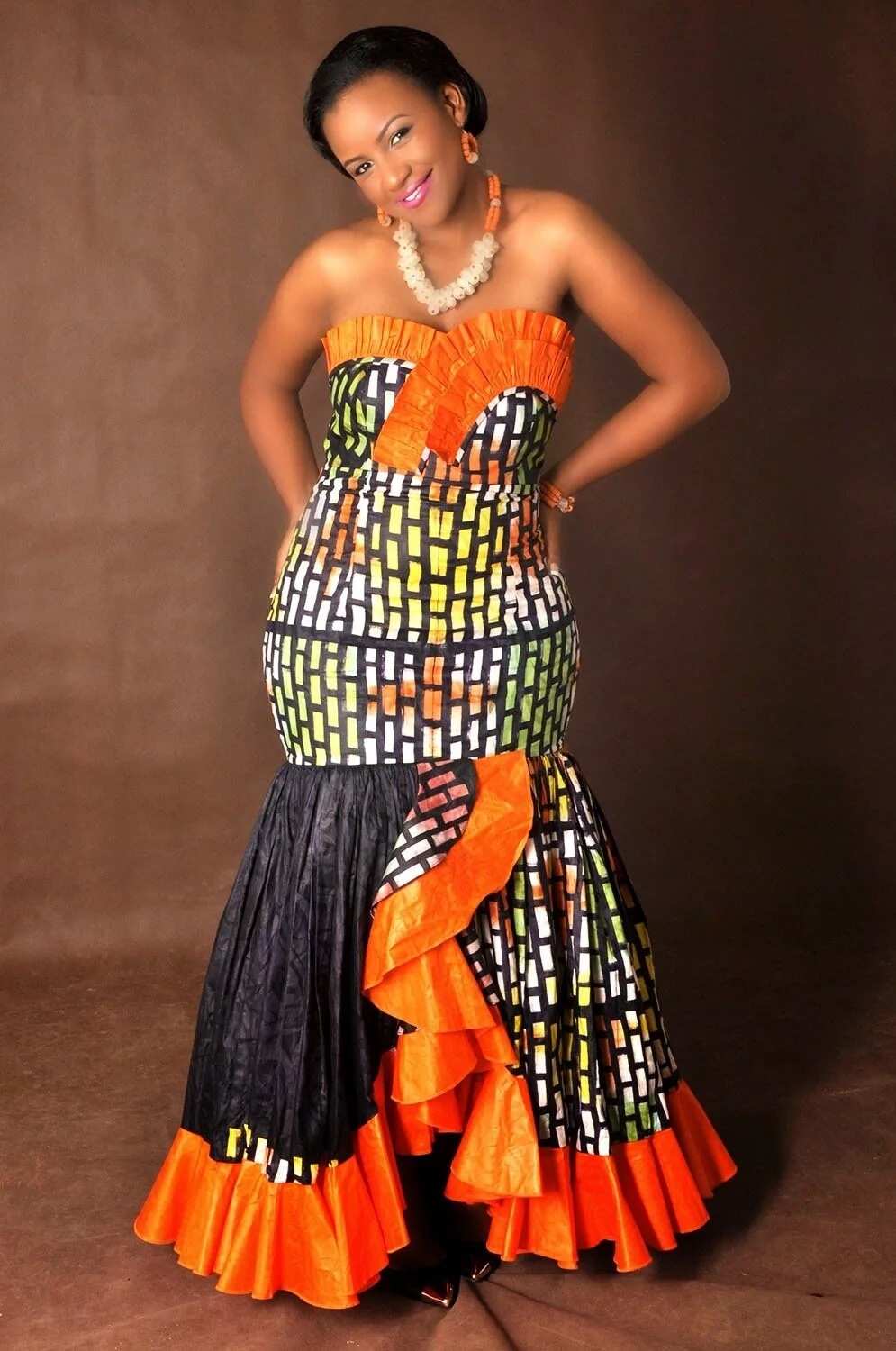 Ankara dress 2018 allows each girl to choose exactly the outfit that suits her style, figure's features, and appearance. Stylish Ankara gowns attract special attention, as they are the "highlight" of the image.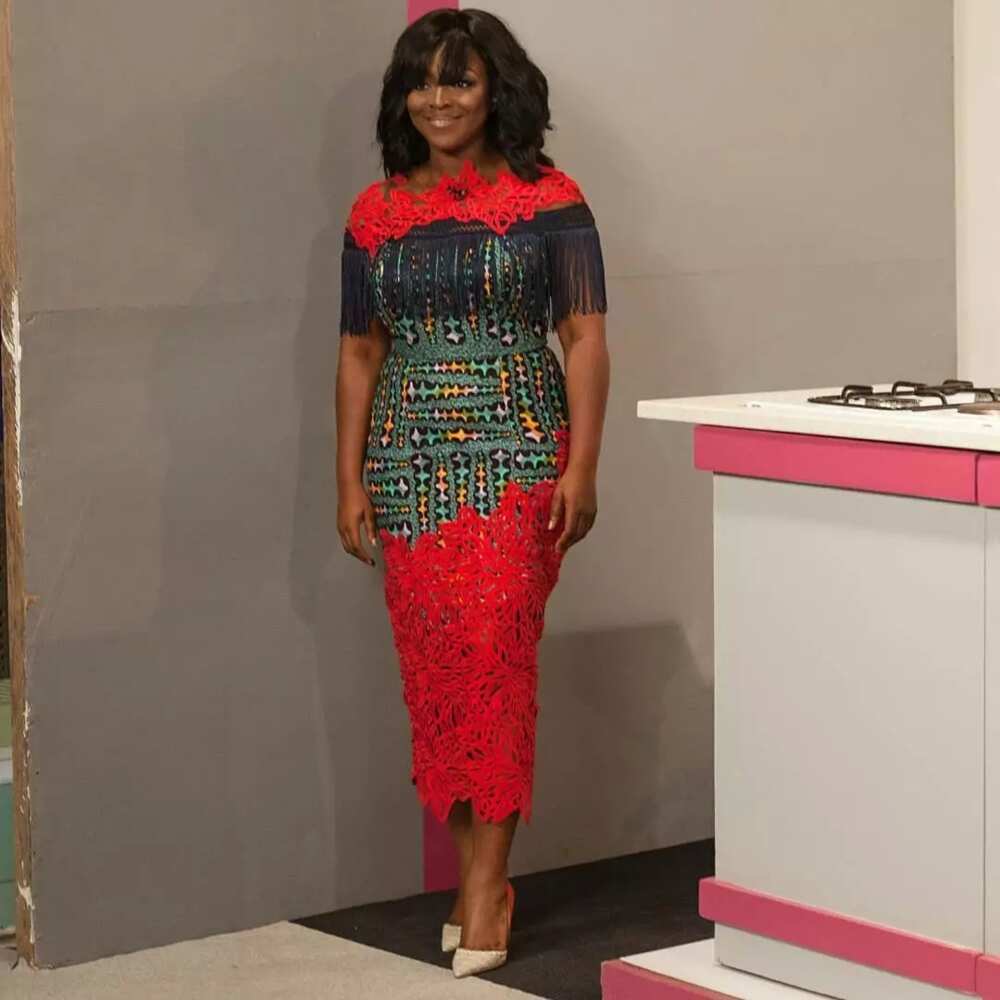 Speaking of the beautiful Ankara dresses, we cannot ignore the combined versions of dresses. With bright Ankara fabrics, lace, chiffon, silk, and denim are perfectly combined. All of the above textiles are relevant this season too.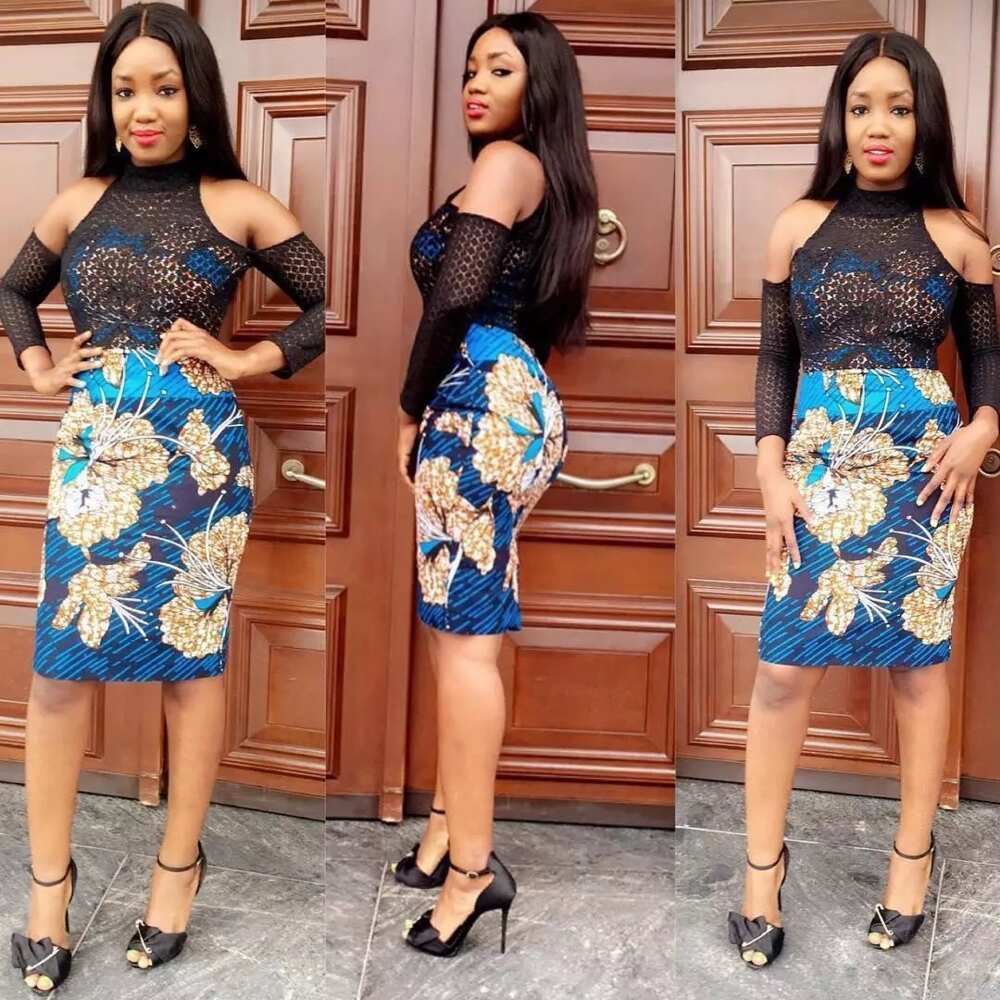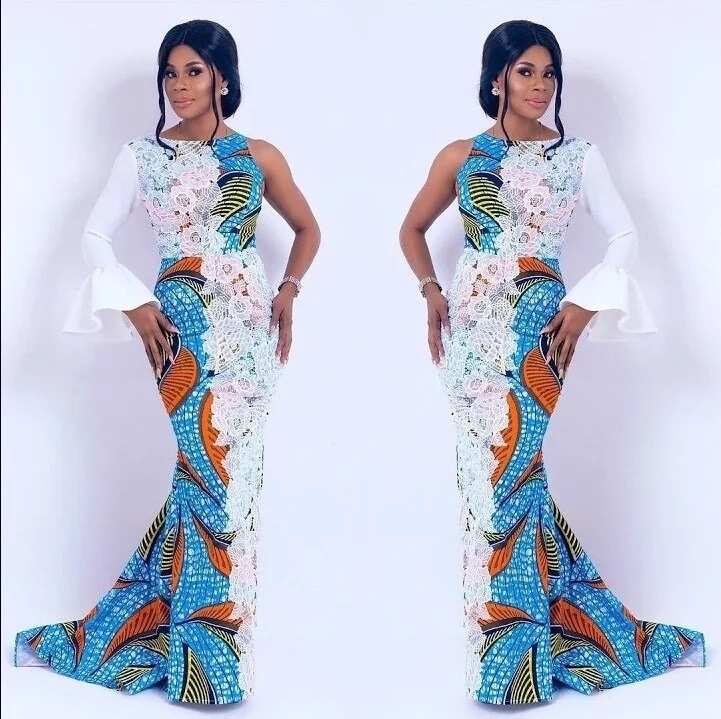 Ankara styles for ladies: textiles combination
Lace still fits fashion trends. Moreover, it's supposed to combine several colors of lace, which is ideally combined with such simple and dense material as Ankara.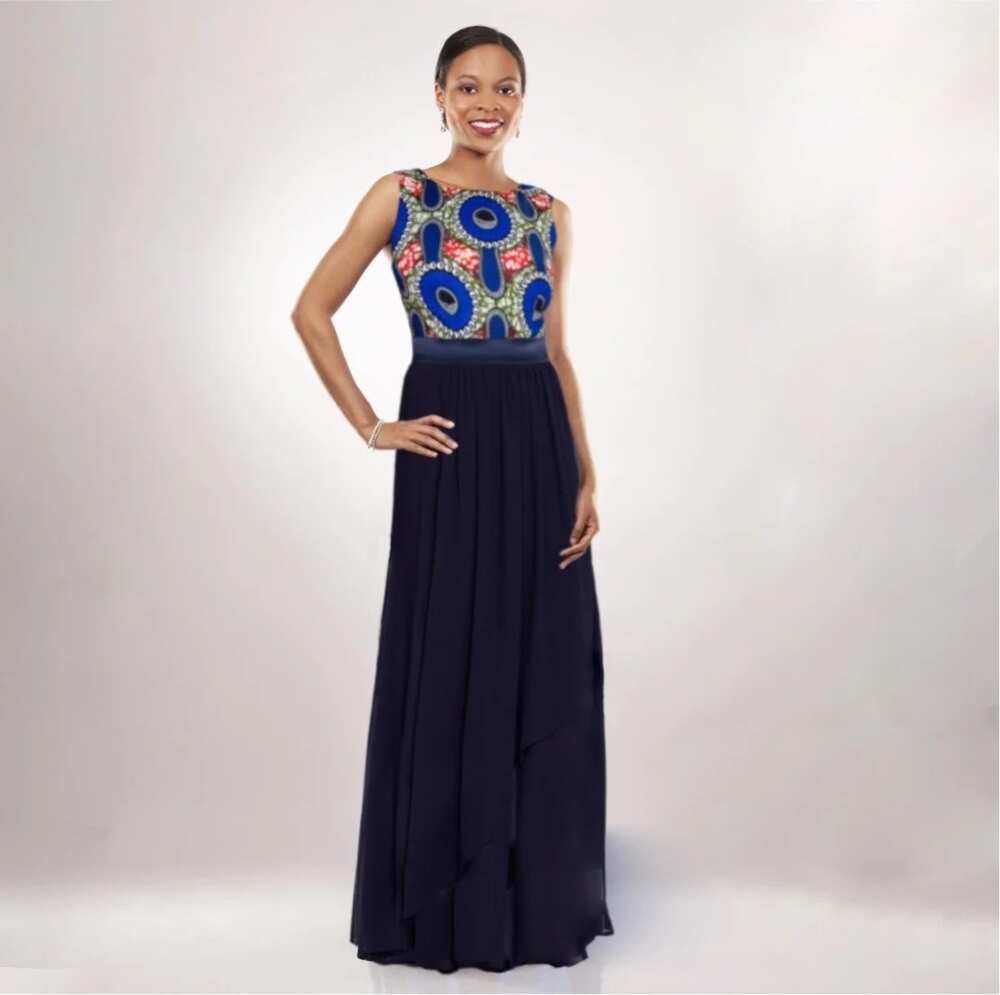 Silk and chiffon are also actively used to create fashionable dresses. Designers create flowing draperies of soft silk and chiffon with Ankara fabric. Such outfits especially long festive gowns are elegant and feminine.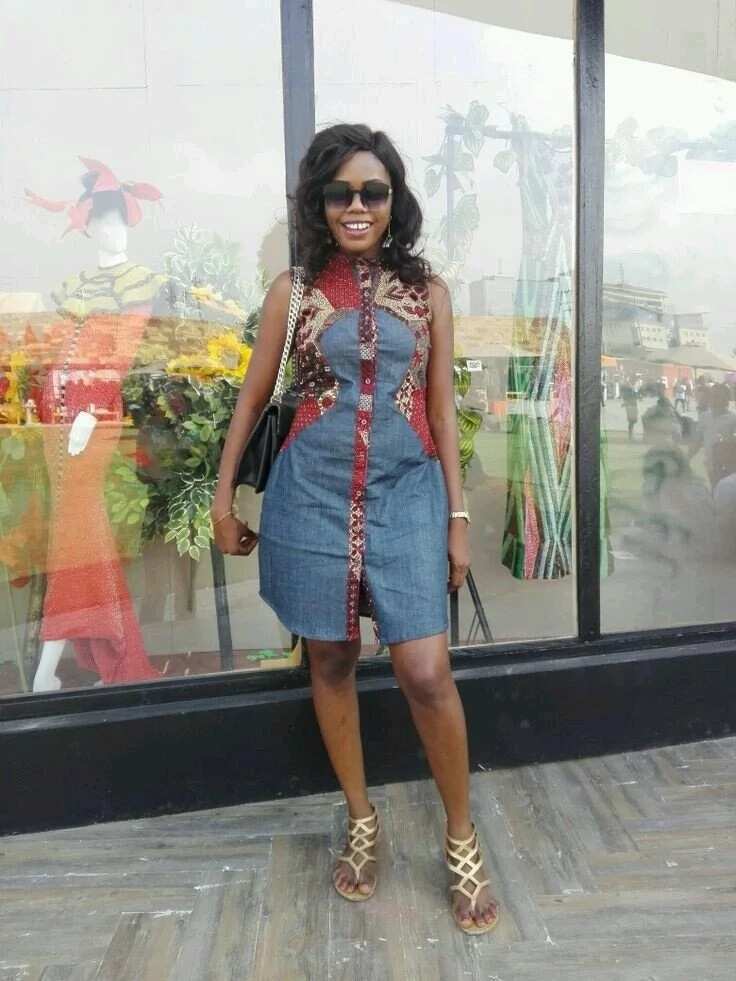 Denim also promises to remain a trendy material. However, now Ankara dresses with denim inserts of the original cut: wide skirts, sleeves-lanterns, deep décolleté are in fashion too.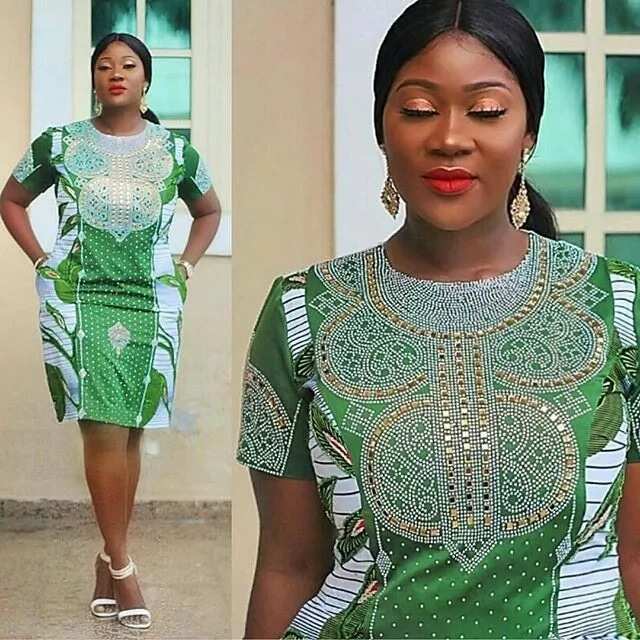 Trendy Ankara styles: a few more words about décor
If you had shopping some time ago, possibly you paid attention to the abundance of sequins everywhere: on dresses, sweaters, and skirts. Usually, such things are bought only by the bravest fashionistas, but this year the sequins and beads decor can be used by everyone. A festive Ankara gown with beaded decor is an indispensable thing in your wardrobe.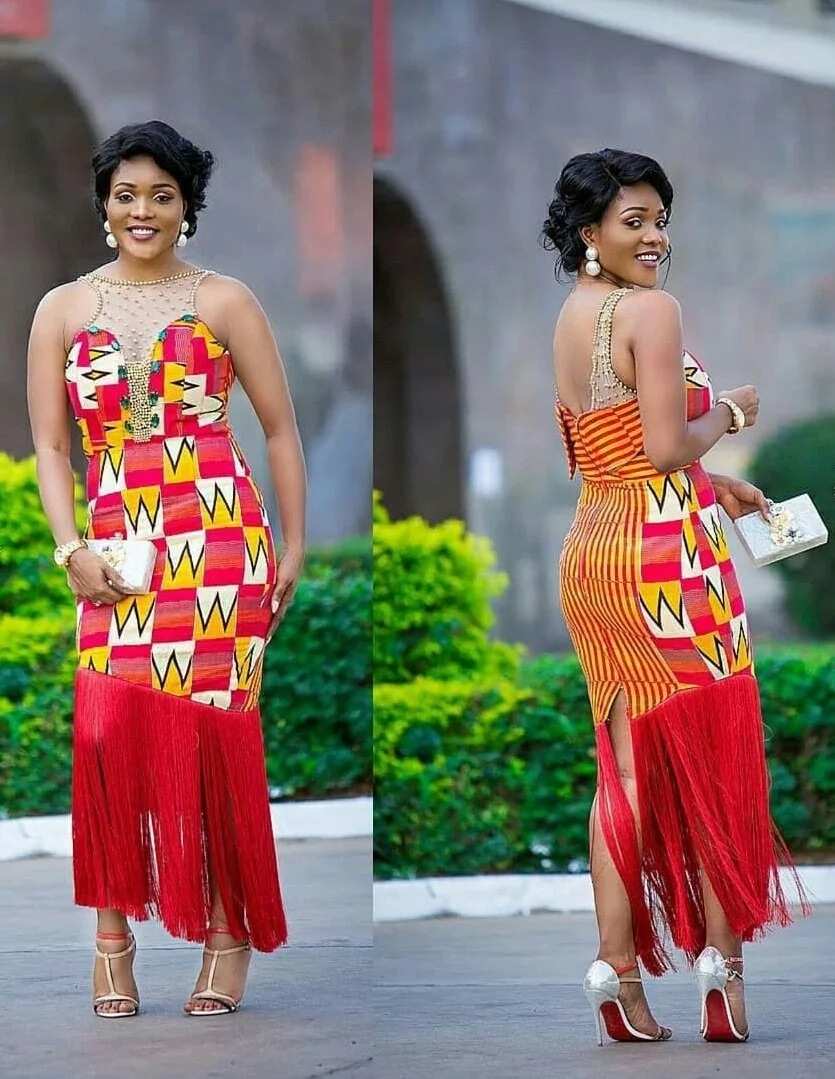 Together with the sequins, a fringe returned to the fashion arena last year, and now it's still relevant. Such dresses look very unusual and trendy.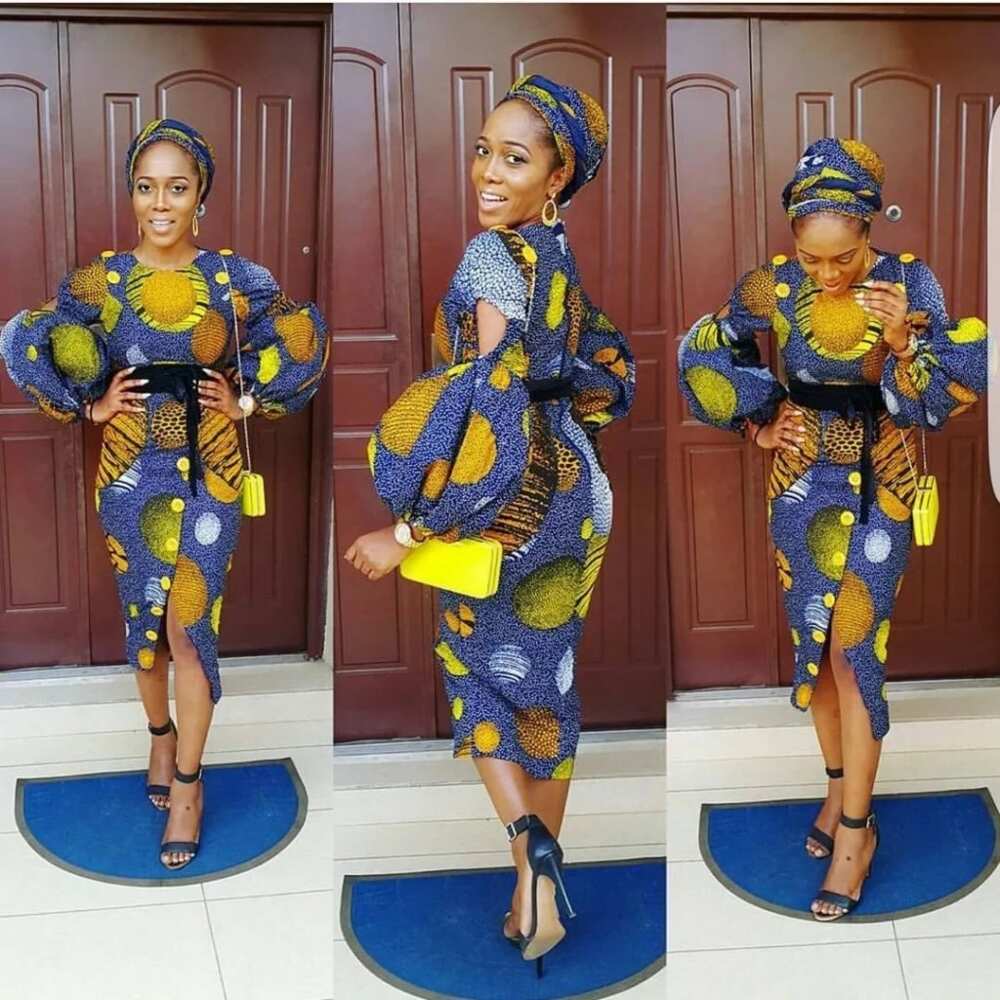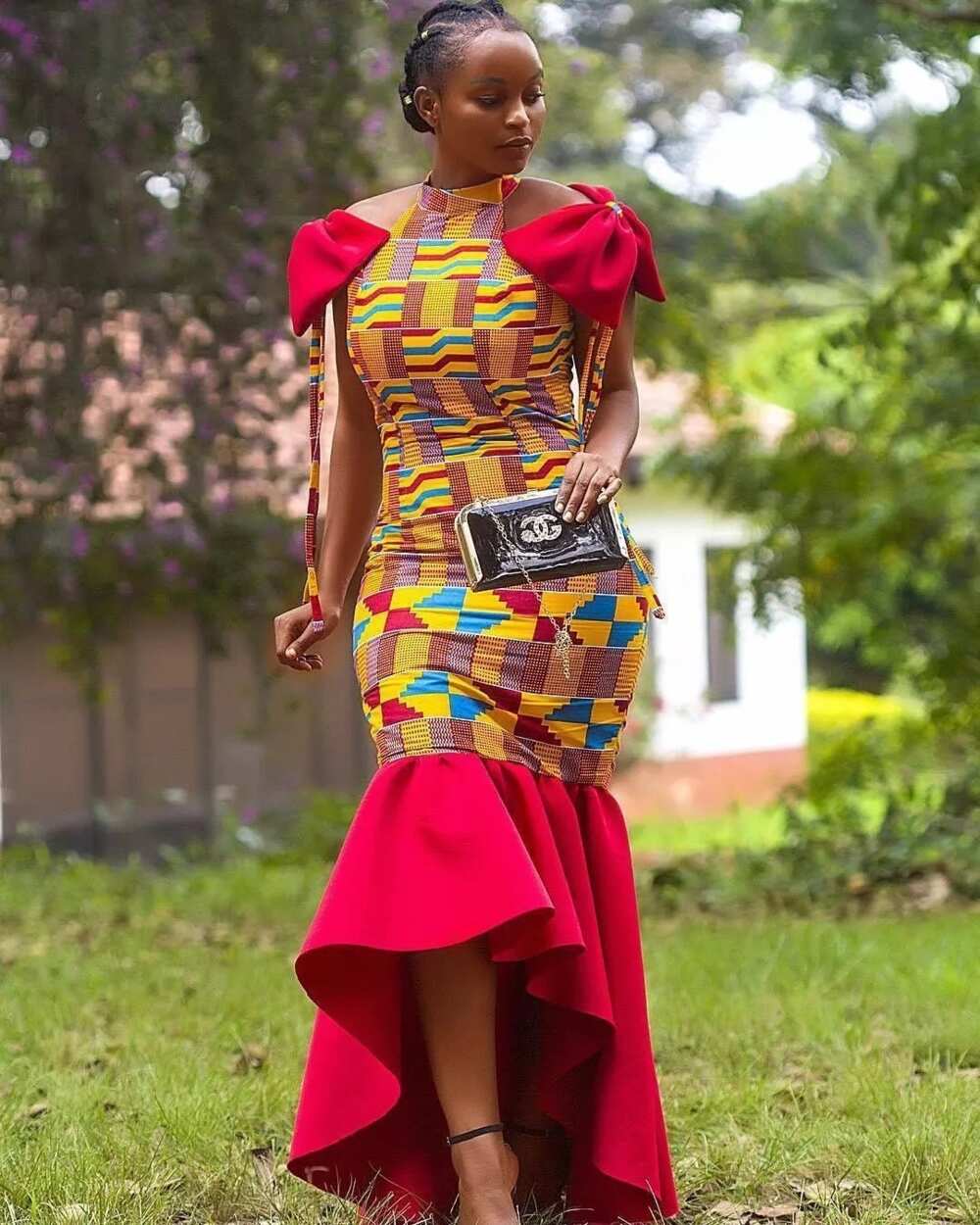 Beautiful Ankara gowns are often decorated with bows. Designers use bows in different ways as belts, neck decoration, and sleeves. The most important task while using such kind of décor is the correct image creation. For example, a small and tight bow associated with retro style is desirable to combine with modern accessories.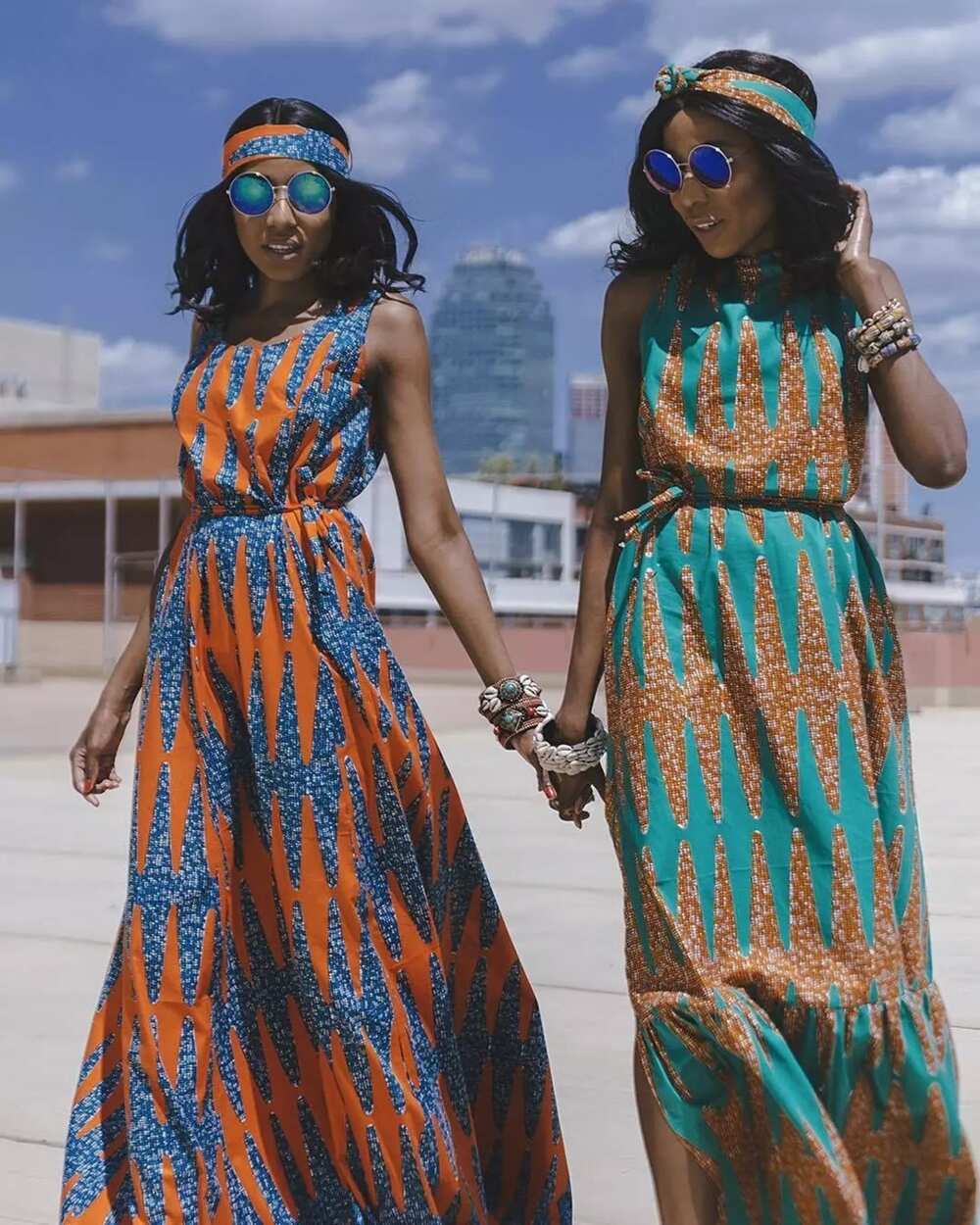 Season 2018 is a time for dresses' lovers. Dear fashionistas set aside the ordinary jeans and trousers and make your choice in favor of bright Ankara styles for women. You will see that the dress is not only a beautiful ladies' whim but also comfortable everyday wear.
READ ALSO: Ankara short dresses for bright ladies