Different types of Ankara styles to opt for in 2019
Look at these different types of Ankara styles to opt for in 2019! This season, you will find unusual trends together with last season options. Bright colors and patterns with trendy designs will help you to create beautiful outfits.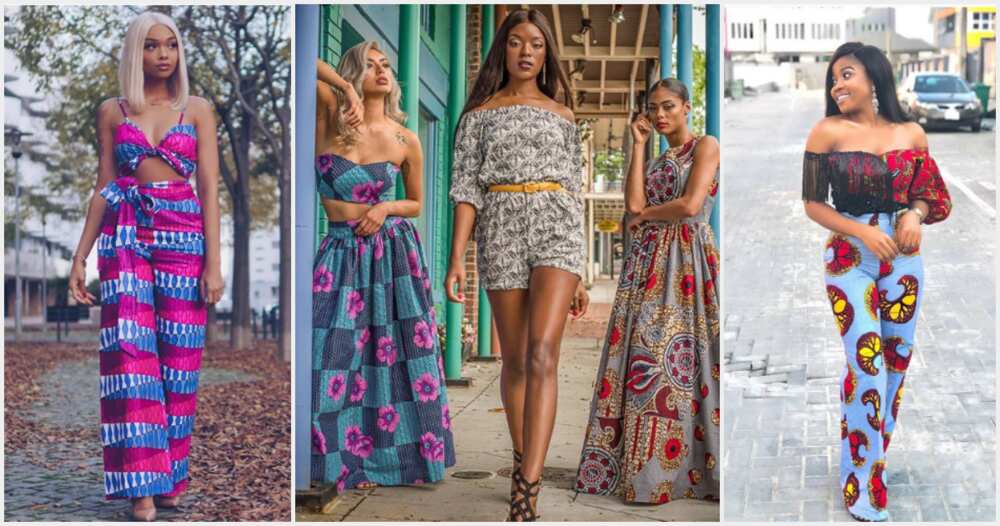 Fashion 2019 has already entered its rights. Let's take a look at the key trends of Ankara styles in the upcoming season. Nigerian designers and world fashion gurus offered a lot of fresh and exciting ideas.
Different type of Ankara styles: latest trends 2019
The common but often unusual outfits are leaders of all current fashion-reports this year. Multilayered image and a combination of motley and incompatible at first glance prints are still in trend. It is worth noting that the trend for multi-layered clothing has changed a bit and evolved.
If earlier we mixed trousers with long tunics and T-shirts ourselves, but today garment factories sew ready-made multi-layered outfits.
This year, it will be easy to find a jacket with a sewn satin insert in the form of a light T-shirt or a hybrid of a raincoat and a jacket. Not everybody likes these provocative combinations, but undoubtedly it is one of the brightest fashion breakthroughs of 2019. Let's look at the latest styles for Ankara fashion.
Cargo pants
Fashion continues the expansion of the working uniform. Cargo pants captured our attention this season. It is voluminous trousers with large side pockets in the Lara Croft style are trendy again. Choose any Ankara print that you like and sew such pants. It is an excellent option for a casual style.
READ ALSO: Latest ankara styles for the last months of 2018
Ankara 'sunny' colors
Orange splashes and sour lemon, bright grapefruit, and juicy mandarin are of high demand this year. Citrus colors are great for a hot sunny day. Besides, they are easily combined with basic tones like black and white and can serve a good base for experiments with color-blocking. A wide range of Ankara fabrics in this color scheme helps you to create a unique image. These colors go well for Ankara dresses and blouses.
Ankara floral patterns
Today it's difficult to imagine modern styles without a floral print. This trend is smoothly moving from the last season to the current one and plays with new colors and variations. Designers offer us new modifications of the usual floral patterns in 2019. Use a vast number of various flowers in your outfits. Fabrics with bright patterns help to embody any of the most vivid images this season.
Pink tones
At one-time, the pink color was undeservedly referred to as 'glamorous' and 'doll's' colors. But in modern interpretation pink has become a regular guest of the podiums. In 2019 it' is represented by the widest range of tones from 'crystal rose' and 'strawberry soufflé' to purple and 'magenta.' Pink fabric with a beautiful print is perfect for Ankara gowns as well as skirt, trousers, and blouse designs.
Ankara tie-dye print
Ankara tie-dye print with intricate patterns and 'smudges' has survived several stages of rebirth. But in the coming season, its watercolor stains and leaking colors are not so radical and bright. Tie-dye print is used for Ankara jackets and Ankara top styles. Besides, straight or flared maxi sundress with tie-dye print is 'must have' for hot weather.
Ankara patchwork dresses
Colorful beach pareos have long gone out of fashion, but the designers could find a good alternative for them. Patchwork maxi dresses are appropriate on the beach and a walk around the city. Choose the intricate ornament to your taste: from Turkish cucumbers to surrealistic flowers. This season print mania reaches a new level - designers increasingly mix bright prints.
Ankara jumpsuits
Overalls keep functionality trend in 2019. Fashion brands offer jumpsuits as an alternative to dresses when you need to choose just one thing. A jumpsuit is an excellent choice for casual style.
Ankara pants or shorts
Pants for cycling or shorts continue to conquer fashion catwalks, and designers skillfully fit them into a casual wardrobe. The most popular combination is Ankara pants for cycling with a shirt or top.
'Victorian' fashion with Ankara
This season we are waiting for the return of a beautiful era: a large-scale retrospective of Victorian style has emerged in the collections of the season 2019. Be ready to wear Ankara gowns with corsets, sleeves-lanterns, ribbons and other items of that epoch.
Trendy Ankara styles with voluminous sleeves
The allusion to the Victorian style in the new season is also expressed in dramatic sleeves. They adorn Ankara dresses and intricate blouses with frills and ruffles this year. In this case, the additional volume of shoulders only emphasizes femininity and doesn't discord with the fitted gowns, unlike the hypertrophied masculine jackets.
Different Ankara styles for ladies with lace
Lace is more often associated with romantic and ultra-feminine clothing. We are used to mixing Ankara and lace for evening dresses. Lace sleeves or décolleté or a large lace inset on the back is gorgeous. Nigerian ladies love lace and gladly add it to Ankara outfits. Ankara and lace attire try on a new role this season. These textiles are used in casual and even sports style in 2019.
Ankara mini dresses
Ultrashort mini dresses are relevant again. If you have beautiful legs, feel free to choose a mini dress for a beach party or club. This season, young girls can use any version of mini dresses: fitted, flared from the waistline or with a free silhouette. Choose the one that fits your body shape better than others.
Ankara gowns with sloping shoulders
The next exciting trend is 'shoulders-seashells.' Dresses and blouses with sloping shoulders become the best friends of tender girls who love air-flared designs and soft shapes.
Ankara styles with frills and flounces
Anyone who wants to dress like candy can safely use a lot of ruffles in the outfits. Festive Ankara dresses and blouses with frills are beautiful. Rule 'the more, the better' works this season with frills and ruffles.
Ankara off-shoulder styles
Another trend that migrated from last season is cold shoulders. Off- shoulder or one shoulder designs for dresses, sundresses, tops, and blouses are also relevant in 2019. Various options for wears with cold shoulders are suitable for women of different build. You need to choose the appropriate style.
Oriental patterns
Oriental tales promise to come into your life this season. Many designers confessed their love to dresses and skirt-shawls with intricate ornaments, belts of belly dance coins, a textile fringe, and all sand colors.
Trendy Ankara styles with top
For short pants in 2019, you can add short tops. In this season it looks like a closed bra. Ankara top is best to wear with pants or breeches sitting at the waist, the same applies to skirts of maximum or average length. Miniskirts do not suit such a top as an image is too vulgar. A considerable variety of Ankara patterns and colors can be used for such tops. For everyday wear choose tops with ordinary tailoring. If you are going to the club take extravagant options. For making a restrained image, also try a combination of a top with an unbuttoned chiffon tunic.
Ankara festive dresses
Some volume for festive Ankara dresses is 'must have' this season. Besides, an oversize dress helps to hide imperfect shapes in the hip area.
Moreover, it is trendy to decorate the evening outfit with feathers or fringe. If the fringe or feathers are not placed on clothes, then let them be at least on a handbag or shoes.
The large bows are also relevant this year for festive attire. Moreover, various kinds of bows are appropriate for office blouses as well as casual, and even sport wear too.
Colors and patterns for new Ankara styles
The trendiest color of 2019 according to the Pantone Color Institute is soft coral. Besides, a lot of designers name beige color and all its tones as the 'main' color of the season.
Among trendy colors we can also find:
coral red;
warm brown;
golden yellow;
bright yellow;
yellow-green;
deep burgundy;
bright orange;
red-orange;
rich pink (fuchsia);
pink and lilac;
royal blue.
As for the prints besides floral and tie-dye patterns, there are geometric, abstract and animalistic ornaments in vogue. These are all Ankara prints loved by Nigerian ladies.
Ankara styles for men
Add in conclusion, a few words about male fashion. In this season, men also wear floral prints. Therefore, Ankara shirts, tunics, suits, trousers with floral print are an excellent choice.
Also, bright colors are relevant to men's fashion in 2019. Another trend is short men's shorts. Shorts for the beach or walk with friends is what you need. As for the design, a fitted silhouette is now in trend. Then choose shirts, jackets, and tunics at least slightly fitted.
As you can see, the fashion season 2019 has a lot of pretty and even extravagant trends for Ankara. Also, the favorite trends of last year are relevant. Ankara's color palette is still at the peak of popularity among designers. So feel free to create new images with your favorite styles.
READ ALSO: Ankara evening gowns for special ladies
Source: Legit.ng