Latest Ankara styles for pregnant mothers
Are you pregnant or just planning to become a mom? And you watch out for trendy novelties and do not want to put on sack-like clothes during pregnancy. Then see our selection of Ankara outfits for pregnant ladies. The latest Ankara styles for pregnant mothers will impress you!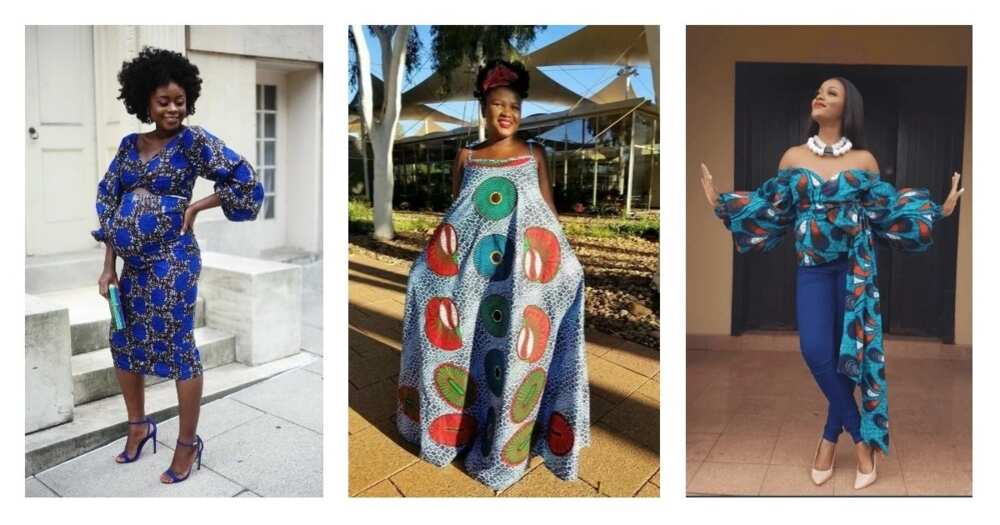 The fashion industry is actively developing. Expecting moms can keep up with trends and be at the top of fashion and style. We are going to tell you about the new trends for pregnant women in 2018.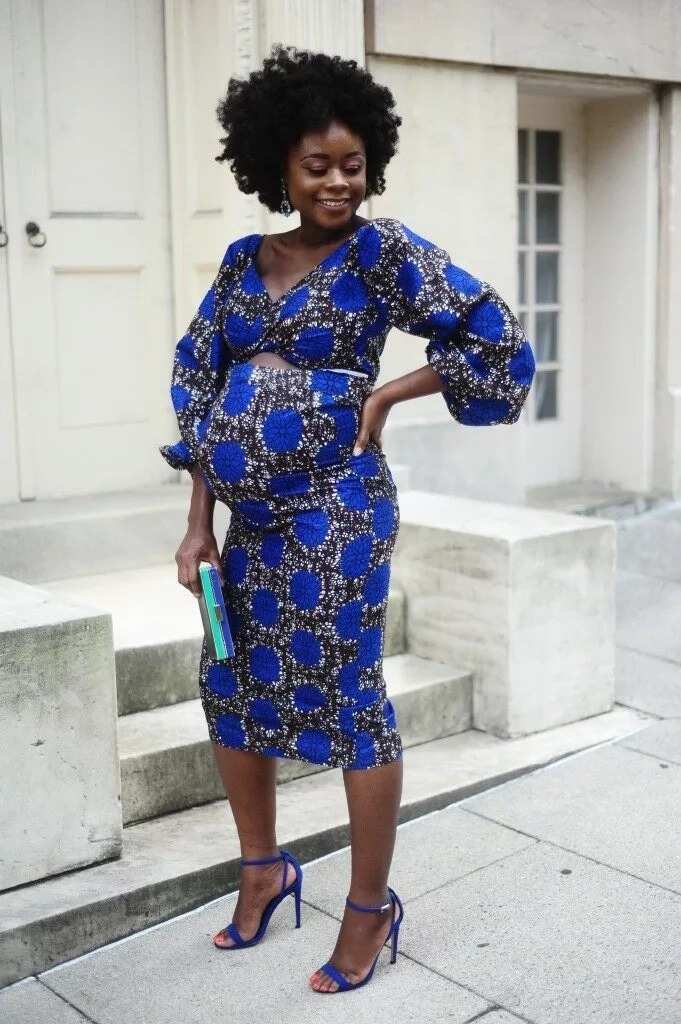 In clothes the fashion-relevance, as well as the convenience of the outfit is important. For pregnant women, the quality of the materials is in the first place. The best option is natural materials and fabrics. They allow the skin to breathe and future mothers feel comfortable. Ankara styles for maternity clothes are an ideal choice.
READ ALSO: Ankara maternity styles in Nigeria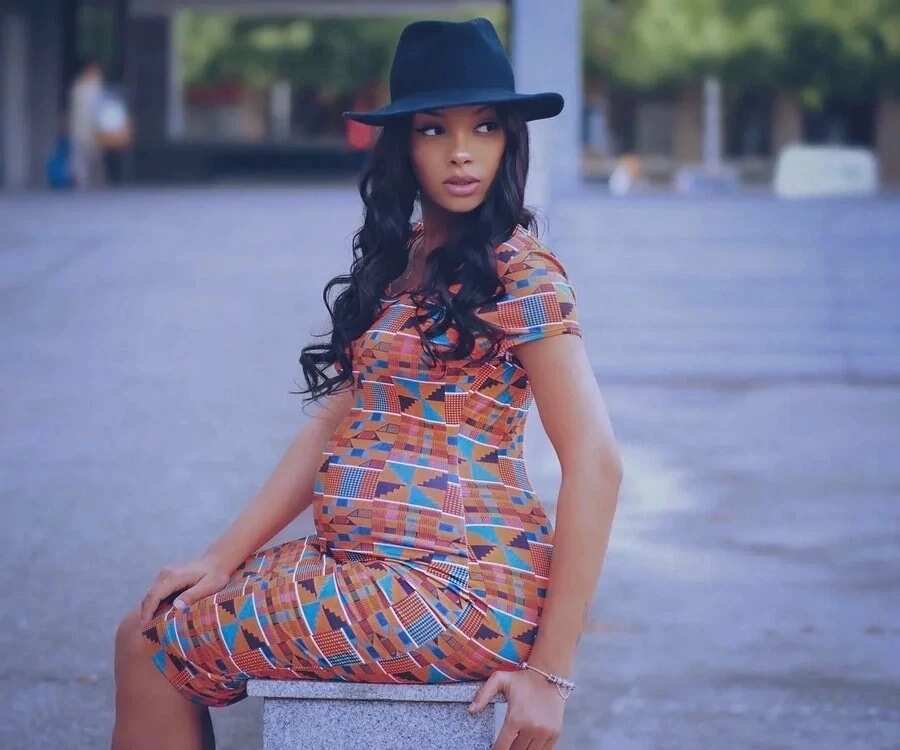 Everyday Ankara designs for pregnant women
Everyday wardrobe of a pregnant ladies should be practical. However, convenience does not mean rejection of style: on the contrary, basic things can easily be used in the frames of the latest fashion collections.
Preference should be given to items of Ankara fashion that do not restrict movement and shape:
flared Ankara dresses
loose light sundresses
Ankara shirts and blouses with denim jumpsuits
tunics with trousers or flared skirts
It's a basic set of the most necessary items. They can be combined in different ways with accessories and other clothes, depending on the occasion.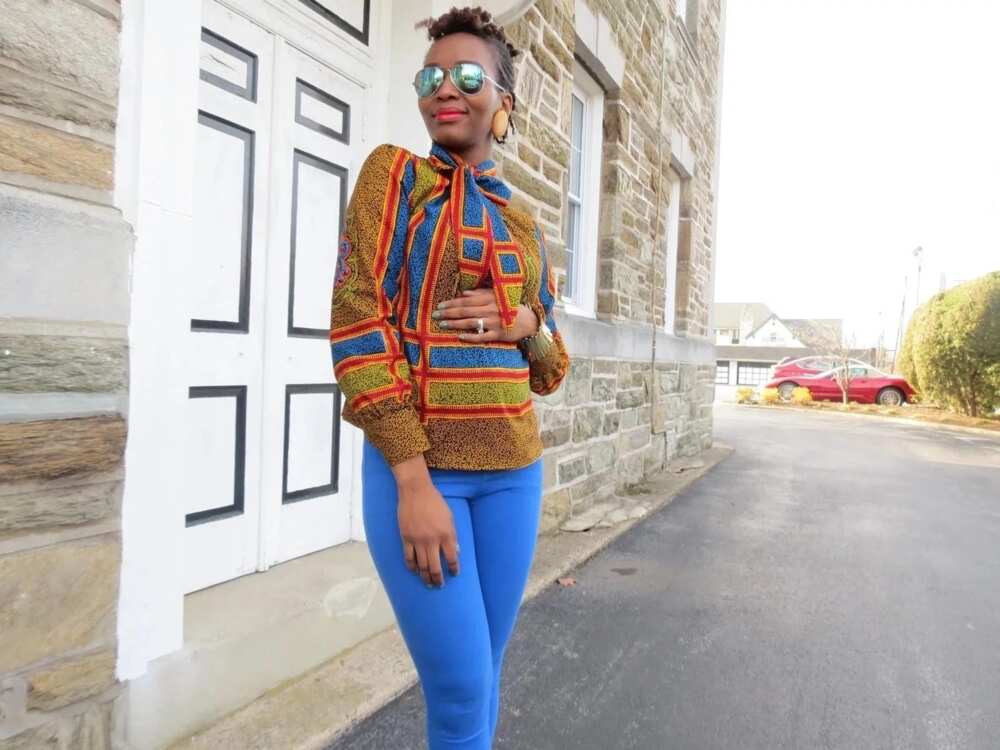 Combination of Ankara shirts and blouses with denim jumpsuit or trousers is very convenient. You only have to choose accessories to your liking. For example, add a beautiful Ankara beaded blouse and small handbag to your denim jumpsuit.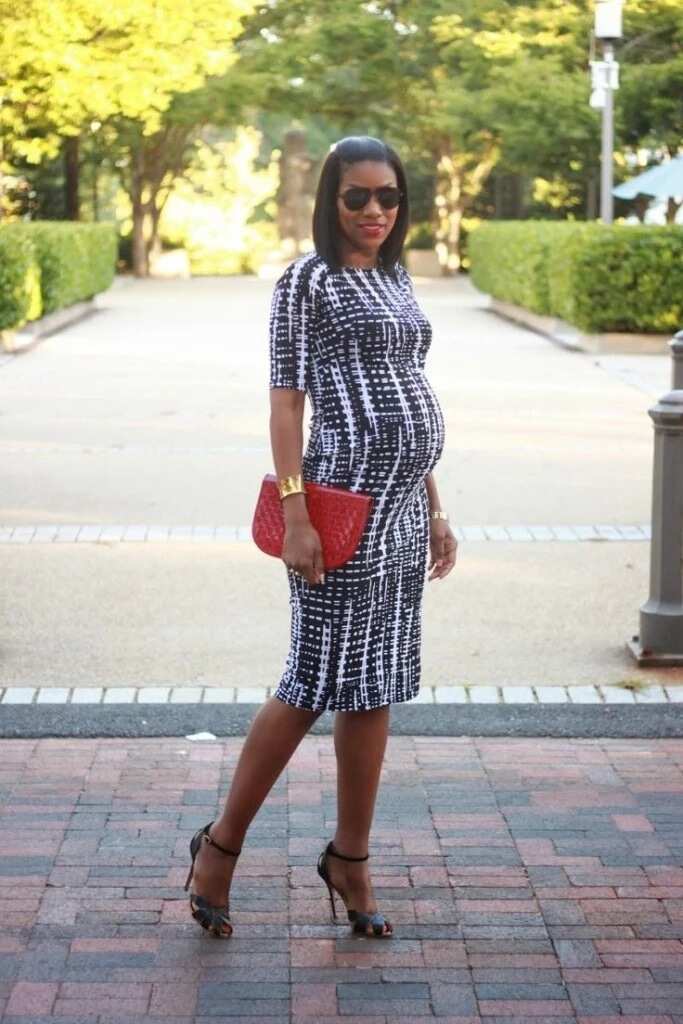 Ankara styles for pregnant ladies in the office
Fortunately, in warm and hot seasons we have fewer problems with clothes for pregnant women than in the cool season. In 2018, designers offer many options that allow pregnant women to look stylish during business meetings and events.
First of all, it is worth buying a few basic blouses and shirts with classic tailoring, as well as trousers and a jacket. This set of clothes serves all the season until maternity leave. The main condition is the clothes should not be too tight. It's necessary to make sure that the trousers' belt does not squeeze too tight. Otherwise, it will create additional difficulties.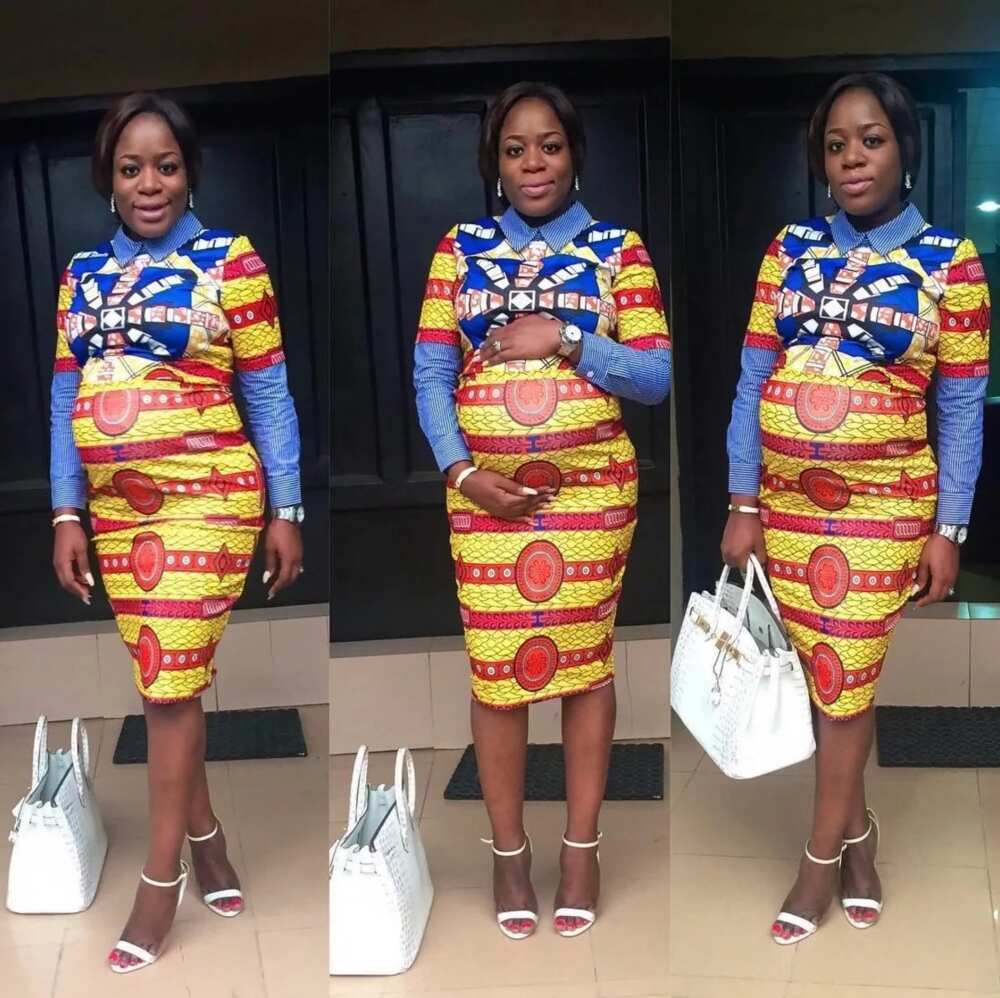 Other variants of stylish working clothes are office dresses. Don't forget to add a beautiful necklace and a jacket or cardigan if the weather is cool. And you can also focus on accessories, for example, a bright bag or scarf. Midi skirt on a soft elastic band or with a special textile insert for pregnant ladies and blouse are also appropriate.
Latest Ankara styles for pregnant mothers
However, fashionistas should be especially careful with shoes:
Despite the fact, that dresses and skirts need at least a small heel, not all women can wear such shoes during pregnancy.
You need to choose high-quality and comfortable shoes.
A low heel is allowed to be worn for a short period and the heels should be thick and stable; the heals must be stable most importantly.
Here are different Ankara styles for pregnant women that are in fashion this season.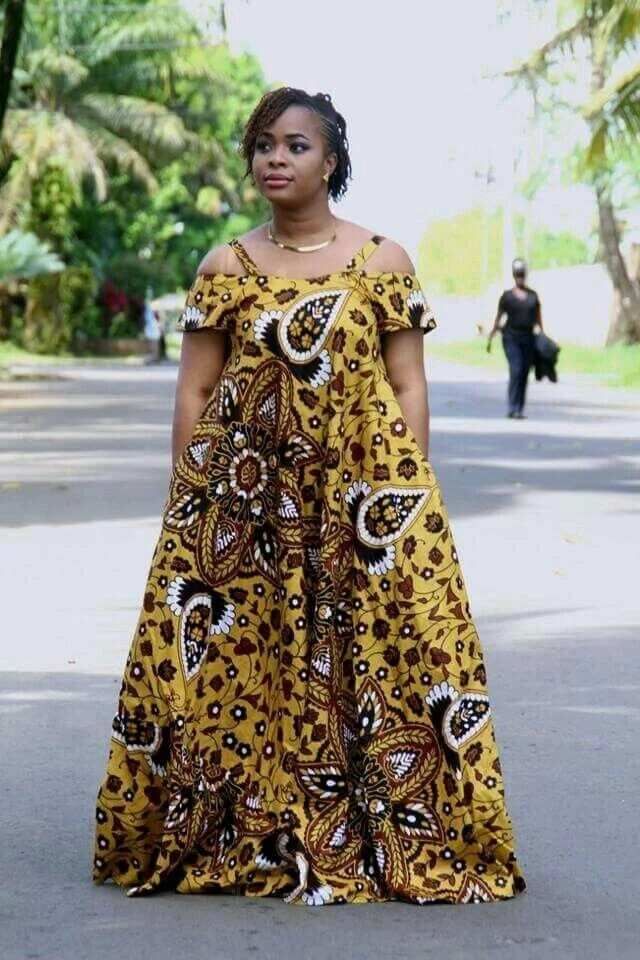 Ankara dresses with an overstated waist
Many trendy dresses for pregnant women are used with a belt, if you do not have a belt, you can easily choose the appropriate accessory. Use slim belts made of leather or textile. It is better to stay away from elastic belts and accessories with chains and large rivets, especially when you are already months pregnant.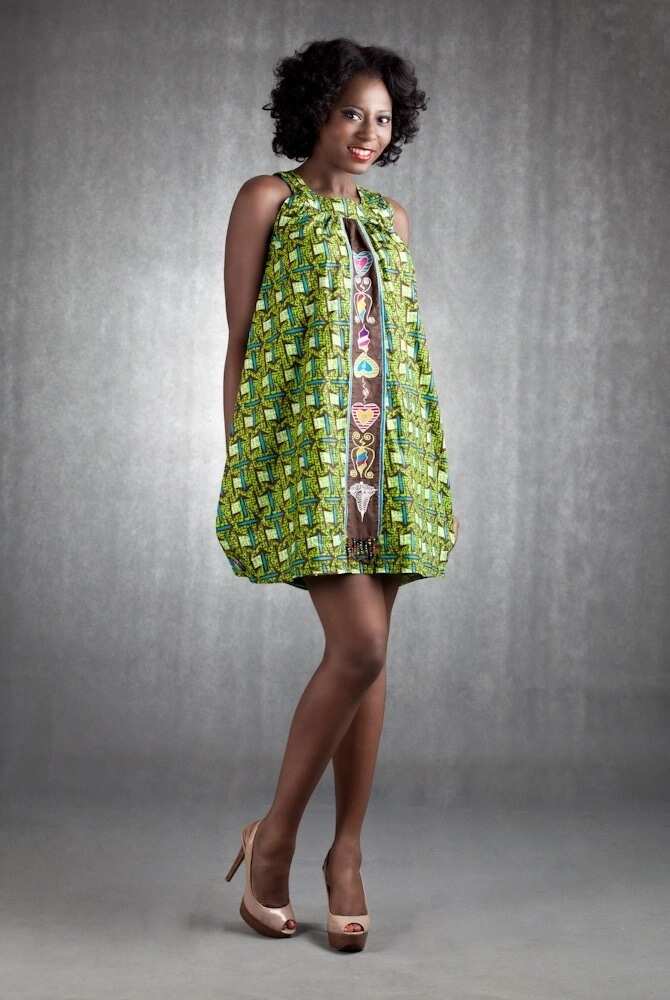 Ankara trapezium gowns
The style of these gowns allows you to wear it even at later stages of pregnancy. The main thing is to choose the right size.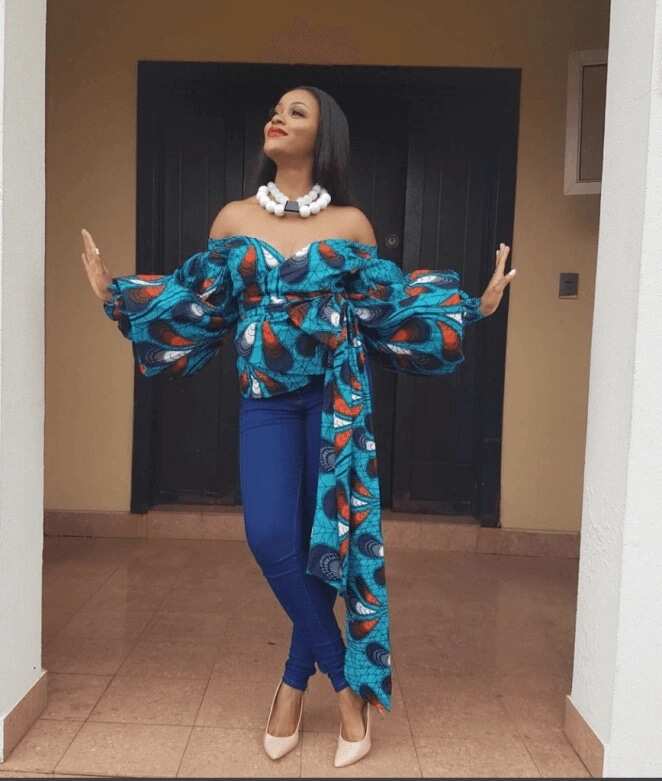 Ankara shirts and blouses detachable under the chest
Who said that stylish office clothes are taboo for pregnant women? Unique Ankara styles can help you. Pants in combination with a loose shirt or blouse are a win-win option. You can keep the business style and enjoy the convenience.
READ ALSO: Ankara maternity tops - Best designs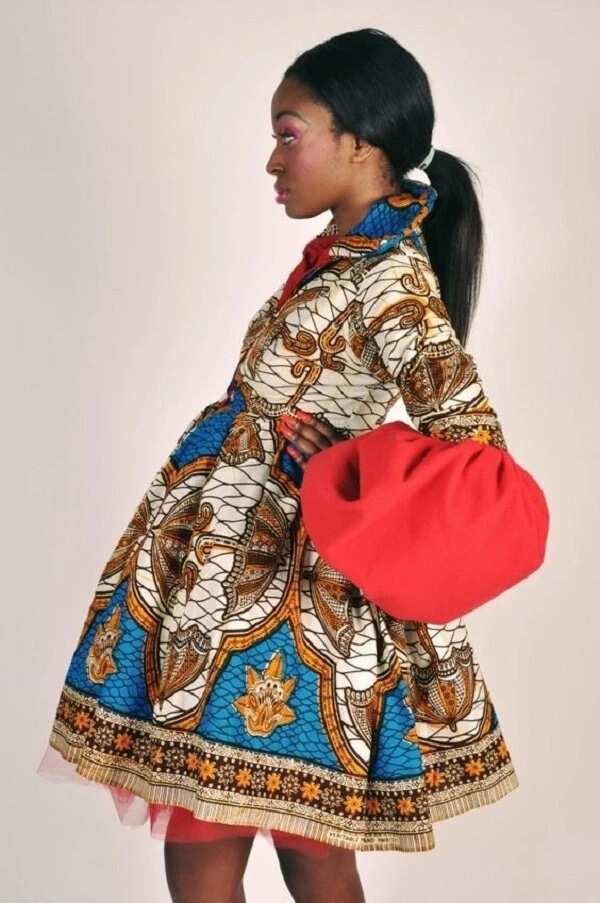 Ankara dresses with drapery
These dresses allow you to keep the silhouette of your figure but at the same time make the tummy less noticeable. Drapery on the tummy does not constrain movements and squeeze the body.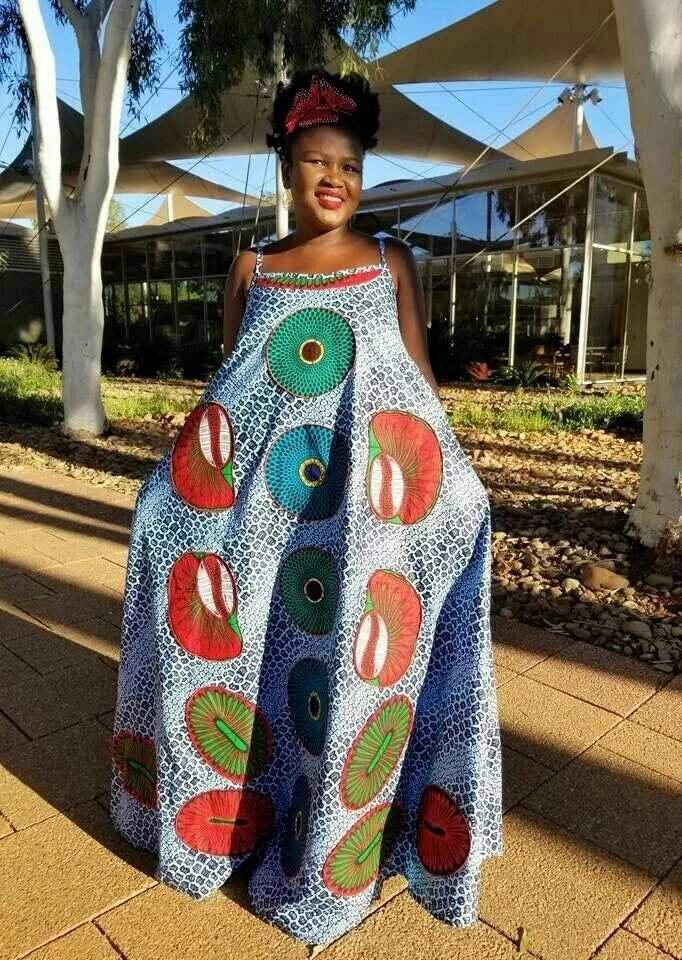 Ankara maxi sundresses
The sundresses for pregnant women are usually made loose and flared. Besides, you can wear this style after pregnancy and cut the extra length by turning your sundress into a light cocktail gown.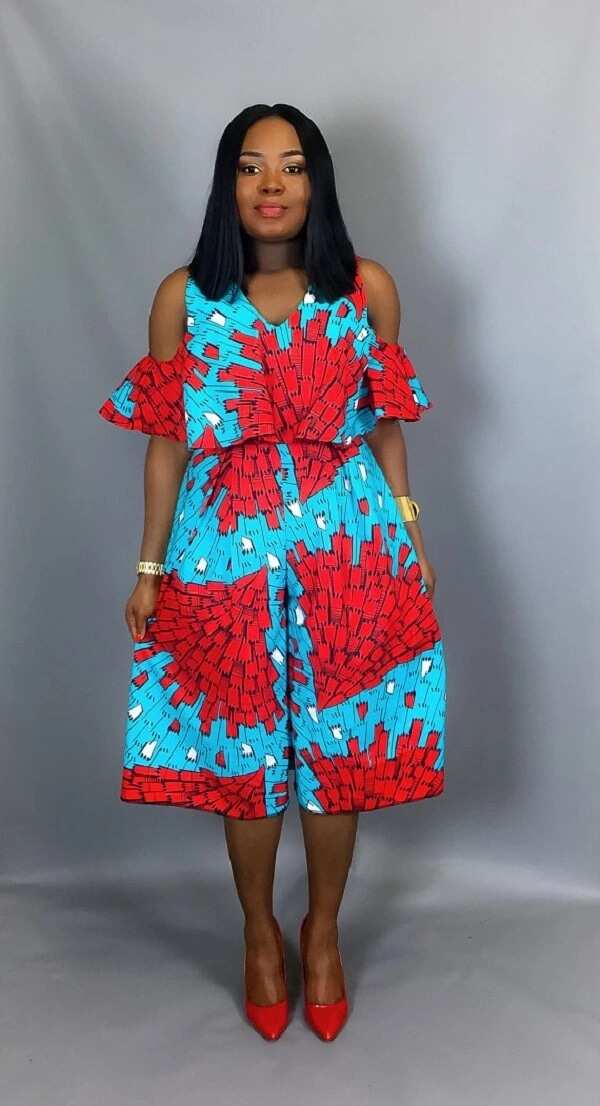 Ankara blouses and culottes
Such trendy clothes as culottes are a real holiday for the body. Pregnant ladies like wearing these pants even more. They don't constrain movements. A wide tailoring and natural Ankara fabrics allow the body to breathe and not feel the heat even in the hottest weather. Oversize t-shirts, blouses or flying tunics go well with culottes.
We recommend you choose trousers of pastel tones. But give vent to fantasy for both bright Ankara color palette and prints while selecting a top.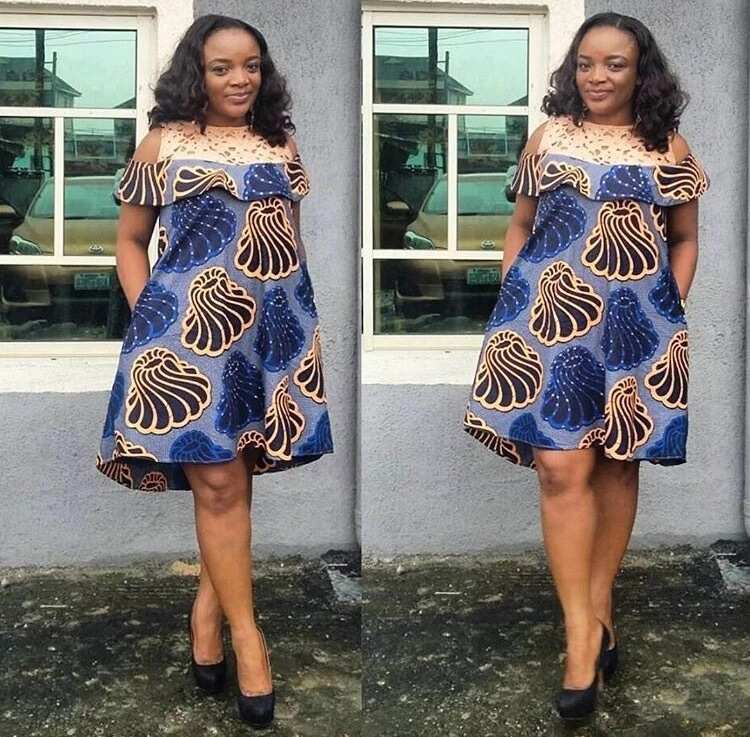 Ankara flared dresses
As a rule, such dresses have a wide neckline where the tailoring begins to expand. Flared gowns are made with or without sleeves
Free Ankara shirts or blouses with airy skirts
The elongated airy skirts are still relevant. Future mothers should buy this outfit for their wardrobe.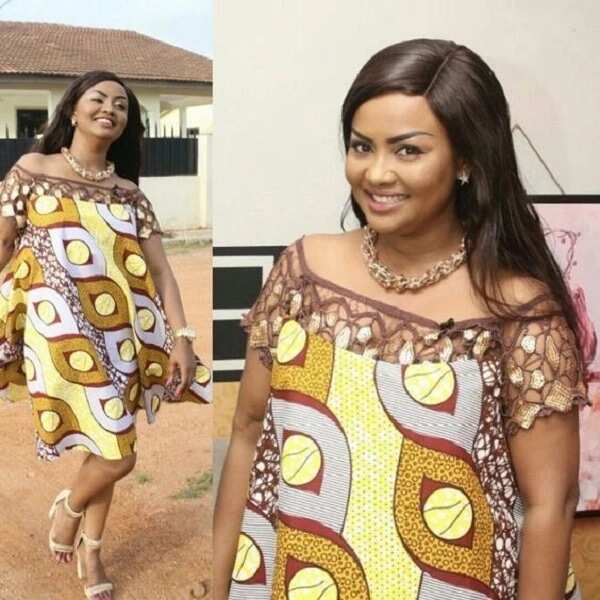 Evening dresses for pregnant women
Pregnancy does not exclude evening activity. You can visit theaters, restaurants, as well as galas and other social events.
Trendy evening wears for pregnant women in 2018 can flowing dresses as well as more fitted ones. The variability in colors and tailoring allows each girl who to choose something to her liking.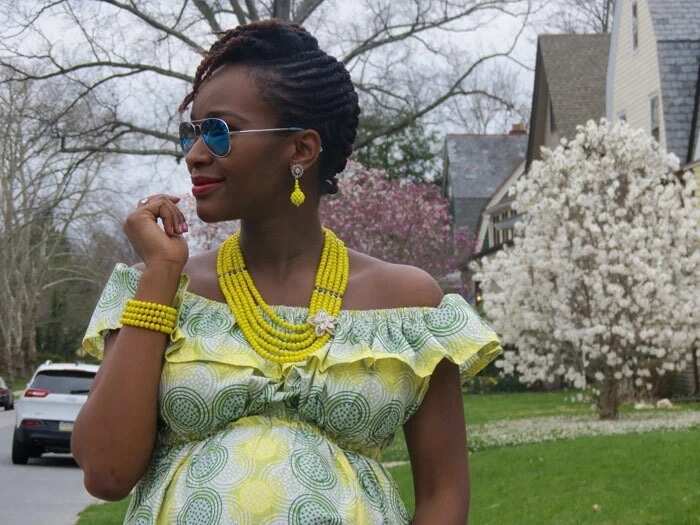 One of the trends in 2018 is the return of the Greek style. So it makes sense to choose light long dresses. The appropriate makeup and hairstyle turn any woman into a Greek goddess.
Outfits with lace are especially popular in this season. The lace trim or pattern can differ in color from the basic Ankara fabric, or be in one tone. The main thing is that any lady will feel like a queen of the event in such a dress.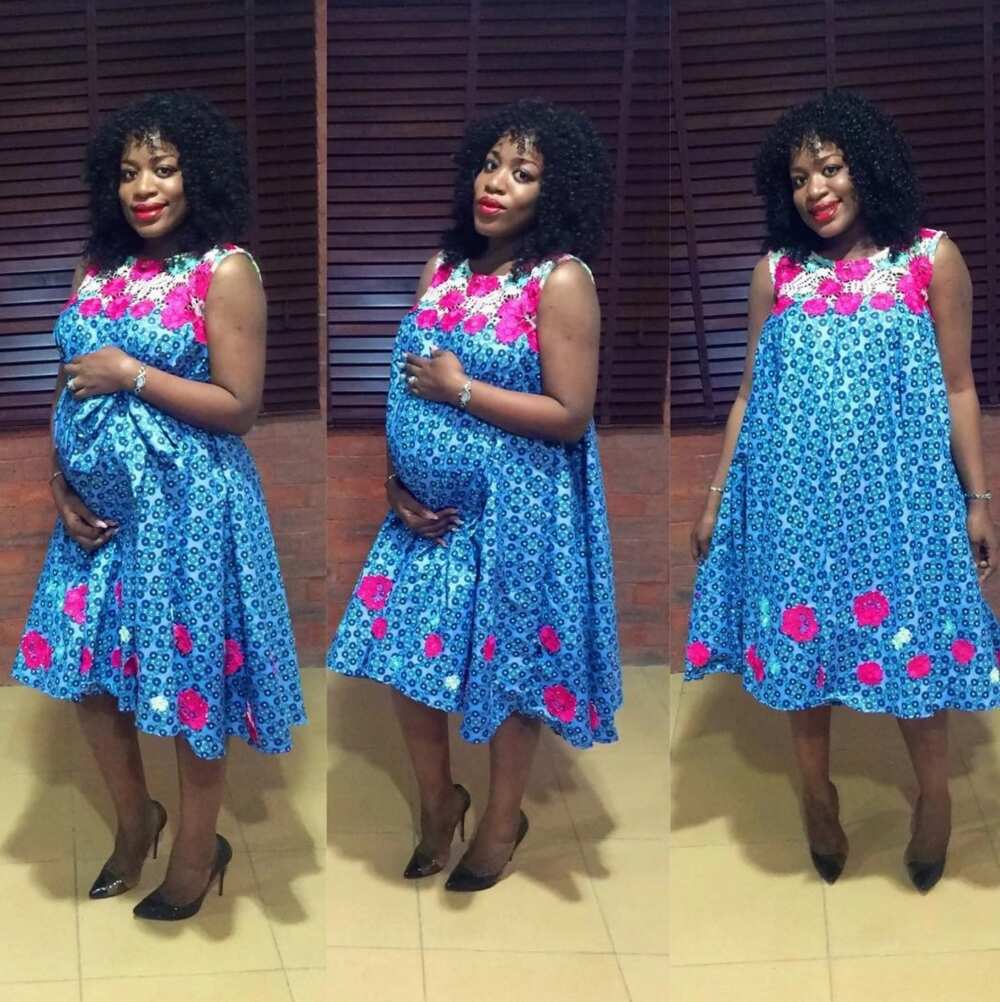 Colors and décor of Ankara styles for ladies
In 2018, the trendiest colors of clothes are pastel in combination with bright colors. The delicate tones perfectly suit pregnant women. They are considered the most popular option for ladies. In 2018, natural colors are in fashion. It's recommended to select grassy green, light blue, and lemon tones.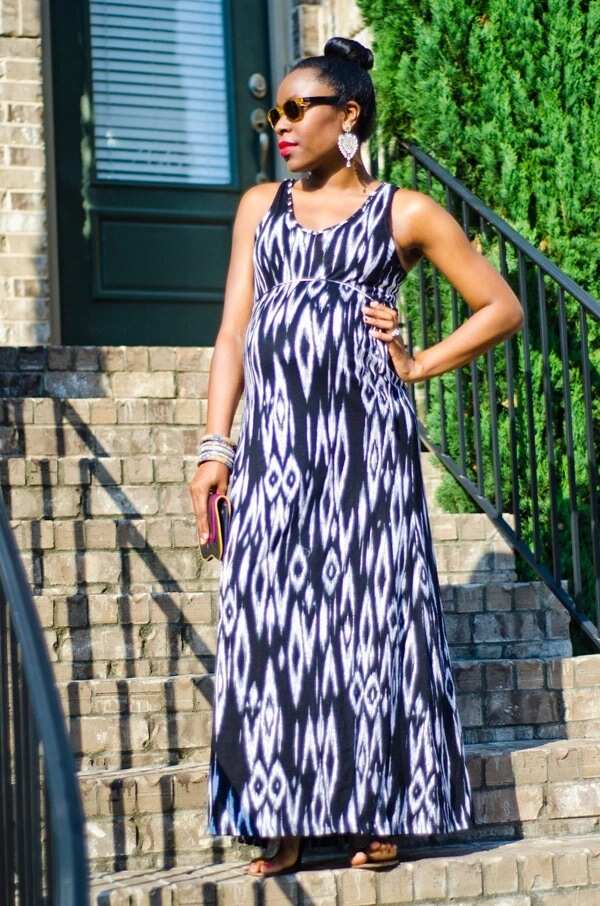 However, pregnancy doesn't mean "grayness." So you do not need to hide your beauty and individuality and refuse the style you are used to. If you like bright Ankara colors, you can make a wardrobe of colorful dresses and add to them any trendy details. In 2018 they are sequins and feathers.
Pregnancy should not stop you in an effort to look stylish. Change your wardrobe with trendy styles made with Ankara.
READ ALSO: Aso ebi styles for pregnant ladies 2017
Source: Legit.ng