Beautiful Ankara maxi dresses for real fashionistas
You should definitely take a look at beautiful Ankara maxi dresses for real fashionistas. We know you are still in search of the most stylish gowns to rock the streets and festive events. We hasten to help you with a review of the most successful options from the latest fashion collections of beautiful Ankara maxi dresses. Perhaps among the best Ankara styles, you can find your ideal outfit.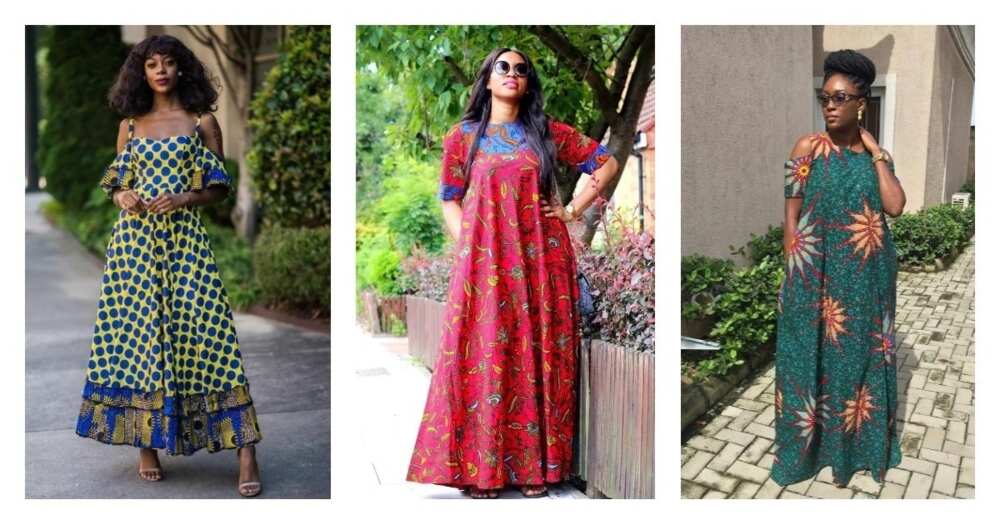 The world's famous designers are fond of long dresses. In their collection, these outfits take the most important places.
Season 2018 is the time for maxi dresses. Stunning maxi dresses give ladies special femininity, romanticism and of course, grace.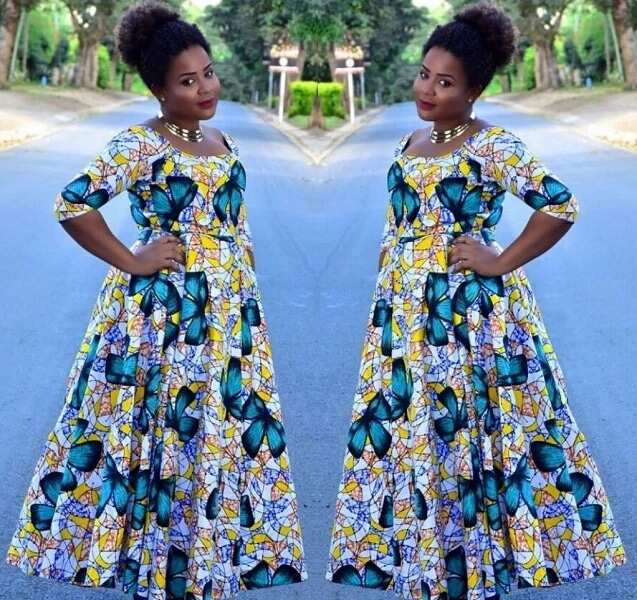 Today fashion designers offer styles of maxi dresses in different variations. You can find sports, everyday, beach, and evening styles. Almost any fashionista can choose a maxi gown for her taste.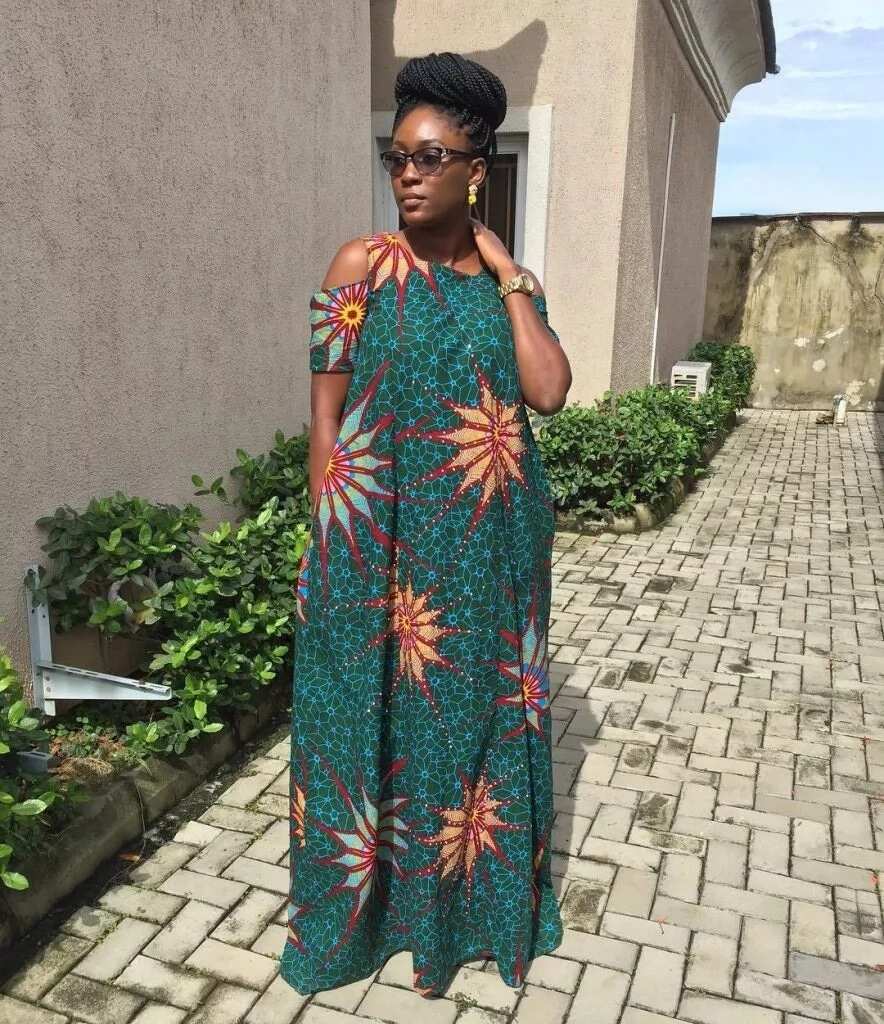 Designers paid special attention to lenght and texture. They created a lot of original maxi dresses. To emphasize a woman's tenderness, choose the maxi dress with floral patterns. It's a very popular print this year. Many girls like maxi dress also for the fact that its free cut allows to hide the figure's flaws effectively and they feel confident.
Bright fashionistas should look at maxi dresses of complex geometric cuts and asymmetry or pay attention to styles with an architectural silhouette.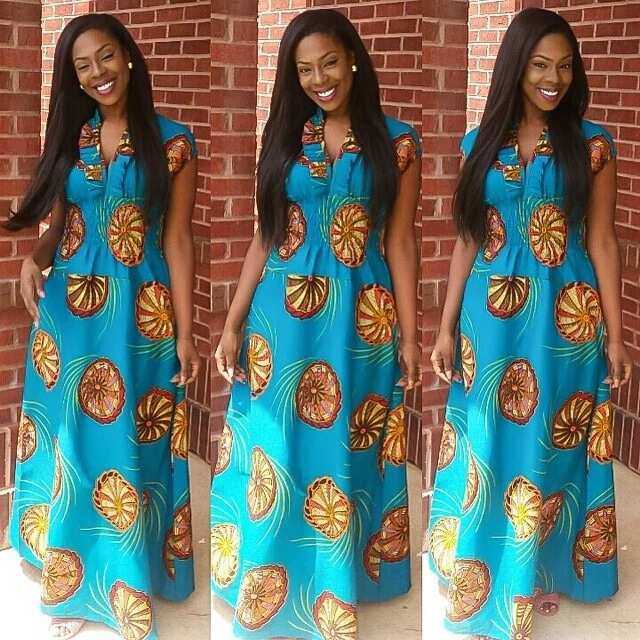 If you choose the maxi dress for a events, then the best option is a maxi dress of black color to the floor because there is nothing more beautiful than universal and classic style.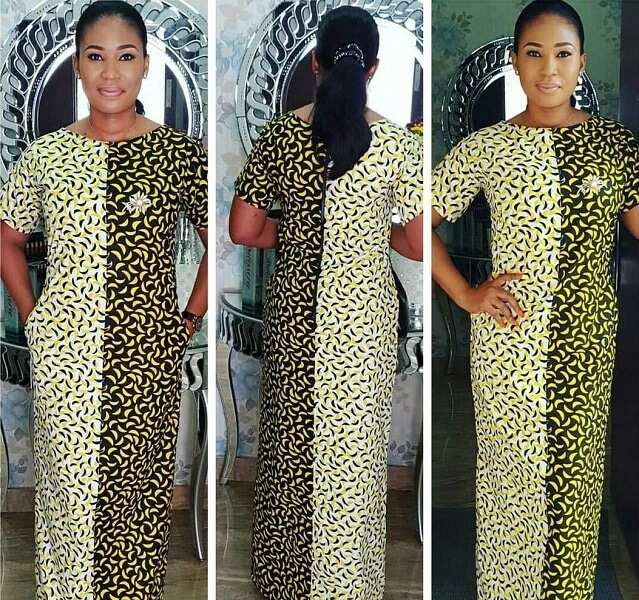 Latest Ankara long gown styles are good not only for events. In such attire, you can go for a walk or date. For Nigerian ladies, there is a huge variety of maxi dresses for everyday wear.
Each woman looks feminine and stylish in this outfit. The main difficulty in choosing the needed option is to pick up the right style and accessories.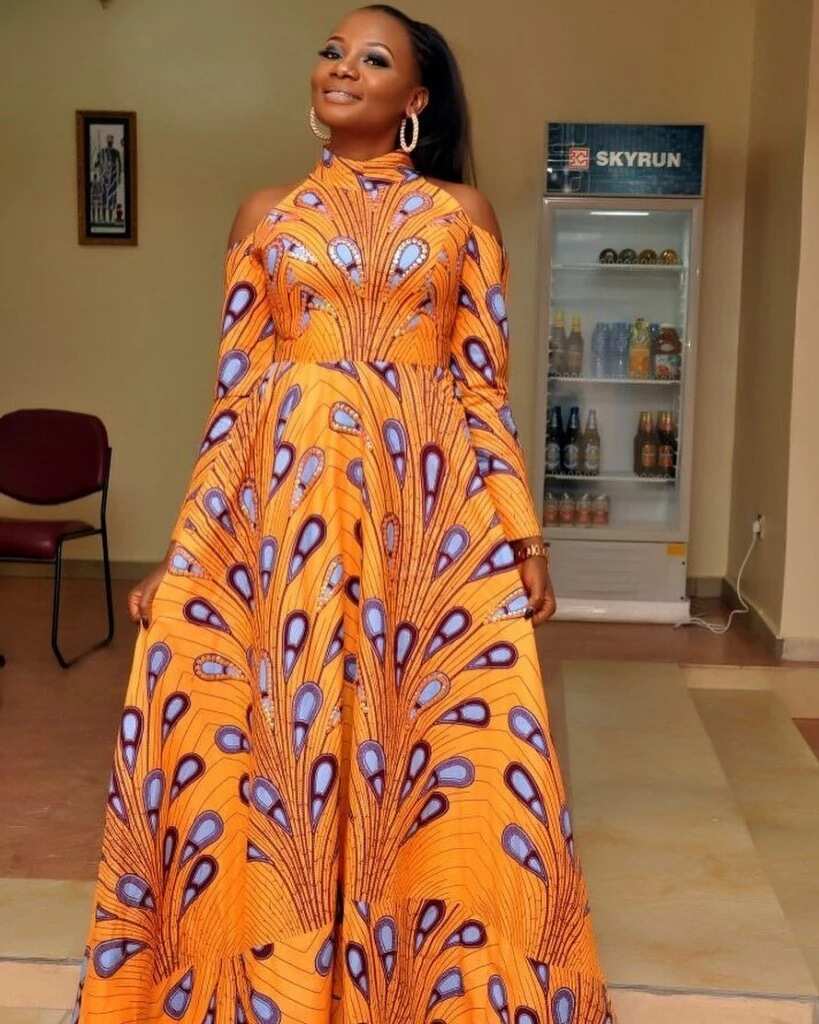 Pay attention to Ankara dresses of bright colors. Ultraviolet, yellow Meadowlark and red Cherry Tomato are in fashion. Multi-colored stripes, floral ornament or an extravagant snake print are in great demand too.
Let's talk about trendy styles made with Ankara, color solutions and prints which are topical for Ankara maxi dresses of this fashion season in more detail.
Trendy tailoring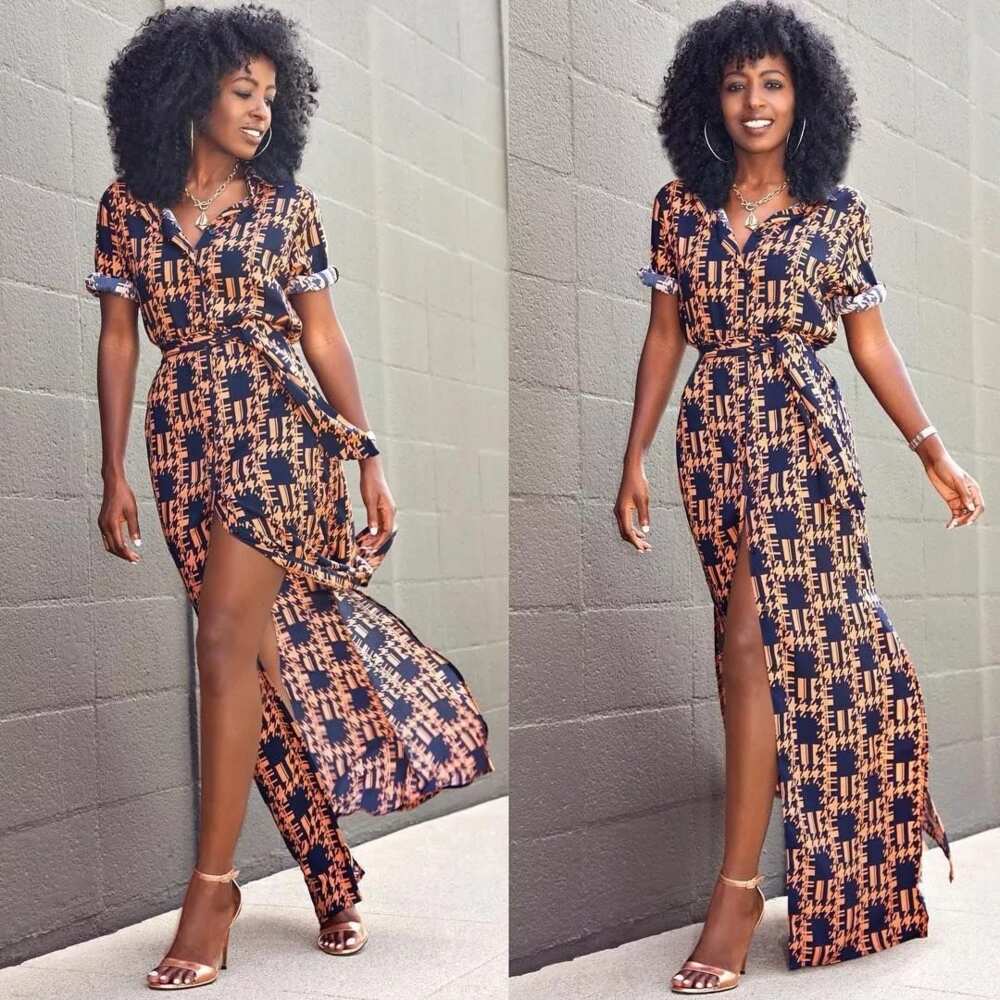 Ankara maxi dress-shirts
Today latest Ankara style of dress-shirt is at the height of fashion. Long dress-shirt with free tailoring is an excellent option for walking around the city and office style. The silhouette can be straight or flared to the bottom. As for the decor, buttons of an unusual shape or bright colors look good.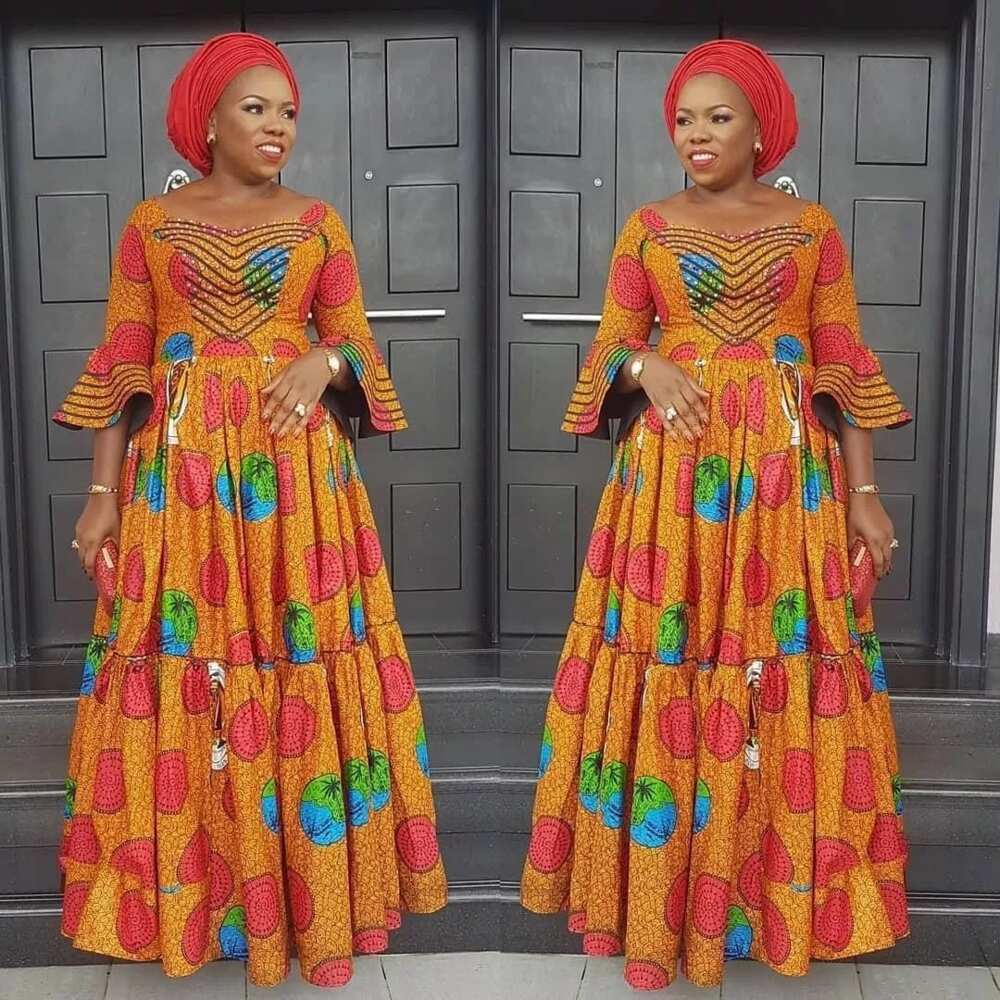 Ankara maxi gowns with long sleeves
A maxi dress with long wide or flares sleeves creates a relaxed look for casual style. Such gowns can also be used for occasions. Chiffon or lace sleeves for Ankara gowns are also in fashion. Decoration with transparent inserts is typical for evening dresses of trendy Ankara styles.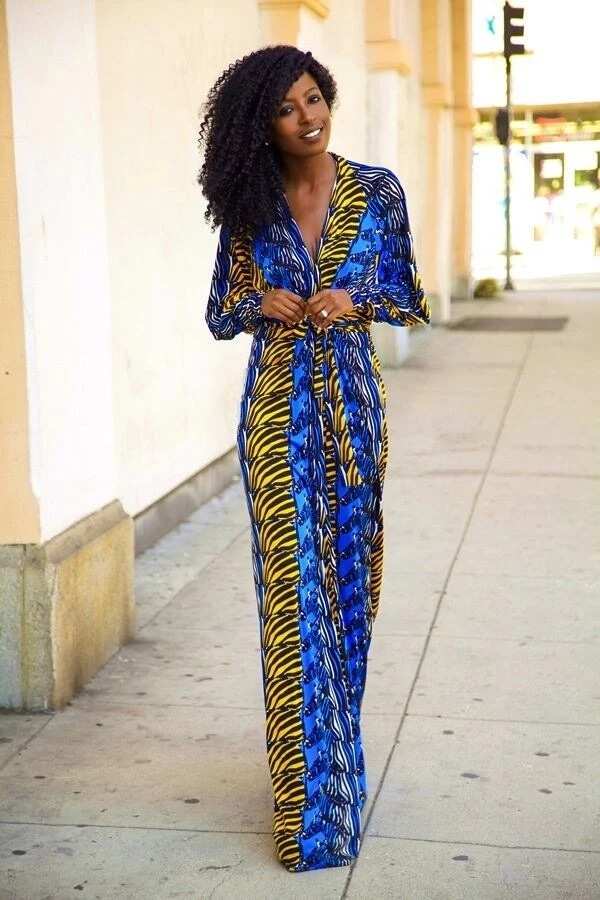 Long V-neckline dresses
Ankara maxi dresses with a V-neck are also in trend. Such neckline's design helps to lengthen the silhouette visually. It's suitable both for everyday look and events outfits. For occasion, you can choose a dress with a deep neckline. The V-neck cut can adorn every lady except girls with narrow and thin shoulders. As for the others, the V-neckline maxi dresses add femininity and elegance to the image.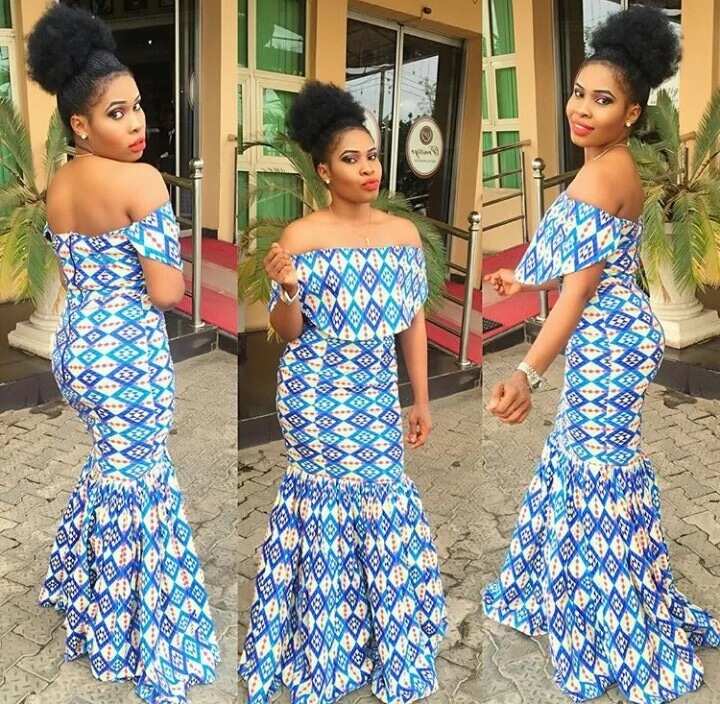 Ankara maxi mermaid dress
An intriguing mermaid dress is an obligatory part of the wardrobe. It's an excellent option for festive events like weddings and traditional celebrations.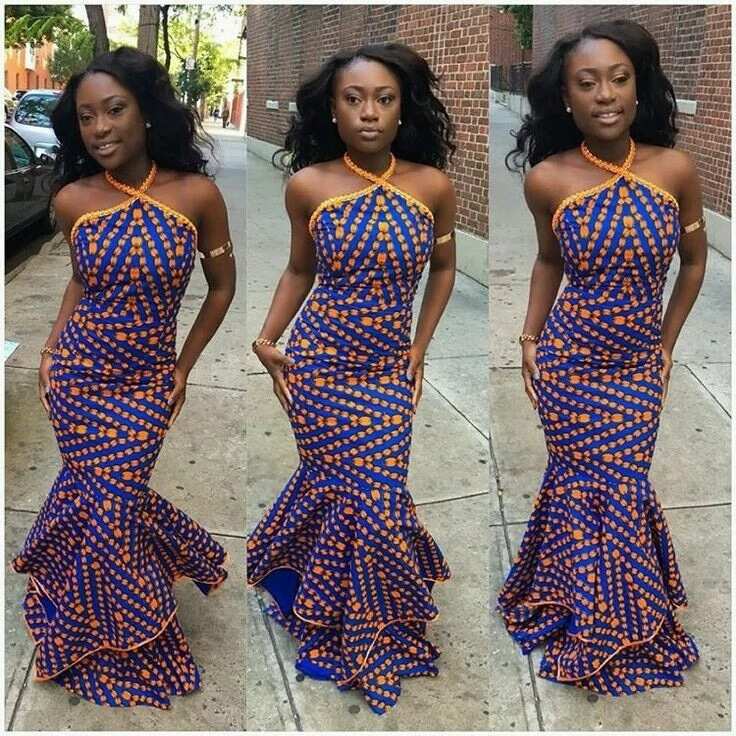 Ankara maxi dress with frills and flounces
Ruches, flounces, and frills add a zest even to the most ordinary dress. They help to create an additional volume in the needed part of the outfit. Frills are a very beautiful decorative element and this season they are in demand.
READ ALSO: Best Ankara designs for gowns in 2018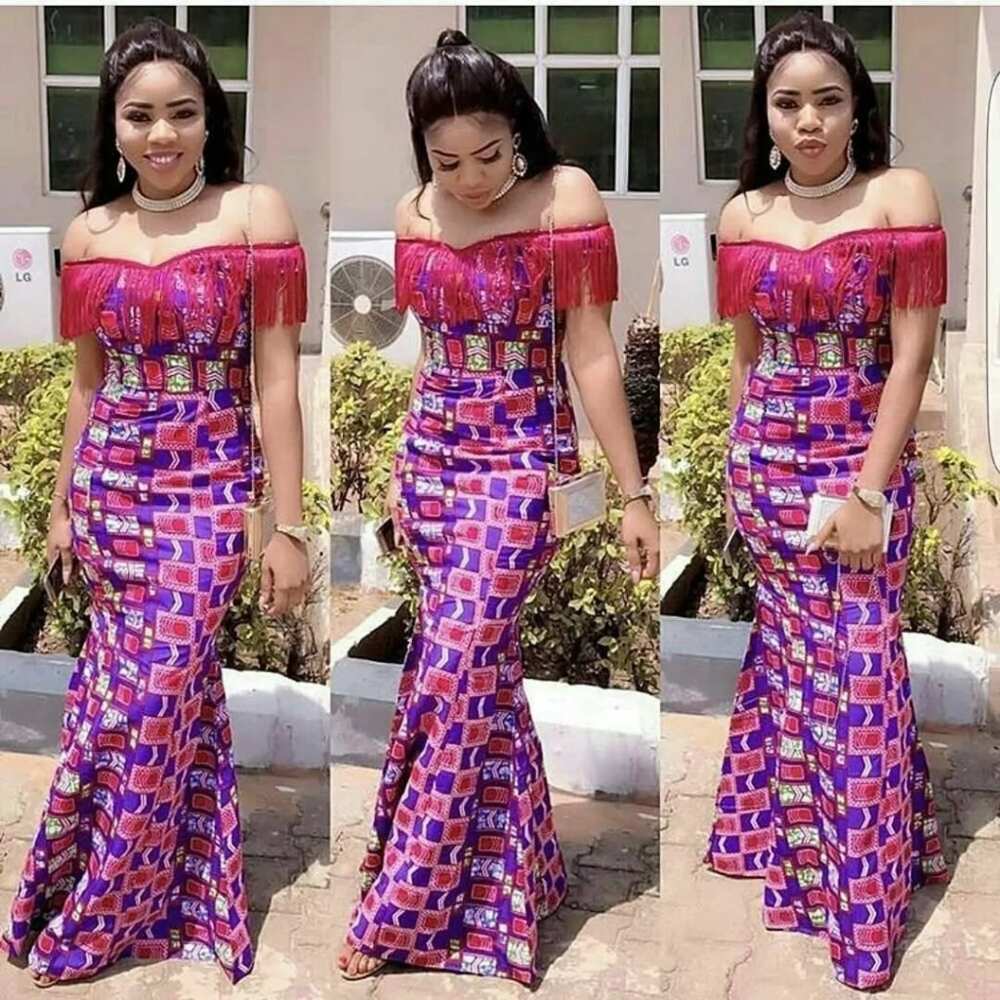 Long gowns with fringe
You may decorate with the fringe only the hem or neckline of your Ankara maxi dress. Besides, the fringe can be used for the whole outfit. But only very slender girls can afford it. At the same time, the tailoring of such gown should be as simple as possible.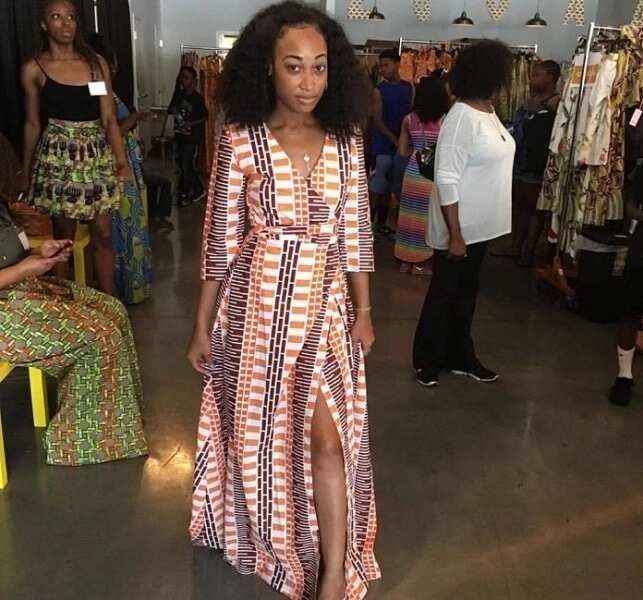 Ankara wrapped dresses
Elegance and sense of style are the skills of a real woman. She can demonstrate them with a stylish wrapped maxi gown. Despite the simplicity of design, these dresses emphasize femininity and fit almost all figure types.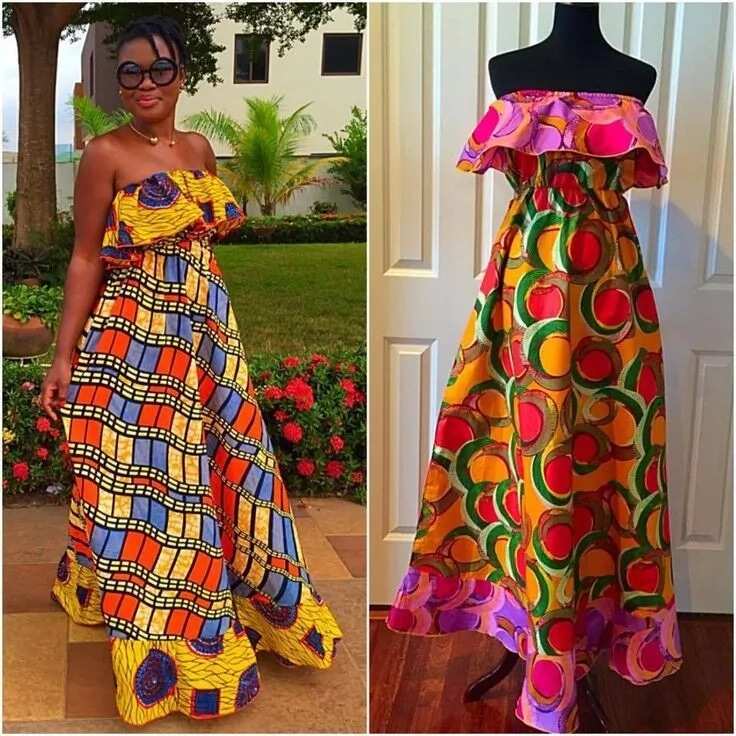 Maxi free-cut sundresses for the beach season
Ankara maxi sundresses are great for beach time, as well as for ordinary walks on a hot day. For maximum comfort, it's better to choose a free cut and open shoulder line to such outfit. You can use straps or a rubber band on the dress top. The bottom of the gown should be flared from the waist or made in the Greek style. As decorative elements, use ruffles and flounces, as well as cuts on the dress's skirt. In the beach style, they are quite acceptable.
Color palette and prints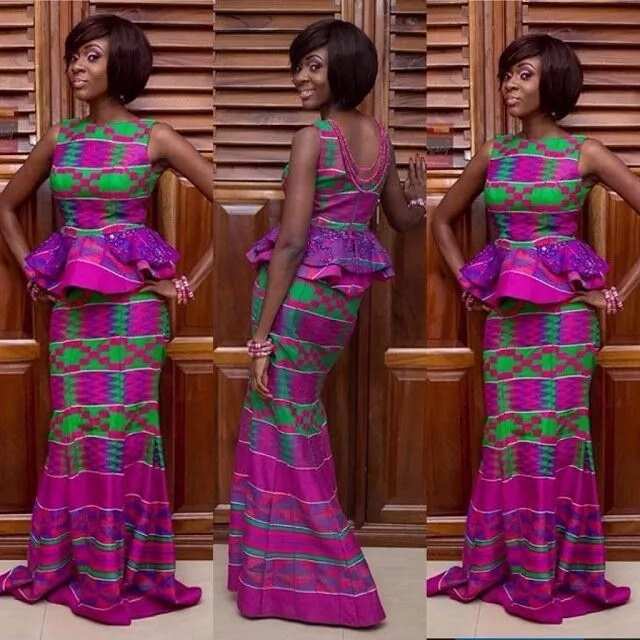 Ankara purple dresses
Bet on ultraviolet this season while choosing a dress. It's a 'must have' 2018.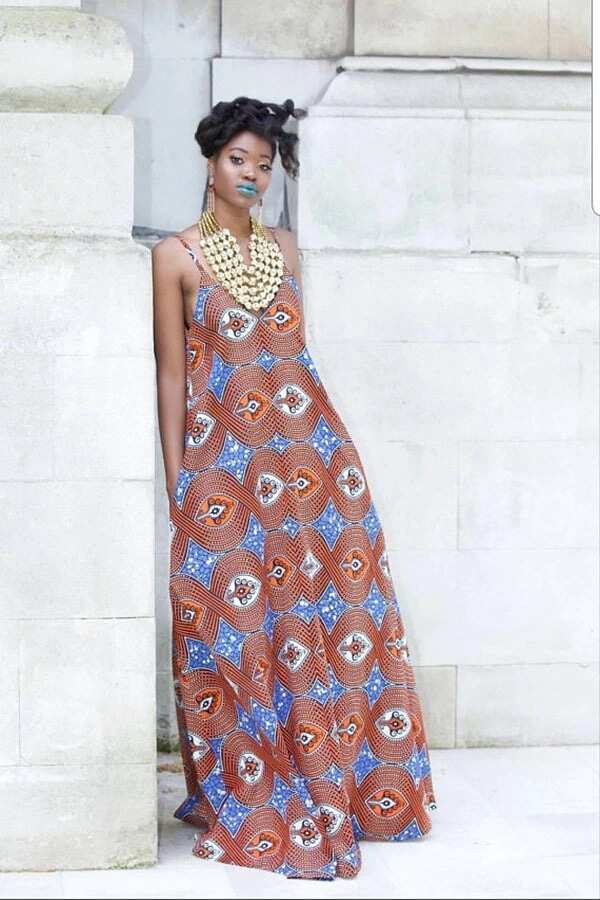 Minimalistic maxi gowns of pastel colors
In this fashion season, designers are inspired by simple cut, clean lines and other attributes of minimalism. Elegant dresses of pastel tones are worn not only for the events but every day.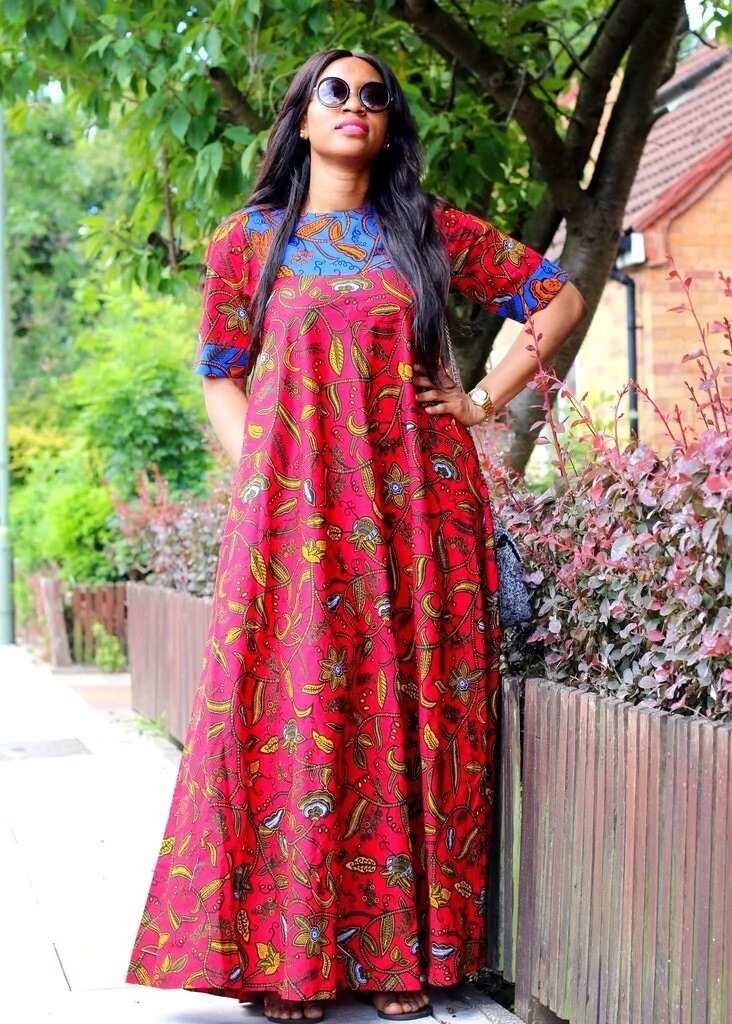 Ankara red dresses
Agree how often we lack only a trendy red dress to feel absolutely happy and confident! This season designers pay enough attention to red color. Ankara red maxi dresses are beautiful.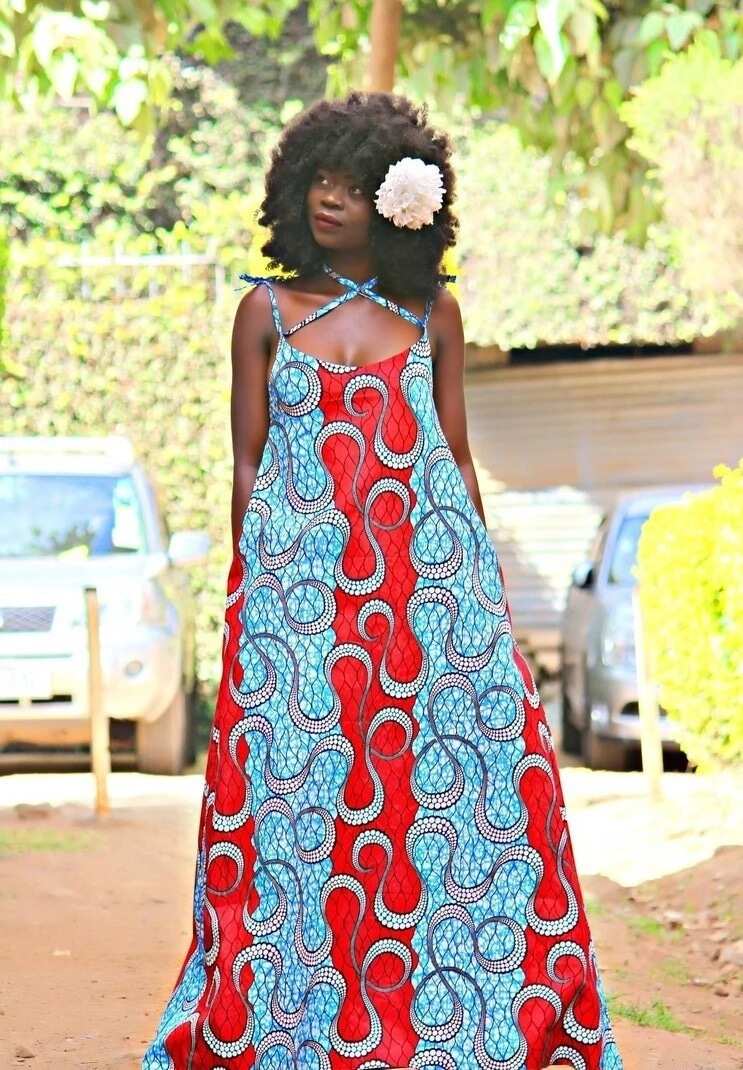 Long dresses in the 'marine style'
A marine style is relevant in 2018. Blue and turquoise maxi gowns can be worn in casual and office style as well as on a fashionable resort.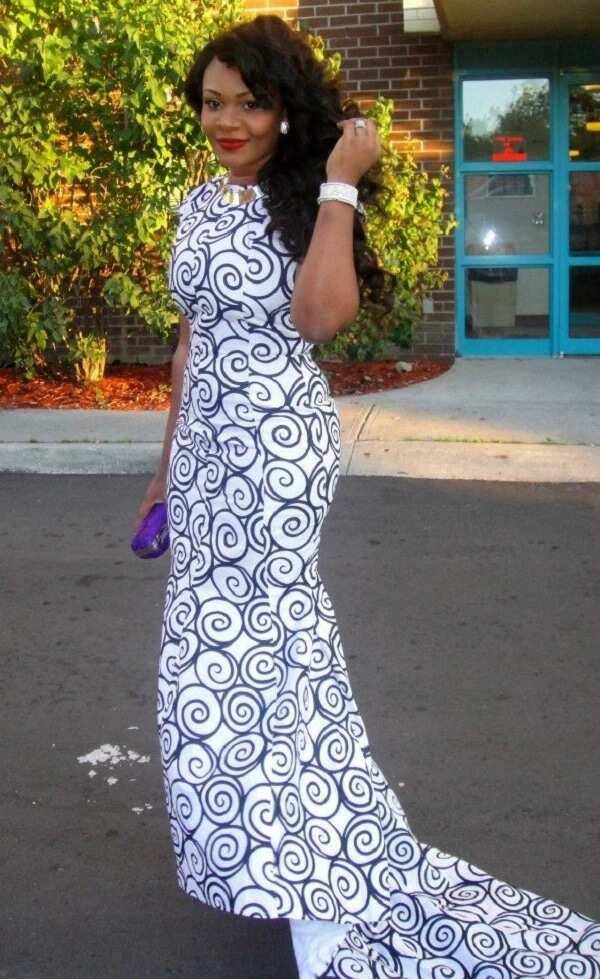 Black and white Ankara maxi gowns
In season 2018 black and white colors for Ankara maxi dresses are also relevant. White dresses with delicate pastel prints are good for daytime outings, as well as for festive events such as a wedding. The black outfits are appropriate in the evening.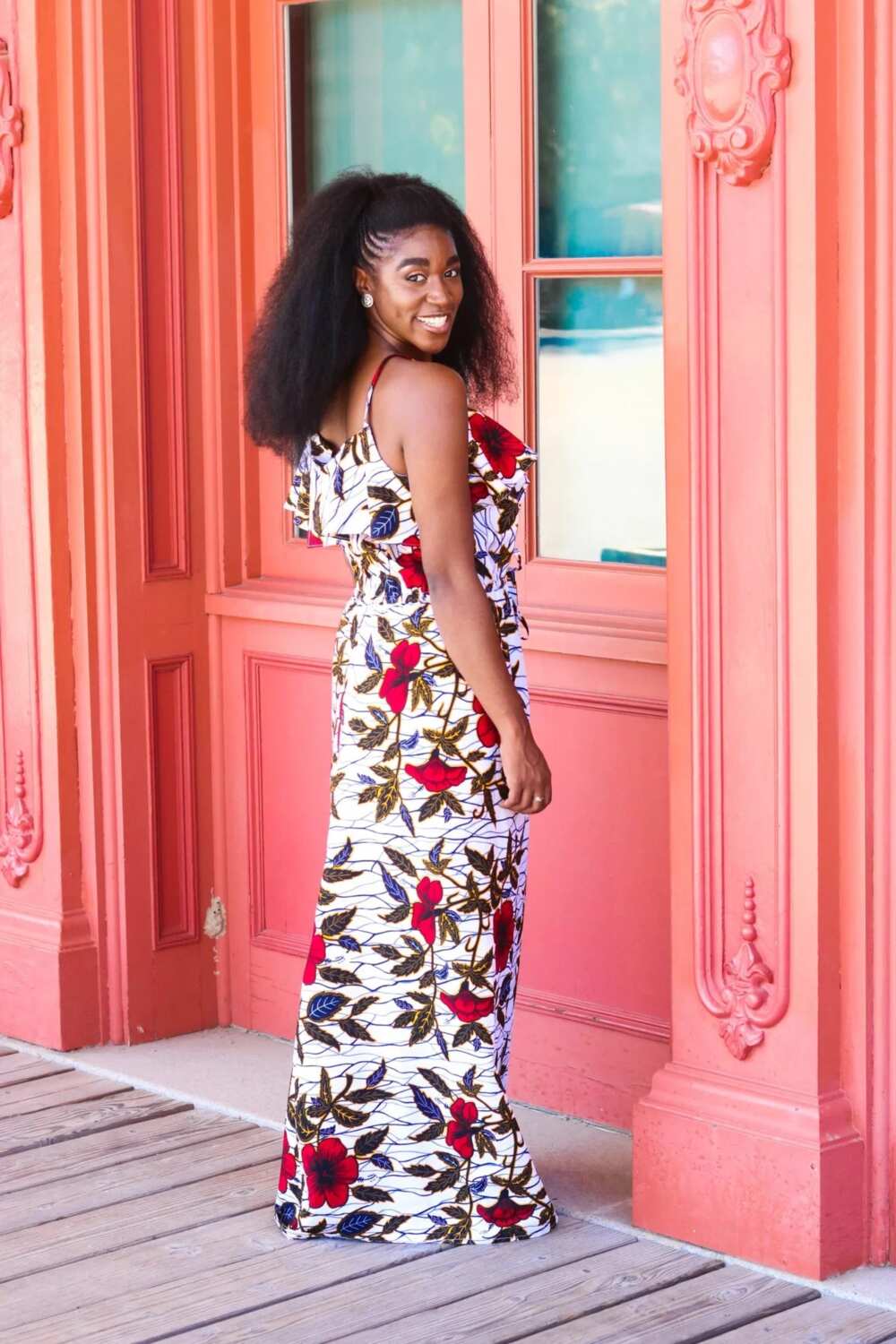 Long gown with floral print
The nature of time immemorial inspired designers to create their masterpieces. Follow our tip: in the trendy season, 2018 small floral prints and elegant embroidery are welcome.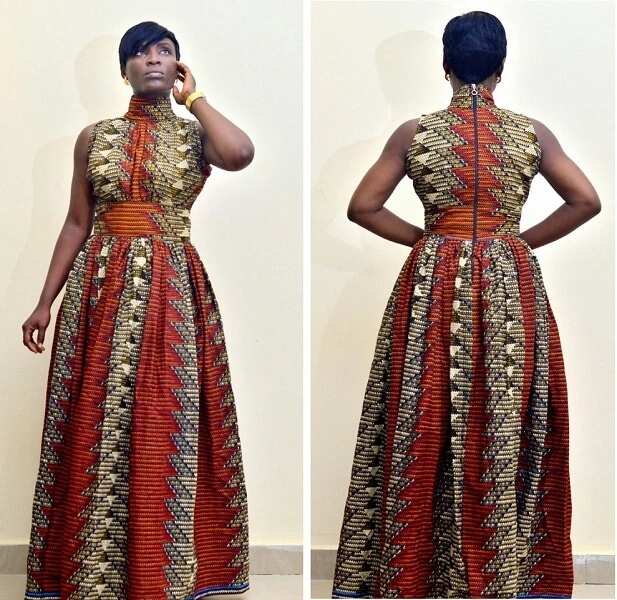 Snake and leopard print for long Ankara dresses
Animals and reptiles don't hurry to tell us goodbye. In new fashion season, animal prints acquire new meanings. We dress in a leopard and python from the head to foot. It feels like we used to have a little. However, designers insist on such ornaments. Our times are not easy. They require a woman's steadfastness and courage. Many fashion collections are dedicated to the female force.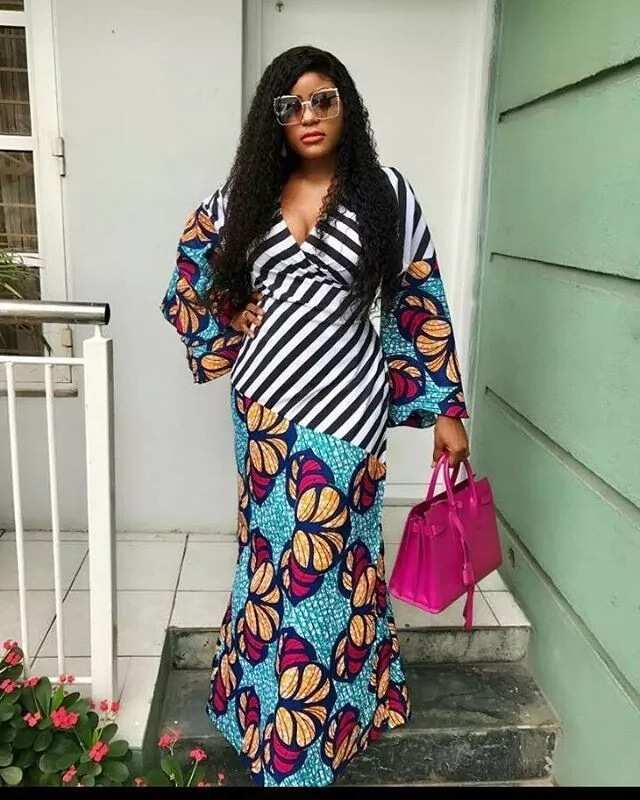 Ornaments with stripes for maxi gowns
Speaking about prints, it's necessary to note that the trendy geometric patterns are widely spread among Ankara prints. At the peak of fashion, there are patterns with stripes. The strips are not too thick this year and can be located in different directions: along, across the item and diagonally.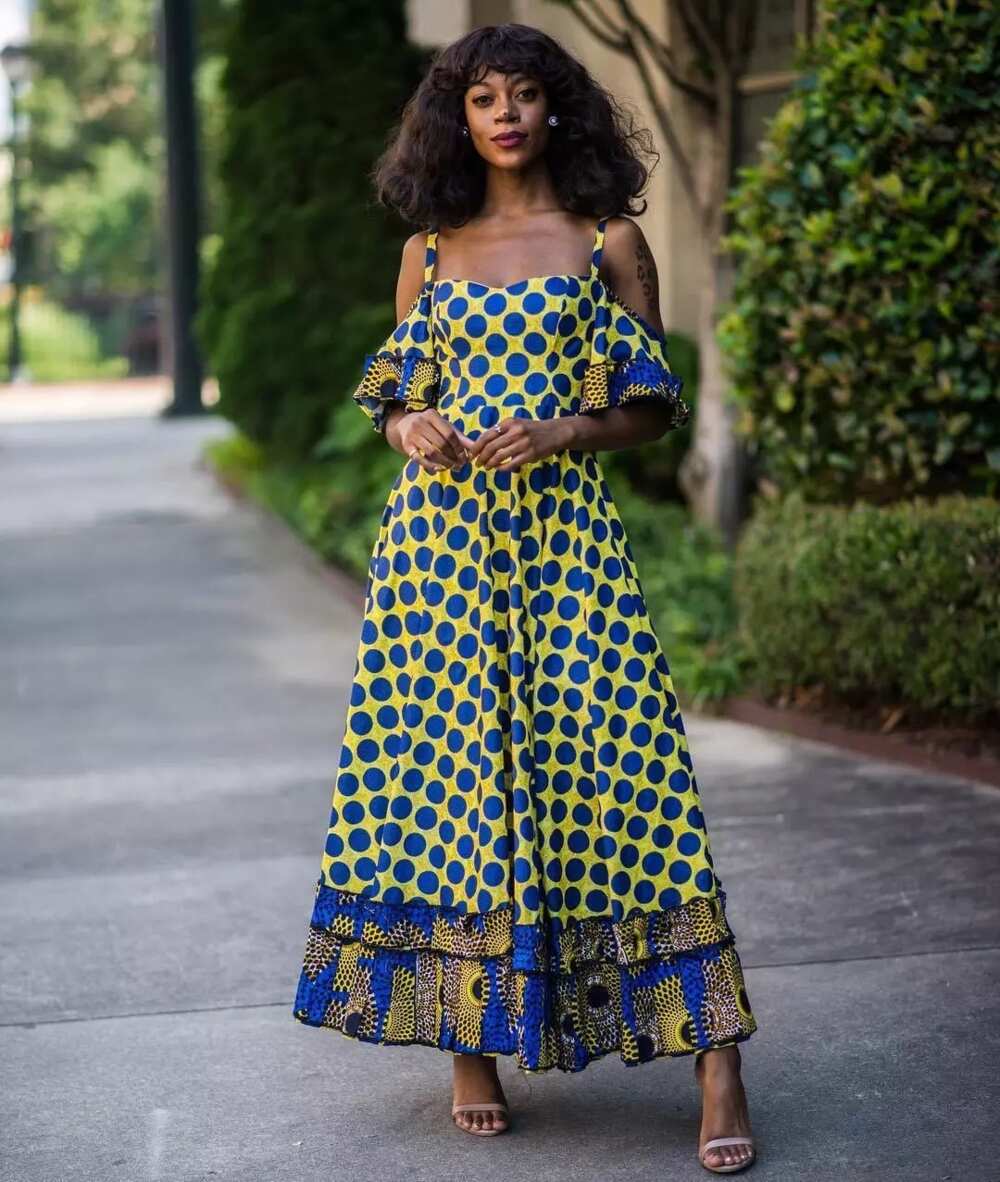 Ankara long dresses with polka dots
In a properly selected Ankara maxi dress with complementing accessories, you can easily attract attention. For everyday wear long Ankara gowns also works. The main thing is to choose the right style in the appropriate color using a wide range of beautiful Ankara designs. Get chic in Ankara gowns and impress everybody!
READ ALSO: Beautiful Ankara gowns for events
Source: Legit.ng