Agencies responsible for the protection of women's rights in Nigeria
On a daily basis, we are bombarded with stories of women who have being abused physically and emotionally by the opposite gender. They are abused at home, in their work place, on the streets, everywhere and every day.
Though sometimes, the abuse comes from their fellow women.
Some are forced into marriages where they are more or less like 'slaves' who have to do the bidding of 'masters' (husbands).
There are women who face the worst kind of torture and degradation any woman could go through when they lose their husbands. Some are forced to drink the water used to bathe the husband's corpse. Some are thrown out on the streets with their children by their husband's relatives, leaving them to their fate.
Aside being abused when they lose their husbands, women are victims of domestic violence and this ugly trend is getting worse every day.
In 2016, John Edobor, a staff of Zenith Bank, was dragged before the Bode Thomas Magistrate's Court in Lagos for breaking his wife Ivie's legs with a metal rod.
It was the intervention of her neighbours who saved her, but the damage to her two legs had already been done. She is still recovering while her husband has moved on without facing any serious punishment.
About three months ago, a Nollywood actress Mercy Aigbe shared photos of her battered face which were given to her by her abusive husband. She revealed how he constantly beat her during their marriage.
So many other Nigerian women go through the same every day. Some are afraid of speaking out. Some cannot walk out of their marriages because they have nowhere to go to. Some do not even know who to approach to help them.
The Federal Ministry of Women Affairs, headed by Aisha Jumai Alhassan, promotes the development of women with equal rights and corresponding responsibilities. The ministry, amid other responsibilities, reviews substantive and procedural laws that affect women.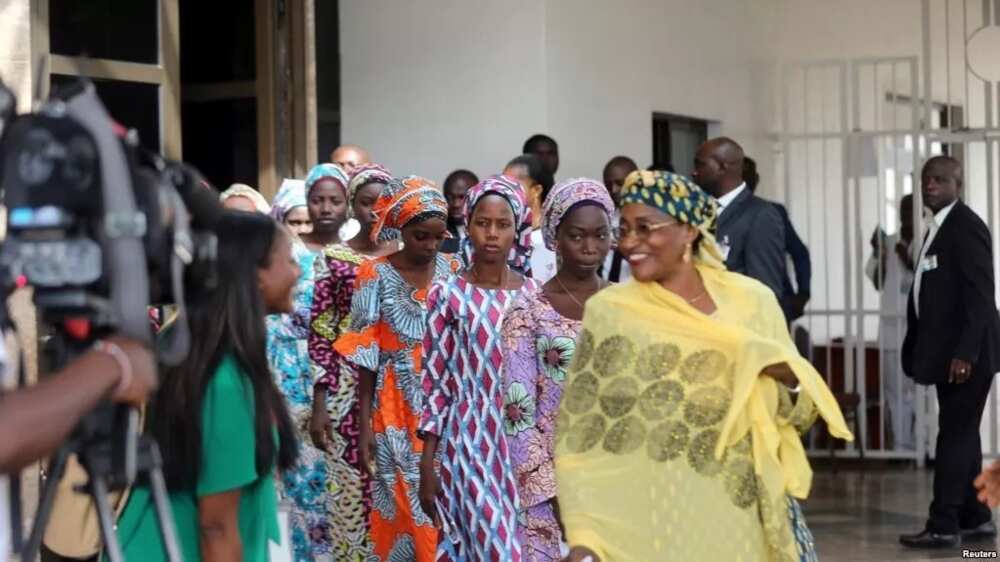 The ministry is mandated to promote women's well-being.
However, this ministry cannot do the work of fighting for women's rights alone. It is a thing of great concern that women's rights are trampled on. Activists have continued to promote campaigns for women's rights in Nigeria amidst suppression.
What are the groups that fight for women's rights in Nigeria
There are many women's rights groups in Nigeria at the moment doing a great job and helping women fight for their rights. Most of these organisations focus on the many cultural and religious practices in the country which tend to violate the rights of women and girl children.
1. Women's Consortium of Nigeria (WOCON)
Founded by late Chief Olabisi Olateru-Olagbegi, the WOCON has been engaged in various programs and activities for the enforcement of the rights of Nigerian women and children particularly the girl-child since its inception in 1995.
This is a non-political and non-profit making association was founded out of Olateru-Olagbegi's concern for the plight of women in Nigeria and the sufferings they go through in the name of 'tradition'.
What the WOCON does:
Renders free legal services to victims of gender abuse through its Pro Bono services
Campaigns for the elimination of gender-related persecution of women in Nigeria
Alerts civil society on any violations of women's rights in Nigeria
Advocates for gender equality and equity in Nigeria and environs
2. International Federation of Women Lawyers (FIDA) Nigeria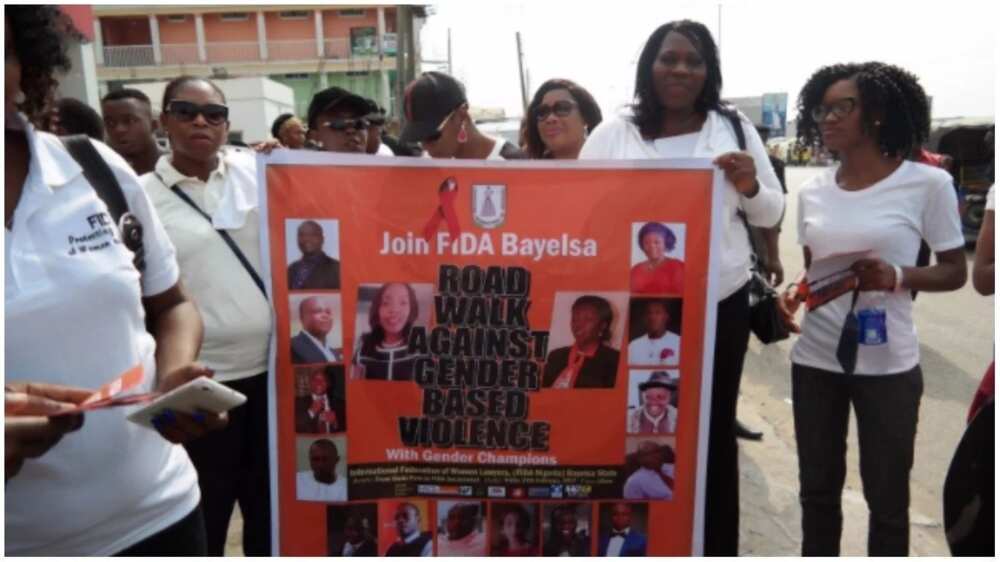 This is a non-governmental, non-profit organization made up of women lawyers practising law in Nigeria.
Top on the agenda of FIDA Nigeria are issues of violence against women and girls.
FIDA is committed to promoting, protecting and preserving the rights, interests and well-being of women and children through the use of legal framework to ensure that they live free from all forms of discrimination, violence and abuse in the society.
3. Women's Rights Advancement and Protection Alternative (WRAPA)
Established in 1999 by Hon. Justice Fati Lami Abubakar, the wife of the then head of state Gen. Abdulsalami Abubakar, the WRAPA seeks to advance and protect the rights of women as provided by national laws and policies.
It facilitates access to justice for aggrieved women and offers humanitarian support for women and families in difficult circumstances and victims of gender violence.
The organization has instituted a number of court cases to seek redress on behalf of women victims of human rights abuses. One of such is matrimonial cases involving wife battering. Others are harmful traditional practices that inflict physical and psychological trauma on women and civil rights matters involving the property rights of women.
The WRAPA seeks to:
Stimulate and motivate women at the grassroots to achieve a better and higher standard of living
To promote and protect all human rights of women
To support women in difficult circumstances including victims of gender violence
To promote reform of discriminatory laws and policies against women
4. Project Alert on Violence Against Women (PROALERT)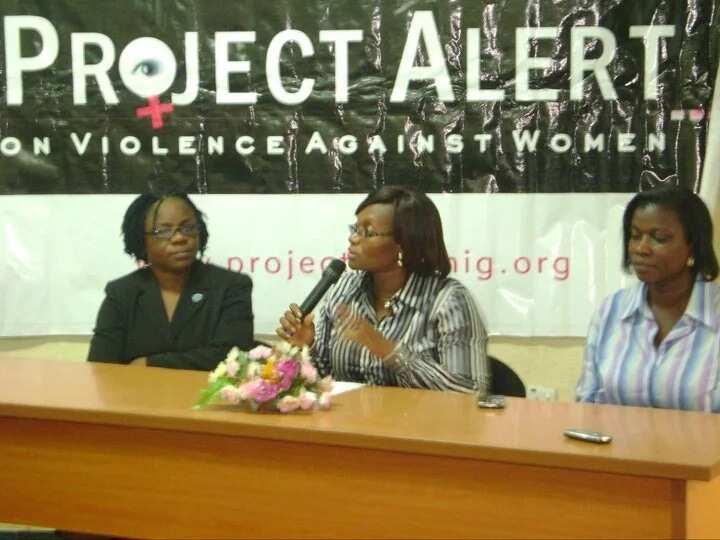 Set up in January 1999, the organization promote and protect the rights of women and young girls. The non-governmental women's rights organization seeks to influence society by actively advocating for zero tolerance for all forms of violence against women / young girls.
Its founder, Josephine Effah-Chukwuma, has taken several international courses in human and women rights in Africa and the United States of America
It has a shelter project, known as Sophia's Place which caters to battered women in Nigeria. It is located in a suburb of Lagos.
5. Women Aid Collective (WACOL)
This independent, non-governmental, non-profit organization is dedicated to helping women and young people whose rights are threatened and/or have been subjected to physical, mental, and/or abuse and assault.
It operates an ultramodern shelter and safe haven which provides temporary accommodation to females victims of battery and violence and also displaced women and girls. A good number of battered and displaced women and girls have benefited from the shelter services. It gets donations from private and international foundations.
6. BAOBAB for Women's Human Rights
This is a not-for-profit NGO whose mission is to promote and protect women's rights under religious, statutory, and customary laws in Nigeria. It operates from a national office in Lagos, with outreach teams in 14 states across Nigeria.
PAY ATTENTION: Read best news on Nigeria's #1 news app
Baobab works with Women Living under Muslim Laws (WLUML) to support women human rights defenders, including gender rights activists.
What the Nigerian constitution says about women's rights
Section 42 of the 1999 Constitution which takes care of the fundamental human rights of the Nigerian citizens prohibits all forms of discrimination against women. It prohibits discrimination on the basis of gender.
Unfortunately, this has not stopped society from subjecting women to all forms of oppression.
Women have a right to inherit property according to the Nigerian Constitution. This is taken care of by section 43 of the Constitution which provides that every citizen (irrespective of gender) of Nigeria shall have the right to acquire and own immovable property anywhere in Nigeria.
What can be done
- The Ministry of Women Affairs should sponsor laws to protect women and ensure the enforcement of existing laws that seek to protect females.
- The police force should undergo training on how to handle assault and abuse cases.
- Measures should be taken to protect women from violence, such as: criminalising domestic violence and marital abuse; making it easy for victims to access justice; and prosecuting offenders.
- Measures should be taken to combat harassment in the workplace.
- Measures should be taken to stop all forms of discriminatory cultural practices such as the widowhood rites.
- Shelters should be provided for victims of domestic violence, assault and all other forms of abuse.
Watch this Legit.ng TV video of women from all walks of life staging a rally against gender-based violence.
Source: Legit.ng