Last Man Standing Christoph Sanders: height, net worth, girlfriend
Do you know anything about Christoph Sanders from the top-rated "Last Man Standing" TV show and other TV series? As soon as a character becomes popular, people start to show more interest in the actor who plays the role. Would you like to know more about this blue-eyed guy, his personal life and even the amount of money he has on his bank account?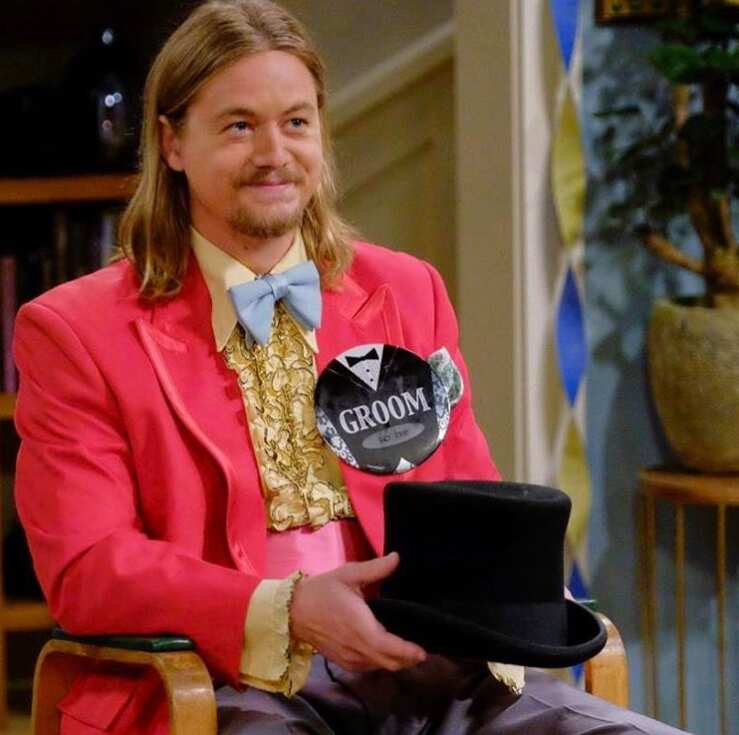 Chris who plays Kyle on Last Man Standing is not one of those super bright Hollywood stars whom you can see everywhere. Still, it is not bad to be a part of a famous and popular TV show, and it is even better to be a part of several ones. Even though he used to participate in several feature films, television sitcoms have become the highest point of his success. Now, it is time to take a closer look at this man's life and work and find answers to questions that are of the biggest interest to the audience.
Who is Christoph Sanders wife?
This question is one of the hottest for Chris' female fans. Such a good-looking young man with a very appealing look in his blue eyes has broken many hearts. Good news, girls! Christoph is currently single. At least, he manages to keep everything connected to his private life secret, and we cannot find any information about any ongoing romance of his.
READ ALSO: Elise Jordan MSNBC bio: age, height, measurements, husband
What about the rumours of Christoph Sanders and Molly Ephraim, then? Well, here is everything we have managed to find about the man's love life and connections to women.
The most recent rumour has connected him with "Last Man Standing" co-star Molly Ephraim. Such things always happen when fans transmit special chemistry between screen characters to the actors who play the roles. There has been much talking over these two who appeared together at events dedicated to the show, but there was neither an official proof of their romance nor an official denial.
Since there has been no further development of this alleged relationship, fans gave up the hope and agreed to realise that the only thing that connected the young actors was their work in the sitcom.
Previously, the man was connected with another co-star, Rebecca Rosso from "Legally Blondes" (2009). They were a perfect match on the screen, playing sweethearts in the teenage drama. Still, the fans who used to connect Christoph with the British actress had to give up again and admit that there was nothing else but the on-screen chemistry between the characters.
Chris had a proved love affair with Inbar Lavi, an actress from Israel. It lasted between 2011 and 2015. Even then, the two managed to keep their relationship concealed until they were noticed together in Tel Aviv. Their romance was a big secret, and the reasons for their parting remained a big secret, too.
Anyway, Chris stands on the guard of his private life and succeeds to keep it really low key. We all hope that in the nearest future, we will hear at least about a real romance between the actor and some sweet young lady, not to mention a beautiful wedding. Still, he seems not to hurry the matters up and lives in peace without a partner.
Speaking about Christoph Sanders girlfriend, we also need to mention ridiculous suggestions that he might be gay. They have been voiced out more than once, mostly because the man still has no wife or a girlfriend. In fact, we know for sure that he is straight (because of his affair with Inbar Lavi) and this rumour is nonsense.
What is Christoph Sanders net worth?
Maybe, he is still single because he does not have enough money? Well, it does not sound like truth. The actor is still young, and he is not the brightest American movie star, but he definitely has something in his wallet. His career started in 2006 with a small role in "Talladega Nights: The Ballad of Ricky Bobby". Chris experienced a true burst of his career in 2010 due to "Ghost Whispers". After this TV show, he was invited to the extremely popular "Last Man Standing" and earned quite a good amount of money.
Different sources provide different estimations of his net worth, but the amount of about $3 million seems to be the most trustworthy. As we can see, it is enough to establish a good life for a family, so, this is probably not the reason why such a handsome young man still has no sweetheart beside him.
What is Christoph Sanders height?
He is handsome, indeed. Female fans may find further information super exciting. Sanders is not the tallest man ever, but he is tall enough to make a woman of an average height feel comfortable by his side. He is about 5 ft 7 in (which stands for 170 cm) tall and has very attractive body measurements: his chest is 41 inches (which stands for 104 cm), his biceps is 13.5 inches (which stands for 34 cm), and his waist is 33 inches (which stands for 83 cm).
This shape of his body is the result of outdoor training and plenty of surfing that Chris enjoys in Los Angeles.
What are the most famous Christoph Sanders movies and TV shows?
If "Last Man Standing" is the only TV show where you have seen this guy but you want more, here is some information from his filmography especially for you.
His début happened in 2006 with his first role of a pizza boy in "Talladega Nights: The Ballad of Ricky Bobby". In 2007, Sanders played a big and noticeable role in the very controversial and dramatic movie "Hound Dog". The movie caused diverse reactions due to the scene of an early teenage character played by Dakota Fanning being assaulted by the character played by Sanders. In spite of the enormous challenge of this role, Chris managed to uncover his acting potential.
The next role was in "Legally Blondes", only in 2009. The time in between was spent on numerous auditions that ended with nothing. Finally, Sanders caught his luck and received the role of Ned Banks from "Ghost Whispers" almost at the same moment with the role of Brad Wellington.
This is how the man has come to Last Man Standing Christoph Sanders we know now. Since the actor is still very young (he was born on April 18, 1988), he has good chances of unfolding his talent in big feature films and receiving his fame and fortune.
It often happens to male actors in Hollywood: they spend their young years being unknown, but their talent, fame, and popularity flourish with years. Hopefully, we will know not only Christoph Sanders Last Man Standing but also many other dramatic movies to which he has obvious natural talent.
That was our brief investigation of the personal life and career of one of the really loved actors from American TV series. If you want to know more about Christoph Sanders, follow him on social media. He has well-developed accounts with thousands of subscribers and all the most recent pictures and news.
READ ALSO: "Mom"'s Sadie Calvano: age, height, measurements and hot photos
Source: Legit.ng