Invasion of Ukraine: Sanctions Introduced on Russia Equal to Declaration of War, Putin Says
Vladimir Putin has declared that sanctions introduced on Russia are equivalent of a declaration of war
Recall that President Putin, his allies and Russia have been sanctioned for the invasion of Ukraine by several countries
Meanwhile, the Russian president has denied reports that his government is recruiting conscripts to fight
Russian President Vladimir Putin has on Saturday, March 5, declared that sanctions introduced on Russia are equivalent of a declaration of war.
The Russian president made this statement while reacting on the several sanctions imposed on his allies and government.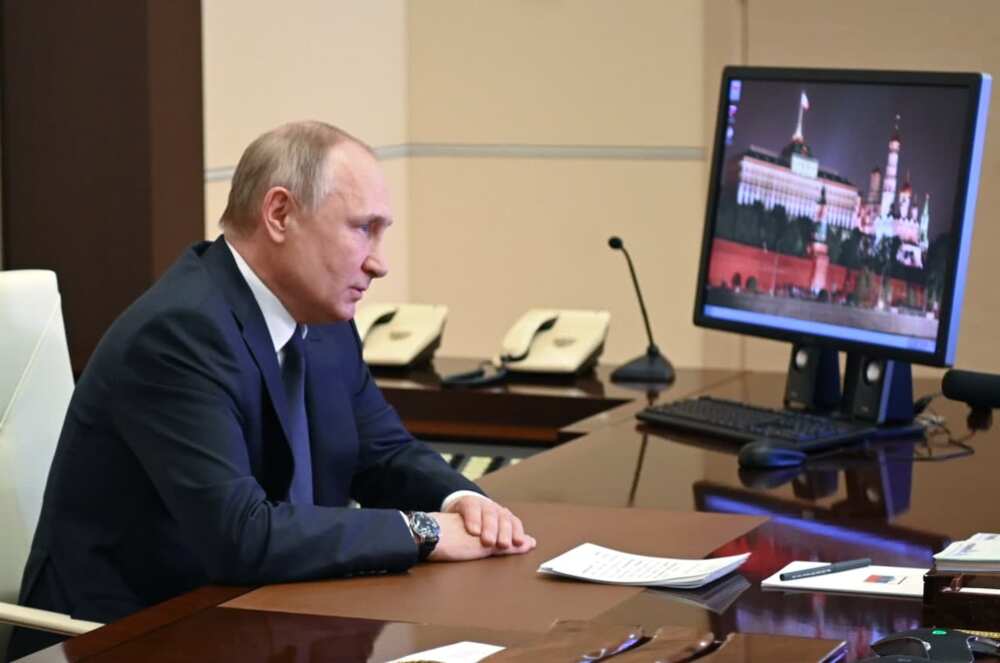 He also said there are not planning on a state of emergency in Russia or enlisiting conscripts for the "operation" in Ukraine.
He said:
"We could have taken a different course of action. We could have helped the republics of Donbas at the contact line and reinforced them with the Russian army, but in this case, and I mean with the unwavering support from the west, we would have radicals on the other side coming endlessly… with support from the west."
"Our General Staff, the Ministry of Defense, went the other way; the first thing they did was to destroy the entire military infrastructure [of Ukraine], well, not all of it, but partially, mostly. Warehouses with weapons, ammunition, aviation, air defense systems," he said.
"Hence the demand to close the sky, but the implementation of this demand is associated with colossal and catastrophic consequences not only for Europe, but for the whole world," he said.
"The current [Ukrainian] leadership needs to understand that if they continue doing what they are doing, they put under question the future of Ukrainian statehood. And if that happens, it will be entirely on their conscience."
Meanwhile, CNN says it cannot independently verify the Russian president's claim.
Russia-Ukraine war: 1 of Airpeace planes set to arrive Poland to evacuate Nigerians
The Nigerian government is set to evacuate the first set of Nigerians caught up in the war between Russia and Ukraine.
The Nigerians in the Diaspora Commission disclosed that the evacuation would commence once the aircraft dispatched by Airpeace lands in Warsaw in a few hours.
According to the chairman of the commission, Abike Dabiri-Erewa, she is anxiously awaiting the first evacuation of Nigerians from Poland.
Russian invasion: Nigerian volunteer fighters besiege Ukraine Embassy in Abuja
Some Nigerians are interested in helping Ukraine overcome the invasion of its country by Russian forces.
The Ukrainian embassy in the Federal Capital Territory, Abuja has been besieged by young Nigerians interested in helping Ukraine.
The situation is the same in several countries as Britons, Americans and Canadians have also offered to help Ukraine.
Russia-Ukraine War: Nigerian government announces steps to take in line with UN sanctions
Legit.ng previously reported that the Nigerian government condemned the invasion of Ukraine by Russian military troops in the past days.
Geoffrey Onyeama, Nigeria's minister of foreign affairs said Nigeria is ready to take punishable actions against Russia for invading Ukraine.
The minister admitted that the federal government will abide by and adopt measures imposed on the country in line with the provisions of the United Nations Resolution.
Source: Legit.ng