ADC House of Reps Candidate Shares Experience Contesting Against "Big Parties"
An ADC House of Representatives candidate, Obinna Nwosu, has shared his experience contesting against the "big parties" in Ikwuano/Umuahia Federal Constituency in Abia state
Nwosu lamented about the "wasted vote syndrome" of Nigerians that voting for any party outside the popular three is a waste
Speaking with Legit.ng, he also talked about the financial demands of electioneering campaigns in Nigeria
FCT, Abuja - The African Democratic Congress (ADC) candidate in Ikwuano/Umuahia Federal Constituency in Abia state, Obinna Nwosu, has opened up on his experience contesting against the "big parties" in the 2023 elections.
Nwosu said contesting against the "big parties" is a daunting task as you will have to set up your structures in polling units, wards, and villages, which is capital intensive.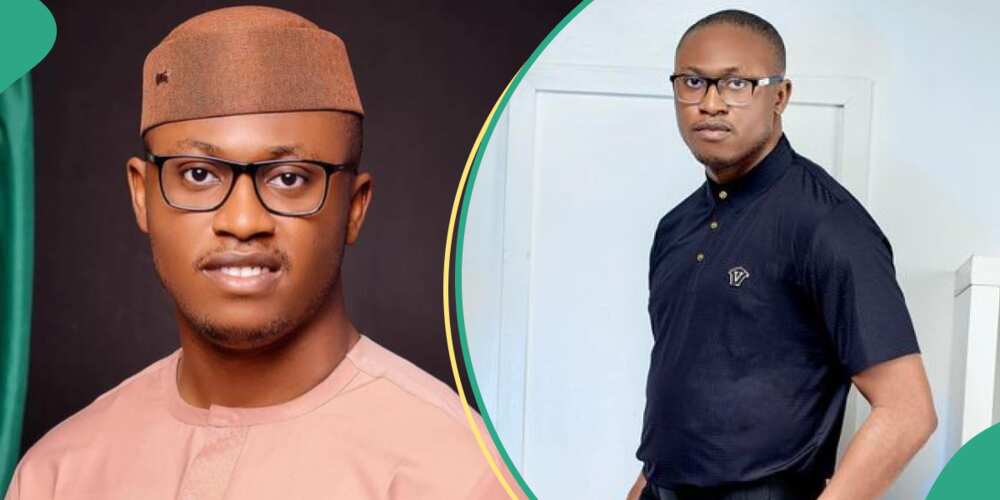 In an exclusive interview with Legit.ng, Nwosu said he joined the race for the House of Representatives because he wanted to simplify the lives of his constituents.
He said:
PAY ATTENTION: Сheck out news that is picked exactly for YOU ➡️ find the "Recommended for you" block on the home page and enjoy!
"From my childhood days, I have always had a strong passion for public service. I saw the situation of my people and had a strong conviction that I could be an instrument to make their lives better. As an individual, I can positively impact 20, 50 or 100 lives, but as an elected official, I can positively impact 200,000, 500,000 or millions of lives. This is why politics should never be ignored by well-meaning citizens. Politics is a major tool for nation-building. Leaders can simply live for the followers or make it difficult. I wanted to be a representative who will simplify the life of my constituents"
He spoke about the assumption by Nigerians that any vote outside the big parties is a wasted vote and other challenges as a candidate outside the popular three (APC, PDP, Labour Party)
"First is the structure, the "big parties" already have established structures that penetrate villages and polling units. These are people who help spread the message of a party and its candidates to the market women at the grassroots. If you are running with a party outside the popular parties, you will have to take responsibility for putting boots on the ground in the wards, villages and polling units and this is capital-intensive.
"Secondly, is what I call the "Wasted vote syndrome" We have Nigerians who assume that any vote outside the big parties is a wasted vote. They automatically assume that you have no chance of winning if you are not with any of the so-called big political parties. It takes a lot of effort to convince these types to support or give you their votes.
"Thirdly we have security issues. During the course of the campaign, 5 of my billboards were destroyed and thankfully there was no loss of life, we suffered a number of sabotages especially as we started building momentum.
Finally, as you know may rightfully guess is finances. Politics is expensive"
The House of Reps candidate also explained the reason why he endorsed Peter Obi of the Labour Party as his presidential candidate against his party's candidate, Dumebi Kachikwu
Nwosu said the ADC leadership dumped Kachikwu because they believed he had no presidential presence in the country and threw weight behind Obi, who shares similar values.
"What happened with Peter Obi was a case where my party, officially adopted Labour Parties Peter Obi as our presidential candidate, this happened for many reasons, first there was this belief by party faithful that the Presidential candidate of the party was not doing enough to unite and strengthen the party, the party leadership lamented that he had no presidential presence in the country no billboard, no campaign offices, no campaign vehicles, little or no media presence etc. So the party took a position by adopting Peter Obi. If you remember, the ADC was considered by many as a potential 3rd force and the party had 12 presidential aspirants for the 2023 presidential election, including the likes of Prof Kingsley Moghalu, Chukwuka Monye, Dr. Ibrahim Mani etc in one of the most contested primaries, so when Dumebi Kachikwu somehow won the presidential primaries which took place in Ota, Ogun state, the party expected him to hit the ground running, but that never happened, so the party leadership counted him out and decided to throw weight behind the next candidate who share a similar values."
Speaking on the financial demands of electioneering campaign in Nigeria, he said:
"Politics is expensive, but in Nigeria, it gets worse because some of our people have this assumption that the moment you come out to run for office, you already have some billions sitting somewhere and they expect you to perform miracles. So when facing core campaign expenses like transportation and fueling of campaign vehicles, media and publicity, radio jingles, logistics etc. you are also expected to attend to the demands of constituents. Thankfully I was able to hold down the fort with my campaign thanks to the support of friends, family and well-meaning Nigerians. My campaign was solid both online and offline. Thousands of Nigerians home and abroad followed my journey and fell in love with the campaign and many backed it up with their resources, some gave large sums while some gave their widows mites, but in all the campaign dug a hole in my pocket, but the support of others mitigated the pressure."
The ADC candidate disclosed that he did not file a petition against the declared winner because "the act of suppressing the will of the people is part of the system that we are trying to change"
"I conceded defeat and congratulated the winner after losing the election and did not file any petition. Though some of my supporters tried to persuade me to file a petition to use my influence and connections to take the mandate by hook or by crook. I chose not to follow that path. In the Nigeria of my dream, the people are the boss and their votes are supreme. The act of suppressing the will of the people is part of the system that we are trying to change. When my story is told, I don't want it to be said that Obinna Nwosu stole a mandate. Politics is not a do-or-die for me. If I win, I win but if I don't win, I will find other avenues to continue to serve the people"
ADC House of reps candidate declares support for Peter Obi
Meanwhile, Legit.ng reported that an ADC House of Representatives candidate for the AMAC/Bwari constituency in the Federal Capital Territory, Abuja, stunned Nigerians on social media when she declared her support for Peter Obi.
Barrister Juliet Isi Ikhayere declared her support for Obi after sharing a photo of herself and the LP presidential candidate in a single banner.
Source: Legit.ng