Did Niger Coup Leader Gen Tchiani Call Tinubu's Govt "Illegitimate"? Fact Emerges
The situation in Niger continues to simmer after the coup in July, as the regional bloc ECOWAS continues to push for a return to civilian rule
Tensions have been building across West Africa as diplomatic efforts have not yielded the desired results.
Amid the crisis, claims surfaced saying that Niger's military leader, Abdourahmane Tchiani, said he won't listen to Bola Tinubu's "illegitimate" government
Niamey, Niger Republic - A video has been circulating on social media claiming Niger's coup leader, General Abdourahamane Tchiani, said he would not listen to the president of Nigeria, Bola Tinubu's 'illegitimate" government.
Tinubu had said he was committed to restoring constitutional democracy in the Niger Republic.
The Nigerian leader is the current chairman of the Economic Community of West African States (ECOWAS) Authority of Heads of State and Government.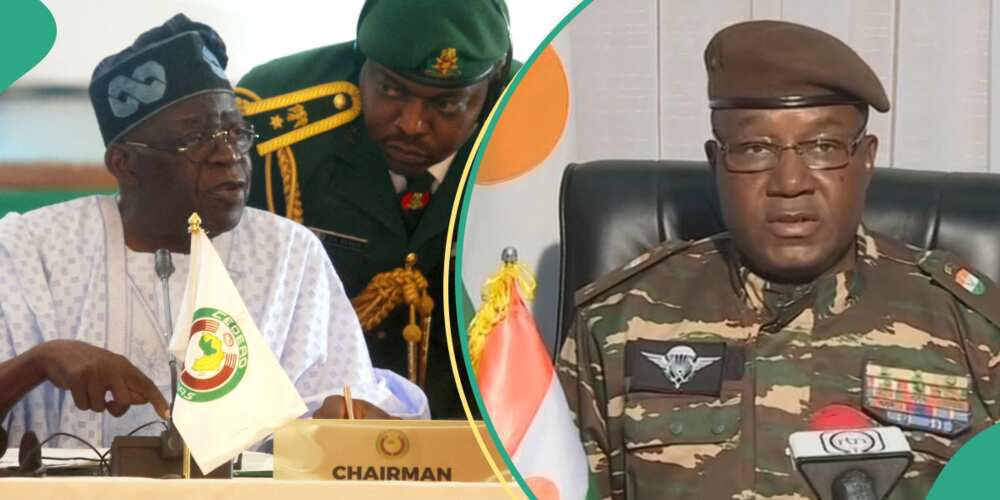 Niger coup: Beware of fabricated quotes
But the coupists have not yielded to the demands of ECOWAS, thereby raising tension in the region.
The text of the video which was shared on Facebook reads:
"'Your Govt is Illegimitate, I Will Not Listen to You' – Gen. Tiani (spelt wrongly), Niger Military Leader Replies Tinubu as ECOWAS Chairman."
A picture of Gen. Tchiani and Tinubu accompanied the text.
The quote attributed to Tchiani can be found here, here, and here.
A fact-check platform, Africa Check, scrutinised the claim that Tchiani said he would ignore the pleas of Tinubu and ECOWAS because the incumbent administration in Nigeria was illegitimate.
The platform found that the claim is false. According to Africa Check, there is no evidence for the said quote.
Niger coup: Tinubu warns junta
In a piece of related artcile, Legit.ng reported that President Bola Tinubu said there will be "grave consequences" if the military junta in the Niger Republic allows deposed President Mohamed Bazoum's health to deteriorate while under house arrest.
This was disclosed by a European Union (EU) official, Charles Michel, after a call from President Tinubu on Friday, August 18.
Niger coup: Omokri sends message to ECOWAS
Legit.ng also reported that Reno Omokri, a former presidential aide to Goodluck Jonathan, told ECOWAS and President Tinubu, what to do should General Abdourahmane Tchiani carry out his threat to kill President Bazoum.
He urged ECOWAS and President Tinubu to respond to the threat with a strong warning.
Source: Legit.ng