"The 'Renewed Hope' You Voted For": Nigerian Lawyer Shares Photo of New Fuel Price at NNPC Filling Station
A Nigerian lawyer, Festus Ogun, has reacted to the new fuel price at one of the Nigerian National Petroleum Company (NNPC)'s filling stations
Ogun described the new price of N511 per litre at the NNPC filling station as the "Renewed Hope" Nigerians voted for
The human rights lawyer disclosed this alongside the photo of NNPC's new fuel price on Wednesday, May 31, via his Twitter handle
A human rights lawyer, Festus Ogun, has shared a photo of the new petrol price at one of the Nigerian National Petroleum Company (NNPC)'s petrol stations in the country.
Ogun stated that the N511 per litre of fuel at the NNPC filling station is the "Renewed Hope" Nigerians voted for.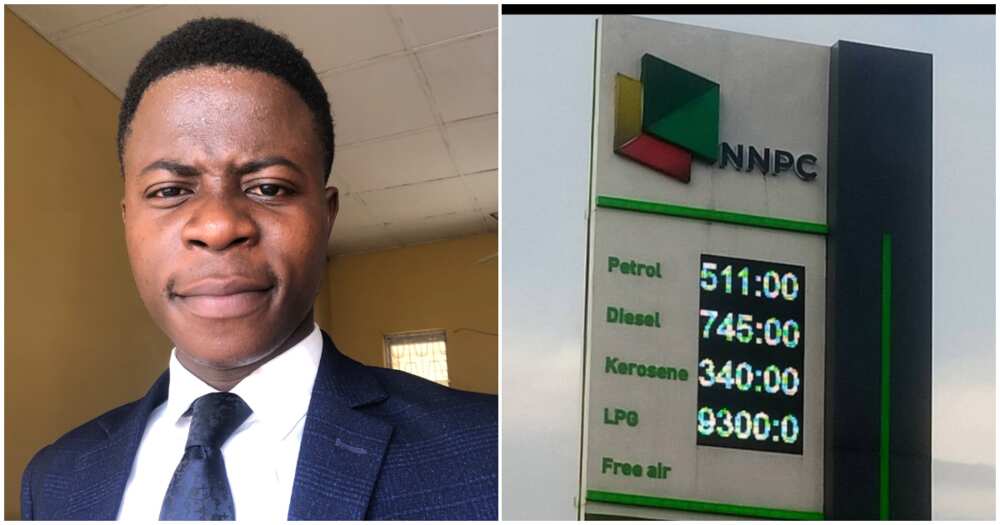 He stated this on Wednesday, May 31, via his Twitter handle @mrfestusogun.
He tweeted:
The "Renewed Hope" you voted for.
Nigerians react to the new NNPC fuel price
Reacting to Ogun's tweet, a Nigerian, arowolo @drarowolo1, lambasted the Nigerian government for not having palliatives for the people.
"No palliatives, no cushion initiatives. Useless government"
Another Twitter user, Ayoola Akande @AyoAkande07, described the decision to remove fuel subsidy as terrible. He added that there's no justification for it.
He wrote:
"This is terrible!
"Yet some of you will come to justify this act with useless political talk
"Nigeria which way"
Big daddy @Samtiago_chris, commended the administration of President Bola Tinubu for the decision to remove fuel subsidy, describing it as great.
"After removing subsidy... That's great"
Reacting to the new fuel price, Fakay FCA. @kunlekay2002, wrote:
"Thank you.
"God will heal and bless Nigeria."
May 29 Inauguration: Removal of fuel subsidy and other things Tinubu promised Nigerians
During his nationwide campaign, President Bola Tinubu, seeking votes to win the Saturday, February 25 election, made some promises to Nigeria as contained in his manifesto tagged "Renewed Hope: Action Plan for a Better Nigeria."
In the 80-page manifesto, Tinubu promised that if elected President, he would phase out fuel subsidy, tackle the forex crisis, create jobs, and improve national security, among others.
"N600/Litre": NNPC welcomes FG's decision to remove fuel subsidy, says there is enough supply in stock
Meanwhile, Legit.ng reported that the Nigerian National Petroleum Company Limited (NNPC) had welcomed President Bola Tinubu's decision to remove the petrol subsidy.
The NNPC Group Chief Executive Officer, Mele Kyari, stated during a press briefing in Abuja on Monday, May 29, 2023, that the company is pleased with the decision of the President to end the petrol subsidy in Nigeria.
Subsidy: NNPC adjusts petrol prices in Lagos, Abuja and Port Harcourt
Legit.ng had earlier reported that the Nigeria National Petroleum Company (NPPC) Limited adjusted its petrol prices across three major Nigerian cities on Wednesday, May 31, 2023, to reflect the new reality of petrol subsidy removal.
The adjustment provides clarity after removing the controversial subsidy regime that gulps almost $10 billion annually.
Source: Legit.ng