3 Things That Inform Supreme Court Decision on PDP's Suit Against Tinubu, Shettima
Bola Tinubu and Kashim Shettima have defeated the PDP in a suit praying for their disqualification in the 2023 presidential election
The supreme court in its judgment on Friday dismissed the suit filed by the PDP against the double nomination of Shettima, Tinubu's running mate in the election
In the judgment of a 5-member panel of the apex court, Justice Adamu Jauro gave 3 legal and constitutional facts to back up the decision of the court
The Supreme Court has dismissed the Peoples Democratic Party (PDP) suit praying the court to disqualify Bola Tinubu and Kashim Shettima as the presidential and vice presidential candidate of the All Progressives Congress (APC).
The PDP was challenging the double nomination of Shettima with the goal of stopping the May 29 inauguration of Tinubu and Shettima as the next Nigerian president and vice president scheduled for Thursday, May 29.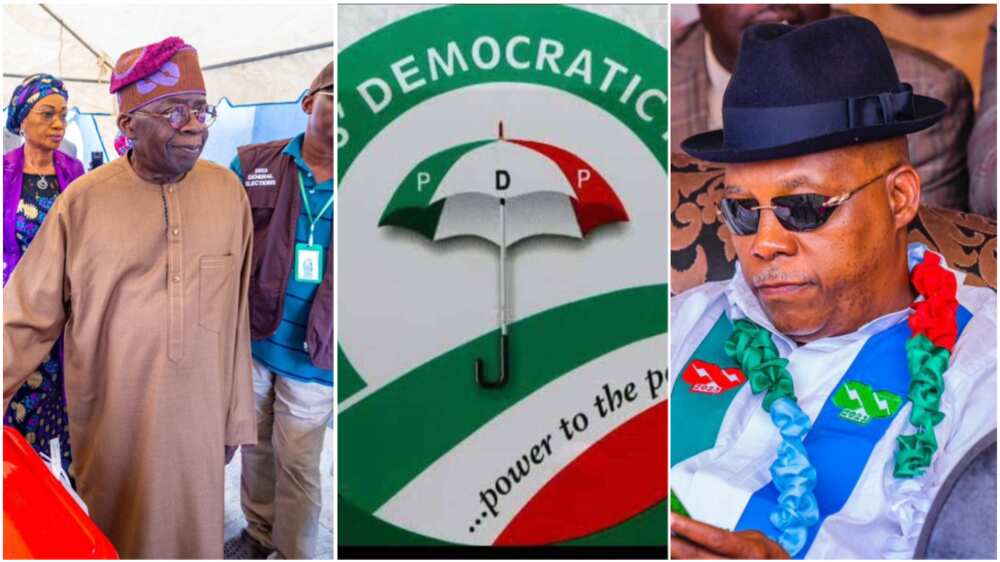 Justice Inyang Okoro-led 5-member panel of the supreme court unanimously dismissed the suit on Friday, May 26.
Reading out the lead judgment, Justice Adamu Jauro, a member of the panel, announced the dismissal of the suit, giving 3 major reasons that are explained below:
PDP cannot file a suit on APC internal affairs
The court posited that the PDP lacked the legal right to challenge the internal affairs of the APC. The apex court cited section 285 (14) (c ) of the 1999 Constitution (amended) as well as 149 of the Electoral Act, 2022.
According to Jauro:
"No political party can challenge the nomination of another political party."
He further stressed that no political party can challenge the Independent National Electoral Commission (INEC)'s activities on the nomination of candidates in another political party.
PDP fails to show the damages Shettima's nomination has caused to it
The judgment reads that the PDP was not in any way affected by the double nomination of Shettima as Tinubu's running mate in the election.
Jauro further stated that the PDP failed to note where the court of appeal determines the major issues on the merit of the case.
The PDP suit is a statute-barred
This means that the litigation should not have been instituted in the first place because the position of the law is clear about it.
Being statute-barred was the major reason why the court of appeal fined the PDP N5 million but the opposition party was not satisfied and it approached the supreme court.
"Tinubu only transferred $2k to me": Pat Utomi breaks silence
Legit.ng earlier reported that Professor Pat Utomi has disclosed the relationship between him and Bola Tinubu, Peter Obi and Atiku Abubakar of the APC, Labour Party and PDP, respectively.
The economist debunked the claim that Obi's campaign was funded by Tinubu to scuttle the chances of Atiku Abubakar in the 2023 presidential election.
Utomi revealed that the only money he received from Tinubu was $2,000, and that was 24 years ago.
Source: Legit.ng