May 29: How Buhari Digs Problematic Holes for Tinubu Ahead of His Inauguration
President Muhammadu Buhari's tenure will expire on May 29, when Bola Tinubu and Kashim Shettima, the president and vice president-elect, will be sworn in as the new pilots of the country.
Ahead of his handing over, some political pundits have considered some of the recent moves by the outgoing president as digging dangerous holes for the incoming administration.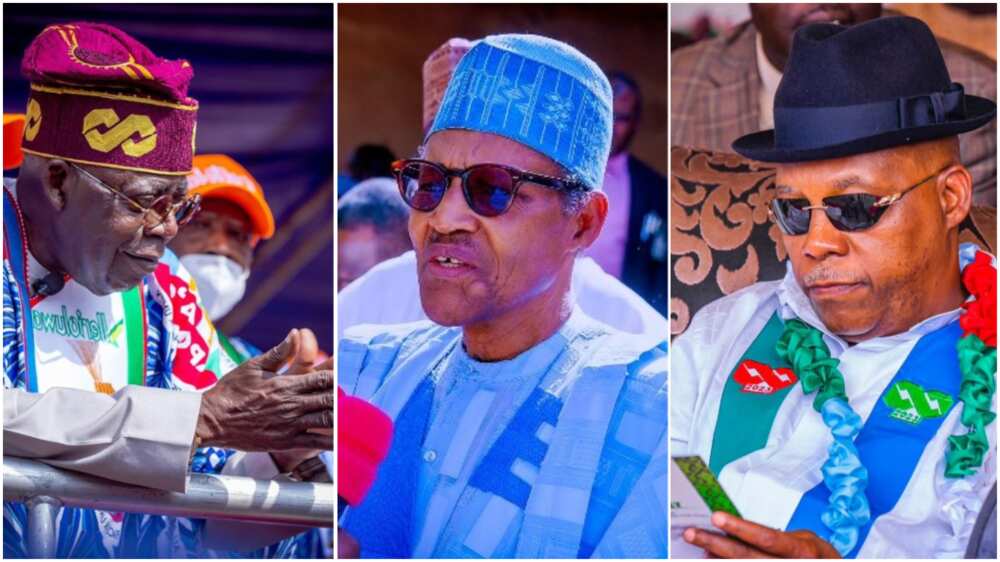 Political observers and commentators believe that the recent suspension of the removal of the fuel subsidy, some appointments President Buhari has made in the dying hours of his administration and the recent borrowings would create tough challenges for the new government upon resuming office on May 29.
Latest about President Muhammadu Buhari, Bola Tinubu, Kashim Shettima, May 29, 2023 election
Speaking with Legit.ng on the development, Kingsley Chukwuma, a political commentator and author, said the president should have considered the long-term benefits of removing the fuel subsidy rather than making it a problem for the incoming administration.
PAY ATTENTION: Share your outstanding story with our editors! Please reach us through info@corp.legit.ng!
According to Chukwuma:
"President Buhari's decision to suspend the removal of fuel subsidy is a short-sighted move. While it may provide immediate relief by preventing a sudden increase in fuel prices, it fails to address the underlying issues and promotes a dependency on subsidies. One hallmark of leadership is the ability to make tough decisions and implement systems to manage the consequences effectively.
"I believe that removing fuel subsidy can be a crucial step towards market efficiency and fiscal sustainability. It can encourage the development of alternative energy sources, promote conservation practices, and reduce the strain on government finances. These long-term benefits should be considered, even though they may not be immediately apparent."
The analyst further condemned the administration of President Muhammadu Buhari for not taking caution in borrowing while admitting that countries across the world borrow to fund development.
He said:
"While it is not uncommon for governments to borrow for development purposes, it is essential to exercise caution and ensure effective debt management. Nigeria already faces significant debt challenges, and the President's continued borrowing raises concerns about the country's financial situation.
"I read earlier today of President Buhari's letter to the senate to approve another $800m loan. This is in addition to the trillions currently being owed."
Chukwuma, who is the author of a politics-related book, then concluded that:
"There are already enough holes for the next administration to address, and President Buhari's actions seem to be enlarging these holes rather than addressing them."
National Honour: Buhari to crown Tinubu, Shettima 4 days to handing over
Legit.ng earlier reported that President Muhammadu Buhari is set to confer national honours on President and Vice President-elect Bola Tinubu and Kashim Shettima.
Tolu Ogunlesi, the president's special assistant on digital and new media, announced that the ceremony would come up on Thursday, May 25.
Ogunlesi added that the outgoing president would also officially hand over transition documents to Tinubu and Shettima on the same day.
Source: Legit.ng