Flashback: What Court Said When Buhari Tried to Stop Obasanjo's Inauguration in 2003
Opposition parties have urged President Buhari and Chief Justice Ariwoola not to inaugurate President-elect Tinubu until the Supreme Court decides the winner of the 2023 election
While the Independent National Electoral Commission (INEC) declared Tinubu the winner, at least three parties have challenged the outcome at the tribunal
In 2003, then-presidential candidate Buhari also attempted to stop ex-President Obasanjo from assuming the presidency for a second term but was unsuccessful
Ahead of May 29, the opposition has urged President Muhammadu Buhari and the Chief Justice of Nigeria, Olukayode Ariwoola, not to inaugurate President-elect Bola Tinubu.
They argued that the president-elect should not be sworn in until the Supreme Court decides the winner of the 2023 presidential election.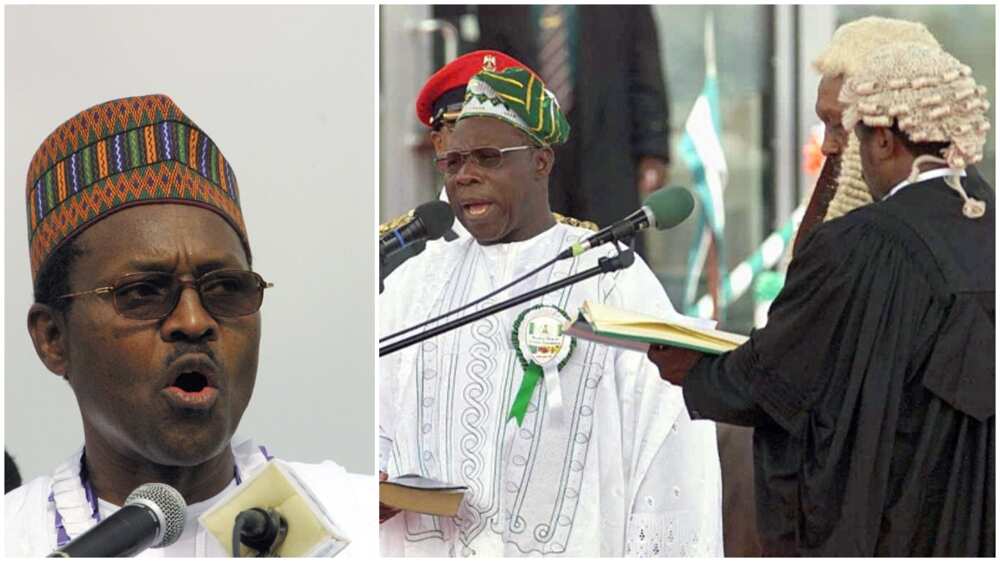 Though the Independent National Electoral Commission (INEC) declared the candidate of the All Progressives Congress (APC), Asiwaju Bola Ahmed Tinubu, the election winner, at least three parties are challenging the outcome of the poll at the tribunal.
In March, Datti Baba-Ahmed, the vice-presidential candidate of the Labour Party (LP), claimed that it would be unconstitutional for the President-elect, Tinubu, to be sworn in on May 29.
The LP vice presidential candidate alleged that Tinubu failed to satisfy the requirements of Section 134 (2)(a) and (b) of the constitution for election to the office of the President.
Speaking further, Baba-Ahmed urged President Muhammadu Buhari and the Chief Justice of Nigeria (CJN), Justice Olukayode Ariwoola, not to proceed with Tinubu's inauguration, arguing that it would be unconstitutional to do so.
A similar situation has occurred before in Nigeria's politics.
How Buhari tried to stop Obasanjo's inauguration in 2003
In 2003, the incumbent president, Muhammadu Buhari, filed a lawsuit to block former President Olusegun Obasanjo from assuming the presidency for a second term.
Buhari was then the presidential candidate of the All Nigeria People's Party (ANPP).
After losing the 2003 election, he claimed that Obasanjo was ineligible and that his reelection was rigged and illegal. He proceeded to court and tried to stop the former president from being sworn in.
However, the court unanimously rejected Buhari's attempt to stop Obasanjo's inauguration.
"I do not see how the swearing in can interfere in the strength of the case. The court will still be able to fairly and effectively adjudicate on the merit of the petition," presiding judge Umar Abdullahi said in a unanimous verdict, according to Al Jazeera.
May 29: Cardinal Onaiyekan says inaugurating Tinubu doesn't make sense
Earlier, Legit.ng reported that Cardinal John Onaiyekan, the Bishop Emeritus of the Archdiocese of Abuja, said the imminent inauguration of Tinubu does not make sense.
The renowned cleric stated this on Thursday, May 4, during the Channels TV breakfast show Sunrise Day.
Cardinal Onaiyekan stated his reason is that there are still unsettled issues in court.
Source: Legit.ng