Finally, Wole Soyinka Speaks on 1 Delicate Advice He Gave to Atiku, Tinubu Before 2023 Presidential Election
Atiku Abubakar of the Peoples Democratic Party and Bola Tinubu of the All Progressives Congress were warned against contesting the 2023 presidential election
This particular advice was handed to both presidential candidates by the Nobel Laureate Wole Soyinka
According to Soyinka, he advised both men to leave the stage for candidates with newer and stronger energies
Nobel laureate, Wole Soyinka, said he had earlier advised the 2023 flag bearers of the All Progressives Congress and the Peoples Democratic Party, Bola Tinubu and Atiku Abubakar against contesting at the presidential elections.
Speaking on Arise Television Wednesday, April 5, Soyinka said he had warned the two presidential candidates to stay away from the 2023 polls due to their age.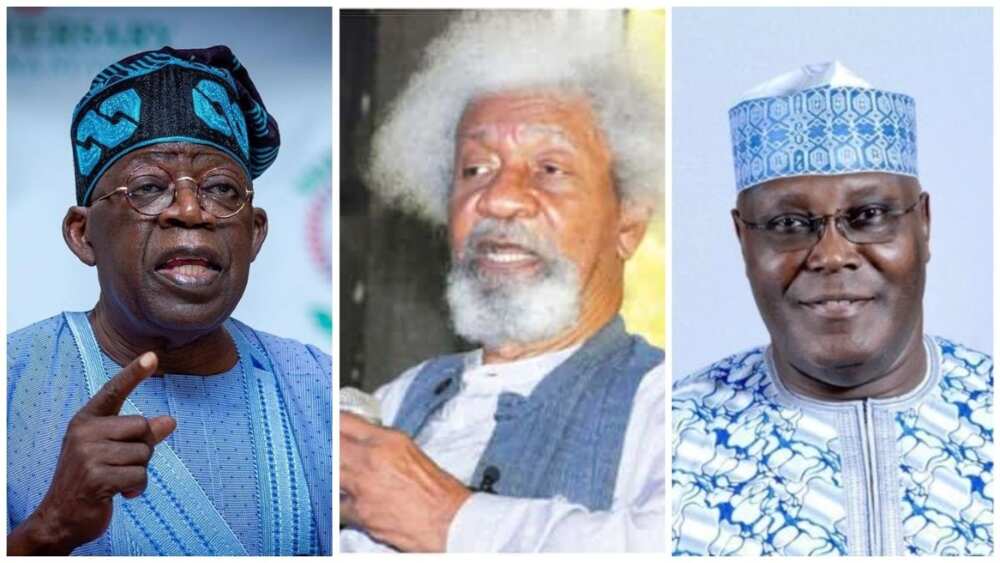 The renowned writer disclosed that he had told both candidates that they were too old to lead the county and should leave the stage for fresh energies.
His words:
"I told Atiku when he was contesting and came to see me in my Ikeja office a few years ago; he came with Gbenga Daniel, my former governor (of Ogun state).
"I said to him, 'Listen, it's about time you people left the stage, why don't you just go away. We need an infusion of fresh blood into the system'.
"But, for some people, maybe they read it as bloodletting. No I said infusion of fresh blood. I said so I can not support you. I think your generation should quit.
"But, he wasn't the only one. I then sought out the current President-elect, Tinubu and I gave him exactly the same message."
The prolific writer affirmed that he was convinced that the younger generation and new crop of politicians had the right energy to lead the nation right.
According to Soyinka, the new generation are not just young but are filled with new thinking and, new sensibilities that could drive the nation to the desired path.
He added:
"So, why don't you just leave the stage, let's look for somebody, a really brilliant individual then use your entire influence to catapult that person to power, and this country will see a massive transformation.
"We spoke for about an hour and a half, and then Bola Tinubu said, 'No'. He said there were still things he felt he could still contribute."
"Emefiele committed crime against humanity": Wole Soyinka breathes fire over naira swap policy
Wole Soyinka has said the governor of the Central Bank of Nigeria, Godwin Emefiele, worked with President Muhammadu Buhari to make Nigerians suffer.
The veteran writer accused Emefiele of committing a crime against humanity with the CBN's naira swap policy.
According to Soyinka, accessing funds became so difficult to the extent that people, despite having money, couldn't buy things they needed due to the lack of naira.
Finally, Wole Soyinka speaks on 2023 elections, his disappointments and way forward for Nigeria Professor
Soyinka said he is disappointed with the conduct of the just-concluded 2023 general elections.
The renowned writer said this while speaking on a Channels Television programme on Monday, April 3.
According to Soyinka, his trust in Nigeria's electoral system has been broken down completely with the last polls.
Source: Legit.ng