"To Those Extending Arm of Friendship, I Offer Mine in Return", Tinubu Tells World Leaders
President-elect, Bola Tinubu has sent a strong message to world leaders after emerging victorious in the just-concluded election
In a post shared on his Facebook page, Tinubu maintained he would be friends with those who are friendly with him
Meanwhile, Tinubu's victory has not come without criticism following the calls by opposition political parties calling for the nullification of the result even as Atiku Abubakar and Peter Obi vowed to challenge the result in court
Asiwaju Bola Ahmed Tinubu, the president-elect of Nigeria, says he is ready to work with world leaders who have "extended the arm of friendship" following his victory at the presidential poll.
In a post sighted by Legit.ng on his Facebook page on Sunday, March 5th, Tinubu said the gestures from world leaders demonstrate the "important role Nigeria has in the world".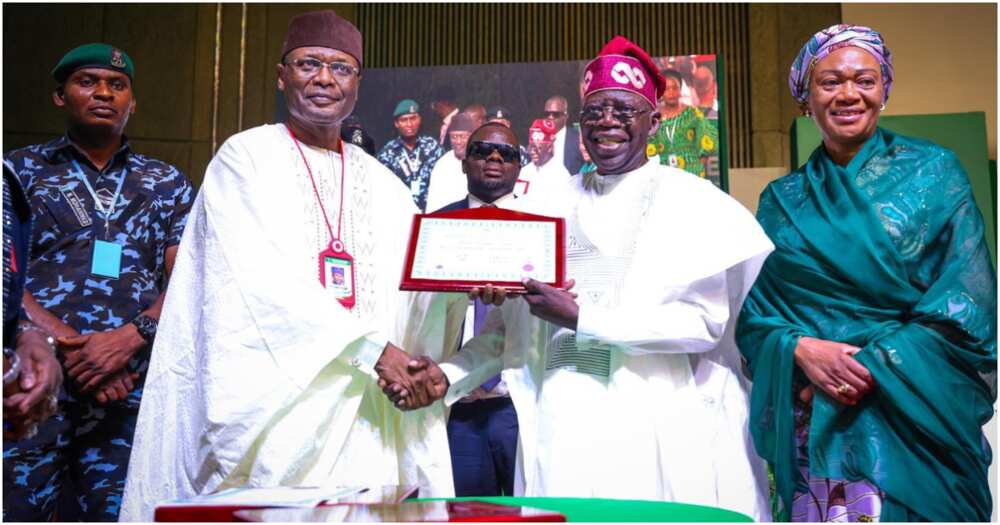 Tinubu appreciates world leaders
He wrote:
"I deeply appreciate the congratulatory messages that have come in from friends and well-wishers from home and abroad. The messages of goodwill and solidarity have been so overwhelming for me to mention you all by name.
"I am particularly grateful to many world leaders from our African neighbours, our friends in The Commonwealth, and from the other parts of the world who welcomed my election with heartwarming messages.
"This a good time to believe in the Nigerian dream; a good time to believe in our renewed hope. The Nigerian eagle shall fly high."
Meanwhile, Tinubu, candidate of the ruling All Progressives Congress (APC), won 8,794,726 votes to defeat Atiku Abubakar of the Peoples Democratic Party (PDP) who had 6,984,520 votes and Peter Obi, Labour Party flagbearer, who polled 6,101,533.
Congratulatory messages have been pouring in from world leaders since the announcement, with the United States of America and Rishi Sunak, UK prime minister, commending the APC standard bearer.
March 11 election: New twist as Oshiomhole speaks on possible impeachment of Obaseki
Ahead of the Saturday, March 11, 2023, House of Assembly poll, former Edo State Governor, Adams Oshiomhole, says his successor in office, Godwin Obaseki should not be worried about being impeached if he loses out in the contest.
Oshiomhole, who is now the Senator-Elect for Edo North Senatorial District from the Saturday, February 25 general election, stated this during an interview with journalists in Benin City, the Edo State capital.
He maintained that if Obaseki had performed well as Edo State Governor, then he would not be worried about the electorate voting against his party, the Peoples Democratic Party (PDP).
Peter Obi speaks to Nigerians, says he won 2023 presidential election
Meanwhile, Peter Obi, the candidate of the Labour Party in the last presidential election, addressed Nigerians on the conduct and results of the poll.
Legit.ng reported that after observing a minute silence for the victims of violence across the country during Saturday, February 25, presidential and National Assembly elections, Obi made it clear that this is the first time he will address the media either directly or indirectly after taking part in the voting exercise in Anambra.
During a press briefing, the LP presidential candidate noted that he will reclaim his mandate, arguing that the electoral process was not what Nigerians were promised.
Source: Legit.ng