2023 Presidency: Amid CBN's Naira Redesign Trouble, Tinubu Gets Bad News from Northern Elders
The Northern Elders Forum (NEF) seems to be reluctant to loosen its grip on the presidency even in the coming election
In fact, the convener of the NEF, Professor Ango Abdullahi, has argued that the north has four more years to be in power
Abdullahi on Wednesday, February 15, also insisted that no one has the right to ask northern presidential candidates to drop their ambition
Ahead of the February 25 presidential election, Professor Ango Abdullahi, the convener of the Northern Elders Forum (NEF), has insisted that the region still has four more years to be in the presidency.
In response to calls for northern presidential candidates to drop their ambition, Abdullahi on Wednesday, February 15, argued that the north has been at the forefront of supporting regions in national polls, PM News reports.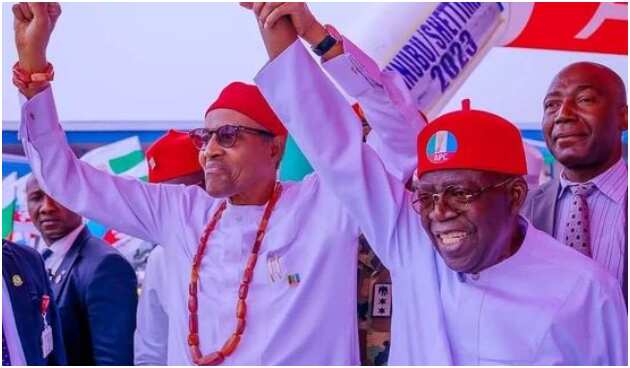 For him, those asking candidates from the north to drop their presidential bid have no right to do so; he added that northerners like their counterparts from other regions have the right to run for the presidency as many times as they choose to.
His words:
"The constitution is very clear that I can stand the election twenty times, and I can lose twenty times. But nothing should stop me from contesting elections if I want.
"Then when you look at it in terms of well, 'do me I do you', rub my back and I rub yours, the North has rubbed more backs than its back has been rubbed. Even if you are talking about the years in power from 1999 till date, Obasanjo did eight years; Jonathan six, that is 14; Umaru two, and now Buhari eight years. So, I am being owed even in the number of years, four years."
Presidency not reserved for anyone - Abdullahi
The elder statesman also decried the notion that the presidency is reserved for anyone or region in particular.
In his view, victory in presidential elections is decided by votes, not a belief in the right or turn to lead.'
He stated:
"The issue should not have been we are not qualified to contest, we have no right to contest. Certainly, this is the reason we are saying now that the issue in the Nigerian political environment, must be based on democratic tenets only.
"There should be no issue of reserving anything for anybody. If you win an election, you win based on this thumbprint. If you win, we will accept."
2023 elections: Implication for Tinubu, Atiku's presidential bid
While this position favours Atiku Abubakar of the Peoples Democratic Party (PDP), it goes against the bid of Asiwaju Bola Ahmed Tinubu to become Nigeria's president.
Tinubu is seriously banking on the north for support to defeat his rivals from the region: Atiku and Rabiu Kwankwaso of the New Nigeria People Party (NNPP).
Again, Buhari meets Tinubu as Supreme Court gives new directive to CBN
President Muhammadu Buhari met with Bola Tinubu, the presidential torchbearer of the All Progressives Congress (APC), at the presidential villa on Wednesday, January 15.
Reliable presidential sources disclosed that the meeting was held at Buhari's official residence, which was why Buhari arrived late to the Federal Executive Council meeting by over 40 minutes.
Buhari, Tinubu, enter fresh discussion
It was reported that the president arrived at the council chamber at about 10:40 am, almost an hour behind schedule.
Source: Legit.ng