2023 Presidency: APC Chieftain Reveals His Position on Tinubu's Plan to Remove Fuel Subsidy If He's Elected
Dr Uche Chinna, an APC chieftain, has commended the ruling party's presidential candidate, Bola Tinubu, for his plan to stop fuel subsidy if elected president
Chinna said Tinubu's plan to divert the money meant for the subsidy to public infrastructure, transportation, affordable housing, education, etc, will avert increased security challenges
Tinubu has repeatedly said he would stop the payment of fuel subsidy if elected president, no matter the protest against the move
Ahead of the 2023 general election, Asiwaju Bola Ahmed Tinubu, the All Progressives Congress (APC) presidential candidate, has been emphatic about his resolve to remove fuel subsidy if he is elected president.
Former President Goodluck Jonathan's move to remove the subsidy led t a huge nationwide protest in 2012.
The Muhammadu Buhari-led administration has also made attempts to remove the subsidy but postponed the plan to avoid outrage.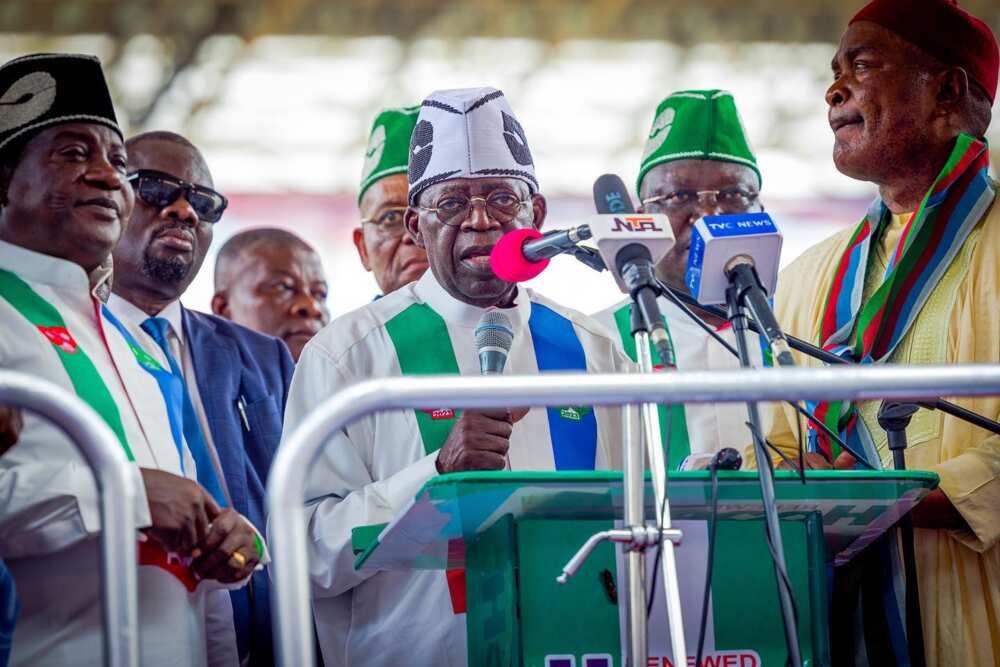 However, Tinubu in his campaign outings has repeatedly promised to remove the subsidy if elected as Nigeria's next president.
"Recently I was asked about fuel subsidy removal, and I said I will ensure we end the wastage and re-channel the money to the people who truly need it," the APC presidential candidate said.
"No matter how long you protest, we are going to remove subsidy," he added.
Why I support Tinubu's plan to remove plan to remove subsidy - Uche Chinna
Reacting, Dr Uche Chinna, an APC chieftain and security expert, described Tinubu's plan to remove subsidy as a "bold decision".
Speaking with Legit.ng, Chinna said removing the fuel subsidy is the right way to go "because it's no longer working for the good of the public."
He also commended Tinubu's disclosure of how he will spend the fund saved after stopping the payment of the subsidy.
According to Dr Chinna:
"Tinubu said the funds will be redirected into public infrastructure, transportation, affordable housing, education and health, and strengthen the social safety net for the poorest of the poor, thus averting increased security challenges."
The APC chieftain further attributed the Dangote refinery project to the "measures put in place during Asiwaju (Tinubu)'s time as the Lagos state governor."
"Tinubu had the strategic economic foresight to envisage a growing economy that has now transcended into a competing African market.
"The production and contribution from the Dangote refinery is one factor. Many others to come as the Asiwaju's presidential administration grows, mark my words," he said.
2023 presidency: "God willing, Tinubu will be my successor, Buhari breaks silence
In another report, President Muhammadu Buhari called on Nigerians to vote for the APC presidential candidate, Tinubu.
During his visit to Lafia, Nasarawa state capital where he commissioned some key projects on Saturday, February 4, President Buhari affirmed that the electorate can trust Tinubu with their votes in the February 25 poll.
The president noted that he and the former Lagos governor have been close allies for over 20 years and still counting, adding that they both weathered Nigeria's political storms together.
Source: Legit.ng