Interim Government: Yakassai Issues Strong Statement in Response to Okotie, Afe Babalola
Alhaji Tanko Yakassai, an elder statesman has weighed in on the call for an interim government in the country
In his submission, Yakassai noted the call is illegal and cannot be welcomed in a democratic system
He however concluded that the interim government is not a remedy to the nation's problems and difficulty
An elder statesman, Alhaji Tanko Yakassai has said that those calling for an interim government in the country are not democrats because it is illegal and has no place in a democracy.
Yakassai made this disclosure in an interview with Vanguard on Thursday, June 23.
Recall that recently, a legal icon, Afe Babalola and the Founder of House of God Church, Pastor Chris Okotie have proposed that an interim government is the panacea to Nigerian problems before general elections.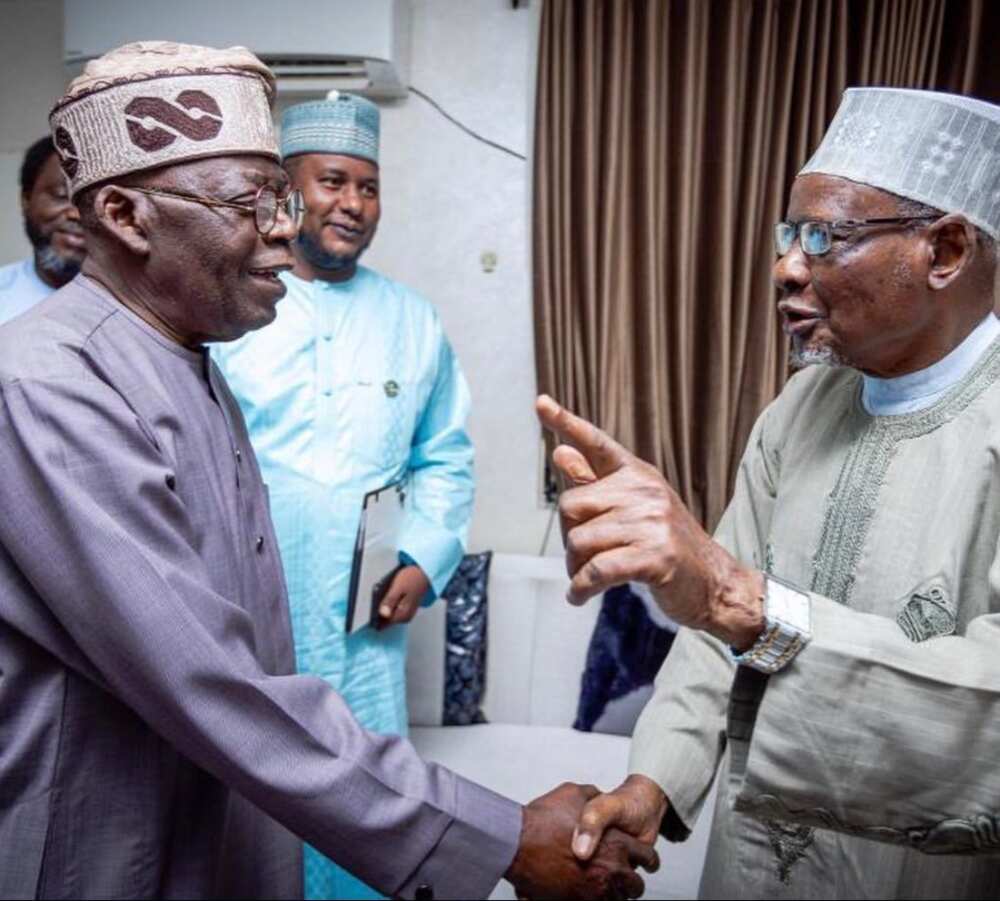 Babalola had suggested:
"As soon as the President, the present government completes its term, do not hold a new election. Rather let us have an interim government for a short period to discuss a new Constitution."
Pastor Chris Okotie's position revealed
In his own recommendation, Okotie said:
"The presidential system has failed this country and we need to do something before the country goes extinct. We need to do away with the Legislature."
Yakassai replies Okotie
Reacting, Yakassai, who is also a founding member of the Arewa Consultative Forum, ACF, said he is not in support of an interim government because it cannot solve the nation's numerous problems.
Yakassai said:
"As far as I am concerned, those calling for an interim government in a democratic setting are not democrats. Ask any of those calling for an interim government to tell you the provision of the Constitution that allows for an interim government in a democracy.
"Interim is illegal and we can't go for illegality. It has no place in democracy. You can't claim that because of the state of tension, there should be an interim government. Even if there is going to be an interim government, how are you sure it would solve the tension in the country?
"If anybody is saying that he is going to solve Nigeria's problem with an interim government, let him come up with a blueprint on how he is going to solve the problem. In any case, I am a democrat; I don't see an interim government solving our problem as a nation. So I am not in support of it."
Nigeria experienced an Interim national government following the crisis of the Third Republic after General Ibrahim Babangida handed power over to Ernest Shonekan as interim Head of State on 27th August 1993 but was overthrown in a palace coup by late General Sani Abacha on 17th November 1993.
Nigerians react
Nigerians took to the official Facebook page of Legit.ng and reacted to the development.
Josephine Okolo wrote
"U people kick against any other method that will pull us out from this doldrum simply bcuz u prefer the status quo that suits ur twisted agenda !
Aniefre Idiok said
"Okotie should know that speaking grammars to his church members is quite different from governance."
Gift Edeh said
"He has a point. Interim Govt will help cub rigging in the election."
Ejigbo Okai said
"Interim govt is not illegal."
Akindoyin Sunday said
"Na only God knows how d 2023 elektion go be o!
"Everybody just dey talk as if dey knw 2mao.
"E go shock una!
Ojiko Fred said
"What is wrong with Chris Okotie by calling for an interim Govt where he wants to be another Shonekan is quite unfortunate for Nigeria and Nigerians about the derelict nature of our polity. One may be tempted to believe Pastor Okotie is suffering from delirium tremens!
State of the nation: Nigeria has lost its way, Pastor Femi Oladehin declares
Pastor Femi Oladehin has declared that Nigeria cannot reform itself unless its people are willing to be reformed.
He made this known while speaking at a ceremony announcing the rebranding of his church from Theixos Doxa to Supernatural Life Assembly.
Oladehin, who is the senior pastor of Supernatural Life Assembly added that the recently held PDP presidential primaries was a show of shame because delegates purportedly accepted a few thousand dollars to sell the future of the country.
Source: Legit.ng