Could This Be the Cause? Likely Reason Ex-Governor Obiano's Wife Confronted Bianca Ojukwu
Wife of the former Anambra governor, Ebelechukwu Obiano, approached Mrs Bianca Ojukwu and muttered some words that led to fisticuffs
The two long-feuding women locked horns at the event on Thursday and exchanged slaps before cameras
Meanwhile, Bianca had earlier written on her Facebook page that she now understands how Israelites felt when they left Egypt
The reasons for the exchange of words and slaps between the wife of the outgoing governor, Ebele Obiano and Bianca Ojukwu has continued to surprise many Nigerians.
Recall that the incident happened at the inauguration of Professor Chukwuma Soludo as the governor of Anambra state.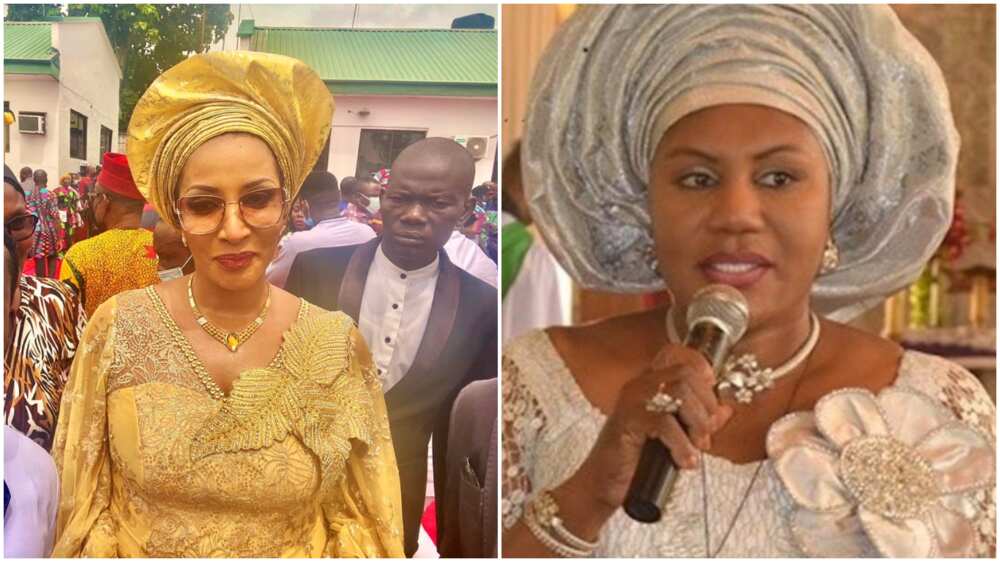 The News Agency of Nigeria (NAN) had reported that the incident occurred immediately after Soludo took his oath of office.
NAN reports that dignitaries including Ex-Governo Obiano were already seated when Mrs Obiano stepped in and moved to the front row where Ms Ojukwu was seated and slapped her.
The action drew the attention of security agents and some personalities who pulled Mrs Obiano off the hold of Bianca who was visibly shocked at the action.
Meanwhile, Legit.ng believes it has uncovered likely reason why the incident occurred. The can be deduced from a cryptic post on Facebook. The post on Facebook was from the widow of Dim Odumegwu Ojukwu.
She wrote in the post
17 MARCH 2022.
I used to wonder....But Now I Know. Now I know just how those Israelites felt on the day they took those tentative first steps out of the Land of Egypt....Just the sheer excitement and anticipation of liberation , the long awaited return to the promised land must have kept them awake through that night.
This is the Day the Lord has made...a day that reaffirms the age long truth that no-one holds the stage forever. I thank the Almighty for keeping us all alive to witness this day.
To Him be the glory. It was long in coming, but it's finally here. A more dynamic and progressive Anambra is achievable. Yes indeed....WE ARE THE BARRACKS!
Soludo makes first statement after trade of slaps between Bianca Ojukwu, Willie Obiano's wife
Professor Charles Soludo has apologised to the people of Anambra state for the public display of slaps between Bianca Ojukwu and Ebele Obiano.
Soludo said that his government is working to resolve the misunderstanding between the two women which he said have brewed due to personal reasons.
According to Soludo, Anambra state has for many years been known for a huge stock of social harmony.
Obiano's aide, Victor Umeh in heated battle over Anambra senatorial ticket
In another report, with the elections in sight, Uzuegbunam Okagbue, an aide of the outgoing ex-Governor Obiano is in a heated battle with Senator Victor Umeh.
The duo is in a battle for the All Grand Progressive Alliance (APGA) senatorial ticket.
It was gathered that Okagbue who worked as a chief protocol officer to Obiano had challenged Umeh on his aspiration to head for the Anambra central senatorial district seat.
Source: Legit.ng