What Labour Party Candidate, Obiora Agbasimalo Promises to do in Anambra State if Elected as Governor
Obiora Agbasimalo, an ex-banker turned politician, emerged as candidate of the Labour Party (LP) for the November 6, governorship election in Anambra state.
The Labour Party flag bearer, was unveiled as the gubernatorial candidate for the party by the national chairman of the party and presiding chairman of the primaries, Barr. Julius Abure.
Its few days to the election, but the supporters of Obiora Agbasimalo described him as one who knows the way and has a lot to offer the 'Anambrians'. They are of the view that a candidate that is hardworking, with huge support system already in the state and boast of good character and capacity to develop Anambra, if elected as governor.
All these and more made them consider him, the best man for the job ahead of the race.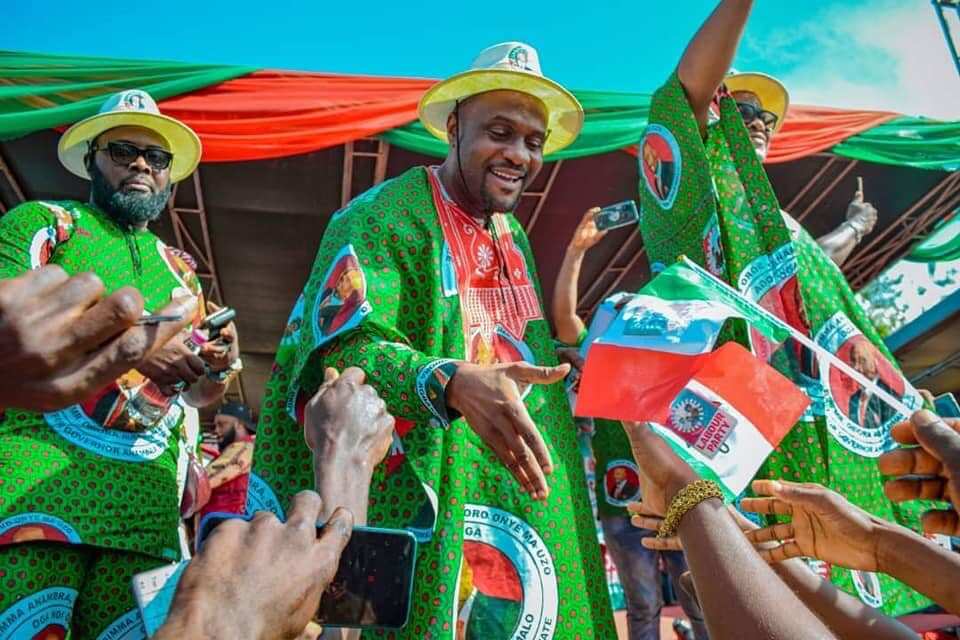 In view of the above assertion, Legit.ng highlighted 9 promises Obiora Agbasimalo made to electorates, if elected as governor:
1. Security
For Obiora, security of lives and properties in the state will be a top priority, where all the jobless youths will be trained, engaged meaningfully with Creation of over 10,000 jobs annually.
2. Education
The politician, considering his educational level, is willing to provide free primary and secondary schools education, annual scholarships scheme to select 5,000 qualified students for tertiary institutions, government incentives / creating of jobs for graduates.
3. Medical Health Care
The banker turned politician has promised to provide Free medical health care for all Anambrarians including non-indegenes.
4. Women and Youth Empowerment
Not leaving out the women and the youths in the state, he has also pledged to provide sincere training and empowerments of women, unemployed Youths, family women especially WIDOWS and indigent members of the society.
5. Energy and Power
Boosting energy production and subsidizing of electric tariffs in the whole state to increase chances for businesses investment and local industrial productions growth, was also another plan he has in mind for the people of Anambra state.
6. Increased Agricultural Production
While also bearing in mind to promote our local goods, the LP candidate has promised to boost agricultural productions by training, giving grants to encourage local and mechanized farmers.
7. Infrastructural Development
This is one key area that the good people of Anambra would benefit if they vote for Obiora Agbasimalo, as he has promised to build good roads, Bridges, Government institutions, Ministries, Modernized Hospitals, Schools, Churches, markets, communities' Projects, and other social amenities.
8. Social Welfare
Welfare is key to any administration and Obiora Agbasimalo if he wins the race come Saturday, November 6, is ready to create a ministry for taking care of aged members of the society, Building good / affordable Houses, taking care of the unborn children, mothers during ante natal / post natal maternity care to reduce child - mother deaths rates especially for the poor families who give birth to twins thriplets etc in an abject poverty and other social care.
9. Open Door Policy
Considering the fact that Labour Party has the greatest number of eligible voters whom are supporters of "Oga Ndi Oga Movement" has promised that, running a transparent government with quarterly, and annual Government Public Reports / Accounts and running all inclusive government that will operate with absolute democracy is what they are willing to offer the Anambrians.
Anambra Governorship Election: 6 PDP chieftains who can help Valentine Ozigbo win fierce contest
Meanwhile, Legit.ng had earlier reported that as the Anambra governorship election draws nearer, some candidates are leading the pack ahead of others due to their political party, reach, and popularity.
One of such candidates is Valentine Ozigbo, the Peoples Democratic Party (PDP) governorship candidate.
Ozigbo, 51, has at his beck and call, several leading politicians in Anambra and beyond who will be ready to push themselves to the extreme to ensure that the former corporate leader emerges as the governor of the state.
Governor Okowa says PDP will win Anambra governorship election
Earlier, Governor Okowa has said that the PDP would win the November 6 governorship election in Anambra as it did in Edo in 2020.
The governor asserted this when he received Ozigbo and some defectors from All Progressives Grand Alliance in Anambra led by the youth leader in the state, Magnus Eziokwu, in Asaba on Tuesday, October 12.
He said that PDP stood a chance to win Anambra going by the preparations so far made by the party, adding that Ozigbo was better than all other candidates in the election.
Source: Legit.ng