"People Discouraged Her": Disabled Graduate Who is Doing His Master's Degree Gets Married to His Heartthrob
From the beginning, Shima Joseph Ajav was not always in a wheelchair. He was born normal, walked and played around like every other happy child. Shima attended school unaided, even up to senior secondary school. If anyone had told him as a child that one day, he would be confined to a wheelchair, he would have rejected the idea without a second thought.
But in 2001, things took an ugly turn. That was the year Shima lost the use of his two legs and resorted to a wheelchair for mobility.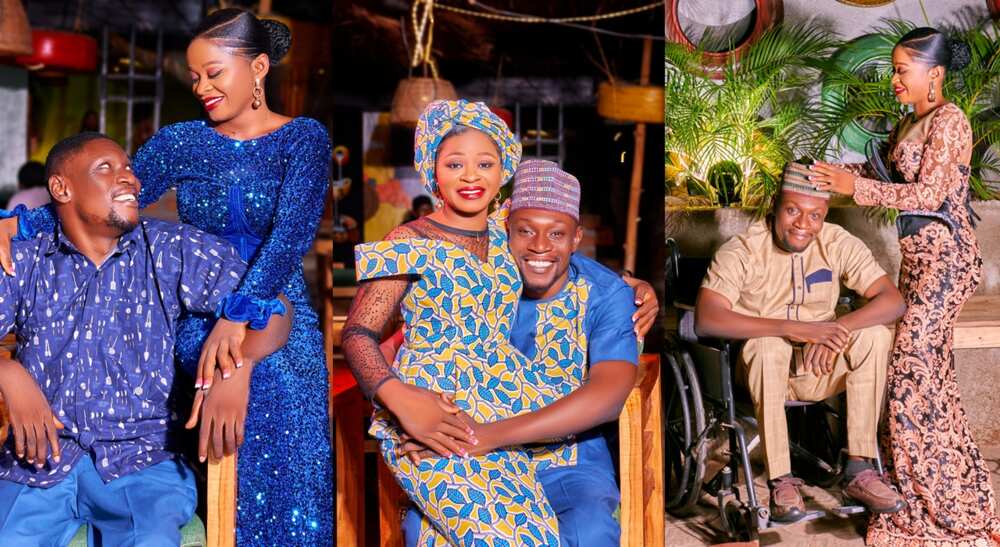 Back then, when the unfortunate incident happened, Shima was preparing to write his West African Examination Council final papers, the final examination for secondary school students before gaining admission into the university. This entirely changed his life.
How Shima got crippled
A few days before the examination, Shima was involved in an incident that effectively got him crippled.
PAY ATTENTION: Share your outstanding story with our editors! Please reach us through info@corp.legit.ng!
He narrated what happened to Legit.ng:
"Unfortunately, it was some days before our final exams, WAEC that I had an incident that rendered me almost completely paralysed from the chest region down to the limbs. I completely lost sensations."
Though Shima is from, Vandeikya, Benue state, the incident happened in Kaduna because Shima was pursuing his secondary education at Command Secondary School, Kaduna.
Shima and his relatives were not relaxed about his health condition as a number of steps were taken to restore the use of his feet. Hospitals upon hospitals were visited, and herbal treatments were also used to see if he could regain the use of his legs.
Shima went through six surgeries to see if he could walk
Shima told Legit.ng:
"I was taken to 44 Military Hospital in Kaduna where a series of examinations was carried out, and it was later discovered it was the depression of the spine between the cervical and thoracic region.
"The diagnosis wasn't encouraging, but I had a slim chance of recovery. During that period, I went through various operations, both medical and unorthodox treatment. In total, I have had about six surgical interventions. One on the spine in 2011 and others on my limbs."
But despite all the efforts, Shima did not make a full recovery as he is still confined to the wheelchair years after the ugly road accident.
Shima goes back to school and acquires a degree
Despite the loss of his two limbs, Shima did not give up on his dreams of becoming educated beyond the secondary school level. While still in the hospital for the last lap of his medical treatment, Shima enrolled for both the General Certificate Examination and the Joint Admission and Matriculation Board exams. Unfortunately, his surgery made him miss two papers when the GCE started, but he was able to sit for the JAMB.
Shima narrated his efforts back then:
"It was after my surgery in 2011 that I decided to go back to school, and I had to write WAEC or NECO, but due to funds, I decided to enrol for GCE and JAMB. In fact, I was writing the GCE from the hospital bed because it was just three weeks after the surgery I got to know it had started, and have missed two papers. After the result came out, I didn't meet up with the credits required but scored 275 in JAMB."
Shima refuses to give up, tries NECO and JAMB again
Shima still did not give up on himself or his dreams of going to university. He registered for the examinations again. This time, he registered for the National Examination Council exams and made it.
His words:
"So I decided to write internal NECO, so this time, I went to a school called Unique Secondary School, Tomater where I registered and got the desired result and scored 245 in JAMB and started schooling in the Benue State University, Department of Mass Communication in 2012."
Shima was a good student at BSU
Some people might think that being a cripple, Shima might have nothing to offer in terms of brain work and academic abilities, but that was far from the truth. In fact, he was a shining light in BSU as he later received awards upon graduation in 2017.
Hear him:
"I graduated with a second class upper in 2017 with an award of the student of the year by the Mass Communication Student Association, MACOSA and the most contributive student of my set in terms of academic performance."
After his first degree, Shima went back to acquire a second one in the same school and department. He is still in the course of completing his master's degree, having two defences to spare.
Shima desired to get married against all odds
There was one more thing that Shima desired so much and gave all his effort to get. And that is getting married. He desired to have his own woman, and fortunately for him, he saw a lady he liked in Makurdi, tried his luck, and it worked.
He told Legit.ng his love story:
"I met my wife in September 2021. For me, it was like a revelation. I have been seeing her pass where I lived, and immediately, I liked what I saw. She was on low cut yet pretty without makeup, and I just admired her grace as she walked by. I asked who she was and was told her house was just a stone's throw away from mine.
"Then, one faithful day, I was passing, and she waved at me. The joy in my heart knew no bounds I told myself, yes, that's the signal I have been waiting for. This is someone I have not talked to or known waving and greeting me. I got home that day determined to get her number. We eventually talked. I told her my intentions, and she agreed. We began dating, and on the 11th and 13th of May, 2023, we got married."
Challenges Shima faced before getting married
Getting married to his wife, Scholastica Msendoo Zuana, was a tedious task, not because of the financial requirements but because many discouraged his wife from getting married to a cripple. However, love conquered all.
Shima recalled what happened:
"Some of her parents friends were furious about it and even stopped talking to her parents for giving their first daughter out to a cripple."
What's next for Shima?
Shima has come very far in life and may have even surpassed the expectations of people who looked down on him. Having acquired his first degree and on the verge of getting the second one, what next for him?
He has an answer:
"I am not currently employed, but I do business mostly agro-based. Selling of rice, yams and other foodstuff. I also work part-time with Pula Advisor, and I'm a deputy program director with HODSI - Holland Disability Support Initiative in Makurdi."
Disabled lady becomes a graduate
In a related story, Legit.ng reported that a Nigerian lady celebrated that she is the only graduate in her family.
In a video she posted on TikTok, the lady danced and called herself a record breaker.
The lady is disabled as she has no legs due to what appears to be amputation.
Source: Legit.ng