"It Won't Bite You": Nigerian Boy Sheds Tears as Dog Sits on His Lap, Refuses to Play With It in Funny Video
A video of a scared Nigerian boy being forced to play with a dog has sent social media into a frenzy
The lad's elder brother tried to forcefully rid his sibling of his fear of dogs but seemed not to be successful
The young boy burst into tears and refused to play with the dog, which sat comfortably on his shaky lap
It is often said that people should face their fears, but a Nigerian boy's cynophobia left internet users in stitches.
A video showed the boy in tears as he took orders from his elder brother in the background while a dog sat comfortably on his shaky lap.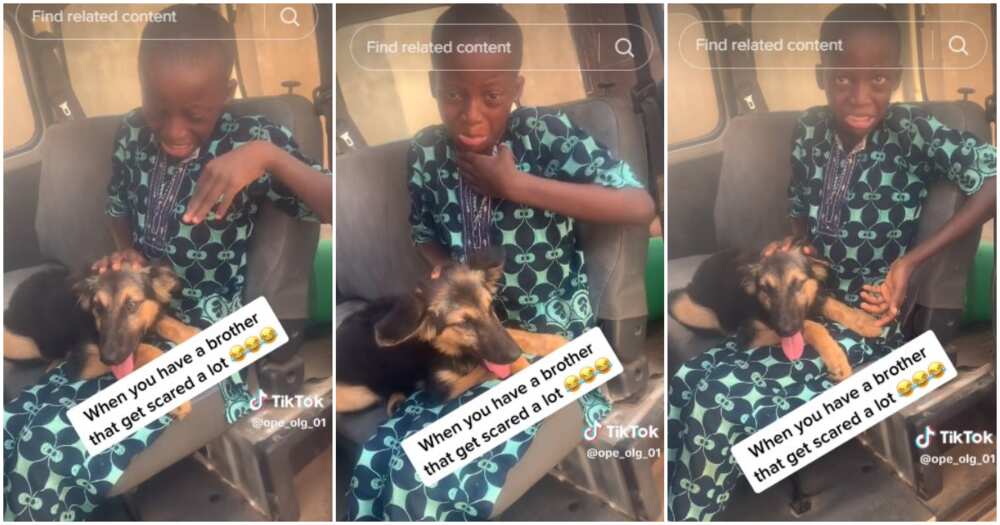 His elder brother tried to drive away his sibling's fear of dogs and thought the best way to achieve this was to apply force.
In the TikTok clip, he commanded the boy not to be scared and directed him to touch and rub the dog's head.
Hesitantly, the boy did this amid tears and his elder brother then told him to put his hand in the dog's mouth.
The boy refused this time, saying the dog would bite him. His elder brother assured him that nothing of such would happen. It was a back-and-forth argument as the boy refused to fully put his hand in the dog's mouth.
Watch the video below:
Reactions on social media
favourite said:
"Aswear e go just be like say make ground open make him enter."
WURAOLA said:
"I just remember when my cousin did this to me when I'm young since that day I did not go to their house again."
user7062819580543 said:
"Guyy I can understand I've gone through same thing with my brothers."
Petite20000 said:
"Make them no try this for me oo. Ahh I will just Steve."
damola387 said:
"I pity him so much already please leave him alone ejor he will outgrow it definitely."
Itzfjay said:
"I love wat they did… to remove fear from him…uncle u must be brave."
Chinwe Okonkwo55 said:
''Some of us are afraid of dogs and it's not our fault just that we and dogs can never be friends.....am saying this bcos am like this boy if not worst."
Boy, 5, commands a rottweiler fearlessly
Meanwhile, Legit.ng previously reported that a video of a 5-year-old boy commanding a rottweiler had gone viral.
In the video, the fearless kid played with the rottweiler which is said to be his pet.
The boy was able to command the dog to do exactly his wishes as he ordered it around in the video posted by @mohamedmichuki.
He ordered the giant pet to sit, run, stand and to go after something and it went off straight in the direction he wanted.
Source: Legit.ng