Boy Walks Away From Ice Cream Challenge After Seller Pranks Him, Video Goes Viral on TikTok
A TikTok video of a young boy taking part in an ice cream challenge has gone viral
The young lad was hoping to get his ice cream and enjoy it but the ice cream seller made it difficult for him
In the clip, he would tease the lad by offering him the ice cream and then pulling it away when he tried to grab it, he did this three times until the lad got fed up and walked off
A video of a cheeky young boy who got more than he bargained for when he tried an ice cream challenge has emerged on TikTok.
He thought he would get a nice treat and lick it to his heart's content but the ice cream seller was having none of it.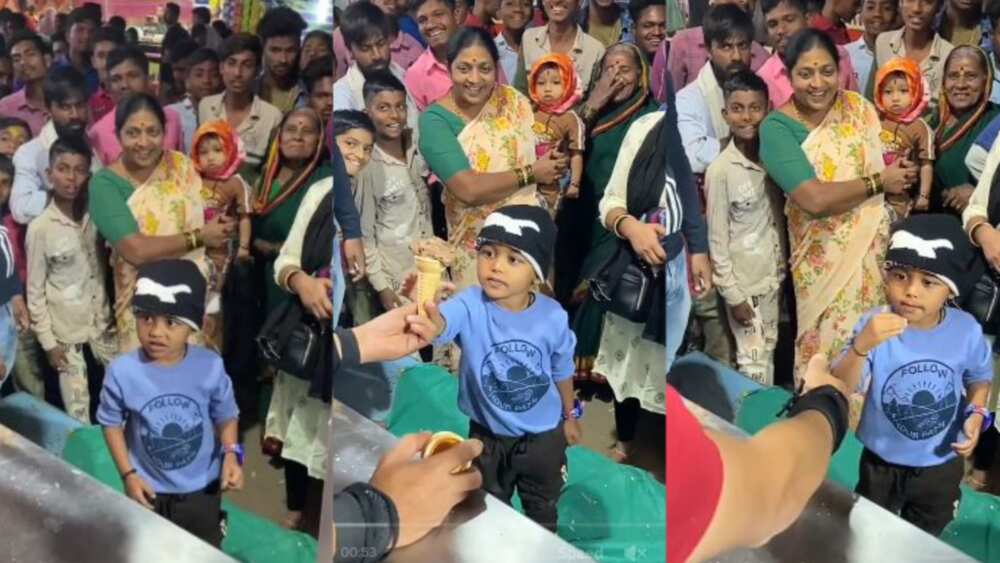 Ice cream challenge gets intense
He would prank the lad by pretending to give him the ice cream and then snatching it back when he reached for it.
He did this three times until the lad threw a wobbly and stormed off.
Many social media users who watched the video found it funny and indicated that the boy would never buy anything from the man ever again.
The video has generated 100,000 likes with more than a thousand comments on TikTok.
Watch the video below
Legit.ng compiled some of the reactions below:
@Candy reacted:
"My anger issues could never."
@Kris said:
"Pure Stress I don't know whether to laugh or cry."
@Myiaa commented:
"The joke lasted too long."
@bluejays6054:
"I seen it coming on his face."
@abbibbi2:
"I could never watch anyone do that to my son."
@user47848484838:
"We the best…I don't know if I like it."
@ThickazMelilX:
"I couldn't stand up an watch someone do this to my r childSsorry mi too hognorant fi that."
He shunned his mother: 2-year-old boy refuses to give mum ice cream, licks it like adult
Meanwhile, Legit.ng previously reported that a little boy who is said to be two years old has set the internet on fire with the way he shunned his mother who asked for his ice cream.
He held on the cone with relish and excitement, totally refusing to let his mother have a lick.
In the video, the boy was seen sticking out his tongue to eat the ice cream in a manner that made many people laugh out loud.
Source: Legit.ng