"Luxury Dish": Nigerian Man Confronts Brother Who Served Him Very Small Portion of Food at Home
A Nigerian man has called out his brother, whom he asked to prepare a 'luxury' meal for him at home
The young boy prepared pasta, dished out a tiny portion of it on a plate and arranged it in a round shape
Reacting to the video, some netizens shared their hilarious experiences at luxury restaurants
A Nigerian man has shared a photo of the plate of food he was served by his brother at home.
The food contained a tiny portion of spaghetti with two slices of carrot and a small serving of stew.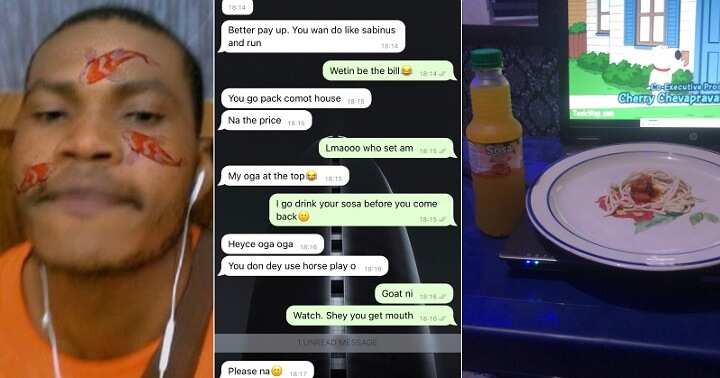 According to the man identified as @Remywontmiss on Twitter, he had asked his younger brother to prepare a 'luxury meal' for him.
When he confronted his brother on WhatsApp about the small food, the funny boy claimed that the food was prepared with the finest ingredients.
"My brother is a clown. Told this boy to prepare food and serve a "luxury" dish for me before he stepped out and just look at what this he goat did. Just look at. I drank the sosa sha e concern am. Big bro gat to do what big bro gat to do", Remy wrote.
Social media reactions
Maduagwu said:
"Is that family guy on the screen. How I can I get them from you boss."
Jeni Loci stated:
"At least he did what you asked na. People pay to eat something like that in fancy hotels and restaurants."
Elloui wrote:
"You ask for Luxury, them give you luxury you dey complain. Just start to find another house."
Udex4all reacted:
"When I saw the plate of food, I burst laugh. The write up explaining the food served is top-notch."
Omodara added:
"It is the don't interrupt my presentation for me which yeye presentation."
See the tweet below:
Nigerian lady shares experience in luxury oyinbo restaurant
Meanwhile, Legit.ng previously reported that a Nigerian lady resorted to using a serviette after a foreign restaurant told her that there was no takeaway. In the funny TikTok video, the smart lady quickly spread her serviette on the table and put her remaining food in it.
She checked if anyone was coming as she continued to put away the food. According to her, she could not afford to waste the food as it was paid for with her money.
Speaking in the Yoruba language while packaging her leftovers, she said the meal would be used in drinking garri when she gets home. Her clip has generated mixed reactions on social media. Many people hailed her Nigerian-ness.
Source: Legit.ng